Home Team
Grid growth: Korea-Oki games headline FEAC athletics changes
by
Dave Ornauer
September 14, 2010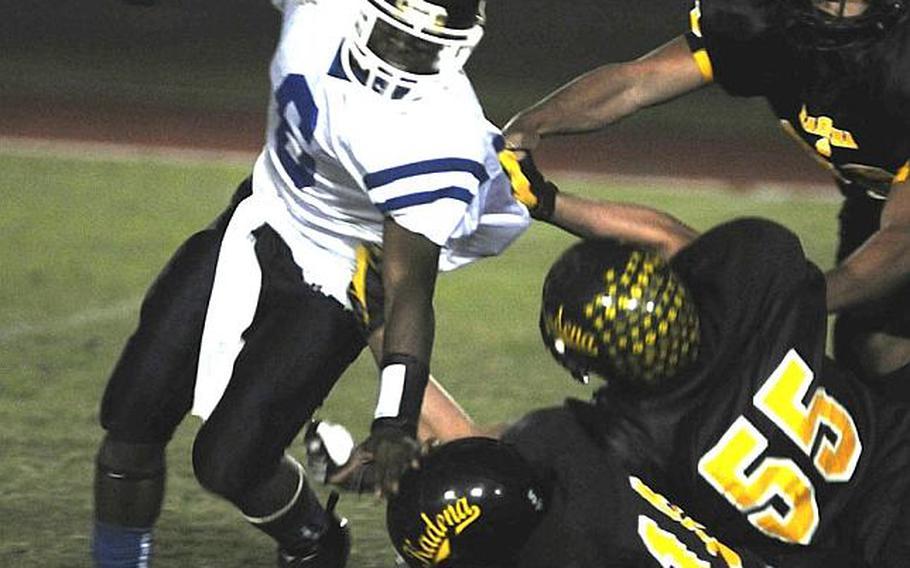 Kadena's and Kubasaki's football teams arrived in Korea in the rain. They traveled to Daegu and Osan American high schools in the rain. The four teams played on Saturday in the rain, then the victorious Okinawa squads returned home in the rain.
The way the four teams talked about the historic first DODDS-funded regular-season meetings between Korea and Okinawa teams, none of them could have cared a whit about the weather.
"I didn't notice the rain, and I don't think the kids did, either," said Ken Walter, whose Daegu Warriors fell 22-6 to reigning Far East Division I champion Kadena on Camp Walker's soggy Kelly Field.
"We were lining up to play a football game against a high school other than our friends down the road at Kadena," said Kubasaki coach Fred Bales after his Dragons routed Osan 47-0 before a rabid crowd of more than 500 at Cougars Field.
Prior to the 2010 season, Kadena and Kubasaki on Okinawa and Daegu, Osan and Seoul American in Korea had only each other to depend on for regular-season games unless they fund-raised and got district permission to travel to play somewhere else.
Kadena played Kubasaki four times; Osan, Daegu and Seoul played each other twice, giving each four games as well.
That changed with last spring's Far East Activities Council meeting. There, a series of games between DODDS Korea and Okinawa Activities Council teams were added to the slate. Kadena and Kubasaki play Seoul once each and against Osan and Daegu twice on a home-and-home basis.
"Guam and Japan have complete regular seasons," DODDS Pacific's athletics coordinator Don Hobbs said. In talking with his boss Diana Ohman, he said "there has to be a priority. Okinawa's and Korea's districts need games. And we worked out a schedule for the teams, and now they have a full season schedule."
Such a move, officials said, was possible due to continued cost savings realized from the process adopted last fall of ticketing student-athletes for Far East tournaments through local vendors at a more than 50-percent savings over ticketing through official government outlets.
Okinawa's teams get three extra games, giving each six in the regular season; Korea's teams get five regular-season games. Kadena is also playing a self-funded game Saturday at Zama American, while Seoul American hosts Singapore's youth all-star Falcons in October.
"We're looking to improve on it, but it's a very, very good start," Hobbs said. "It's better than what we had. And I'm pleased so far."
"It's been worked on for a very long time and it's finally coming through," said Walter, adding that when Ohman visited Daegu last spring, he told her: "You're my new favorite person in DODDS."
Creating a stateside-like schedule "adds value to the process," Bales said. "It's a payoff for the kids. It's night and day in terms of pride and sense of self-worth the kids feel because of that."
The FEAC meeting also saw a proposal to expand the Far East Division I playoffs by adding play-in games, in which Seoul American and Guam High, which previously got free passes being the only DODDS Division I entities in their areas.
Seoul American was to play at DODDS Japan's second-ranked Division I team and Guam High at Okinawa's second-place team on Oct. 16. That arrangement fell apart when Guam High opted to honor its commitment to the Interscholastic Football League.
Thus, Seoul once again automatically qualifies, while Japan's and Okinawa's No. 2 teams will battle for the fourth playoff spot.
"It's not a perfect scenario because Guam High is a part of DODEA Pacific and we would like to have them involved in all our Far East activities," Hobbs said.
That may change, he said, next year, when Osan American will very likely step up to Division I in football because of enrollment spikes.
Thus, the Division I playoffs are "a work in progress," Hobbs said. "It's not perfect, but we're making steps. It's under constant review."
Also under review is the possibility of changing the enrollment cap for Division I eligibility. Right now, it's 300, with six schools each in Divisions I and II, but "that's not a given any more, nore that there should be six in each division," Hobbs said.
"We're going to do what's best for the kids. Some argue that we should have seven small schools and five big schools because of parity. But you have some schools that have good programs with fewer numbers. There are a lot of variables," he said.
After being barred for six years, FEAC gave the OK for international schools to return to Far East tournaments in wrestling, cross country and tennis, and also participate in DODDS Pacific's baseball, softball and track and field meets, added to the calendar last school year.
For the "immediate future," those tournaments can only invite so many teams. Baseball and softball will be capped at 12 teams each and all others at 16 "to make those tournaments manageable," Hobbs said, particularly where on-base billeting is concerned.
Baseball, softball and track and field were "great successes … and we want to improve on them," Hobbs said.
Aside from adding teams from the international school pool, DODDS officials are looking at possible tweaks to the baseball and softball tournaments, maybe make them week-long and expand pool play. "The ideal situation would be to have the weather gods on our side," Hobbs said.
Track and field for the most part should remain the same, with DODDS officials continuing to "identify the number of participants per event," which was capped at 10 last May. "Right now, we're thinking of going with what we had last year, but there be tweaking" of the numbers," Hobbs said.
DODDS is also planning to permanent basing tournaments in the same location, and also have boys and girls play basketball and soccer tournaments in the same location, Hobbs said.
Permanent basing aids "continuity and things that go with continuity," Hobbs said. Moving tournaments every two years as in the past meant "reinventing the wheel" in many cases. "In the same location, we can depend on continuity, which hopefully will mean steady improvement."
Co-basing boys and girls tournaments has gone on for years in Europe, but has been a problem in the Pacific where "we're really limited on billeting," Hobbs said, Europe "has much more access to billeting."
Putting boys and girls tournaments together runs the risk of code-of-conduct violations, several of which sent student-athletes home when boys basketball and cheerleading tournaments ran concurrently.
"We'll use preventive medicine as much as possible," Hobbs said, adding that they'll work to ensure boys and girls will be "billeted in separate locations" and perhaps brought together for the last two days of semifinal and championship games.
---
---
---
---