Far East wrestling
Four Dragons capture titles as Kubasaki defends crown
by
Dave Ornauer
February 14, 2020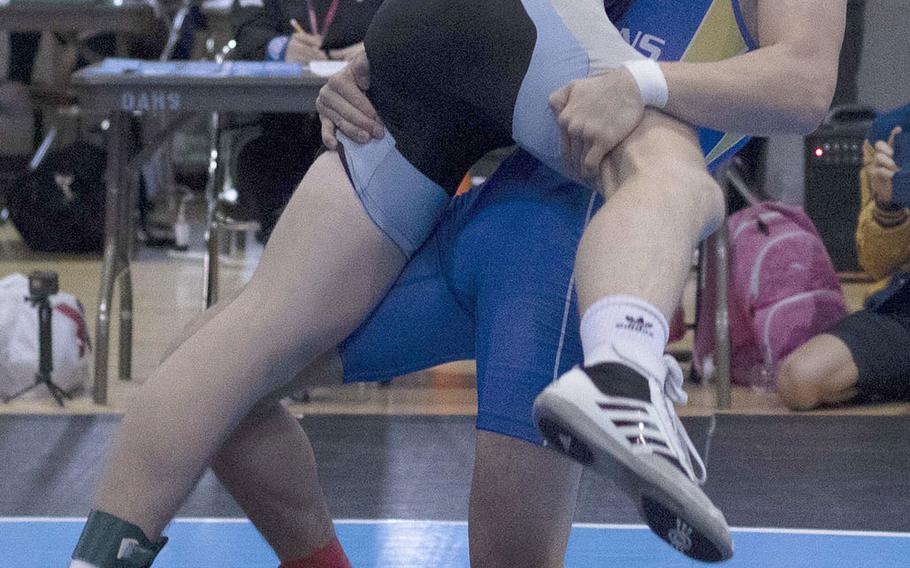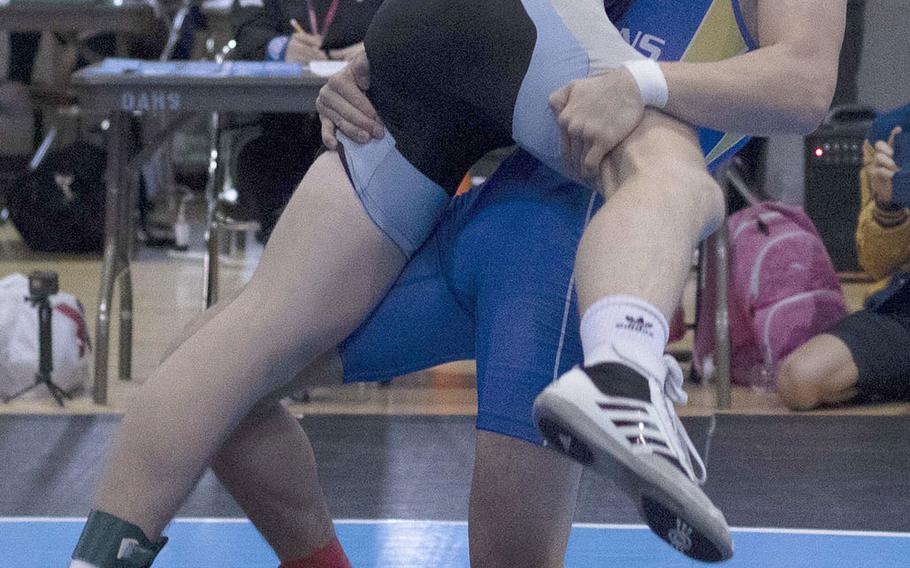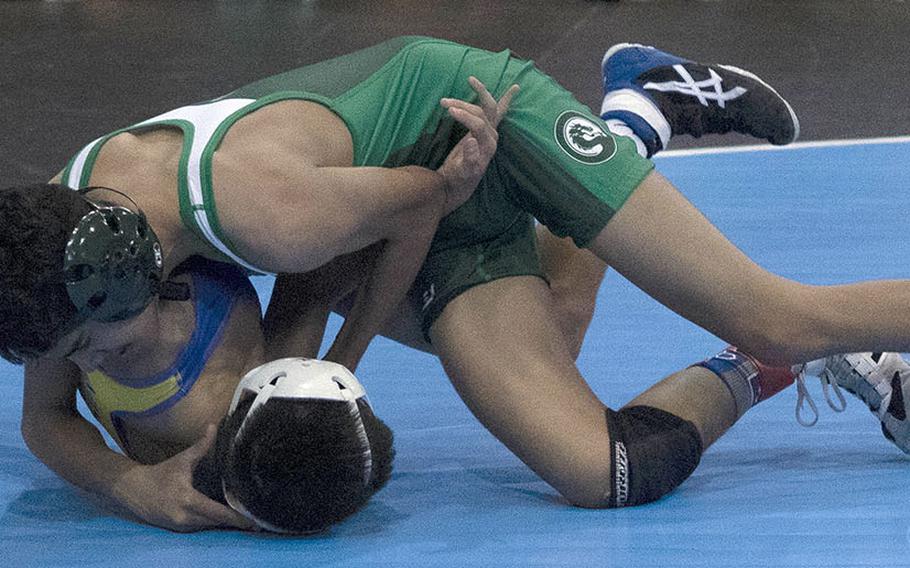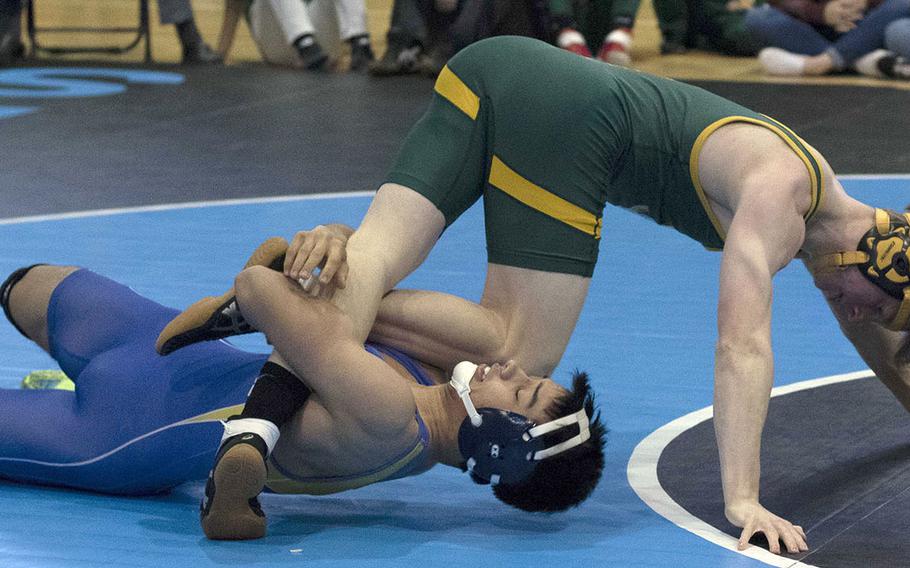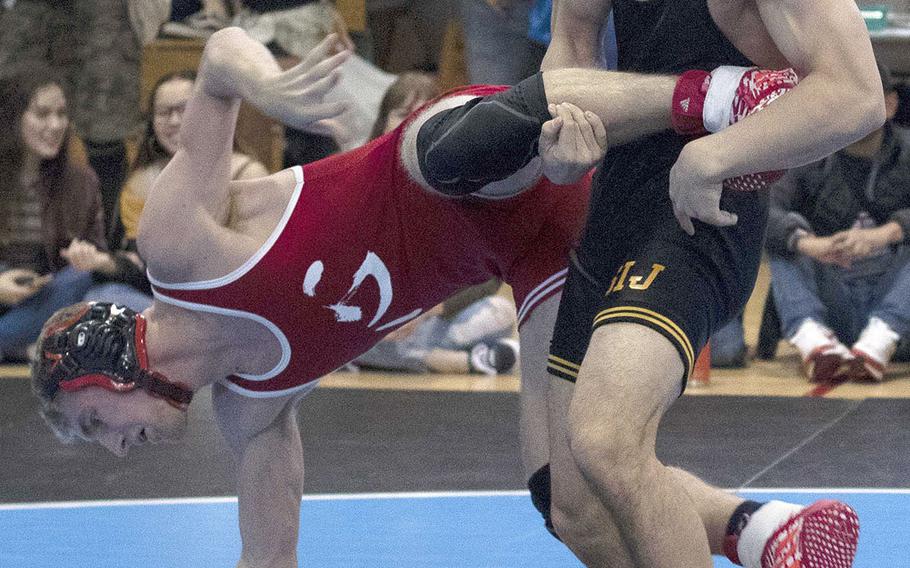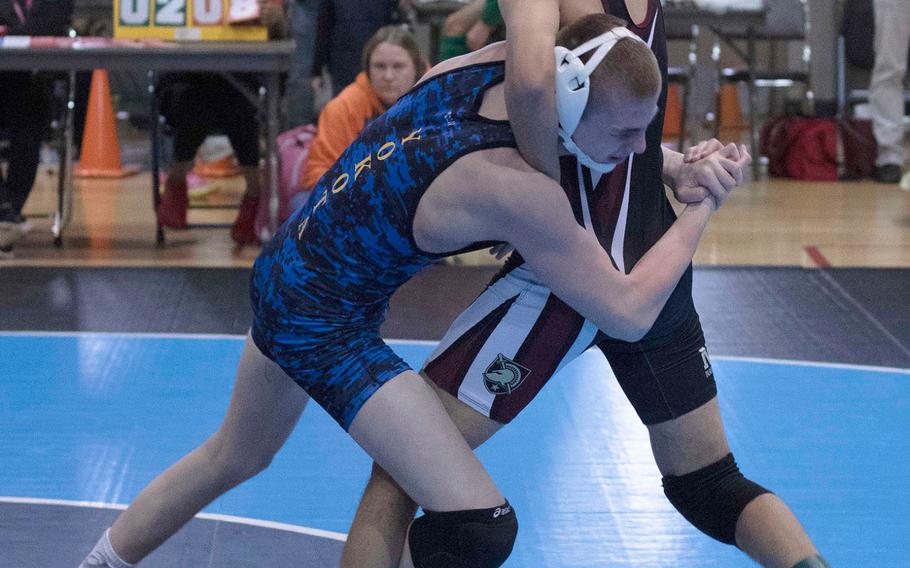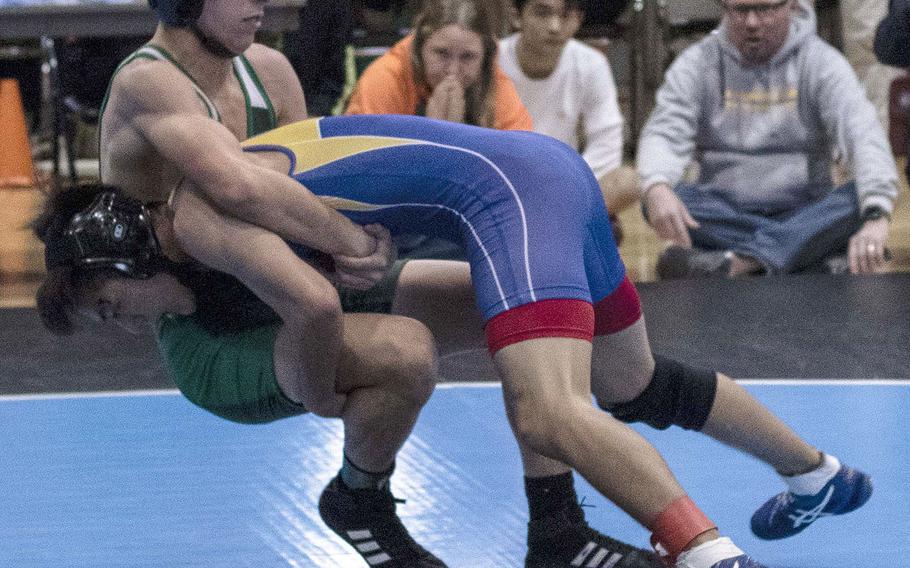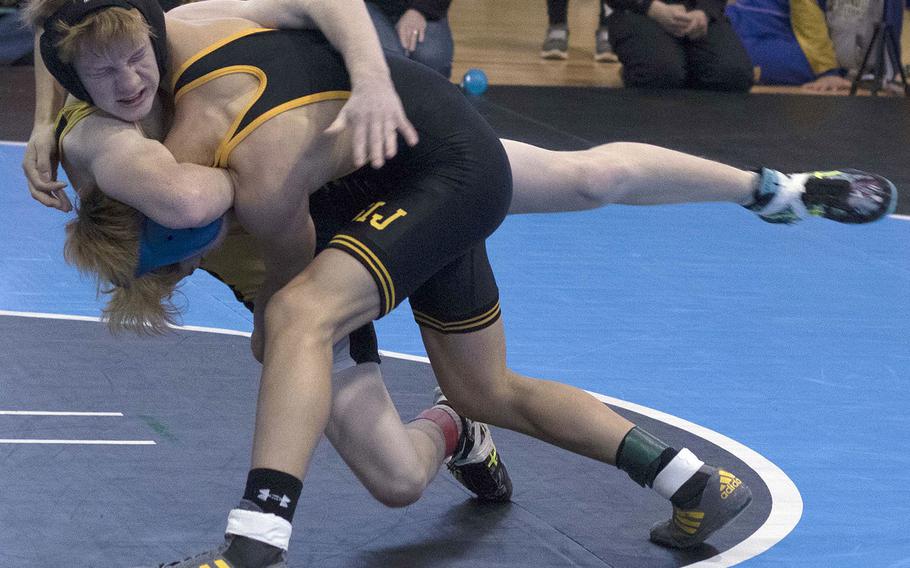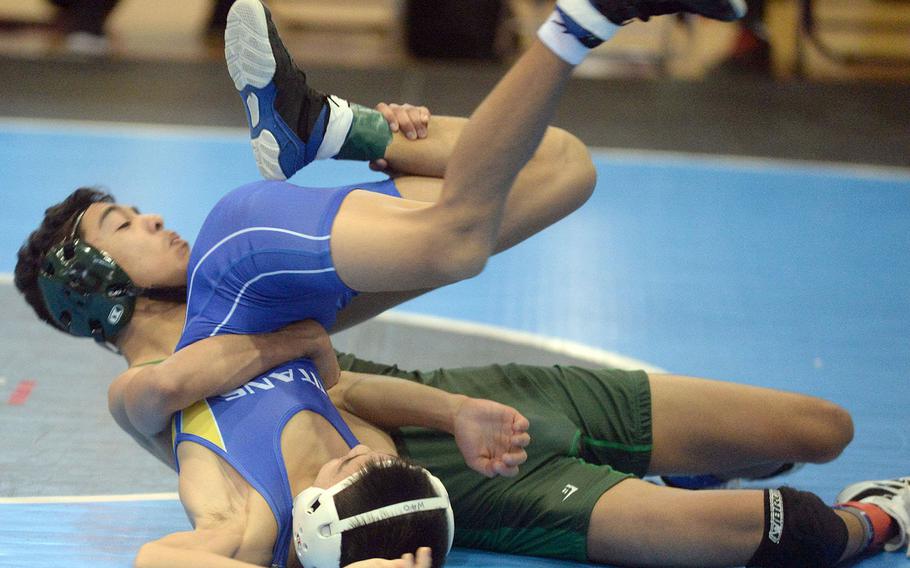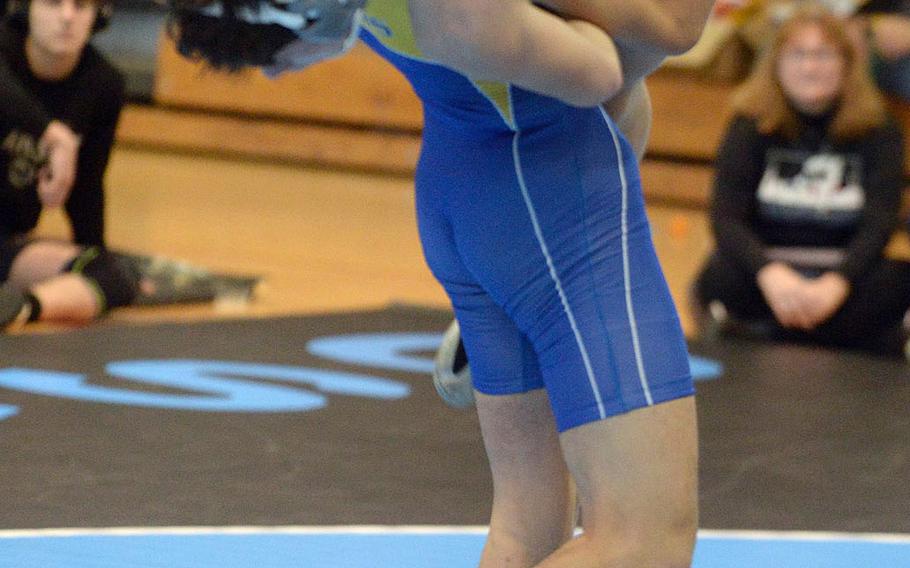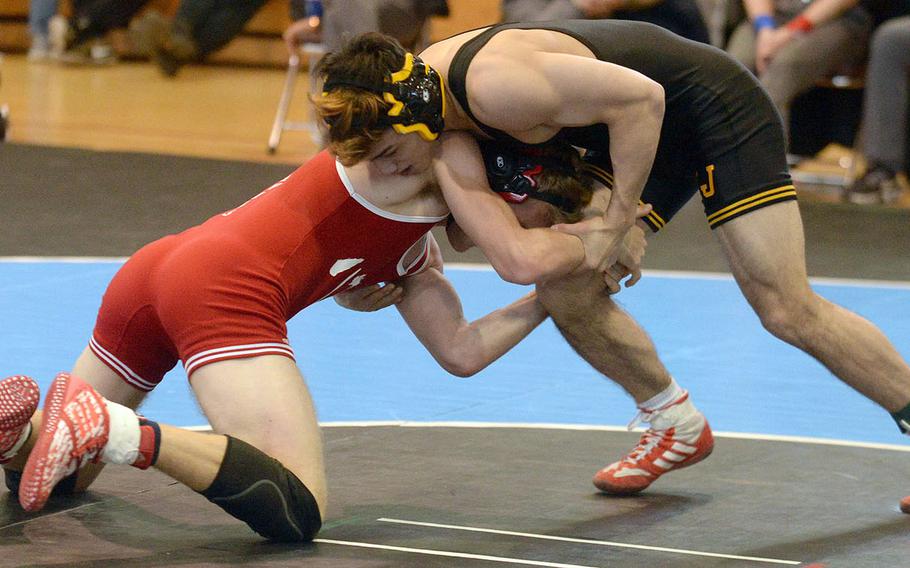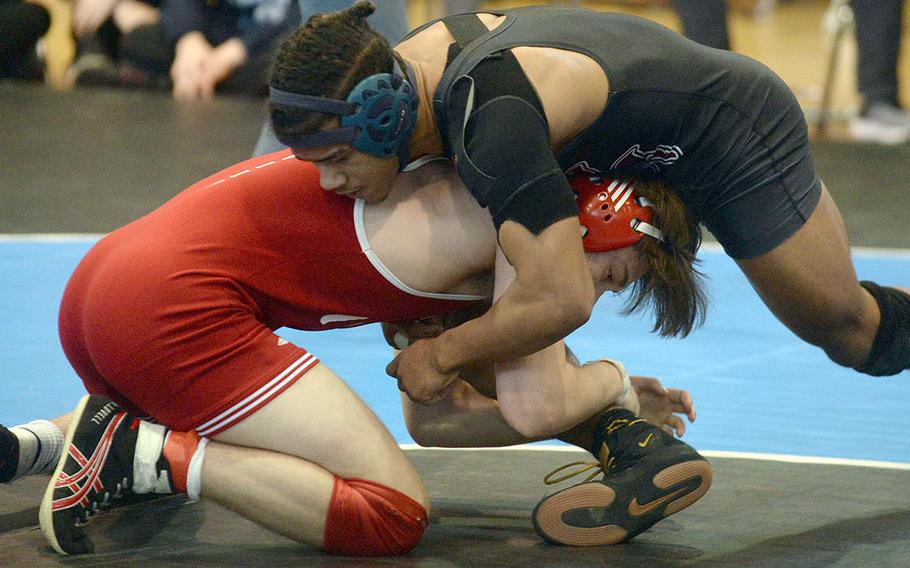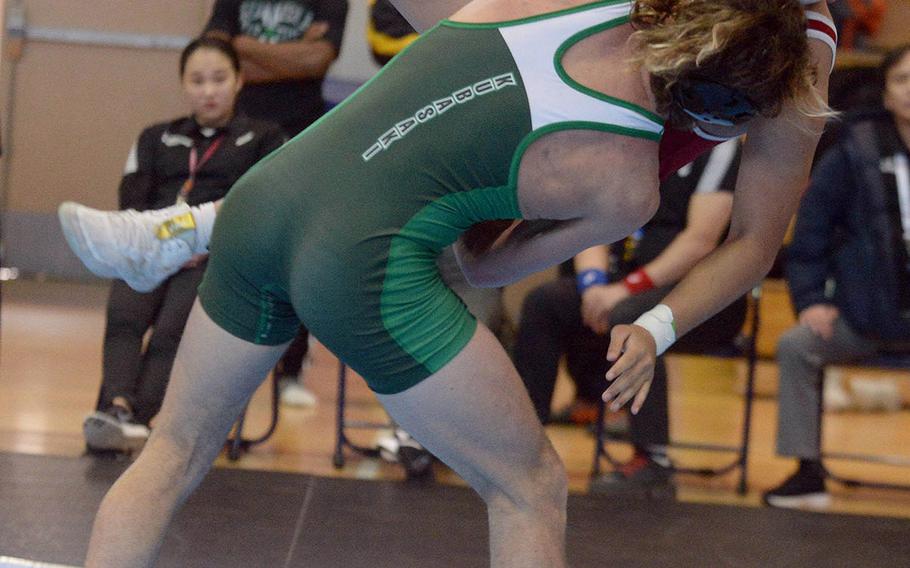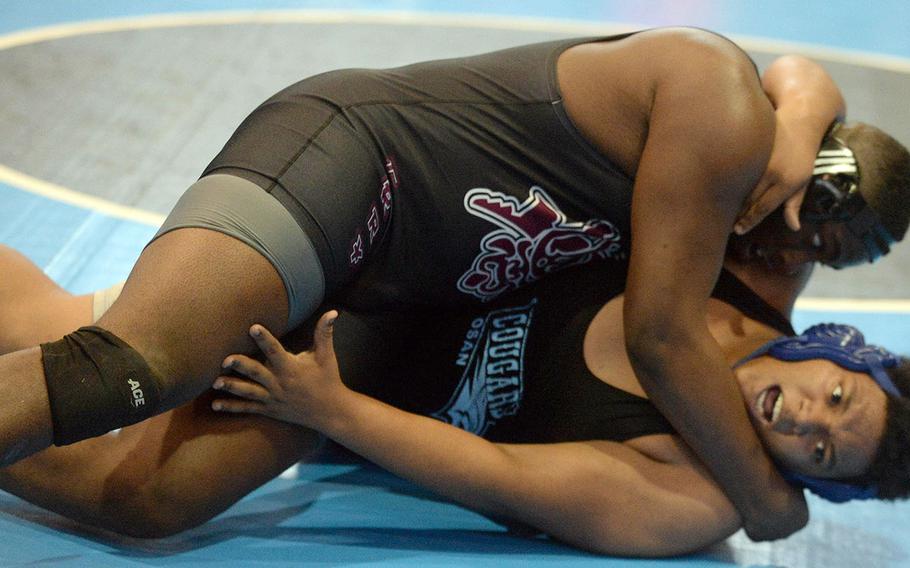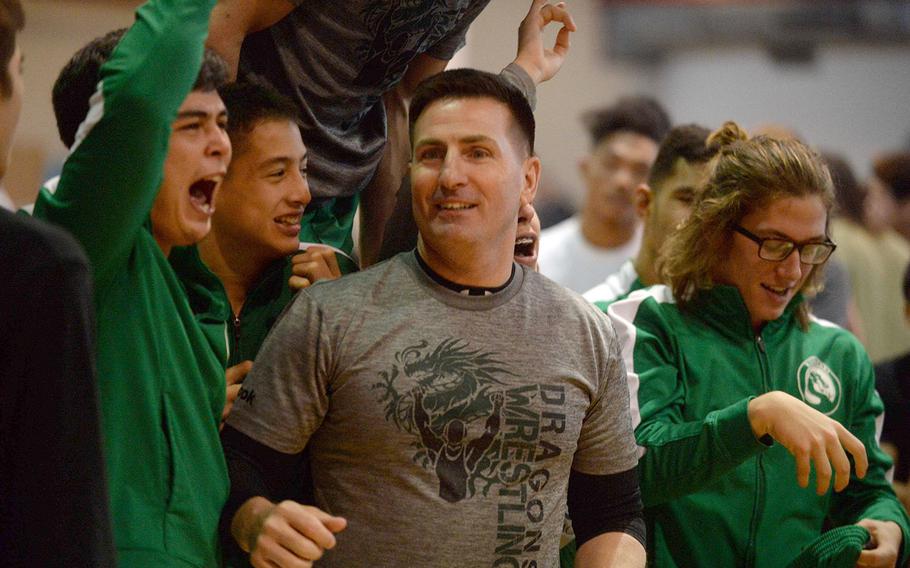 OSAN AIR BASE, South Korea – Going from Florida state champion to DODEA-Pacific Far East champion in the span of a year, Colin Nation also helped Kubasaki repeat as Far East individual freestyle team champion.
Nation, a junior, pinned Kaleb Leon Guerrero of Nile C. Kinnick to win at 180 pounds, one of four Dragons to capture their weights, as Kubasaki scored 79 team points to win Division I, outdistancing St. Mary's - second for the third straight year - by 10 points.
"Especially with the amount of work we put in this season, to get that big a reward, absolutely, it feels good," Nation said.
"I'm just proud of my team," coach Brent Cook said after the Dragons extended their Pacific record for Far East titles in any sport to 27.
"It was such a fun event. All the teams were so evenly matched this year. It took everybody. Eight of my 11 won (their placement bouts) today. Just excited. Proud of my team. Great event."
Just as Nation's victory clinched the D-I title for Kubasaki, the Division II team crown came down to Yokota senior Austin Fisher pinning American School In Japan's Dani Rahman at 215 pounds. The Panthers edged Matthew C. Perry 35-34 in the team standings.
"I don't expect anything," outgoing Panthers coach Kristina O'Grady said. "I expect just for my kids to do their best any time they step on the mat, and they did their job, and we're bringing home the banner."
Kubasaki, St. Mary's, American School In Japan and Nile C. Kinnick started Friday's placement bouts in a statistical dead heat in D-I, as did Yokota, Perry and host Osan in D-II.
Throwing the door open for Kubasaki, Cook said, was Nicholaz Aguirre's comeback technical fall win at 101 over St. Mary's Isaac Shane.
"A little bit," sophomore Aguirre said when asked if he was nervous. "I put my head to the side, he (Shane) took advantage of it, but I rallied. It feels pretty good. Definitely something new. I'm happy."
"We needed that one," Cook said. "Probably the most important match of the day."
No less important, he said, than Vincent Rodriguez's pinning St. Mary's Ikki Minamikawa to win at 115, another bout that could have gone either way. "Anything can happen," Rodriguez said. "I'm just happy to win, get one for the team."
Victor Saavedra was next for Kubaaski, taking the 135-pound title by decision 7-2 over Kinnick's Kenerick McDanel, after which he and the Dragons said they were "very optimistic" about their chances.
"I love this team. We all put in the work this season," Saavedra said.
In addition to Fisher's 215-pound title, Panthers senior Caleb Heino scrambled back to a Far East weight-class title at 122 pounds; he had won at 101 as a sophomore in 2018.
But Heino, too, survived a scare before pinning Kaito Hayashi of Zama.
"I worked more for this one," Heino said, comparing the two titles he won.
He said he opted not to play any other sports after failing to repeat last year, instead focusing entirely on wrestling.
Heino also said this one was sweeter for having dethroned 2019 champion Jaylan Mayers of Kubasaki in Thursday's semifinal. "It felt better because I was more competitive," he said.
Another repeat titlist, Marshall China of D-II runner-up Perry, faced what he called his "toughest opponent" of the season in Myles Bradley of Osan in the heavyweight final. The bout swayed back and forth until China secured his third straight title by pinning Bradley at 5:46.
"I saw an opening and took the shot," China said. "Not a lot of time left, so I had to take it. He (Bradley) was strong, he knew how to defend my shots. He's a good athlete."
Reigning Far East Outstanding Wrestler Rin Zoot of ASIJ also repeated as 148-pound champion, beating Kinnick's Ethan Hamilton by technical fall. Teammate Bryce Clement beat Kadena's Aiden Russell by technical fall for the 108-pound title.
Kadena's Kurt Chapman, a sophomore, scored a surprise victory by pinning ASIJ's Take Zoot at 129. "It makes me feel like I want to do the same thing next year," he said.
St. Mary's won two weight-class titles: Hikaru Shimada over Osan's Toy Williams at 141 and Warren Koslow over Edgren's Ethan Hovenkotter at 158, each by 10-0 technical fall.
Alex Lovell brought home Kinnick's lone individual title at 168, scoring a 14-4 technical fall over Perry's Nemo Matthews. "He has a very strong upper body," Lovell said of Matthews, adding that he attacked the lower body, "made sure I didn't tie up and not do anything stupid."
ornauer.dave@stripes.com Twitter: @daveornauer