Formats other than 11-man being considered for D-II football
by
Dave Ornauer
October 18, 2018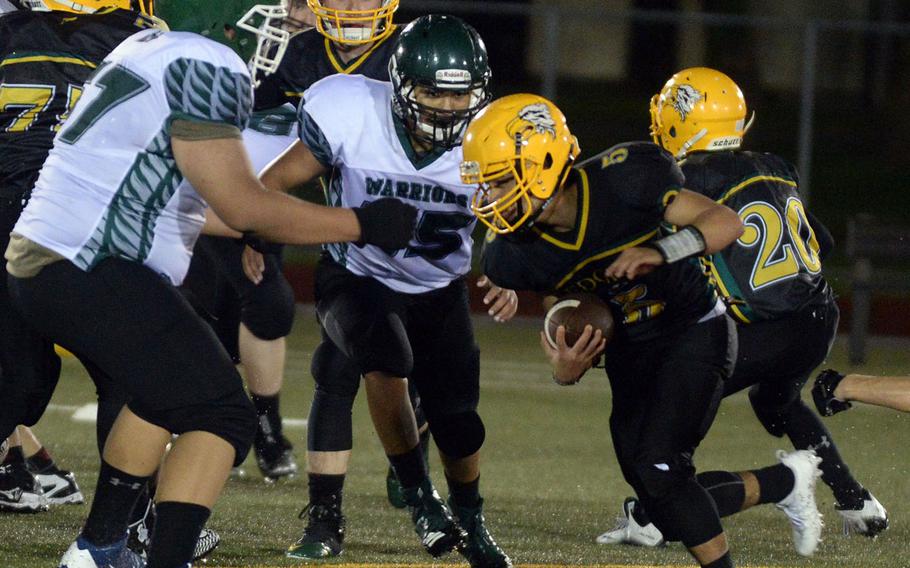 Is there a possibility that Pacific Division II football might go the way of Division III in Europe, where five schools are experimenting with a six-man tackle format?
That's being discussed by coaches and administrators at D-II schools in Japan and Korea, all the way up to the halls of DODEA-Pacific's area office at Torii Station on Okinawa. The reason: Many teams are having trouble getting enough players to field a team.
Osan had to back out of a scheduled game on Oct. 6 at Matthew C. Perry because it only had 14 available to travel, one below DODEA-Pacific's minimum of 15. Osan had to shut down its program the previous few seasons due to lack of players. Daegu traveled with that many for an Oct. 6 game at Robert D. Edgren, only to have that game halted one series into the second half when the Warriors were down to 12 players due to injuries. The Eagles won the game 50-0. Edgren almost didn't field a team when it only had 12 players by the middle of the second week of practice. They were given until Aug. 31, by which time they were able to suit up 18 players. Seoul American suspended operations this season when it only attracted eight players by that Aug. 31 deadline; it's not known if the Falcons might return to the gridiron next fall.Thus, the idea of a reduced format, such as nine-, eight- or even six-man football team is being considered, and Far East athletics coordinator Tom McKinney said he and DODEA-Pacific officials are willing to listen to ideas put forth by downline districts and individual schools.
"It won't happen this season," McKinney said, but DODEA-Pacific would consider any suggestions made at either face-to-face meetings or video-tech conferences in the coming months.
Logistically, it might be difficult, McKinney said, in that almost all the Pacific's fields are turfed and are marked for 11-man format, 100 yards by 50. It would mean getting coaches and referees used to a new format, whatever that might end up being.
In DODEA-Europe, five schools signed on for a first season of Division III six-man format. Former Division II powerhouse Ansbach (Germany) restarted its program after failing to come up with enough for 11-man format in 2017.
Ansbach joined similarly sized German neighbors Baumholder and Hohenfels in the new D-III. In the Benelux, AFNORTH and Brussels scuttled their merged D-II program in favor of separate D-III entities.
RAF Alconbury of England and Sigonella of Italy, two D-III schools at opposite geographic extremes, are considering signing on if six-man continues in future seasons.
The idea of the Pacific moving away from football's traditional 11-man format was met with mixed views by both D-I and D-II coaches.
For his part, Daegu coach Blake Sims said if D-II played nine-man format during the Oct. 6 game at Edgren, "it would have helped … we would have had a few more" substitute players.
"It would be better" from a safety standpoint to consider nine-man or fewer, Sims said. "If it's better for the kids," it should be considered in the future.
"I think it's always important to look at the needs of the students, the children of those serving overseas," said Osan principal Morgan Nugent, adding that playing less than 11-man format has been a topic of discussion for several years there.
At full strength, Daegu has 18 players and Osan has about the same. Their enrollments are about two thirds' those at Yokota, which has about 30 players, and Zama, which has 37.
Perry this season is in the same boat as the Warriors and Cougars, but longtime Samurai coach Frank Macias said he refuses to even consider a shift to less than 11-man.
"I'm a traditionalist," Macias said. "I understand the constraints within DODEA. But I'm hoping this is a one-year dip for us. We haven't had this problem" since Perry's program restarted five years ago.
D-I coaches said they were adamant about sticking with 11 man, since all have little trouble finding enough players.
Changing formats "is not the answer," longtime coach Dan Joley of D-I Nile C. Kinnick said, adding that it's about the strength of each school's program, coaching and football culture. "There are enough kids to field full teams at all schools."
Tim Pujol, the dean of DODEA-Pacific coaches, has coached both at the D-I and D-II level and also coached nine-man format at Daegu in the mid-1990s, before DODEA took over football in Korea.
Prior to that, Army Community Services and Air Force Services ran high school-aged ball in nine-man format.
Pujol's first reaction to hearing that such a move is being considered, he said, was: "We're going in the wrong direction, bringing football one step closer to extinction."
Given Seoul American's program folding and the small numbers at Daegu and Osan, "it's obvious that participation in football in the Pacific is way down, especially in Korea," Pujol said. Yokota, also, has had trouble with numbers; for two years now, it's not had a JV team.
Division I can go on "as usual," Pujol said, but should D-II consider nine- or seven-man format, "those options can be offered," Pujol said. It could open the door for Seoul American to return to the gridiron or even for E.J. King, which has never had football, to field a team.
"My last thought is that coaches be part of the audience at the table" when they're having such discussion, Pujol said.Stars and Stripes Europe sports correspondent Gregory Broome contributed to this report.