Falcon girls starting to soar in final season
---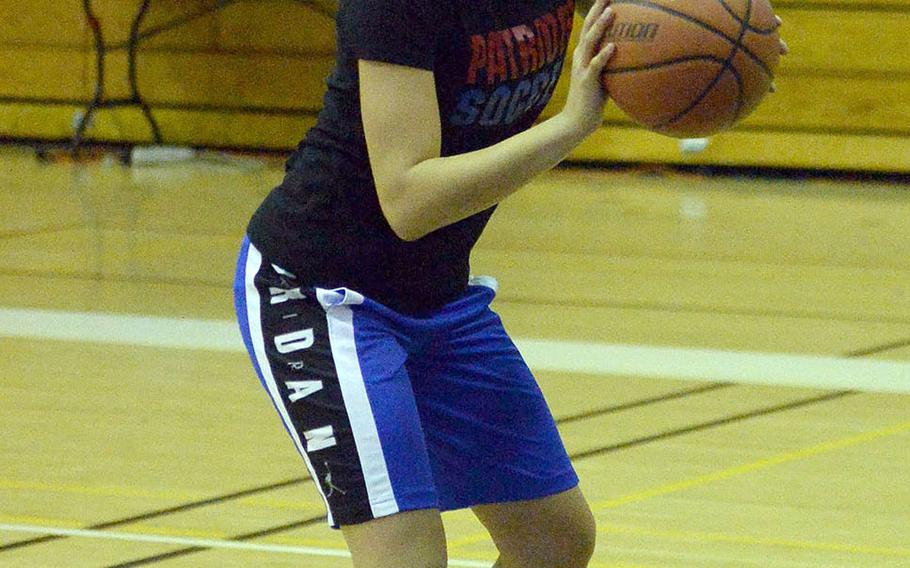 YONGSAN GARRISON, South Korea – After getting off to a poor start in the final season of Seoul American basketball, the Falcons girls team is showing signs of life, having won four of its last five games.
And it couldn't come at a better time, with the Korean-American Interscholastic Activities Conference season-ending Plate Tournament coming up this weekend at Chadwick International School in Incheon.
The Falcons take a 5-7 record into the Plate Tournament, for teams with sub-.500 records across KAIAC's three divisions. Seoul American has the No. 1 seed, a first-round bye and plays the winner of International Christian-Uijongbu vs. Dwight School of Seoul at 1 p.m. Friday.
Seoul American's most recent win in that five-game run came Wednesday in the regular-season finale - a 57-30 pounding of Taejon Christian - in which Mya Rolison, a sophomore transfer, had her lone triple-double of the season, 12 points, 11 rebounds, 10 steals.
Not bad for somebody who had never played organized basketball before this season and had played soccer and run track for Old Mill (Md.), just south of Baltimore before moving to Korea.
"Heck of an athlete, raw athleticism, end-to-end speed, constant hustle on both ends," coach Eddie Rozzi said of a player who heads the Falcons' 2-2-1 press. "A great athlete and player for having never consistently played organized ball."
Upon arriving at Seoul American – which is due to close June 3 after 60 years of existence – Rolison said she had her "arm twisted" by the other basketball players, who got her to sign on "and I've done pretty well."
The Falcons aren't strong offensively; their leading scorer is sophomore Tailan Hickey, averaging 7.3 points. It's the press, Rozzi said, that's fueled Seoul American's recent run.
Hickey's senior sister Tacoria has averaged 12 points in the Falcons' last two games. Then Rolison came alive offensively against the Dragons, who beat Seoul American 26-23 in the season opener on Dec. 7.
"We make sure each team knows it's going to be in a fight for 32 minutes," Rozzi said. Can the Falcons go all the way in the Plate Tournament?
"We definitely showed out" on Wednesday against TCIS, Rolison said. "Last night was one of our best games. I think we're going to finish on top, definitely."
The other DODEA team in the girls Plate Tournament is Osan, which finished 2-10 during the season.
After going winless two seasons ago, Daegu's girls went 12-0 in KAIAC regular-season play and earned the top seed in the KAIAC Cup Tournament at Humphreys, for teams sporting over-.500 records across KAIAC's three divisions. Humphreys (9-3) got the second seed.
Humphreys' boys team went unbeaten for the second straight regular season and earned the top seed in the boys Cup Tournament at Yongsan International. Osan (7-5) slipped into the field after beating Daegu last Saturday and is seeded No. 7.
KAIAC's boys Plate Tournament is being hosted by Seoul International in Seongnam; it features Daegu (5-7) and winless Seoul American.
Elsewhere in the region, Kadena's and Kubasaki's boys and girls teams face off against Okinawa's top Japanese teams in the 13th Okinawa-American Friendship Tournament at Camp Foster on Saturday and Sunday at the Foster Field House.
Kubasaki last Jan. 7 won the Friendship Tournament for the fourth time since its inception in 2007, downing Maehara 68-54. The Dragons are 4-2 in six finals appearances in the event.
On the mats, Seoul American hosts its only Korea regular-season meet on Saturday, a four-way featuring Daegu, Osan and Humphreys. Zama hosts DODEA-Japan teams in its lone invitational on Saturday.
---
---
---
---