Edgren tops Yokota to set up showdown with Zama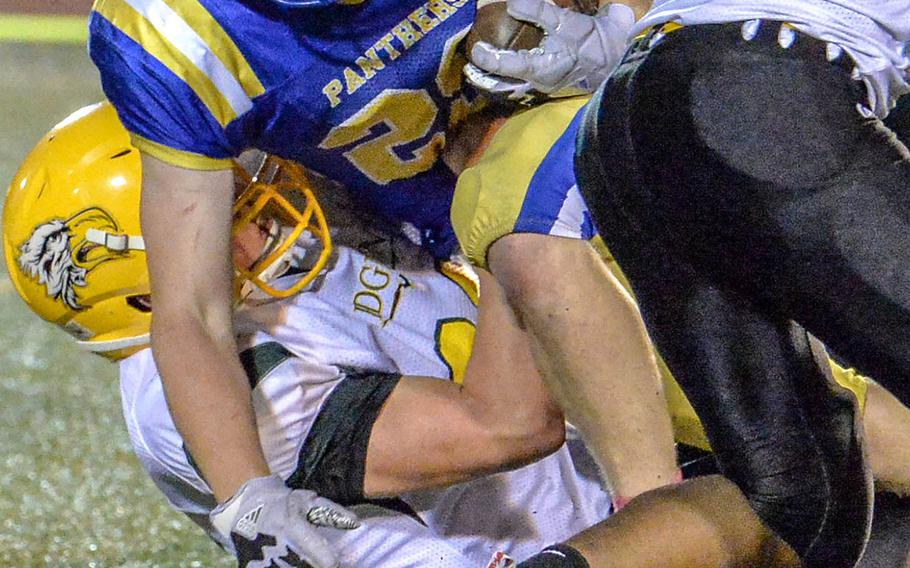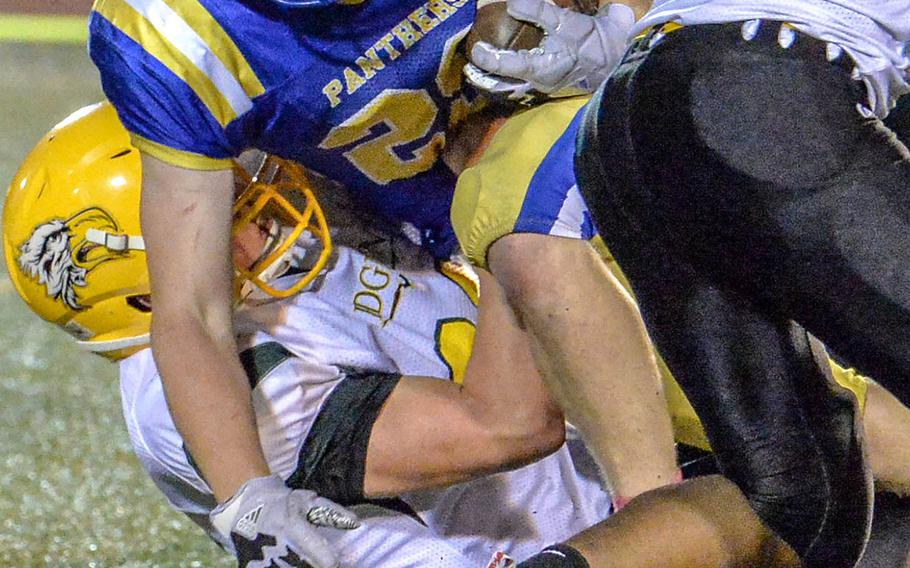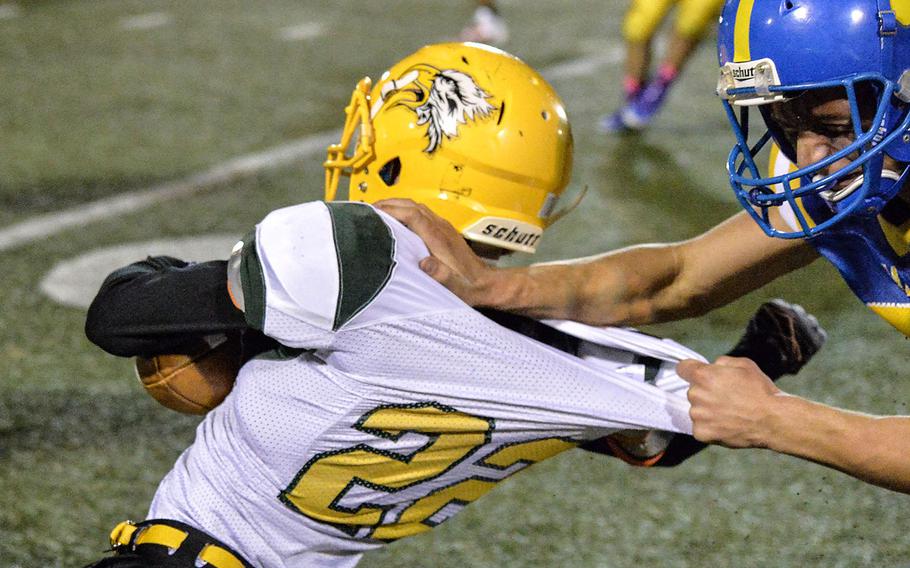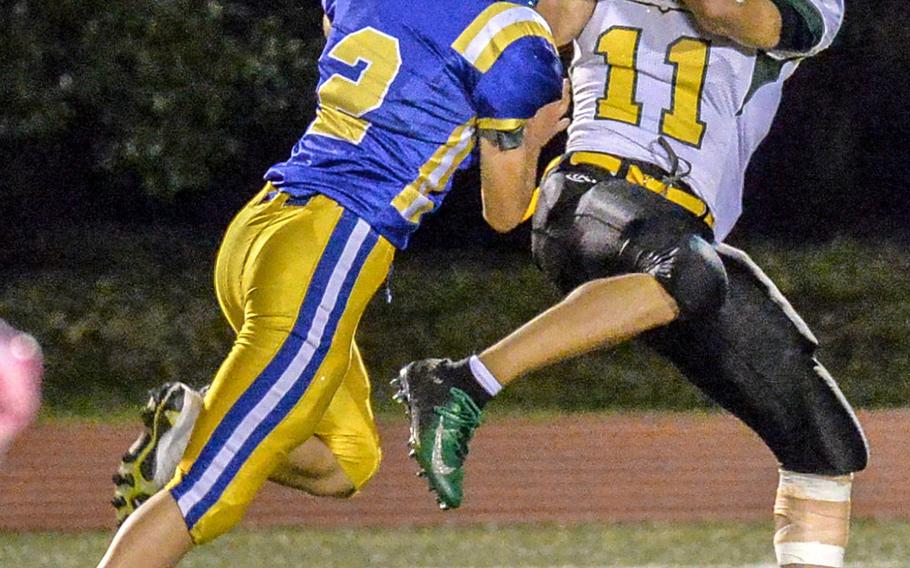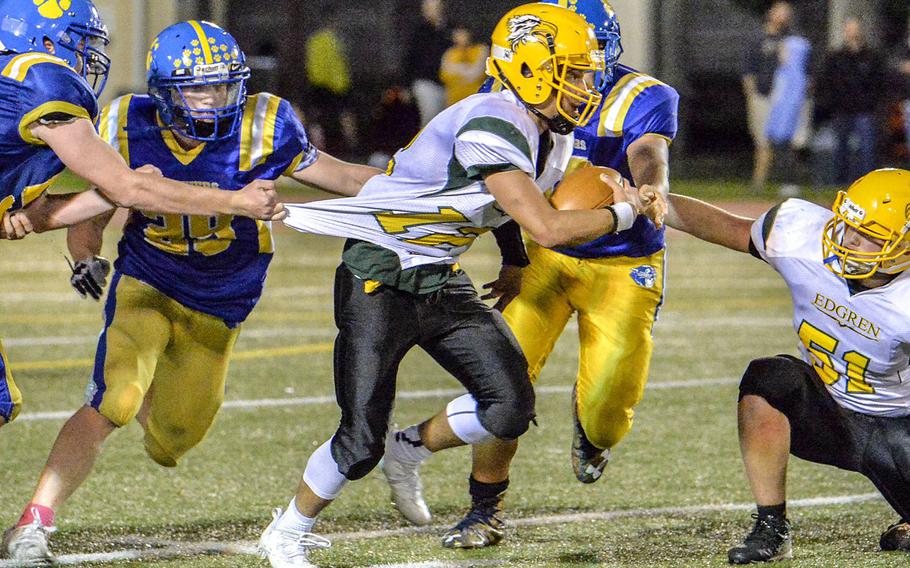 YOKOTA AIR BASE, Japan – It wasn't a question of whether his Robert D. Edgren team could win, but how his Eagles would perform when the going gets tough, coach Jeremy Sanders said.
He said his team answered any such questions with a one-point road win on Friday at Yokota. A.J. Nelson caught a 13-yard touchdown pass and a two-point conversion pass from Raphael Lykins late in the fourth quarter as the Eagles rallied to edge the Panthers 22-21.
"That was such an emotional game," Sanders said. "I am so proud of our players. They dug deep and now, they understand how to pull out tight games and how to fight through tough battles."
The win boosted the Eagles to 2-0 overall and 1-0 in Japan Division II. It was the continuation of a renaissance for an Eagles program that almost folded in August when it was short of players.
They did find enough to field a team and began the season last week with a 50-0 rout of Daegu, in a game ended just after halftime when Daegu ran out of players.
Sanders said he wanted to see his Eagles prove their worth against a program such as Yokota, which has more DODEA-Japan championships (14) than any other school.
Nelson's touchdown catch and two-point conversion came on back-to-back plays in which "he willed himself into the end zone," Sanders said. The plays rallied the Eagles from a late 21-14 deficit.
Lykins rushed for touchdowns of 71 and 5 yards in the second quarter. Bradleigh McCollum had three sacks and Ronald Mays an interception for the Eagles.
Those offset a brilliant performance by Ethan Smith of Yokota (1-3), who rushed 20 times for 129 yards and a touchdown and caught three passes for 103 yards and two touchdowns.
Ethan Gaume had 75 yards on eight carries, a 30-yard reception, was 4-for-7 for 114 yards and two touchdowns and had 111 yards on five returns.
"They had a very hard-hitting team, an elusive quarterback and they played a really solid game," Panthers coach Tim Pujol said of Edgren.
The Eagles next host Zama on Friday at 7 p.m., with host rights to the Far East Division II title game on the line. Yokota entertains Humphreys next Saturday at 1 p.m.