Edgren needs numbers to turn fortunes around
by
Dave Ornauer
August 28, 2018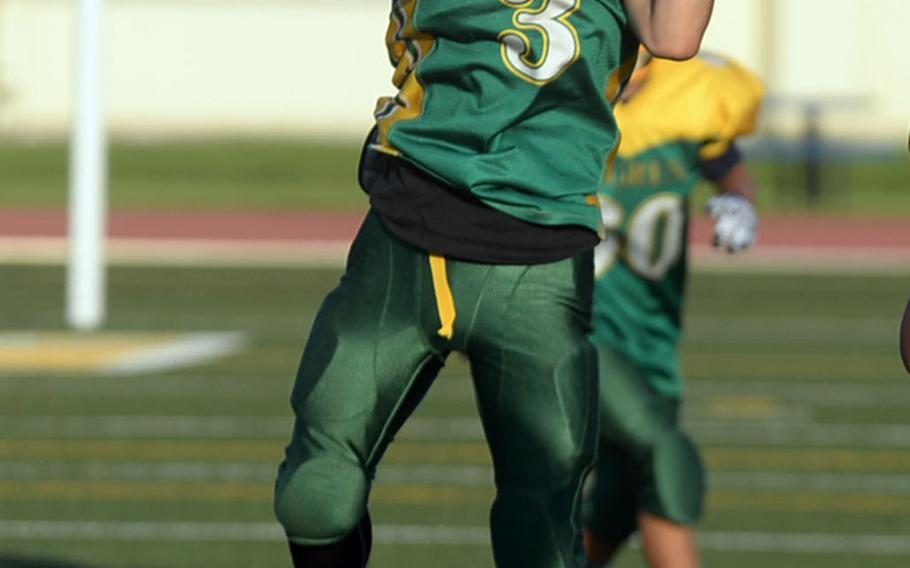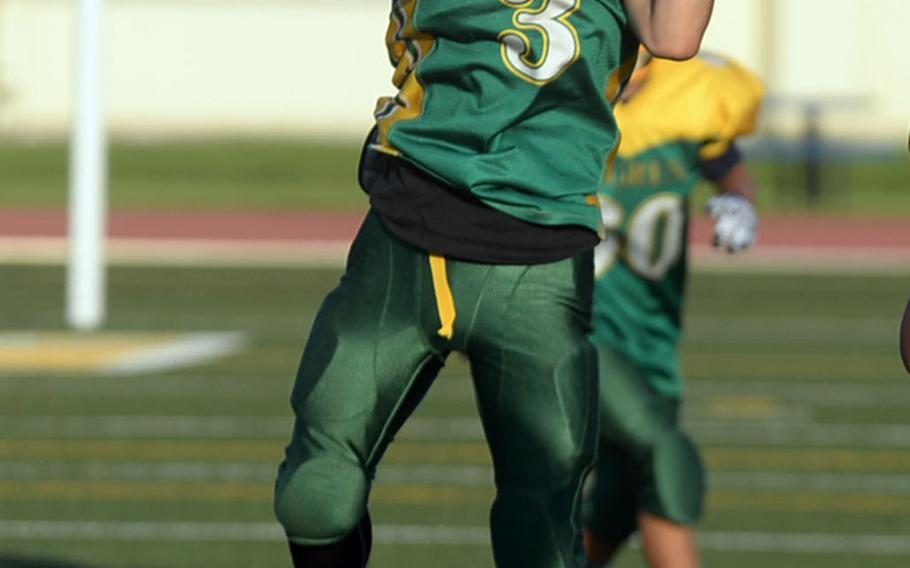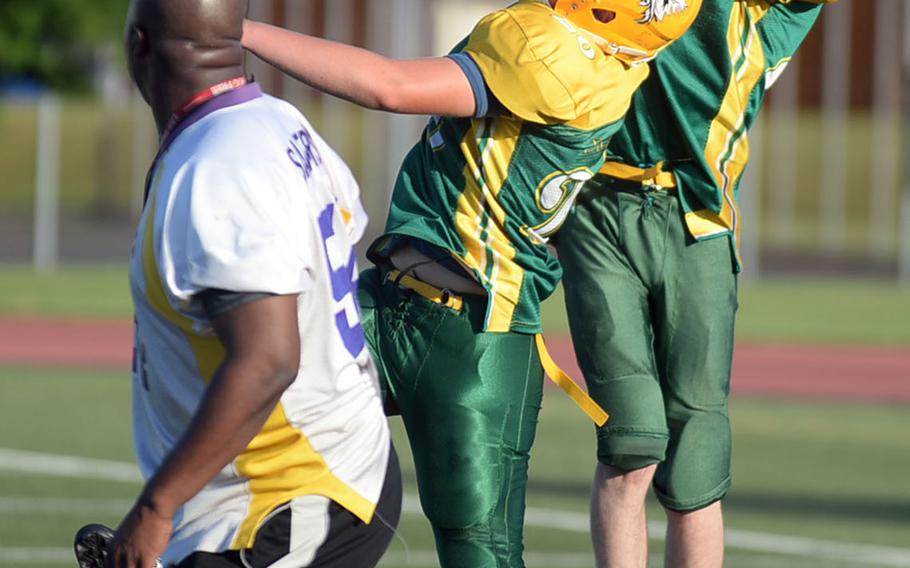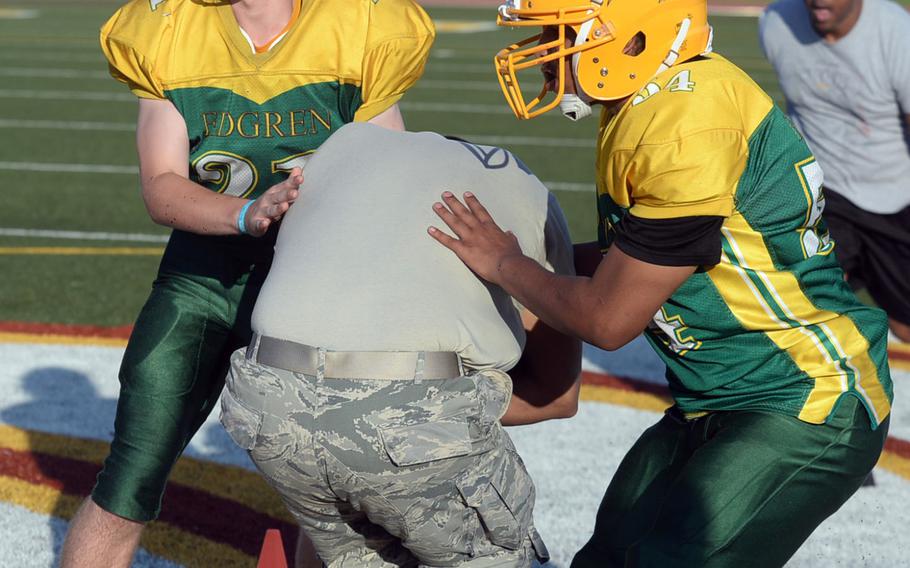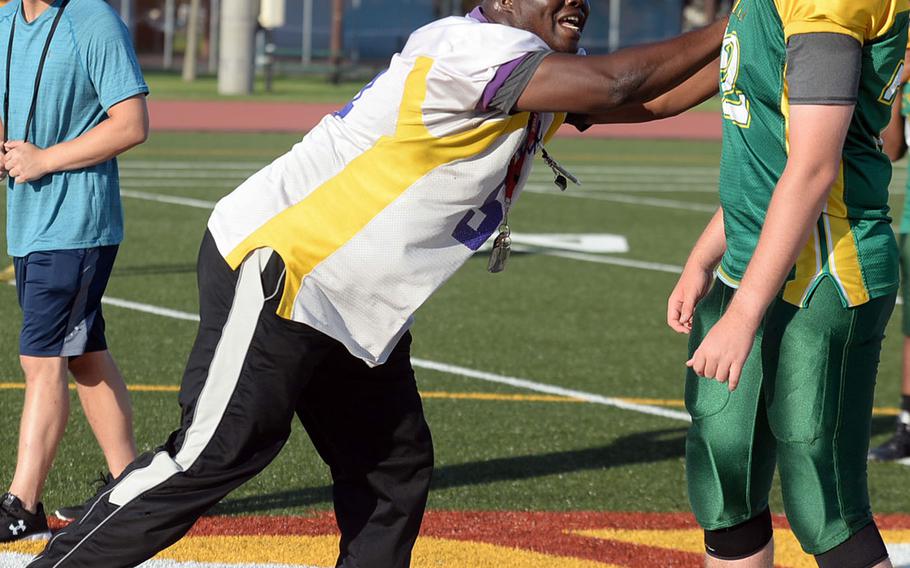 Eighth in a series of looks at high school football camps around the Pacific.
MISAWA AIR BASE, Japan – Time is working against Robert D. Edgren if the small high school hopes to keep its football program alive.
But the Eagles are fighting back in an effort to do just that.
Faced with a major player shortage, DODEA-Pacific and school administration have set a 4 p.m. Friday deadline to come up with enough bodies to put in uniform to play the 2018 season.
"We're racing against time," coach Jeremy Sanders said, adding that the school and team is engaged in a hectic recruiting process, ranging from school flyers to spots on AFN radio to drum up interest.
So far, it's working.
Last Friday, the Eagles had just 12 players, 10 in uniform, two on the sidelines recovering from injuries. Thanks to a burst of recruiting and community engagement, those numbers increased to 18 on Tuesday, with a few more players expected before the deadline.
School principal Ronald Knight said the optimum number would be 25.
"It's a big uphill battle," Sanders said. School opened on Monday and Sanders said, "I'm not giving up," that he would go door-to-door at school if necessary to try to find people and "we'll see if we can salvage a season."
"We're not going to forfeit the season," Sanders said. "We're going to keep working it and see where the cards lie."
Edgren has been a Division II school since the inception of the DODEA-Pacific Far East playoffs in 2005 and appeared in the first four D-II title games, winning three straight championships from 2006-08.
The downturn in numbers began in 2016, when the Eagles went 0-7, forfeiting one game and left the field in the second quarter of another due to too few players and too many injuries. Edgren played a full schedule in 2017.
The small number of players appears to not be limited to Edgren, which is 360 miles north of Tokyo.
Seoul American, which joined Division II for this season after playing Division I since 2005, is also facing a Friday deadline to field a team.
Within Division II, Yokota fielded just 17 players at practices last week, Zama had just 24 and Matthew C. Perry 21. Even Kubasaki, a Division I power with two large-school titles and six D-I title-game appearances, started official practice with just 27 players, an all-time low.
Knight said he talked with three school-aged students in front of Misawa's Potter Fitness Center the other day, and he said they told him, "They just didn't want to get tackled."
Another part of the problem, Knight said, has been the downturn in student population at Misawa.
Eagles players said they would do their best to stave off what would be a first-time season forfeiture by the school.
Senior quarterback Raphael Lykins has been on the varsity all four years, and said, "There's no other way I'd want to end it. I'm giving it my all. I wouldn't have any other chance. I'm not one to give up. I'm completely committed to this team."