Prep roundup
Edgren boys, Zama girls are last unbeatens on Japan
by
Dave Ornauer
January 12, 2019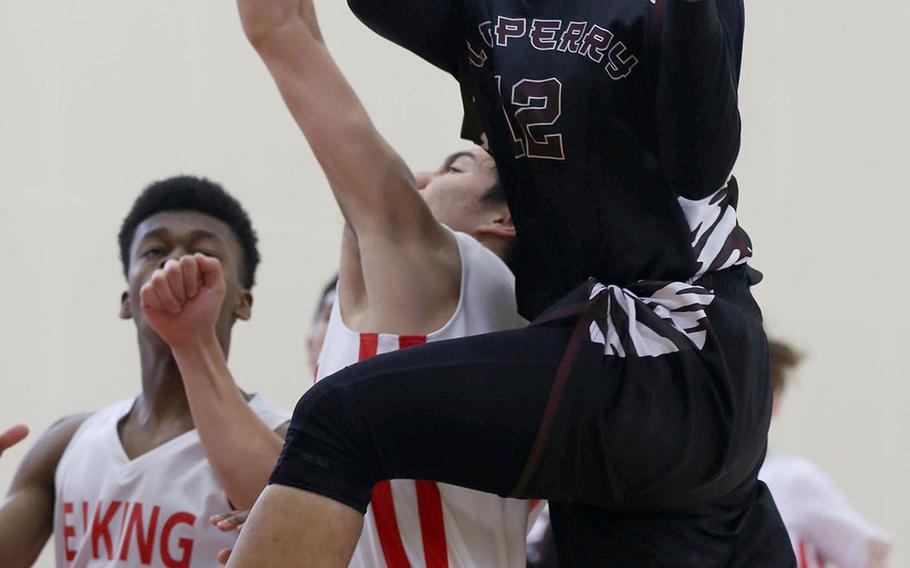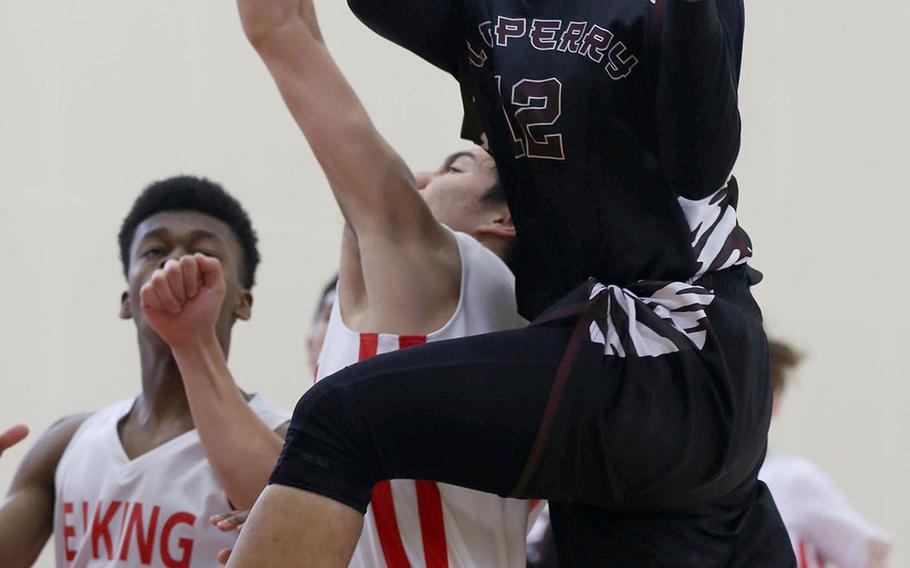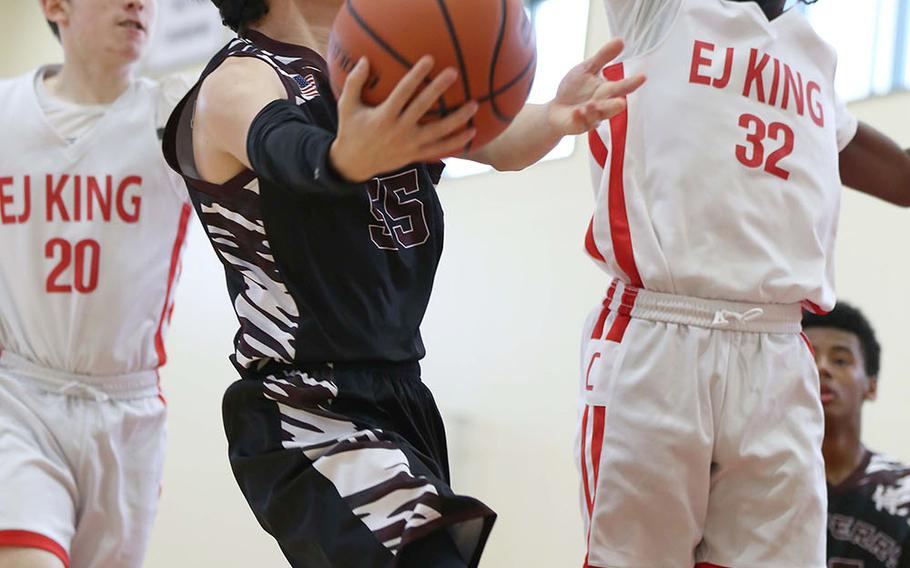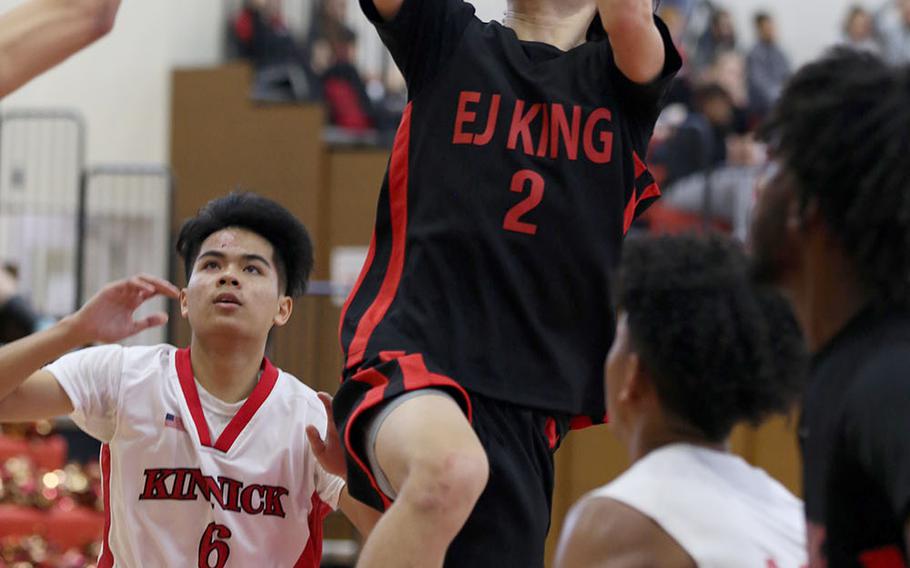 YOKOTA AIR BASE, Japan – While Robert D. Edgren continued its flying start on the boys basketball hardwood, the Eagles' wrestling team has also begun to rev up its engines.
Edgren finished third behind Division I powers St. Mary's and Nile C. Kinnick. With Chase Quigley scoring a weight-class victory, the Eagles finished highest among the four Division II teams at Saturday's Yokota Invitational Meet.
And Quigley, a junior 215-pounder, says the best may be yet to come. "As long as we keep our hard work up and keep our guys coming to practice, the only thing I see is improvement," Quigley said.
He pinned St. Mary's Michael Patton in 2 minutes, 3 seconds in what was the last bout of Saturday's event. Tai Marsh (108), Ethan Hovenkotter (148) and Jason Dudley (180) took second places and Samantha Hendrickson (108), Sam Squires (129) and Levi Ricks (135) finished third.
No official points were kept by organizers. Based on an unofficial tally with 10 points for first place, five for second and three for third, St. Mary's totaled 98 points, Kinnick 44 and Edgren 34.
It's the best finish thus far for an Eagles team that at this time last year had just five wrestlers. Now it has 17, said Justin Edmonds, in his 14th season.
Meanwhile, down the road at Camp Zama, Edgren finished the weekend as DODEA-Japan's only unbeaten boys basketball team, sweeping Zama 63-53 on Friday and 61-42 on Saturday.
"It went a little better today," coach Andre Thibert said. "Our first long haul road trip this season, but we survived."
It helped, Thibert said, that he noted a few things that his charges would have to tidy up.
"We need to clean up on rebounding and foul shooting," he said. "Way too many second chances for Zama and way too many missed free throws. And getting our travel routines down."
The other DODEA-Japan unbeatens, E.J. King and Nile C. Kinnick, took turns suffering their first losses during a three-team weekend series at Matthew C. Perry.
Dyson Robinson's 30 points helped the Cobras edge the Red Devils 67-62 on Friday. Rashad Rapada had 17 as Kinnick rebounded on Saturday 54-34.
The first game was a "good head-to-head battle," Cobras rookie coach Travis Elliott said. But the Red Devils hit a buzzer beater at first half's end of the second game "and they (Kinnick) came out in the third quarter tougher than we did."
Still, the Cobras left Iwakuni "satisfied with a split," Elliott said. "Now, we go back to the drawing board and see how we can fix it."
King and Perry head to Kobe next weekend for a Western Japan Athletic Association tournament.
On the girls' side, Zama concluded the weekend as DODEA-Japan's lone remaining team without a loss after two one-sided victories over Edgren, 54-6 on Friday and 58-13 on Saturday.
Freshman Chloe Sterling led the way for the 8-0 Trojans, averaging 18.5 points. Brianna Ratliff took care of things on the boards, averaging nine rebounds in the two games and chipped in with five steals on Saturday.
Kadena sweeps district titlesKADENA AIR BASE, Okinawa – For the third straight season, Kadena's basketball teams have made it a clean sweep of the Okinawa titles. The Panthers sealed the deal on Friday, the girls beating the Dragons 46-14 and the boys 57-48.
Junior guard Casey Cox led the way for the Panthers boys with 23 points. He's the lone three-year member of a team that's won those titles with three different coaching staffs.
"It's tough beating Kubasaki three times," first-year Panther varsity coach Antiwon Tucker said. "They're a tough team. They're well coached. We're not taking anything for granted."
Neither are the Panthers girls, coach Johnny Cooper said, despite three one-sided victories over Kubasaki.
"That was just a stepping stone, Phase 1 of the season," he said. "We need to be tuned in. There's a steep road ahead of us. We really need to stay focused."
Kadena and Kubasaki next host Taipei American School in the schools' annual basketball exchange, this year taking place at the Dragons Den.
Daegu's Turner just misses quintuple doubleCAMP WALKER, South Korea – Dai'Ja Turner was already piling up huge numbers this season for Daegu's girls basketball team. But Friday's performance topped anything she's done so far.
The sophomore center came within one steal and four assists of a rare quintuple double: 19 points, 14 rebounds, 13 blocks, nine steals and six assists as the Warriors crushed Yongsan 48-32.
"She had a monster game," coach Jonathan Van said of Turner, who is averaging 17.5 points, 10.3 rebounds and eight blocks this season for the Warriors, 8-0 this season.
On the boys side, Humphreys continues its torrid pace atop the Korea Blue Division, also improving to 8-0 with a weekend sweep of games in Seoul, 73-40 at Seoul Foreign and 50-10 at Seoul American.
Against the Crusaders, Quintin Metcalf led three players in double figures with 18 points and had 10 rebounds, five steals and seven assists. He and starter Jalen Hill did not suit up for Saturday's game, which ended in the third quarter due to the league mercy rule.