Edgren airs it out to get first victory at Zama's expense
---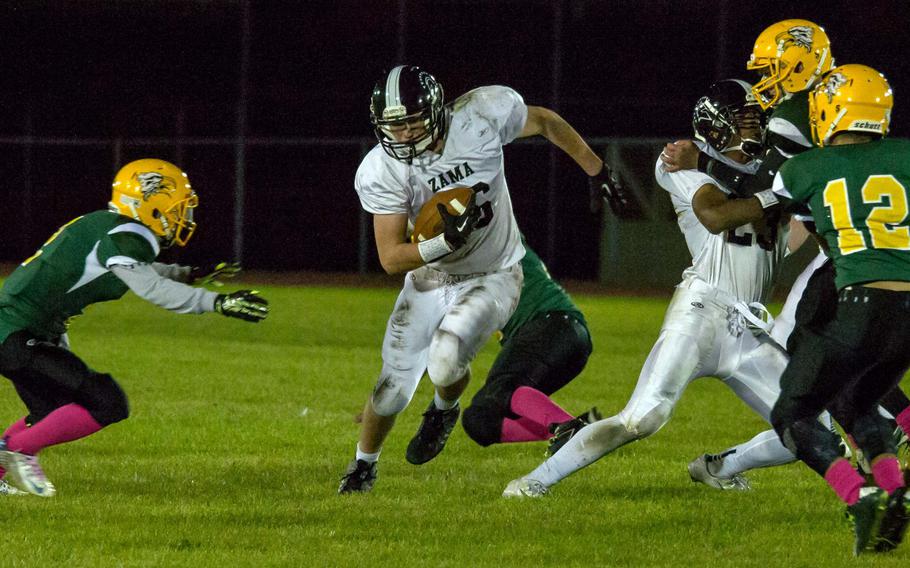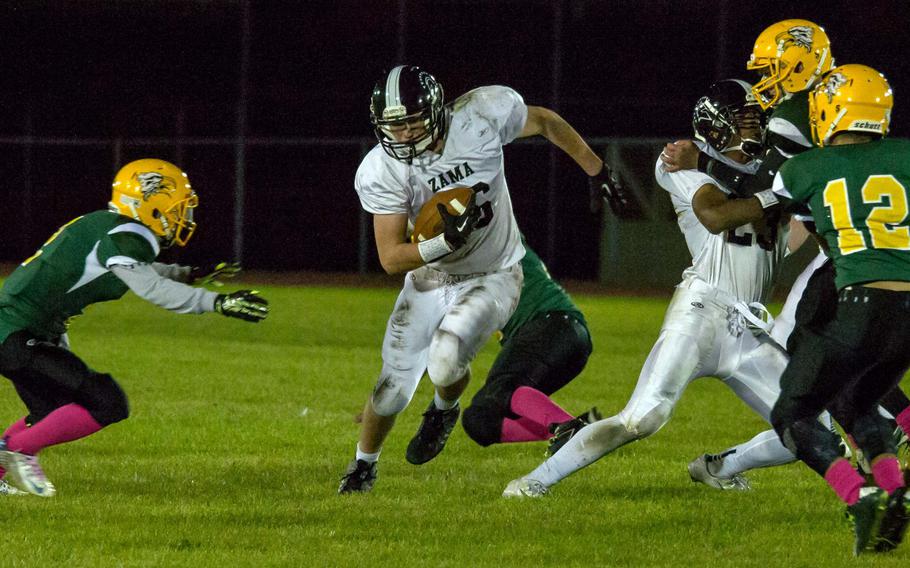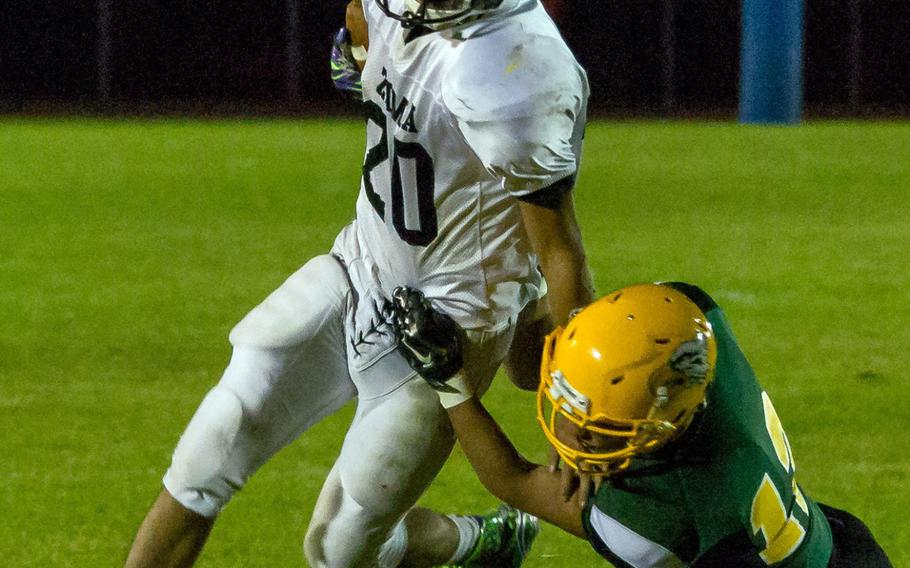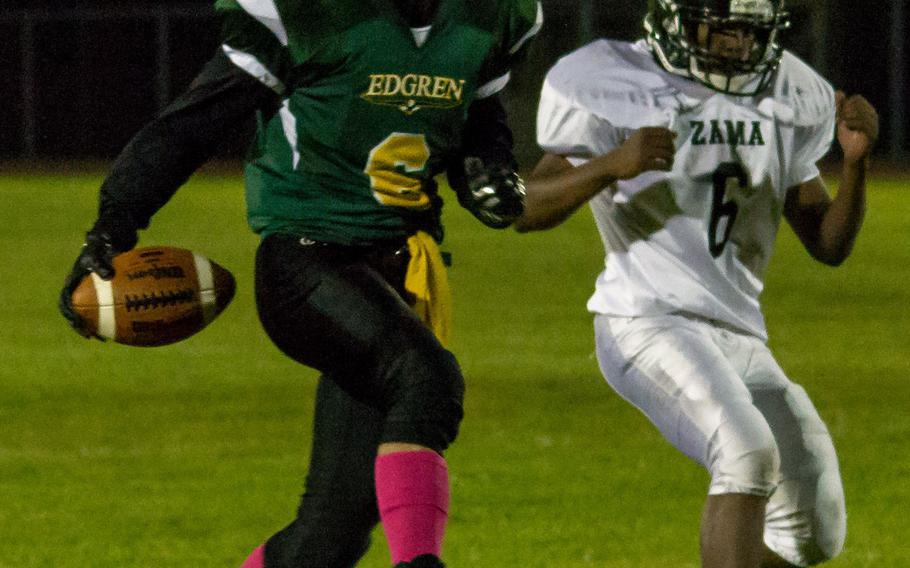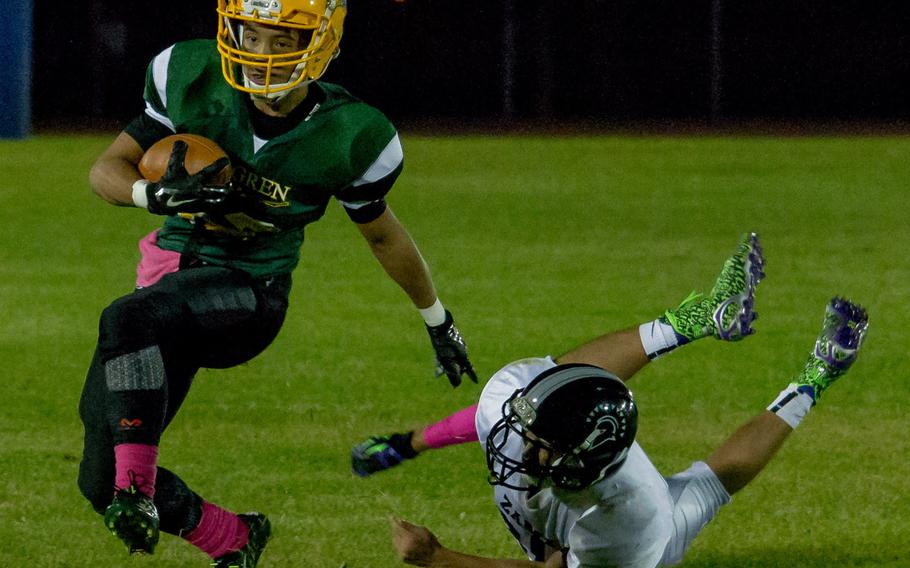 MISAWA AIR BASE, Japan – Aerobatics highlighted homecoming for Robert D. Edgren football, thanks to the arm of Shawn Robinson-Ortiz and the hands of Vincent Doria.
Robinson-Ortiz, a senior quarterback, went 16-for-21 for 288 yards and five touchdowns, three to junior receiver Doria on just three catches for 113 yards, as the Eagles soared to a 41-10 victory Friday over Zama.
"He was on point with his passing," coach Bill Schofield said of Robinson-Ortiz, who had good success on screen passes, things that were "really easy for him to read. We had some good blocking up front, especially in the beginning which allowed him to air it out. He had just a fantastic game tonight."
Doria, who caught TD passes of 49, 37 and 27 yards, had been banged up in Edgren's 9-6 loss the previous week to Nile C. Kinnick, and had been expected to see limited action followed by rest, Schofield said.
"But he didn't rest," Schofield said. "His job was to run under the ball and Shawn's job was to lay it up there. And they did." In so doing, the Eagles got their first win of the season against two defeats, while the Trojans remained winless at 0-3.
Sky Phillips had 101 yards and a touchdown on seven catches and rushed five times for 48 yards out of the quarterback spot after the game went to a running clock late in the second quarter. Cade Sundvall covered a muffed punt in the end zone for Edgren's other touchdown.
Linebackers Phillips and David Warren and Phillips' younger brother, Kane, a cornerback, had some "amazing open-field tackles" to help fuel the Eagles' defense.
Zama got its lone touchdown on a 6-yard third-quarter run by Kevin Groce, plus a two-point pass from K.J. Cruz to Josh Atkinson, then got a safety when Edgren's punter booted a bad snap out of the end zone to cap the scoring.
While penalties hurt the Trojans, "we still had to execute on our end," Trojans coach Scott Bolin said. "We had difficulty sustaining drives. We would move the ball efficiently, then a penalty would set us back."
"There were a lot of flags on their side of the ball," Schofield said. "They just couldn't get anything going. A great homecoming win for us, a long bus ride home for them."
Edgren next hosts its third straight game Friday, this time against Matthew C. Perry, while Zama heads to Mustang Valley to visit American School In Japan.
---
---
---
---