Dyer's two FGs, stern defense help Kadena blank Guam High
---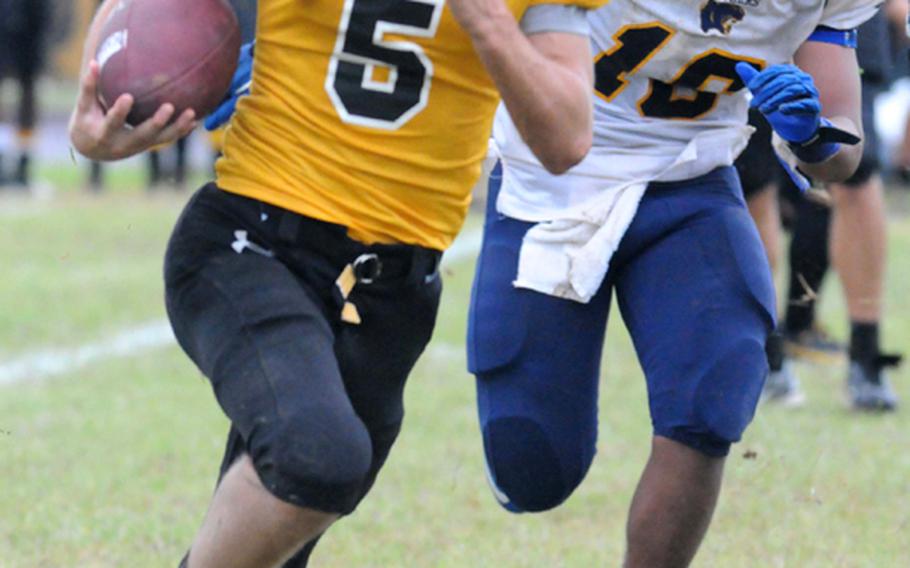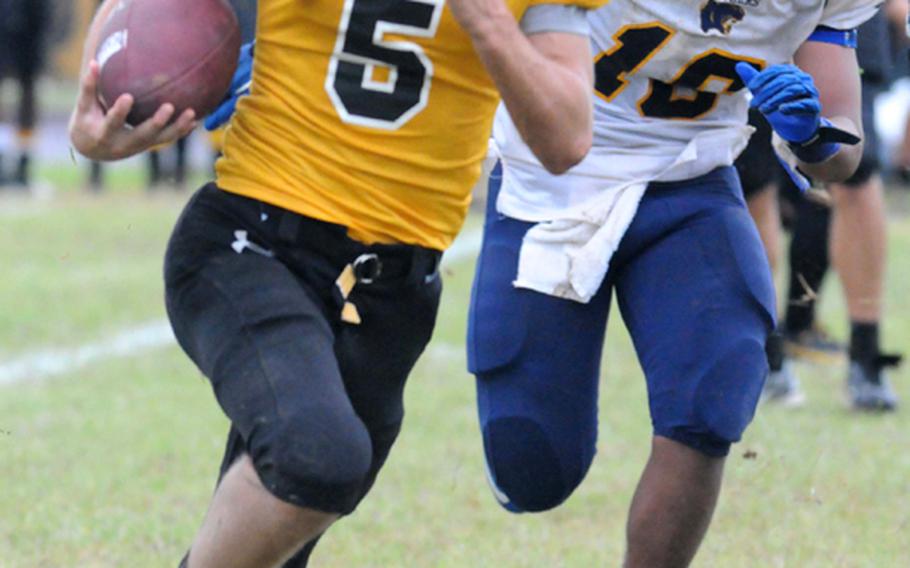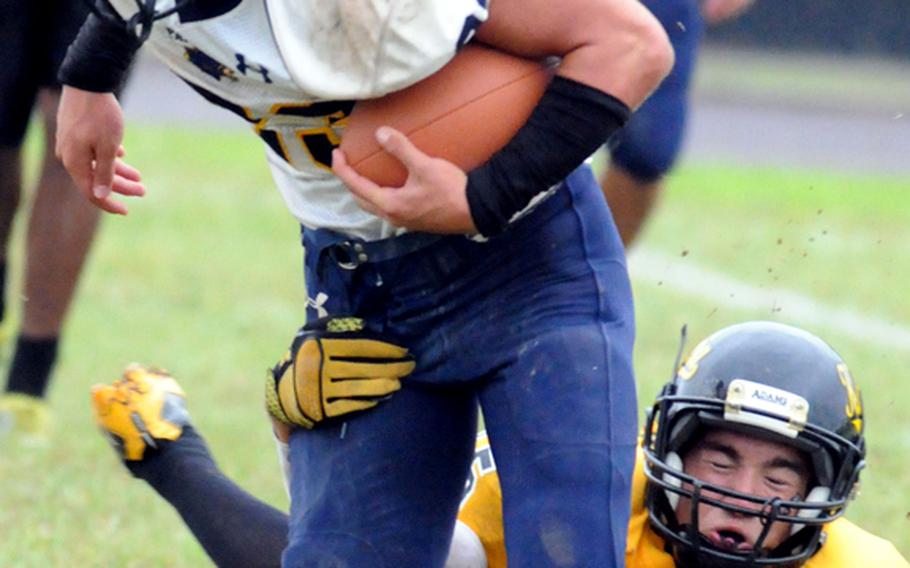 KADENA AIR BASE, Okinawa – One of coach Sergio Mendoza's concerns entering the season was replacing graduated placekicker Aaron Ahner.
Josh Dyer answered those concerns Monday and helped Kadena successfully open defense of its two straight Far East Division I titles.
"Josh was a factor in our kicking game," Mendoza said after Dyer's field goals of 35 yards in the third quarter and 25 in the fourth gave Kadena a 6-0 victory over Guam High in Monday's D-I play-in game.
Kadena (4-1) has been working, Mendoza said, on its kicking game, placements, punting and kickoffs in the wake of Ahner's departure, "and it's finally clicking. We're kicking it in or near the end zone, which is perfect for what we want to do. We were able to play field position today, which was fantastic."
Kadena's defense did the rest, holding defending Interscholastic Football League champion Guam High (3-4) to 62 yards on 55 plays, forcing five lost fumbles and two sacks.
Guam High got as far as Kadena's 12-yard line in the second quarter after Nijee Smith's fumble recovery and 48-yard return.
It was as "must-win" as it gets for Kadena, which next plays a D-I semifinal on Oct. 29 at Yokota. Had Kadena lost Monday, its season would have been over; Kadena has no other games scheduled in October.
"It would have been sad to think this would have been our last game, but as Dylan Thomas wrote,'We're not going to go gentle into that good night.'"
As few yards as Guam High gained, Kadena amassed just 95 on 57 plays. Joey Dyer led Kadena with 37 yards on 12 carries, Gabe Ahner had two sacks and David Padilla had two of Kadena's five fumble recoveries. But they stalled after getting inside Guam High's 10 three times.
Given those numbers, there's still much to work on before journeying to Yokota, Mendoza said. "Tim's a good coach," he said of Yokota's Tim Pujol. "We have three weeks to prepare for that."
In Kadena's last two games, the Panthers have not reached the end zone, including a 13-0 loss to Kubasaki on Sept. 23, the first time Kadena's been shut out in school history.
"We have to learn how to finish," Mendoza said. "Still, that was a good win for us. That was a big Guam team. We kept fighting and I'm extraordinarily proud of these guys."
Meanwhile, miscues doomed Guam High. Despite forcing four turnovers, Guam High committed 14 penalties for 121 yards, including four personal-foul penalties on a drive that led to Kadena's second field goal. Anthony Cruz and Brandon Saville were ejected in the second half.
The final drive of the game summed up Guam High's frustrations. Three passes were dropped and another sailed just out of the reach of Matt Eaton in the end zone.
"Everything that could have gone wrong went wrong," Guam High coach Jacob Dowdell said.
While Kadena won its fifth consecutive D-I playoff game, Guam High lost for the sixth straight time in the first round since the Far East playoffs inception in 2005.
Guam High still is chasing a second straight IFL championship, and opens its title defense Friday against Father Duenas Memorial.
---
---
---
---