Dragons take on Blackhawks and come out on top
by
Dave Ornauer
November 3, 2018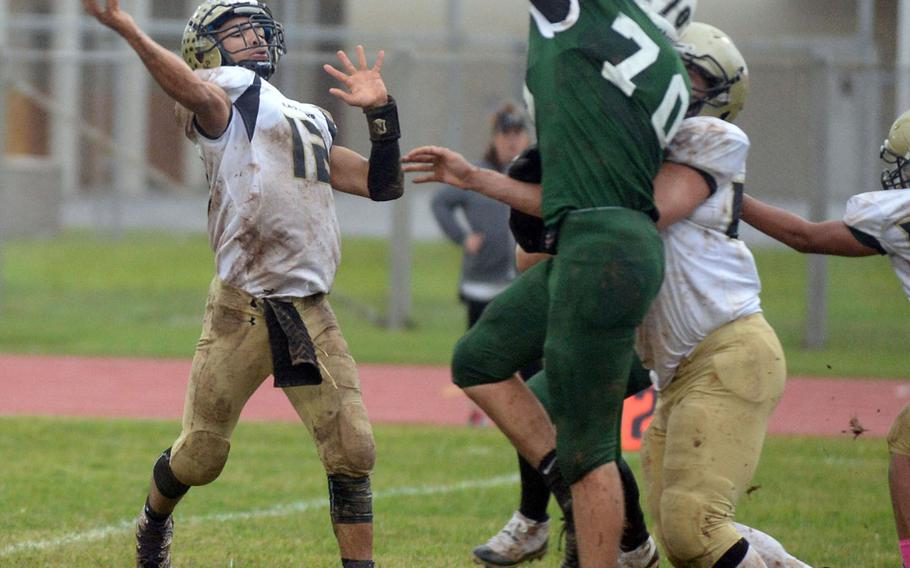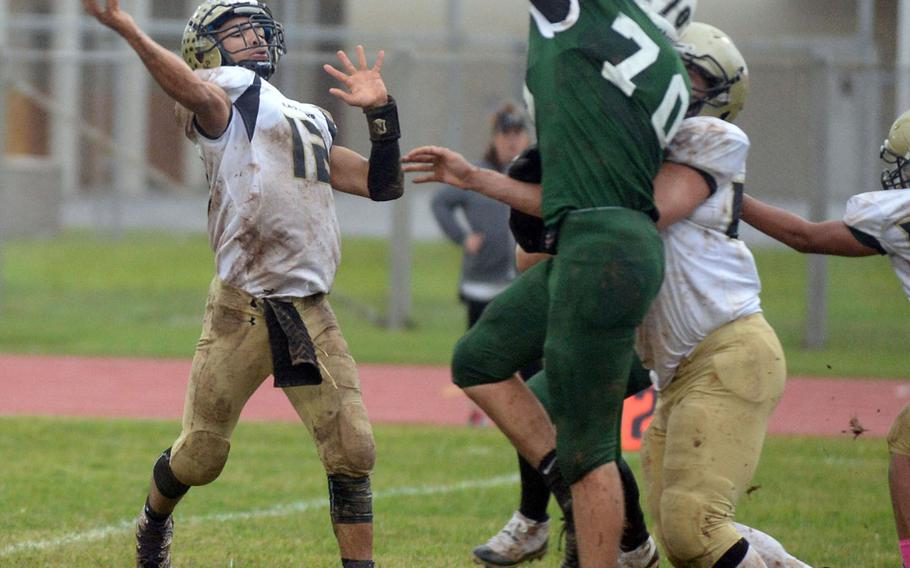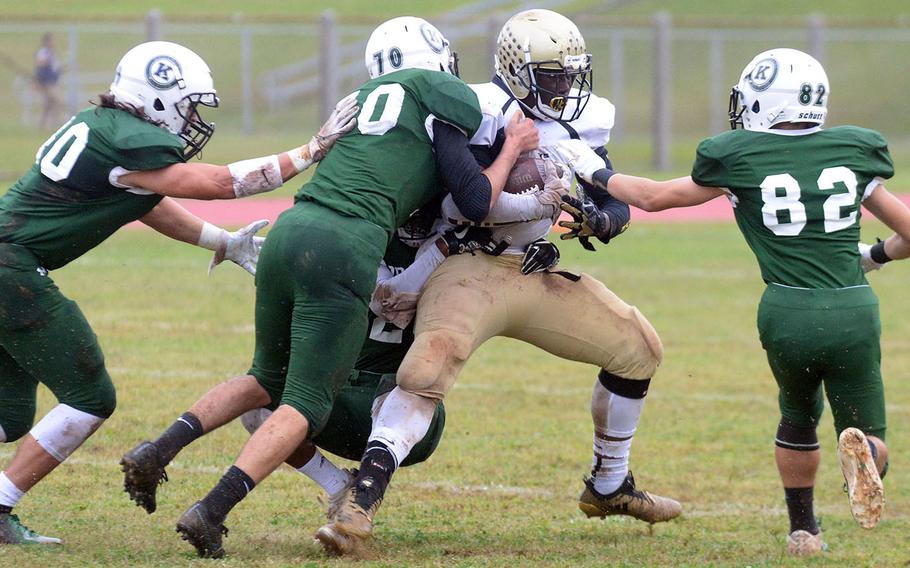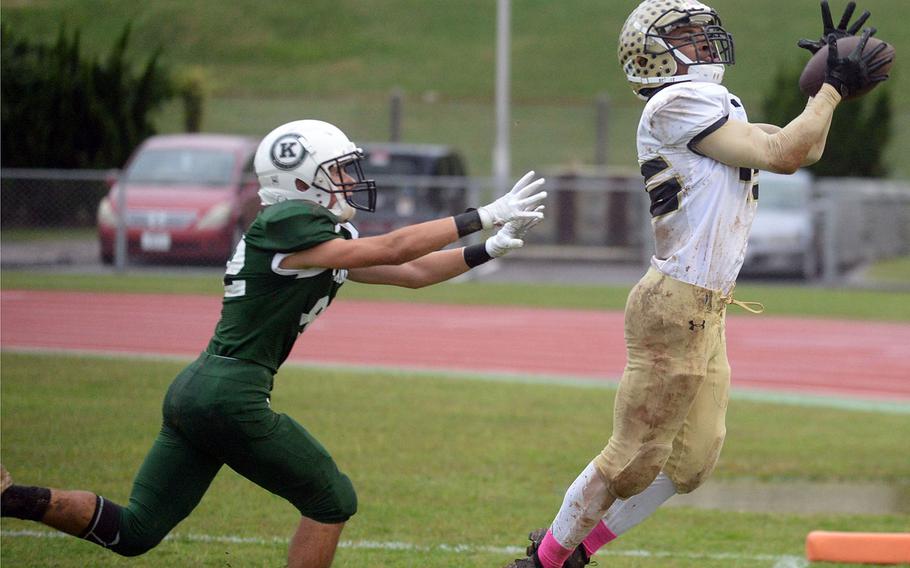 CAMP FOSTER, Okinawa – Big plays on both sides of the ball Saturday led Kubasaki to its first win of the season.
Haydn Peterson's 18-yard interception-return touchdown with 9 minutes, 2 seconds left proved to be the game-winning points as the Dragons outlasted a persistent Humphreys team 21-18. Kubasaki also got a 30-yard TD catch from Jeffrey Horton and an 82-yard scoring scamper by Jaylan Penney.
The Blackhawks remained in the hunt right to the end, when quarterback Miles Brice launched a pass toward Junior Gregory in the end zone. But Kubasaki's Vincent Hill and Sam Gbatu broke up the pass with 52 seconds left and the Dragons ran out the clock.
"This was a heartfelt, hard-fought game between two determined teams that are both struggling a bit this season," Dragons coach Fred Bales said. "But we're very thankful for the win. They (Blackhawks) kept coming. They kept bringing it. It fell our way at the end."
"There were ups and downs, peaks and valleys and it came down to the final few seconds," Humphreys coach Steven Elliott said. "They kept fighting and gave themselves a chance. That's all you can really ask for. I was very proud of them."
Brent Carver put Humphreys up 6-0 on a 17-yard touchdown sweep late in the first quarter, but the Dragons answered on Penney's long run to take the lead for good 16 seconds into the second quarter.
Horton's TD catch gave the Dragons an eight-point cushion 4:33 into the third quarter. That lead was cut to two when Brice hit Jaylan Horne from 20 yards out, sparking a flurry of points over a six-minute span of the second half, including Peterson's pick six.
Brice passed 18 yards to Gregory for the game's final points with 5:53 left. Humphreys tried a two-point conversion but David Key failed to get into the end zone, and the Dragons' lead stayed at three points the rest of the way.
Penney finished with 89 yards on 12 carries, Hill had 58 yards on 12 attempts and Gbatu 46 yards on 10 carries for the Dragons. Skyler Klimek went 5-for-8 for 78 yards, with all five completions going to Horton. Hill also had an interception and Peterson a fumble recovery.
Key led all ballcarriers with 156 yards on 14 attempts. Brice completed just 4 of 20 passes for 57 yards, but two went for touchdowns. He also had seven tackles, a forced fumble and a fumble recovery on defense.
Isaiah Alexander had 14 tackles, Jonah Montanez 13 and Tyrick Arterberry had 10 tackles and a fumble recovery. Gregory had eight tackles, forced two fumbles and recovered one.
It was a turnover- and penalty-filled game. The two sides combined for nine turnovers and 22 penalties for 210 yards.
Humphreys finishes its first Division I campaign at 3-4, with all three wins coming against Division II teams and all losses against D-I teams. Kubasaki (1-5) closes its regular season Friday by hosting Yokota at 5 p.m. ornauer.dave@stripes.com