Down big, Kinnick rallies to upend Kadena
---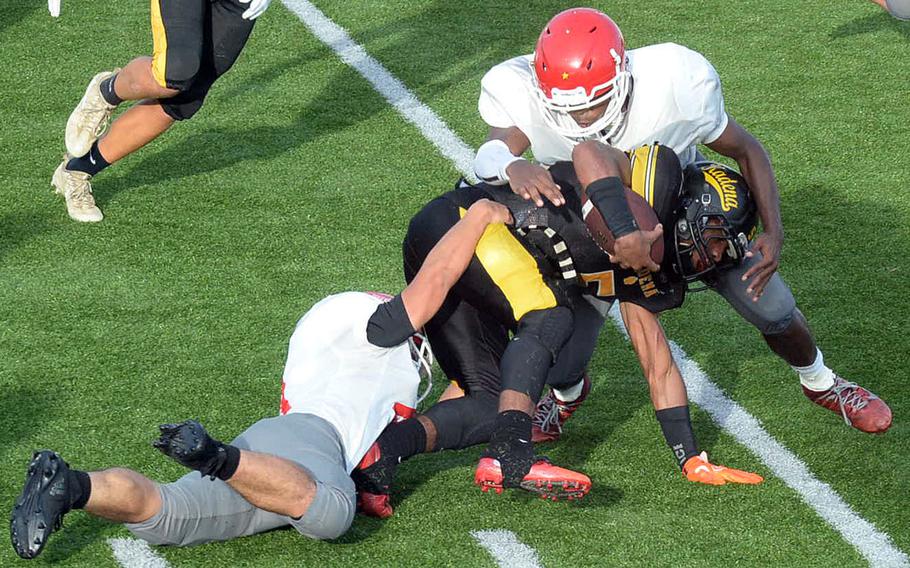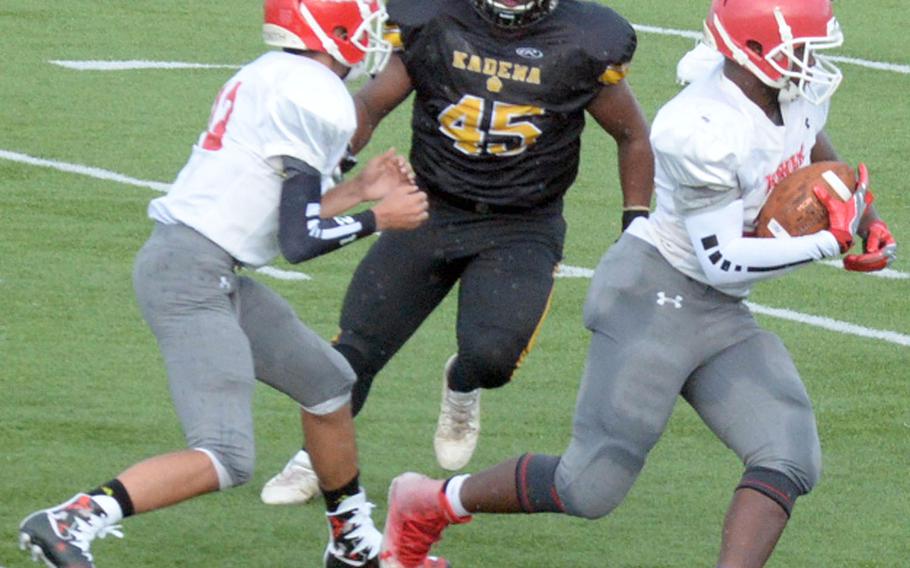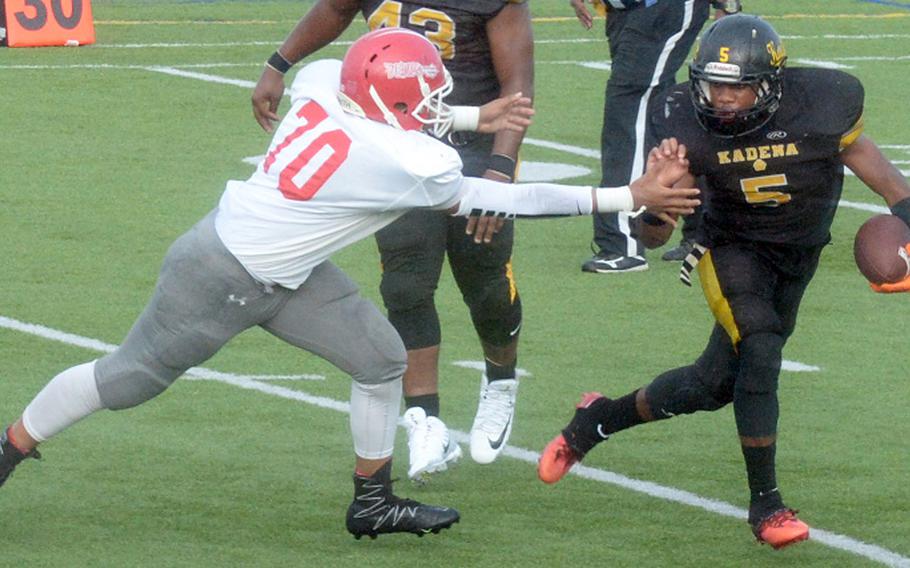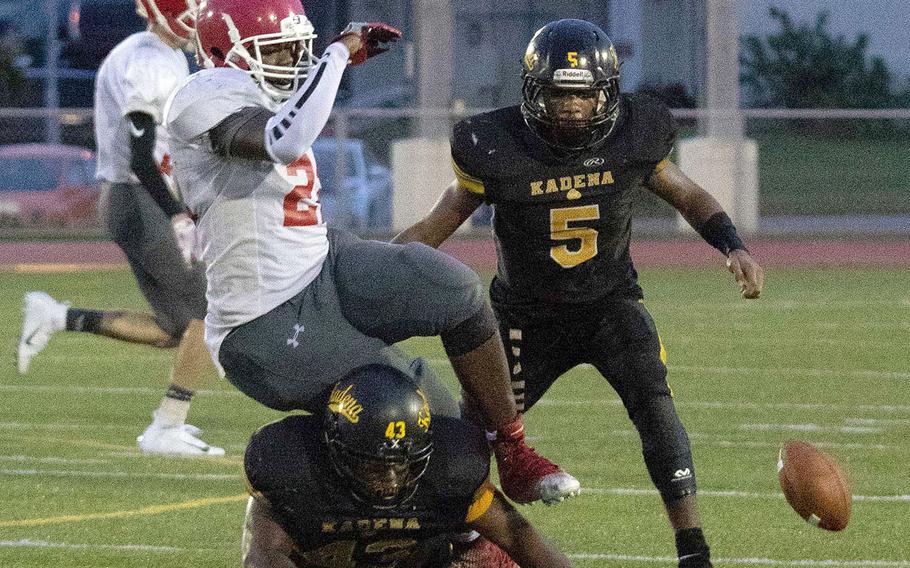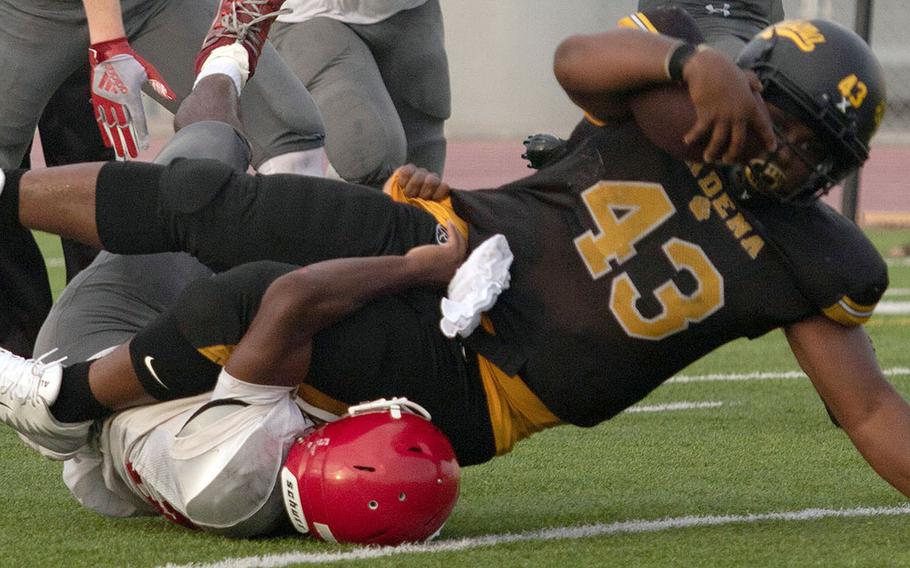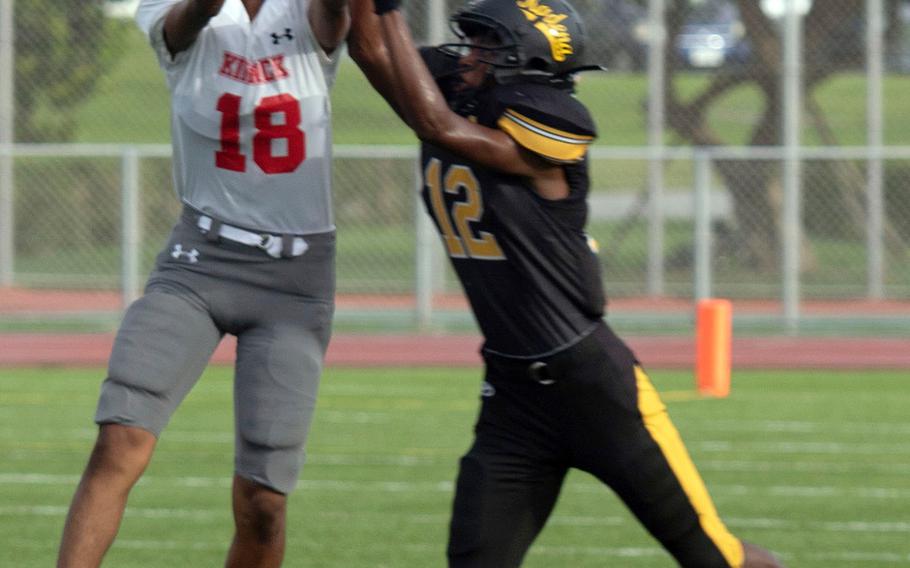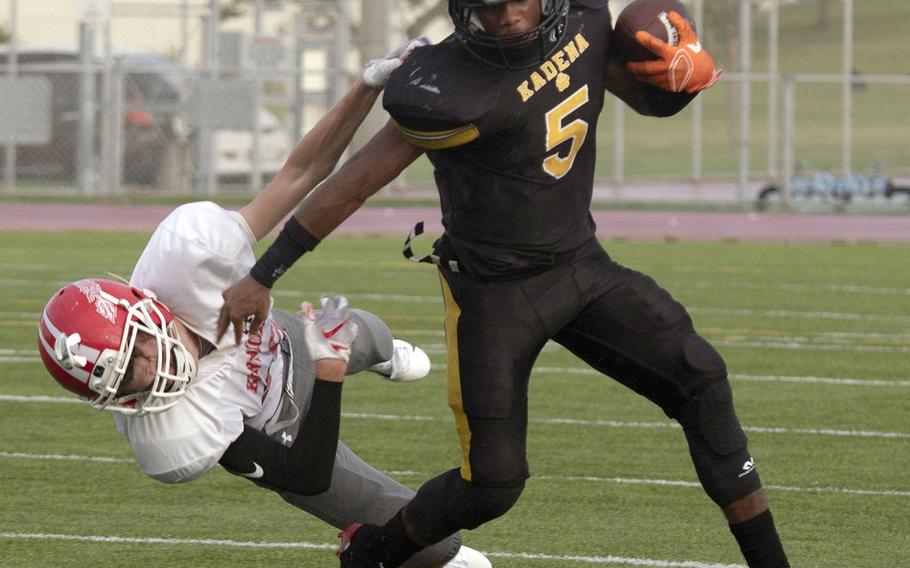 KADENA AIR BASE, Okinawa – Just when all seemed lost and Nile C. Kinnick seemed destined for a huge loss Saturday at Kadena, Patrick Kelly, Travion Morton and the Red Devils stepped up.
Kelly threw touchdown passes to Kaine Roberts and Chris Watson, Morton returned a fumble for the game-tying touchdown and Daniel Burke kicked the game-deciding extra point as Kinnick stormed back from a 33-6 deficit and edged the defending Far East Division I champions 34-33.
"I told these guys this is one thing they'll remember for the rest of their lives," coach Dan Joley said. "What happened today has nothing to do with football. It has everything to do with what kind of men they are. That they believed and trusted in themselves and the coaches."
"They learned how to overcome adversity," Red Devils career rushing leader and current assistant coach Larynzo Abernathy said. "They made that transition from boys to men."
Saturday's game was a rematch of the Far East Division I final last Oct. 28, won by Kadena 23-22 on the last play of the game. It was also the first time Kinnick stepped on the field since that game.
The Red Devils stand tied atop the Division I standings with American School In Japan, each 1-0. The Panthers fell to 1-1.
"Maturity," Panthers coach Sergio Mendoza said, asked what went wrong in the final minutes. "We weren't mature enough to hold onto the ball, we weren't mature enough to maintain our blocks, we gave up two major fumbles and we allowed four fourth downs to be converted. We stop one of those and we win."
The Red Devils won despite being outgained 334-289 on offense and converting eight first downs to 16 for the Panthers. But it was what the Red Devils did in the last 7:34 that made the difference.
Morton put Kinnick up 6-0 on a 20-yard run with 3:26 left in the first quarter, but the Panthers then tacked on 33 unanswered points.
Eric McCarter, who had a game-high 131 yards on 25 carries, scored on runs of 7 and 16 yards, Uriah Morris on 14- and 11-yard runs and quarterback Wyatt Knopp scored on a 1-yard sneak.
It was Knopp's 68-yard run on an attempted sneak that set up Morris' second touchdown and seemed to set up the Panthers for a one-sided win.
Then Kelly's heroes stepped up. Morton scored on a 3-yard run with 7:34 left. On Kinnick's next possession, Kaine Roberts got behind Kadena's secondary and snagged a 53-yard scoring pass. Three plays later, Morton recovered a fumble that set up a 71-yard Kelly TD pass to Chris Watson.
Kelly went 3-for-3 on his last passing attempts for 137 yards. "I told him we were going to go through all of our sets of offenses and let's figure out the one that works," Joley said.
"I felt great" about Kinnick's chances despite it being so late in the game, Kelly said. "There was a lot of time left."
On Kadena's next possession, McCarter fumbled, both teams chased the ball until Morton picked it up and ran up the right sideline for the game-tying touchdown with 1:58 left. Burke's point-after won it.
"Great kid. Hard-working kid. He means a lot to us," Joley said of Morton, a transfer from Tennessee.
On Kadena's last possession, Roberts intercepted a McCarter pass with 10.4 seconds left and the Red Devils ran out the clock.
"One of the hardest things to do is travel, play your first game and play in this environment, right here," Joley said. "There's a lot stacked up against us here and these guys met every challenge."
Morton was the man of the match for the Red Devils, with 157 all-purpose yards and three touchdowns, two sacks and two fumble recoveries. Roberts had 127 all-purpose yards and Watson 96.
For Kadena, Morris had 77 yards on 14 carries, Knopp totaled 104 yards of offense and Trent Fowler had an interception and Warren Joseph a fumble recovery.
Kadena next hosts ASIJ at 6 p.m. Friday at Ryukyu Middle School, while Kinnick travels to Humphreys for the first time; kickoff there is at 6 p.m. Saturday.
---
---
---
---