DODEA basketball, wrestling sidelined as volleyball gets new life in Korea
by
Dave Ornauer
October 2, 2020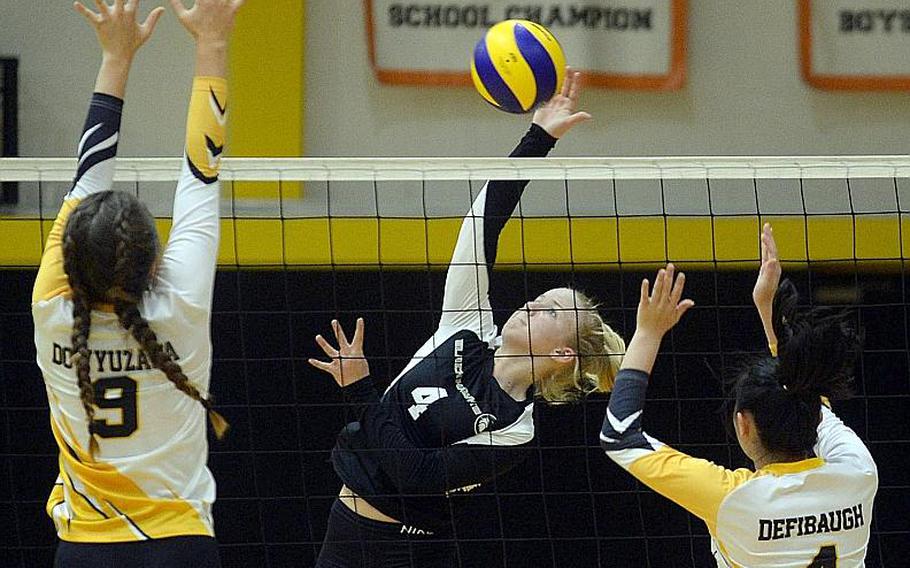 Stars and Stripes is making stories on the coronavirus pandemic available free of charge. See other free reports here. Sign up for our daily coronavirus newsletter here. Please support our journalism with a subscription.
CAMP FOSTER, Okinawa – Basketball and wrestling are out. Extended fall and spring seasons are in. There's even a slim hope for football in the spring.
That's the word from DODEA-Pacific's area office, via an announcement from DODEA-Pacific spokeswoman Miranda Ferguson that outlined a range of changes to athletics for the rest of the school year.
The most immediate change is adding volleyball and doubles tennis in DODEA-Korea. Neither was offered initially for the fall by DODEA-Pacific but - sparked by a request from command at Camp Humphreys - the two sports were approved for the Korea district.
"With the command's support, the (DODEA-Korea) District has worked with military and public health officials to put in place appropriate mitigation measures to offer these additional sports," Ferguson said.
Other schools and districts are welcome submit similar plans, Ferguson said.
"We have developed a process through which command and districts may request athletics offering" in addition to tennis, cross country and golf which are offered by DODEA-Pacific for the fall, she said.
The move to add volleyball and doubles tennis in Korea was well received by athletes and coaches.
"I'm happy about doubles. Why wouldn't I be?" Daegu girls tennis coach Zachary Zendejas said. "Doubles is socially distanced, so it shouldn't be a problem. The kids are like 15 feet apart."
Fall sports season dates have been extended through Jan. 9, with Japan, Okinawa and Korea holding in-district tournaments the week of Jan. 4. Outdoor sports in Korea and Misawa in northern Japan may wrap up much earlier due to the cold climate there.
Spring sports season dates are Jan. 19-May 1, Ferguson said, though winter in Korea and Misawa could force those locales to begin later. Spring sports to be offered are baseball, track and field, softball and soccer.
DODEA schools will only compete with each other and not international schools, DODEA-Pacific athletics coordinator Tom McKinney said.
Tokyo and Seoul, where most of those non-DODEA schools are located, are off-limits to most DOD personnel, and most U.S. bases are restricting visitors due to coronavirus concerns.
Those same restrictions have limited DODEA-Japan schools to only practice this fall; no competitions are scheduled there yet. Nile C. Kinnick and E.J. King have not yet begun tryouts.
"Some commands have said they don't want it," McKinney said, referring to travel between bases for high school sports. He did not specify which ones.
Okinawa's golf, singles tennis and cross country seasons begin next week, with Kadena playing only Kubasaki. Tryouts start Tuesday in Korea.
"It's definitely different and not what I was expecting for my senior year," Daegu volleyball middle-blocker Lexie Berry said. "But I'm grateful that we still get to play and have at least some volleyball experience during the craziness."
Regarding winter season, DODEA health-protection guidelines termed wrestling a high-risk sport due to frequent contact, McKinney said. Basketball is a medium-risk sport, but DODEA's current guidelines only allow conditioning and individual skill development.
"There wouldn't be anything to it," McKinney said about basketball. So the decision was made to cancel winter season altogether.
So teams which were unable to defend their titles last year – basketball tournaments were canceled after one day – won't get the chance again this year.
"That was disappointing enough, the way last season ended," Humphreys boys coach Ron Merriwether said, adding that he had nine players returning from last year's team. "You have to feel for the kids. But it's weird times. This is affecting the world as a whole, not just us."
As for football, it, too, was considered too high risk to offer for the fall. But Ferguson said a decision whether football can be played in the spring is to be made Dec. 1.
"We have to wait and see what the medical community brings in the coming months," said coach and athletics director Scott Bolin of defending Far East Division II football champion Zama. "I'm hoping it will happen for the kids."
ornauer.dave@stripes.com Twitter @daveornauer