Different school, same result for Kadena's Johnson
---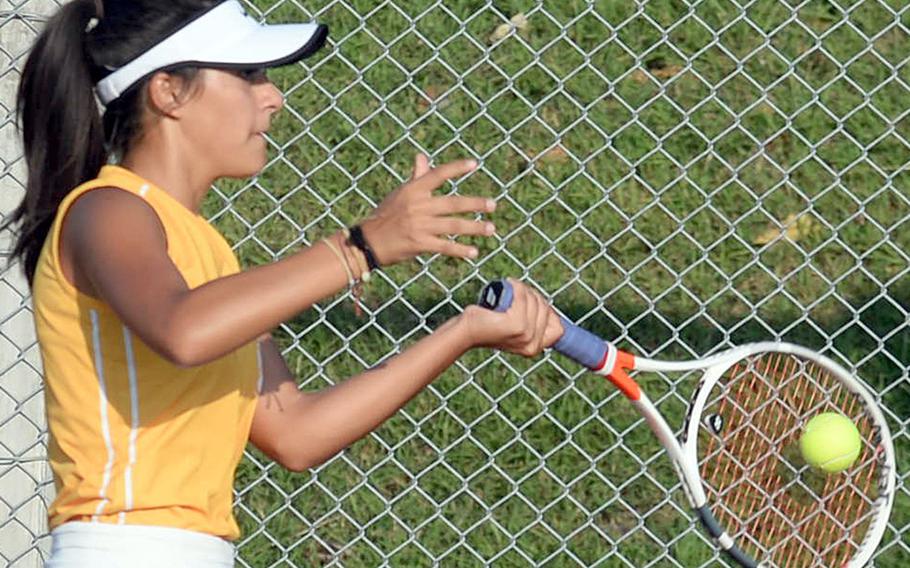 KADENA AIR BASE, Okinawa – New team, same results.
Ally Johnson won the Okinawa district tennis singles and doubles titles a year ago with Kubasaki. After transferring to Kadena for this school year, the sophomore repeated those titles on Wednesday and Thursday at Kadena's Risner Tennis Complex.
She beat teammate Lisa Dombrowski 6-4 for the singles crown, then teamed with her to win doubles 8-3 over Kubasaki's Chante Broomes and Willow Lewis.
"I'm feeling really overwhelmed, because this is the second year I've done this," Johnson said. "It's exciting."
Comparing the experience of winning the districts with Kubasaki last year and Kadena this year, Johnson said the atmosphere as a Panthers is "more intense, but more friendly."
Johnson also said she feels her team is "capable" of challenging for Division I team honors at next week's Far East tournament.
"We're bonded and we're a lot stronger than we were last year, and we're ready," Johnson said.
She's not the only player to enter Far East as the reigning Okinawa district singles and doubles champion.
Kai Grubbs of Kubasaki performed the same feat, beating Kadena's Brett Davis 8-3 to capture the singles title, then teamed with Aden Leggio to beat Davis and R.J. Smola 8-2.
The Okinawa district tournament continues Friday with the finals of the mixed doubles tournament, an all-Kadena affair pitting Davis and Noelle Asato against Panthers teammates Matt Steele and Mayann Rivera.
---
---
---
---