2012 football preview
Devils hope improved line, bonding at Fuji lead to turnaround
---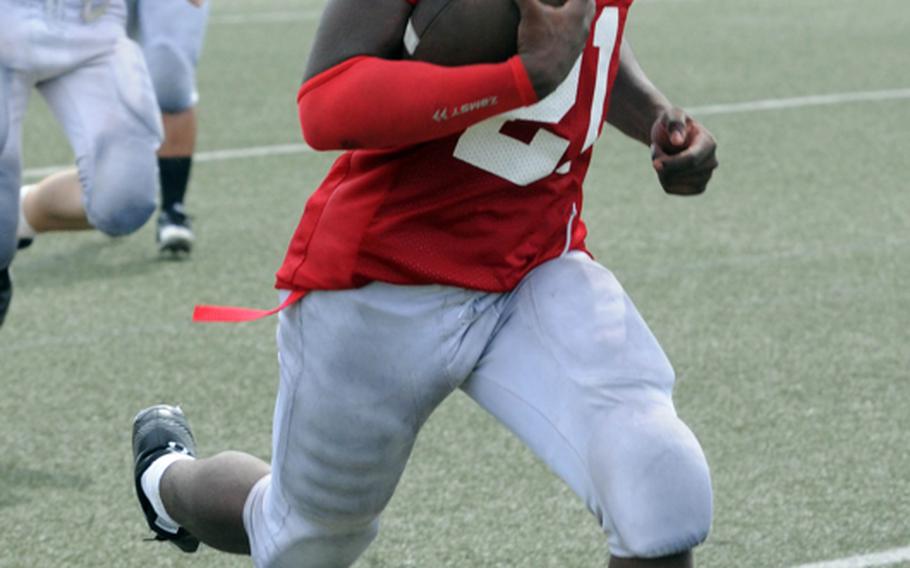 YOKOSUKA NAVAL BASE, Japan – His first two years at Nile C. Kinnick could have left Dan Joley hungering for a return to North Side High in Fort Wayne, Ind., from whence he came three seasons ago. The Red Devils have gone 5-13 on his watch with one Far East Division I playoff loss in as many appearances.
How to turn things around? Joley and his staff of assistants thought a week-long retreat to Camp Fuji might be a good starting point.
They did a week-long series of two-a-day practices. They did daily physical training with Marines assigned to Fuji. They climbed Mount Fuji; 42 of the 53 players made the summit.
In short, they bonded as no Red Devils team has in years, Joley said. That, plus an improved offensive line, has him optimistic that the program is turning the corner.
"Climbing that mountain with these kids; I trust them," Joley said. "We have a goal in mind and I'm excited to show people what we're about. I'm really confident about this group."
Especially confident in a collection of nine offensive linemen, a year older and a year wiser, and averages more than 200 pounds across. The last time the Red Devils featured such a line, they went 9-0 and won the 1996 Kanto Plain Association of Secondary Schools title.
"Last year, we had good skills players and a suspect line," Joley said. "This year, we have a strong, solid line and good skills-positions players. I'm excited."
Plowing the road is a group including juniors Daniel Costello at center and Ian O'Brien at right tackle, with Ka'i Warford, a sophomore, in the mix.
Regarding skills players, All-Far East player Dustin Kimbrell has graduated. In his place on all sides of the ball are holdover Quinton Holden, whom Joley calls "one of the best athletes in the Pacific; quarterback Dustin Wilson who is "starting to feel secure in his position; and Marcus Boatwright, a senior transfer from Florida.
"He's a great kid, one of our team captains," Joley said. "He's an athlete. You look at him and you realize he's something special."
Will all of that translate into, first of all, a victory over longtime nemesis Yokota, let alone a run at a Far East Division I title-game berth? After all, Yokota hasn't lost to Kinnick since a 28-0 shutout on Oct. 16, 1998, a span of 26 games.
Joley would only say: "I think we match up well with Yokota."
Nile C. Kinnick Red DevilsYokosuka Naval Base, Japan2011 season record—3-6, .333, 134 points for, 273 points against; 3-3 DODDS Japan, .500, 101 points for, 159 points against, second in DODDS Japan; 1-4 Kanto Plain, .200, 64 points for, 194 points against, third in Kanto.Head coach—Dan Joley, third season. Overall record 5-13, .278.Base offense—Veer option, more emphasis on passing.Base defense—4-3.Returning players—18.Returning starters—13.Key returners—Quinton Holden, Sr., H-back, DB, WR; Dustin Wilson, Jr., QB; Daniel Costello, Jr., L; Ian O'Brien, Jr., L; Ka'i Warford, So., L; Marvin Newbins, Jr., WR.Kew newcomer—Marcus Boatwright, Sr., RB-DB.Strengths—Offensive line averages over 200 pounds across, solid running attack.Drawbacks—Lack of depth elsewhere; special-teams coverage, some defensive aspects need work.Overview—Contending. Team bonded well during a week-long training-camp trip to Mount Fuji. The last time the Red Devils had an offensive line that averaged more than 200 pounds, they went unbeaten and won the Kanto Plain title (1996).
ScheduleFriday, Aug. 24—vs. Zama American at Naval Air Facility Atsugi, 7 p.m.Friday, Aug. 31—vs. Robert D. Edgren, 7 p.m.Saturday, Sept. 8—at Kadena, time to be announced.Friday, Sept. 14—vs. American School In Japan, 7 p.m.Friday, Sept. 21—vs. Zama American, 7 p.m.Friday, Sept. 28—vs. Yokota, 7 p.m.Saturday, Oct. 6—vs. Seoul American, 7 p.m.Saturday, Oct. 13—at Kubasaki, 7 p.m.Friday, Oct. 19—at Yokota, 7 p.m.Friday, Oct. 26—at American School In Japan, 7 p.m.
if(typeof(dstb)!= "undefined"){ dstb();}
if(typeof(dstb)!= "undefined"){ dstb();}
---
---
---
---