Defense leads Guam past Simon Sanchez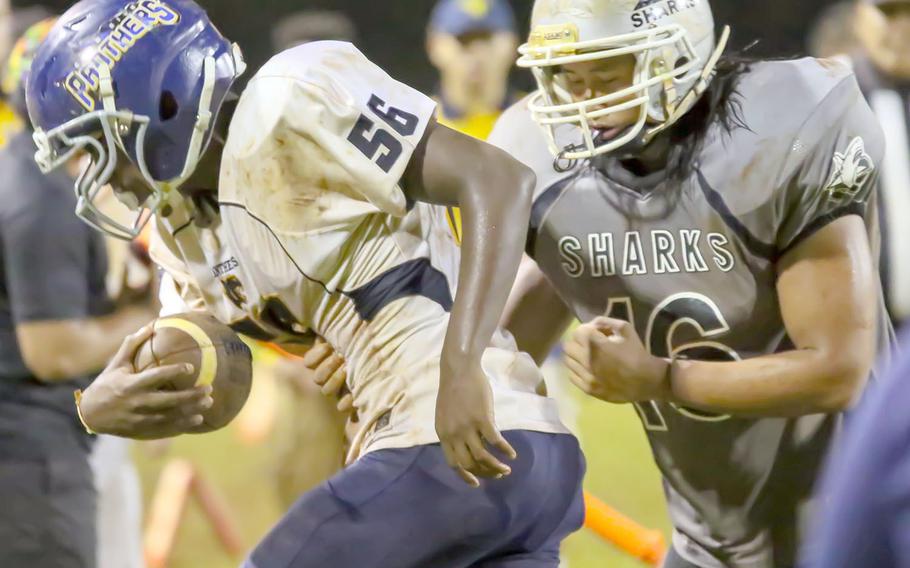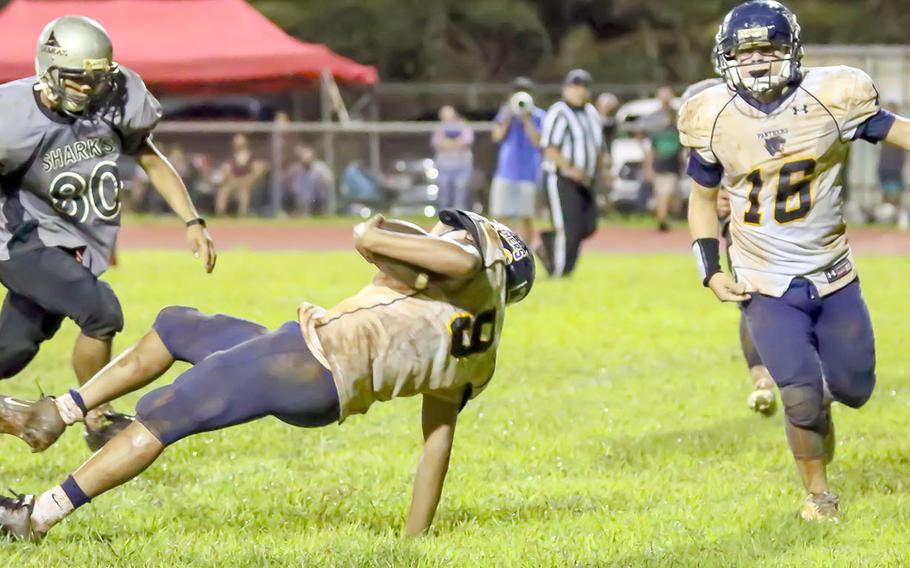 DEDEDO, Guam – RaSean Jacobs might not have had the chance to score both of Guam High's touchdowns against Simon Sanchez, were it not for the defensive play of Evan Cavenall.
The senior forced two fumbles, each of which was recovered by Ruben Rodriguez and each set up a Jacobs TD run. That rallied the Panthers from a 2-0 halftime deficit for a 15-2 win Saturday over the Sharks at Okkodo High School.
"He was our defensive star," coach Jacob Dowdell said of Cavenall, normally a nose tackle who was moved to defensive end to cover for an injured starter. Cavenall responded with the two recoveries along with eight tackles.
"He won't make a lot of tackles," Dowdell said of Cavenall, "but he definitely blew up their (Sharks') offense."
It also ignited the Panthers' offense in the second half. On a field made muddy by rains from Tropical Storm Trami earlier in the week, Jacobs accounted for all Panther points. He ran 10 times for 125 yards and had a two-point conversion.
On defense, Jacobs had 12 tackles, as did Jeylyn Dowdell. The lead would have been larger had not four potential Panther touchdowns been called back on penalties.
The game was halted with four minutes left as the Sharks had too few players to continue after losing some to injury during the game.
Guam, hoping for the third seed in the island playoffs, improved to 3-2 on the season, in a virtual tie with Southern (2-1) in the standings.
"We showed we could win ugly," Dowdell said. "Simon Sanchez always plays us tough. But you have to win ugly in this league to be able to go deep into the playoffs."
The Panthers next host Okkodo at 7 p.m. Friday. A victory over the Bulldogs would put Guam one step closer to the third seed and a possible playoff game against a team it has already played and beaten.
Guam's two losses were to the league's top two teams, George Washington (3-1) and three-time defending champion Father Duenas Memorial (5-0).
The Friars ran their winning streak to 35 games Saturday by routing Okkodo 54-0. On Friday, George Washington shut out John F. Kennedy 7-0, sending the Islanders to their third straight loss. Southern and Tiyan, scheduled to play Friday, were postponed due to unplayable grounds.