Daegu runs past Humphreys to sweep season series
---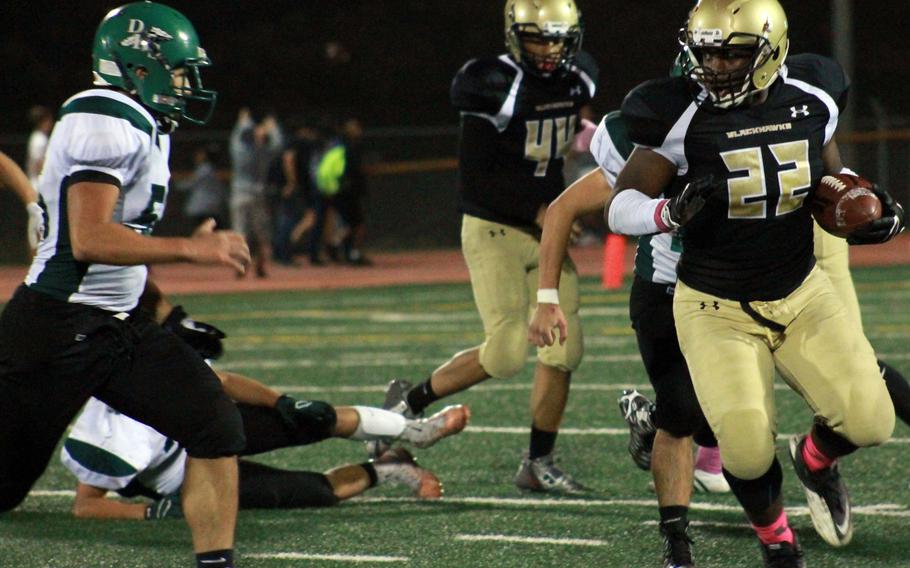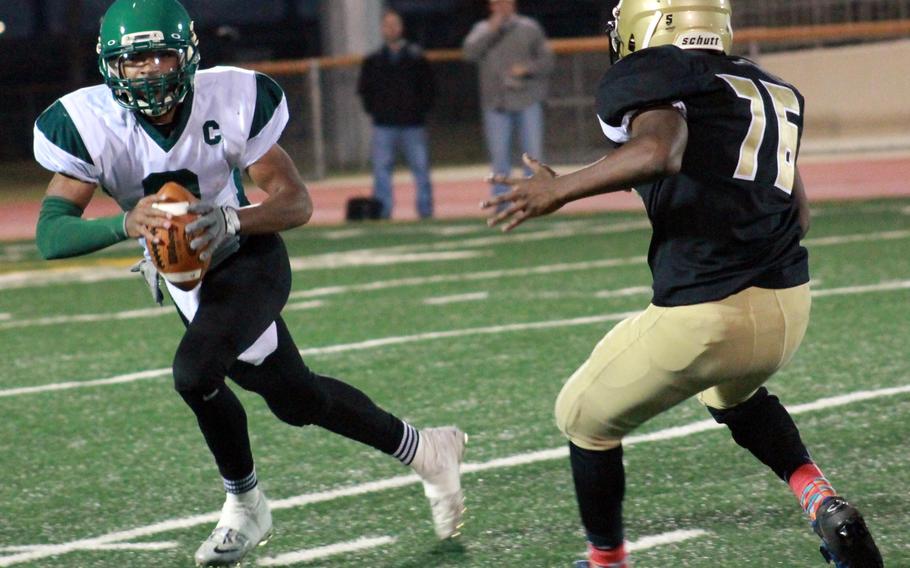 CAMP HUMPHREYS, South Korea – What DeAndre Rosalie did through the air the last time Daegu faced Humphreys on Sept. 11, the senior quarterback accomplished on the ground in Friday's rematch.
Rosalie rushed for 137 yards and scored three times on just six carries, while Anthony Calhoun ran for two touchdowns and Josh McCaw for another and the two-time defending champion Warriors took command of the Far East Division II title chase in Korea by downing the Blackhawks 35-8.
"Their quarterback is a force," Blackhawks coach Aaron Mundy said of Rosalie. "He's strong, he's fast, he's elusive. He's going to be a handful for any team they play."
Rosalie threw for two touchdowns and picked off two passes in Daegu's first encounter with the Blackhawks, a 40-30 win three weeks ago. On Friday, Rosalie went an economical 7-for-15 for 78 yards.
As Rosalie lit the spark in the Warriors' points production line, Daegu's defense helped keep Humphreys pretty much off the board, save for Jaylin Barmer.
The senior running back accounted for the Blackhawks' lone touchdown, a 54-yard fourth-quarter run. He had 143 yards on 14 carries, and led Humphreys with nine tackles and eight assists.
"He's a great kid. He played his butt off," Mundy said.
"He's tough. He played really good defense," Warriors coach Phillip Loyd said of Barmer, adding that Daegu's defense did its best to contain him "except for that one run."
But so, too, did bookend defense tackles Zach Fowler and Jake Litton buckle down for the Warriors, Loyd said. "It was a great defensive effort to shut them down; they didn't have an answer," he said. Calhoun paced Daegu with 13 tackles and Thomas Kamercizak picked off two Humphreys passes.
The Blackhawks dressed just 16 players; many on the roster were sidelined either by injuries or ineligibility. "That hurt," Mundy said. "But Daegu's a good team. They have some good down linemen, they played well."
Daegu gets its first test from a Division I team next Friday, hosting Seoul American, which throttled an outmanned Osan squad 69-0. A win would virtually seal the Warriors' third straight D-II title game appearance; the question being, where and when will the game be played?
DODDS Korea is slated to host the D-II championship on Nov. 7. But the Warriors' home Kelly Field on Camp Walker is reserved that day for the Eighth U.S. Army flag football championship.
Loyd said he's been told by DODDS Pacific area office officials that if Daegu hosts, the game would either be played at 7 p.m. Nov. 7 at Walker, or back at Humphreys if Kelly is made unavailable regardless of the time.
"We wouldn't mind being" at Humphreys instead of Walker, but Loyd said he's not looking that far ahead. "We first want a winning record, then we want to go undefeated, then get into the title game, one game at a time," Loyd said.
The Blackhawks, meanwhile, get next week off, then host Osan on Oct. 16.
---
---
---
---