Daegu rallies to rock Perry as regular season ends
---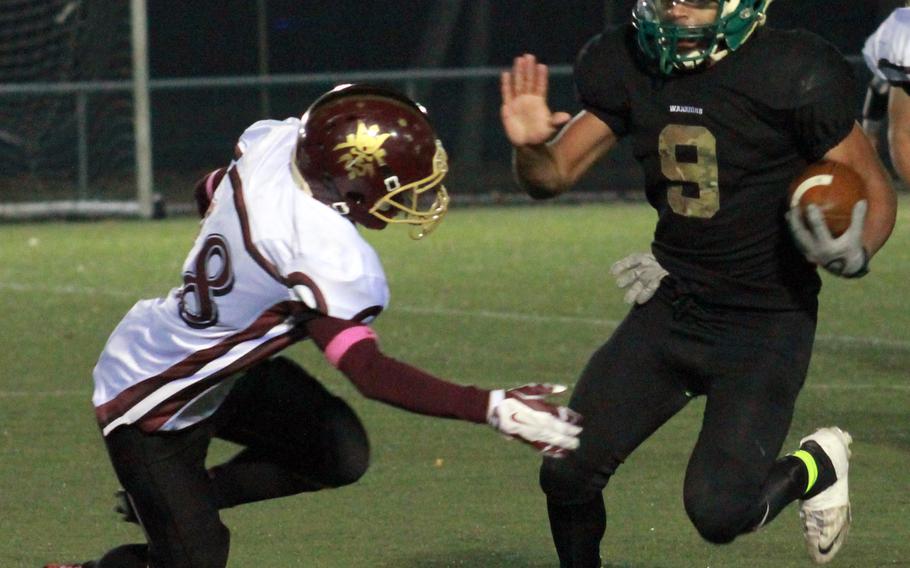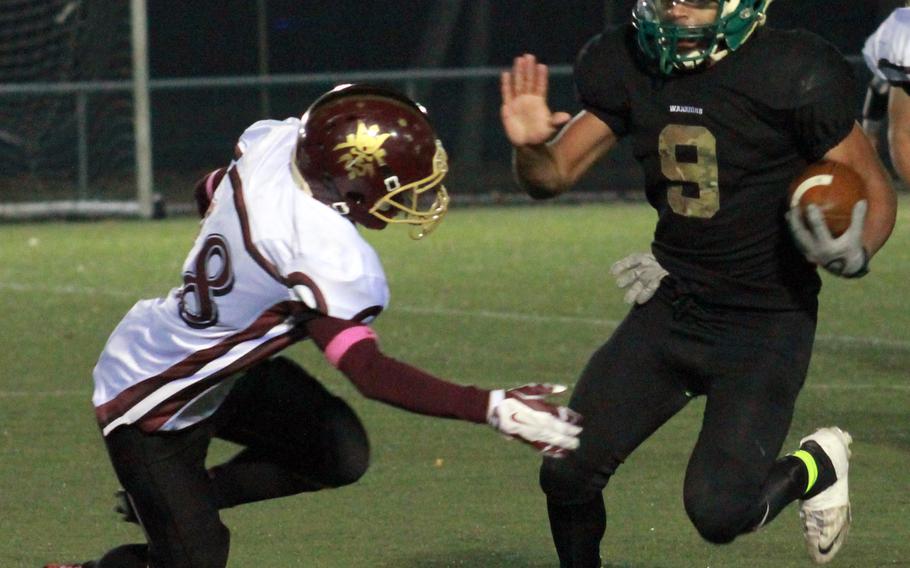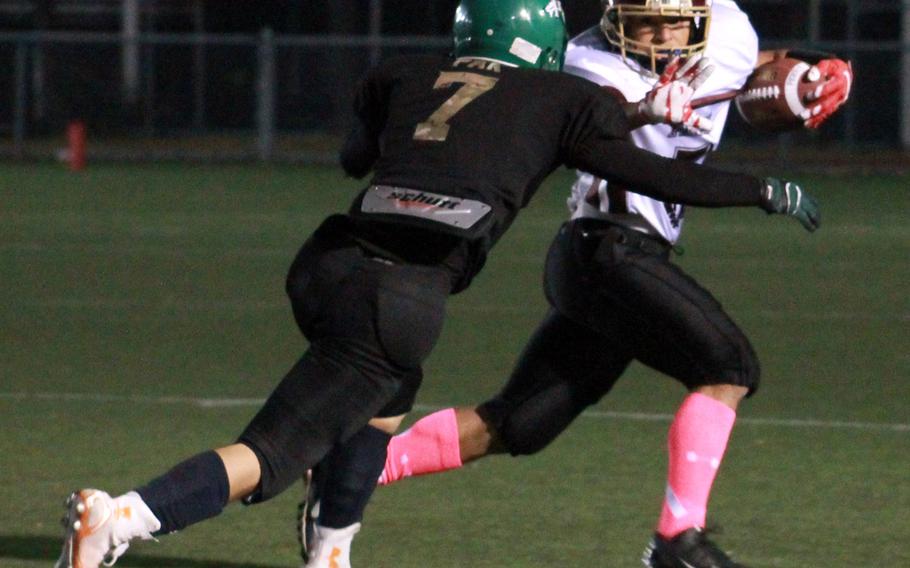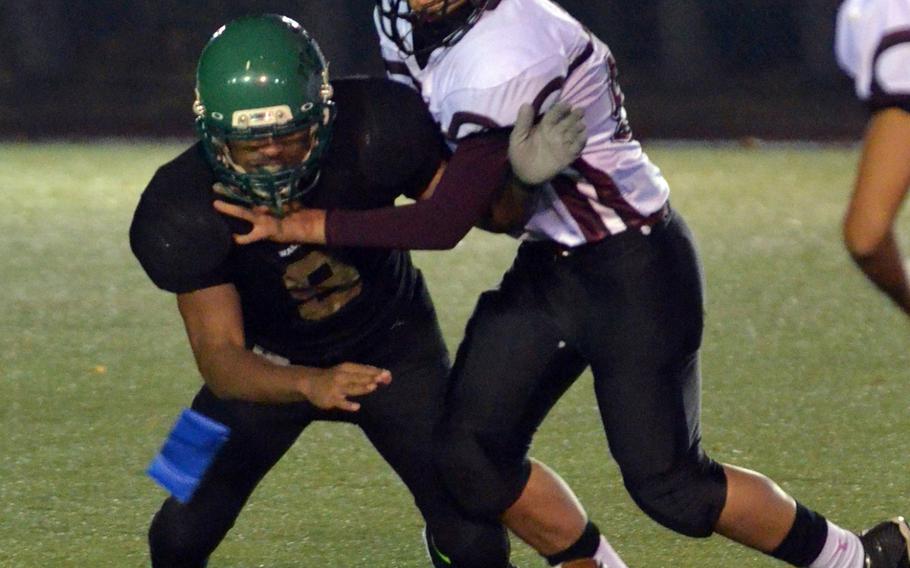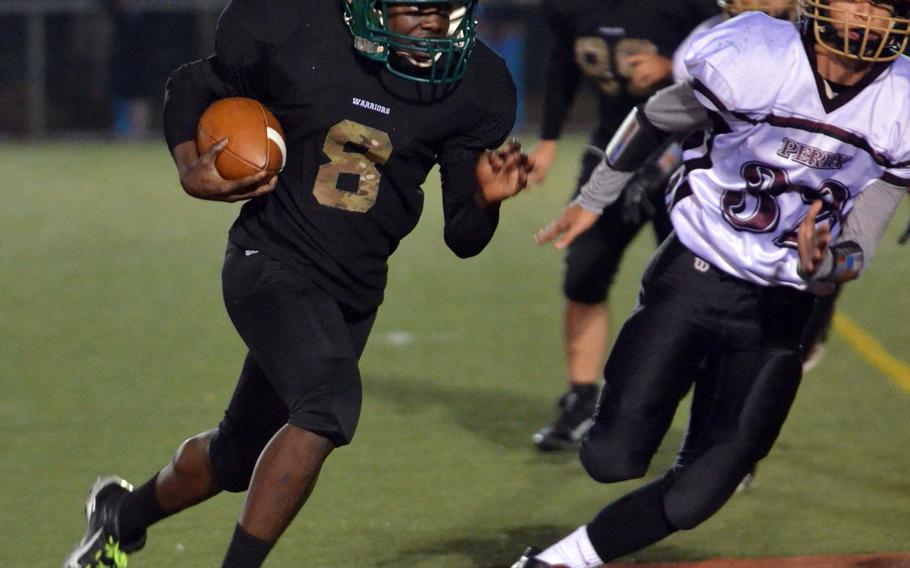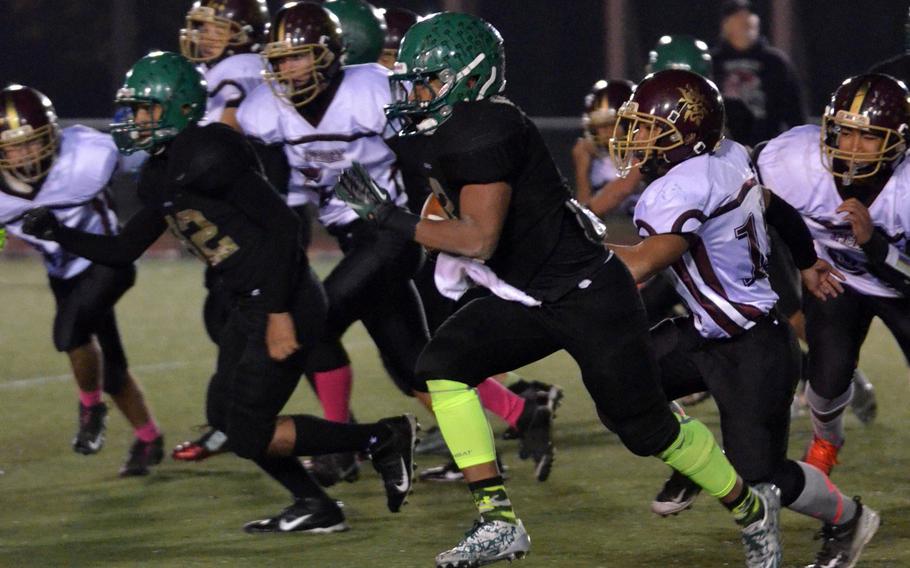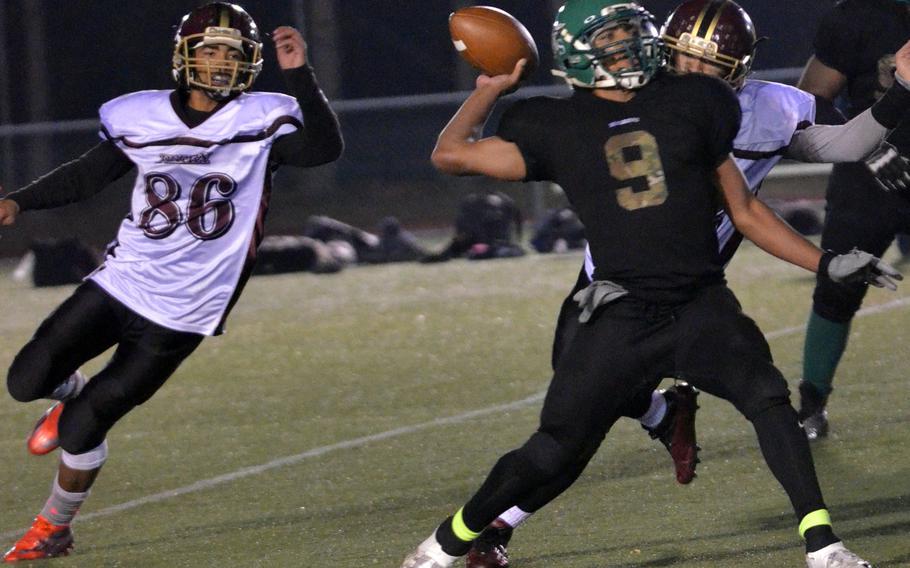 CAMP WALKER, South Korea – Playing against Matthew C. Perry continues to agree with DeAndre Rosalie.
Josh McCaw seems to enjoy it as well, if his – and Rosalie's – numbers were any indicator on Saturday.
Rosalie accounted for 332 all-purpose yards and five touchdowns, while McCaw rushed for 258 yards and two scores on 24 carries and Daegu scored 40 unanswered points to rally from a 20-12 deficit to rout the Samurai 52-20 in Pacific high school football's regular-season finale.
Rosalie rushed for 209 yards on 18 carries, making he and McCaw only the third pair of backs in DODDS Pacific history to rush for 200 yards in a single game.
Robert Eaves (236) and Josh Brandt (232) were the first to accomplish the feat on Nov. 13, 1993, in Kadena's 35-12 win over Yokota. Andre Encarnacion (243) and Mitchell Harrison (228) of Zama followed on Sept. 24, 2011, in the Trojans' 42-26 win over Osan.
"That is amazing," Warriors coach Phillip Loyd said. "We gave them the opportunity, asked them to put us on their shoulders and they did just that, helped us control a quality team. Perry is a good team."
It was the second win by the Warriors (4-2) over the Samurai (5-3) in less than 12 months. The teams played for the Far East Division II title last Nov. 8, with Daegu winning 60-50 at home over Perry.
Saturday's game was a late addition to the schedule when Osan, scheduled to play the Warriors on Oct. 23 and 30, suspended operations for its final two games. The game was also played before a senior night audience, which included coaches Tim Pujol and Stephen Ferch of Daegu's next opponent, Yokota, in Saturday's D-II championship game.
Rosalie was a perfect 3-for-3 passing for 72 yards and two touchdowns, making him 8-for-8 for 241 yards and six touchdowns in his two games against the Samurai. Rosalie also rushed for touchdowns of 66, 75 and 7 yards. McCaw ran for TDs of 53 and 8 yards on his final two carries.
The game wasn't as one-sided as the score indicated. Anthony Calhoun recovered two fumbles to stanch two Samurai possessions, and Perry also had four drives into Daegu's red zone stopped, twice on goal-line stands. Daegu did outgain Perry 561-301 on offense.
Perry quarterback Garrett Macias accounted for 192 yards total offense and all three Samurai touchdowns, one rushing and two on passes to Tyson Moore. Moore had 273 all-purpose yards, including touchdown catches of 66 and 5 yards. Perry also recovered three Daegu fumbles.
---
---
---
---