Daegu rallies to edge Osan in opener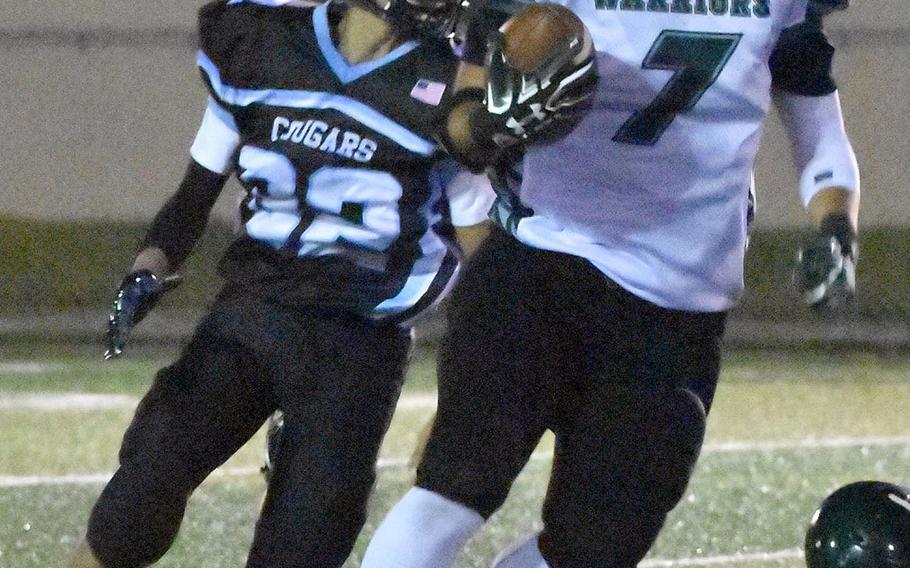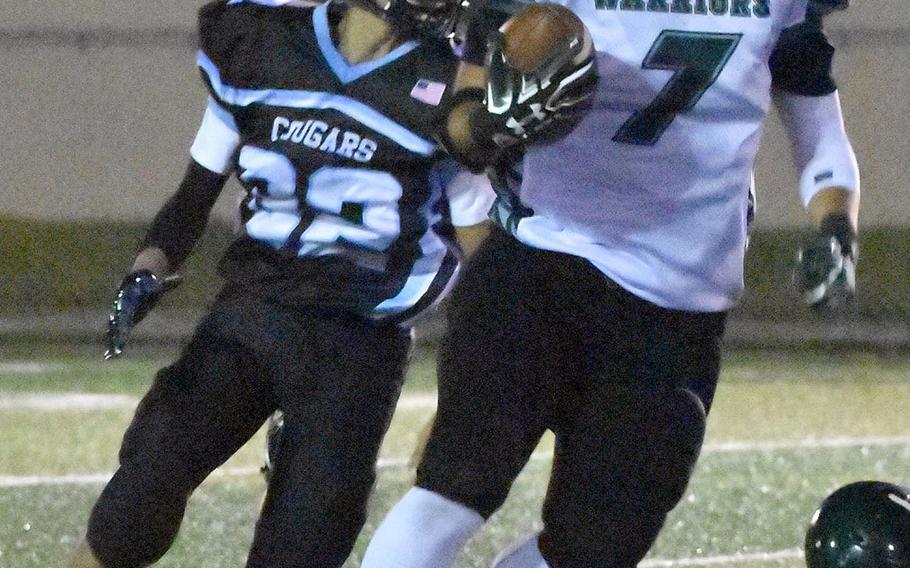 OSAN AIR BASE, South Korea – Kekai Chun-Andrade isn't all that big at 5-foot-8, 135 pounds. But on Friday at Cougars Field, he and his right foot made like the kicking giant Daegu's football team needed.
The freshman booted an extra-point kick following Ethan Rodriguez's 43-yard touchdown run, completing the Warriors' rally from a 6-0 halftime deficit for a 7-6 victory in the season-opening game for both teams.
"Strong leg. Strong will," Daegu coach Blake Sims said of Chun-Andrade, whom the Warriors settled on as a placekicker on Tuesday entering the opener. "We found ourselves a kicker now."
It was another special teams play, on which the Warriors fumbled an Osan punt, that lit the fire under his team, Sims said. The fumble gave Osan the ball in Daegu territory, but the Cougars fumbled it right back.
Two plays later, Rodriguez broke open his run that tied the game.
"We're always concerned" when trailing, Sims said, but the exchange of fumbles "kind of picked us up. We picked up a little momentum off of that."
Just past midfield, the Warriors lined up in the wishbone and quarterback Mikey Bobadilla handed off to Rodriguez. Finding the hole in the right side blocked, "he bounced outside and found some room," Sims said.
Rodriguez's run and Chun-Andrade's kick offset a stellar performance by Osan senior Jalen Wright, who scored the Cougars' lone touchdown on a 1-yard run late in the second quarter and finished with 175 yards on 27 carries.
"The line played well, they opened up some holes for him, and we got some good pass protection," Cougars first-year coach Jerome Learman said, adding it was "little things," such as illegal motion penalties or not enough men on the line that did in the Cougars.
"We'll fix things as we go along," Learman said. "I'm confident we'll have a better product on the field next week."
The Warriors host Matthew C. Perry at 5 p.m. Saturday, while the Cougars host Humphreys' junior varsity players at 7 p.m. Friday.