Competitors try to round into form at annual Petty meet
by
Dave Ornauer
April 6, 2019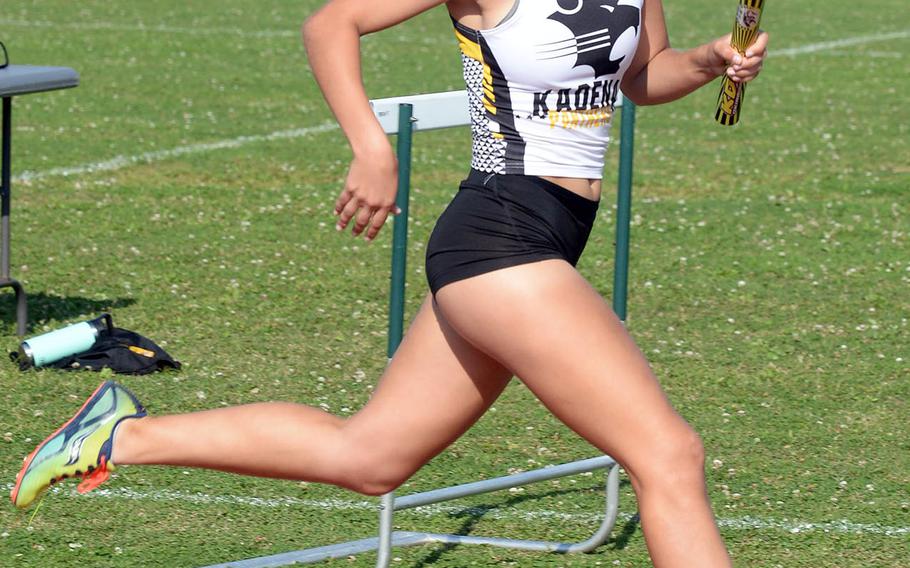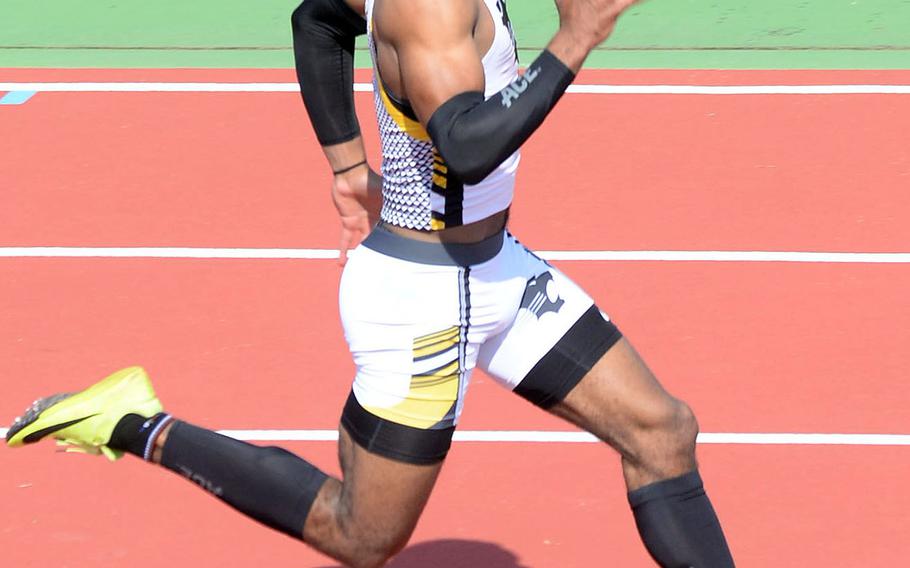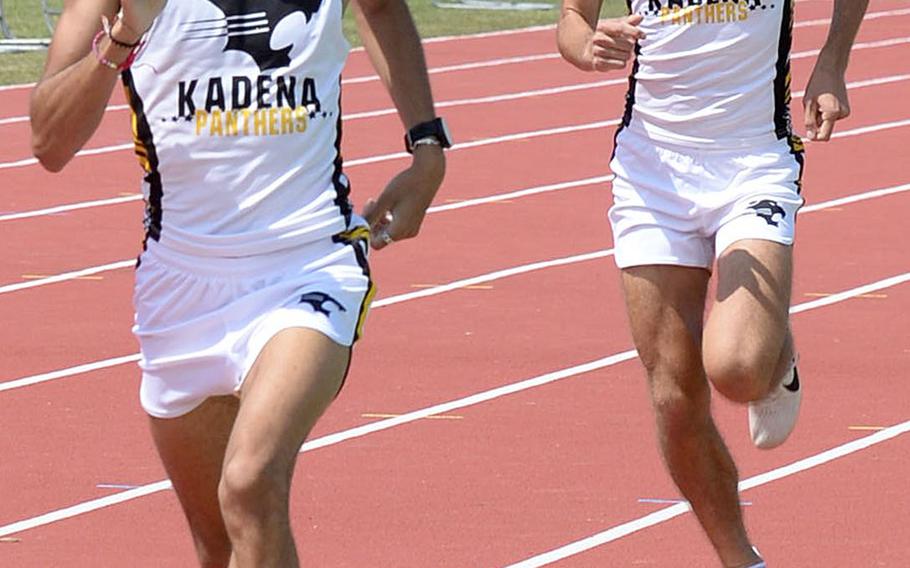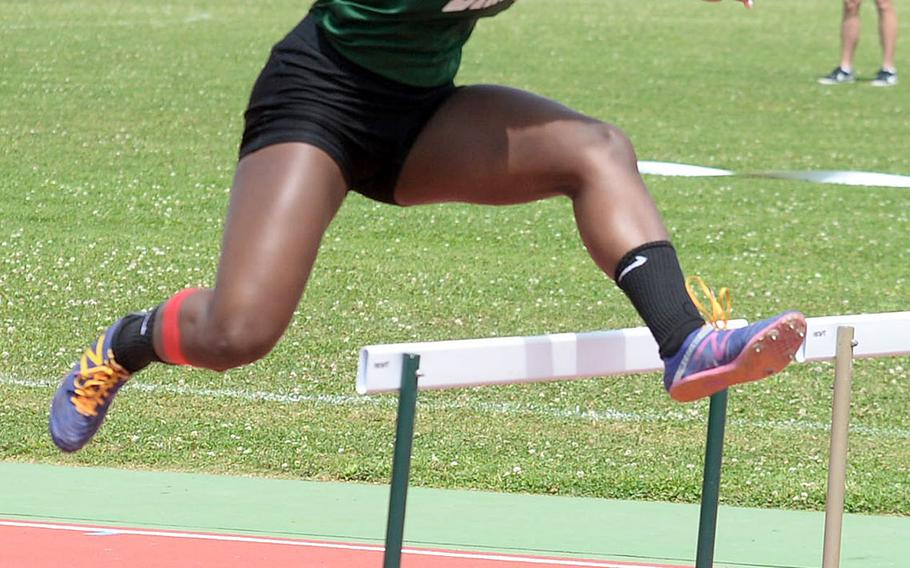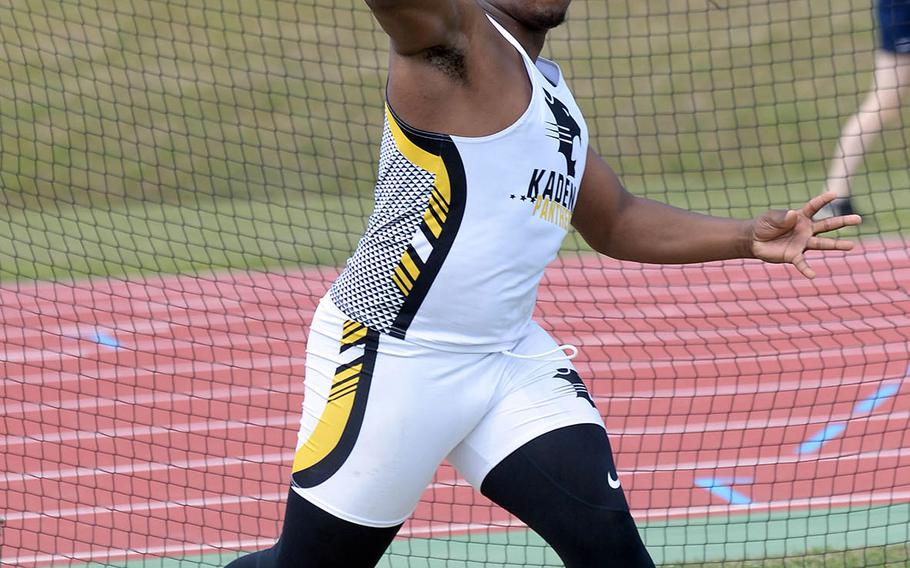 CAMP FOSTER, Okinawa – Christian Tsirlis is just a few months away from attending the University of South Carolina on ROTC scholarship.
His sophomore sister, Madilyn, is an equal number of months shy of moving to a new home at Marine Corps Air Station Cherry Point, N.C.
Before they leave, though, the Kadena track and field siblings say they have some unfinished business to take care of – such as Saturday, when they anchored the Panthers' 1,600-meter relay teams to victory in the 15th Alva W. "Mike" Petty Memorial Meet.
Kadena won both the boys and girls team titles, the boys 124½-57½ and the girls 69-53 over Kubasaki. And the Tsirlis siblings say they hope for the same at next month's Far East meet at Yokota.
"It would be great," Madilyn Tsirlis said.
They are what coach Doyle Robertson calls a rare pair of athletes willing to run the 400 meters, which many coaches call a "tweener," not a full-out sprint, but also not a long-distance race, with its own unique training methods.
When a coach finds not just one, but two who want to run the 400, it's a big burden removed from the shoulders of the coach, Robertson said.
"Having kids who are willing to do it and ready to be coached, it's a huge relief," Robertson said. "The last thing you want to do is beg an athlete" to run a particular event.
Christian runs the 300 hurdles, 400 and 1,600 relay, and also does the long jump. Madilyn does only two events, the 400 and 1,600 relay. They both say much of the 400 game is mental.
"It's all in your mind," Christian Tsirlis said. "You have to keep a positive frame of mind. It's a very strategic race."
"If you get down on yourself, you won't do well," Madilyn Tsirlis said.
Christian Tsirlis finished second in the 400 to teammate Eric McCarter, who was running the race for the first time. McCarter said the event is "a little different" from what he's used to, the 100, 200 and the 400 relay, in which he runs the 100-meter-long anchor leg.
"I had to conserve energy more" at the start of the race," McCarter said after clocking 52.42 to Tsirlis' 54.44. When McCarter got to the race's halfway point, "I kicked it a little and ran it like the 200 the rest of the way," he said.
Robertson said he and his coaching staff were trying to determine whether McCarter would run the 400. Now that he has, Robertson said he feels McCarter can run the event in under 50 seconds.
McCarter's time was 1.04 seconds behind the Pacific's leader Quintin Metcalf of Humphreys. "We could end up seeing a rivalry between those two," Robertson said. "He (McCarter) doesn't like playing from behind; he always wants to be first."
The 15th Mike Petty Meet was the smallest in terms of teams since the inaugural meet in 2003. Only five teams competed - the lone off-island entrant being Morrison Academy of Taiwan, the only other school besides the Okinawa entries to compete in every Petty Meet.
Other multiple winners Saturday included Kadena senior Uriah Morris, who won the shot put and discus; Morrison's James Cummings, the high jump and long jump winner; Kadena senior Trevor Williams, who won the 1,600 and 3,200; Kadena junior Christee Dervil, the 100 and 200 winner; and Kubasaki senior Jaidah Davis, who swept the 100 and 300 hurdles.