Blazing times as Kanto athletes gear up for Far East
---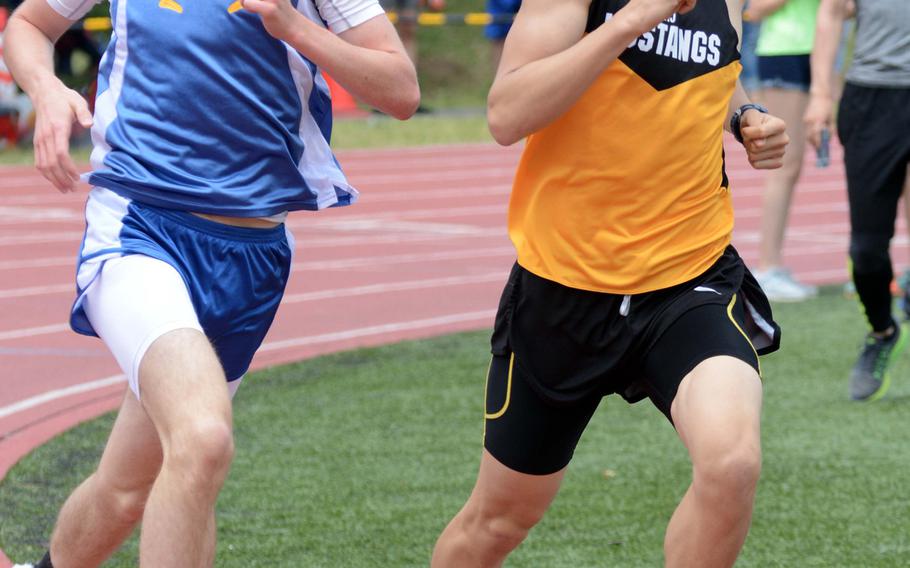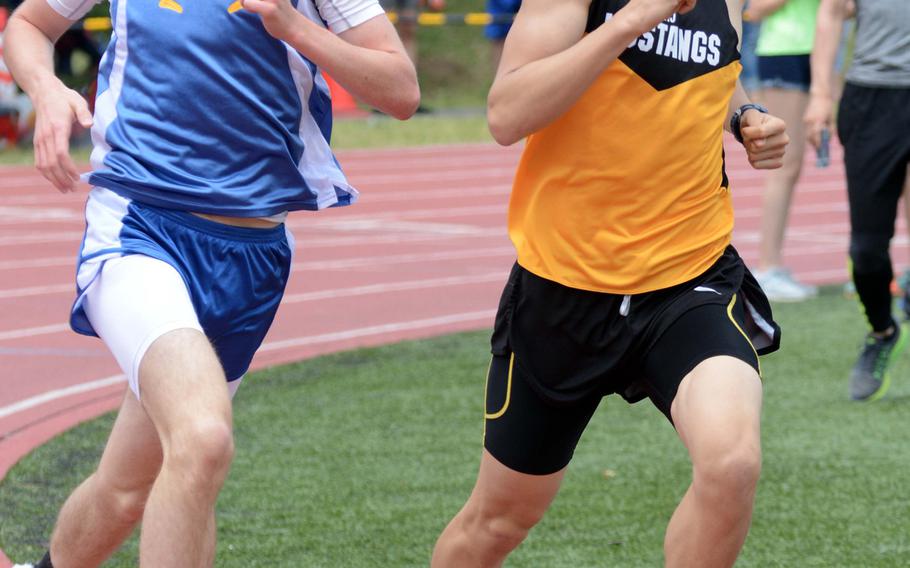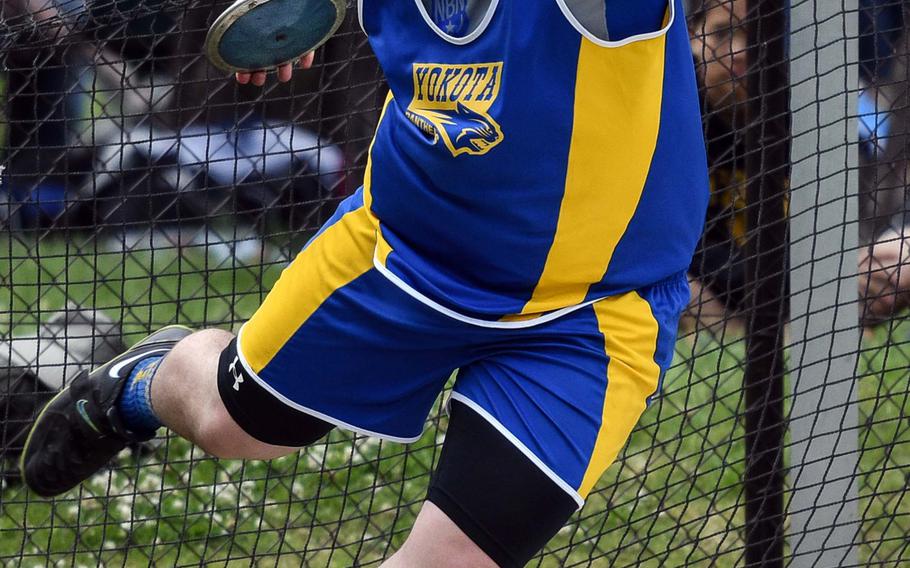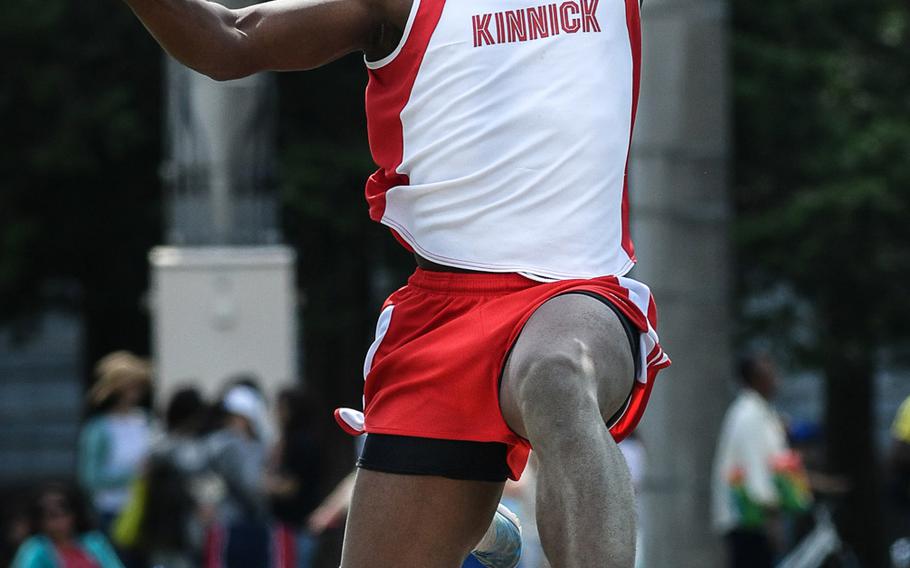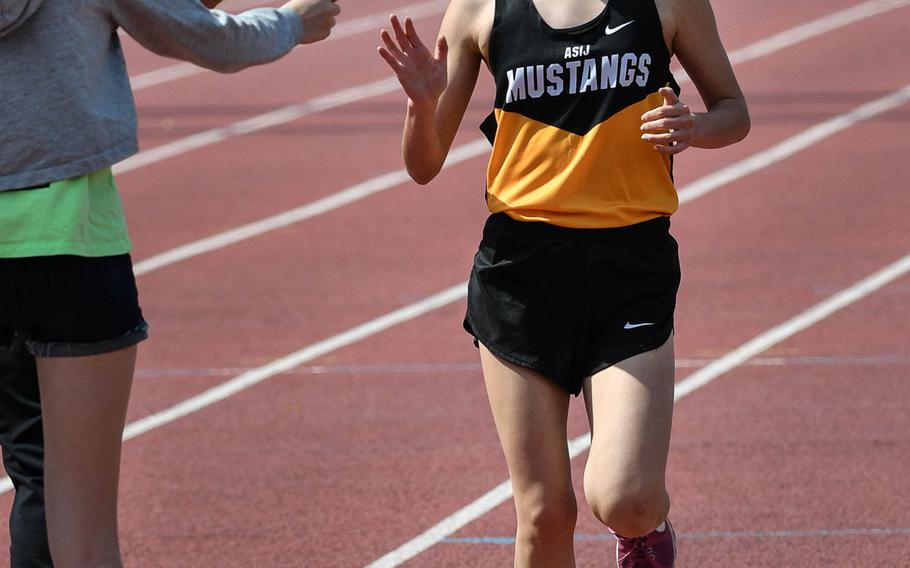 YOKOTA AIR BASE, Japan – Jabari Johnson tuned up for next week's Far East meet the best way possible – breaking three northwest Pacific records Saturday in the Kanto Plain track and field finals.
The Nile C. Kinnick senior topped his own records in the 200 and 400 for the second time this season, clocking 21.28 seconds in the former and 48.25 in the latter. He was also part of a Red Devils team that beat the region record in the 400 relay, with a time of 42.88.
Leading off Saturday's record-book run was Yokota senior Daniel Galvin, who reclaimed the northwest Pacific mark in the 1,600 with a 4:18.22, breaking the mark of 4:21.64 set earlier this season by American School In Japan's Evan Yukevich.
"It was a big day today for everyone," Galvin said.
"This year really is insane in terms of times," Yukevich said.
Many of the teams and athletes ran Saturday with one eye toward the Far East meet scheduled next Thursday and Friday. Some, like Galvin, chose to run just one event.
"We didn't want to wear out our athletes so close to Far East," Kinnick coach Luke Voth said. "But the events they did run, they ran well."
Johnson entered the season as the region record holder in the 100, 200 and 400, and rebroke those three marks earlier this season.
On Saturday, he broke his old mark in the 200 by .46 seconds and in the 400 by .41. He was tailed all the way by ASIJ's Britt Sease, the region's 800-meter record holder (1:54.63), who clocked 48.79 in the 400 Saturday.
"I probably wouldn't have done it without running against Britt," Johnson said. "I was aiming for a 47, but I was happy with my performance."
Kinnick topped the old 400 relay of 43.59 set two years ago by Kubasaki, and Johnson said that had been the team's goal throughout the week. "During practice, our mindset was to chase the record," he said. "We definitely didn't expect to go that fast."
Having had a bit of down time since the last league competition on April 27 had something to do with it, too, Johnson said. "It was just a result of us … not having meets for a while; we just needed an opportunity to display how we've developed. And we definitely did."
Galvin as a sophomore held the records in both the 800 (1:55.54) and 1,600 (4:23.42). But he struggled through an injury-plagued junior year, saw his records go to Yukevich and Sease and vowed that he would get them back as a senior.
He met one of the two goals on Saturday, and reversed the tenor of the March race at Zama in which Yukevich captured the record. Then, Galvin led most of the way before Yukevich caught him in the final 100 meters; on Saturday, it was the other way around.
"Instead of going out fast with the lead, I hung back in second for most of the race," Galvin said. "Instead of trying to hold onto the lead … I had a lot left and was able to kick in the last lap with everything I had been holding back.
"I'm just happy I could hit a time that was satisfying to me" after his sub-par junior season, Galvin said. "It's great to be making strides back to where I should have been."
Galvin and Yukevich, both seniors, have been running against each other since their middle-school cross country days. "When we run together, we run fast times; so, it's great to have such a fast rival like him," Yukevich said of Galvin.
Sheedy, Bailey pace Guam girls to track titleGuam High captured the girls team title in Friday's all-island championships, while the Panthers boys just missed in the team standings, falling two points short of Okkodo.
Sophomores Emma Sheedy and Britney Bailey each won twice, Sheedy in the 800 and 1,500 and Bailey in the 100 and 300 hurdles. Alyssa Tatum won the girls 3,000 and Lauren Cline the girls high jump. On the boys side, Isaac Ventural won the 800, 1,500 and 3,000, Trip Chauret the 100 and Donovan Johnson the javelin.
The Panthers girls outdistanced Okkodo 145-128 and the Bulldogs' boys edged Guam 132-130.
---
---
---
---