Prep roundup
Bargmon prevails in all-Panther tennis final
---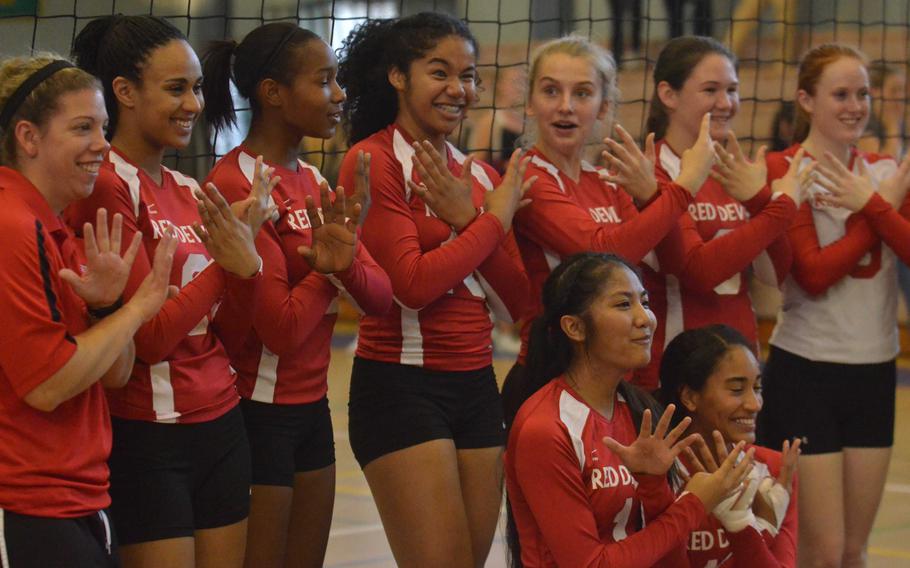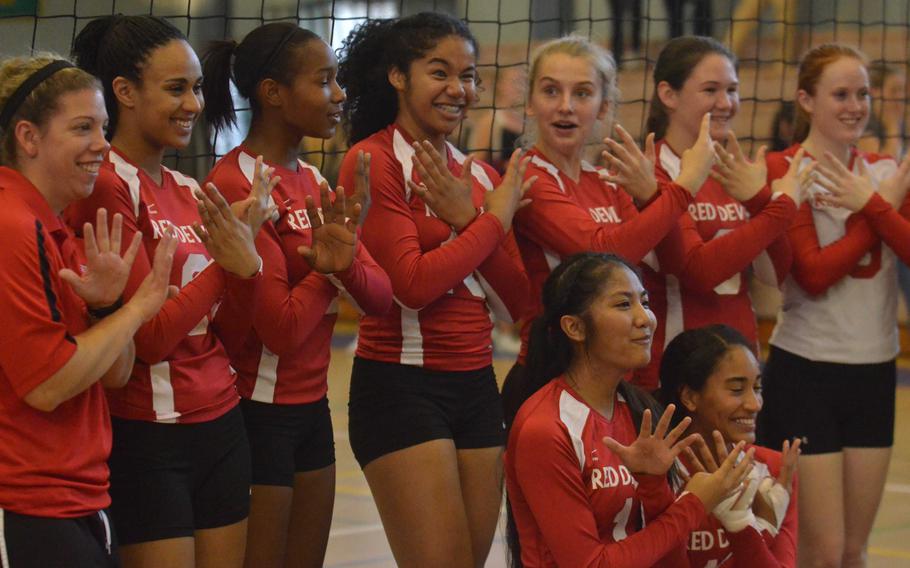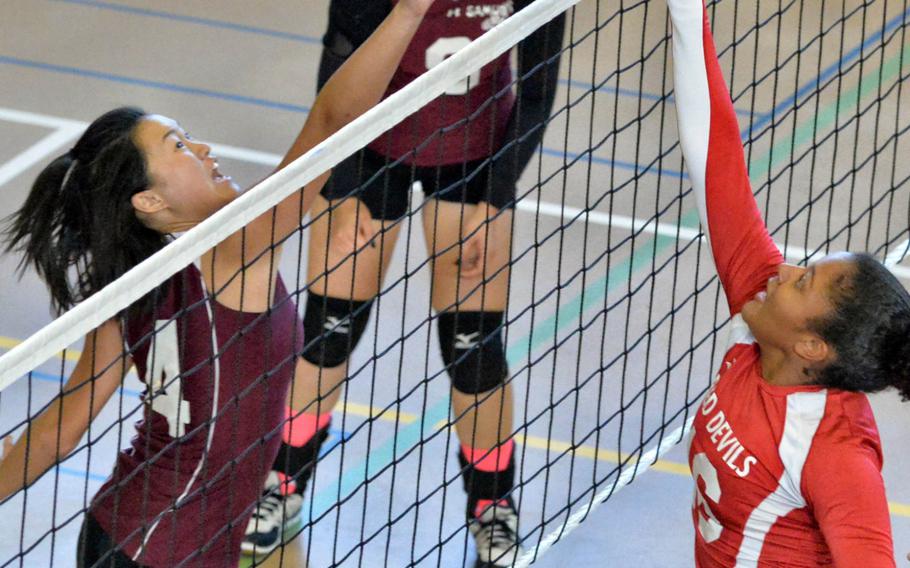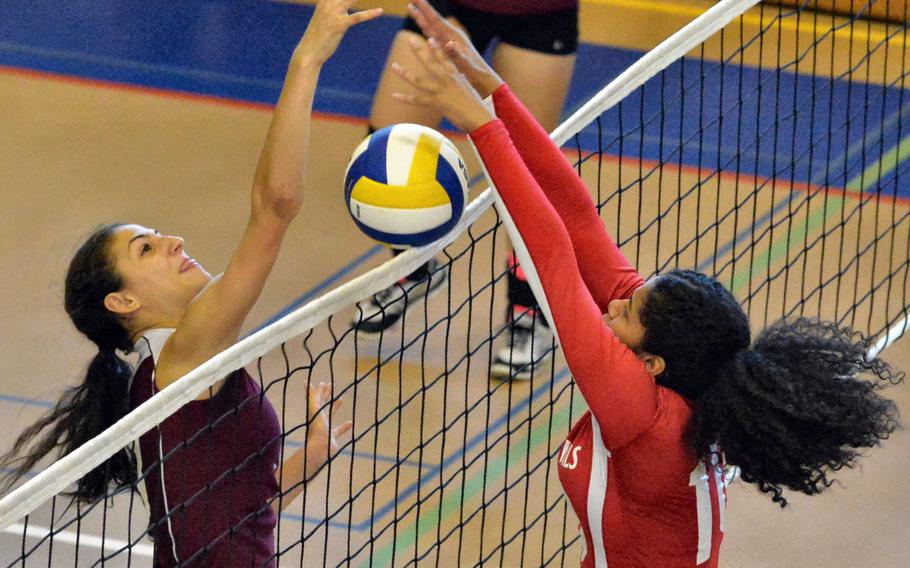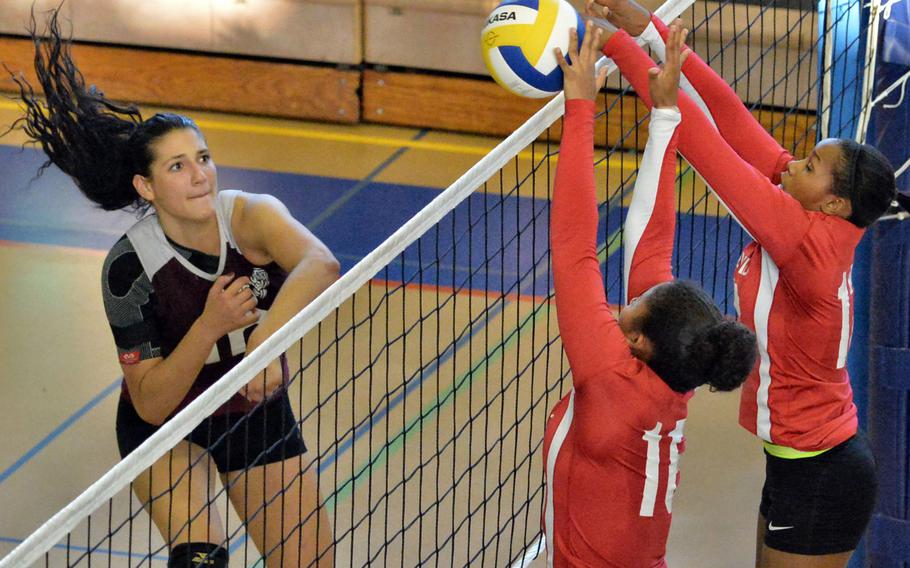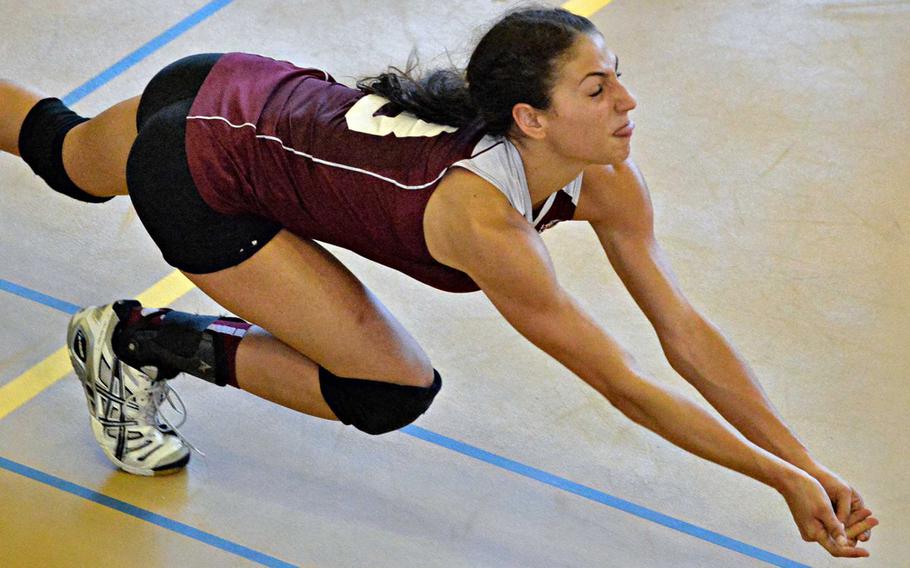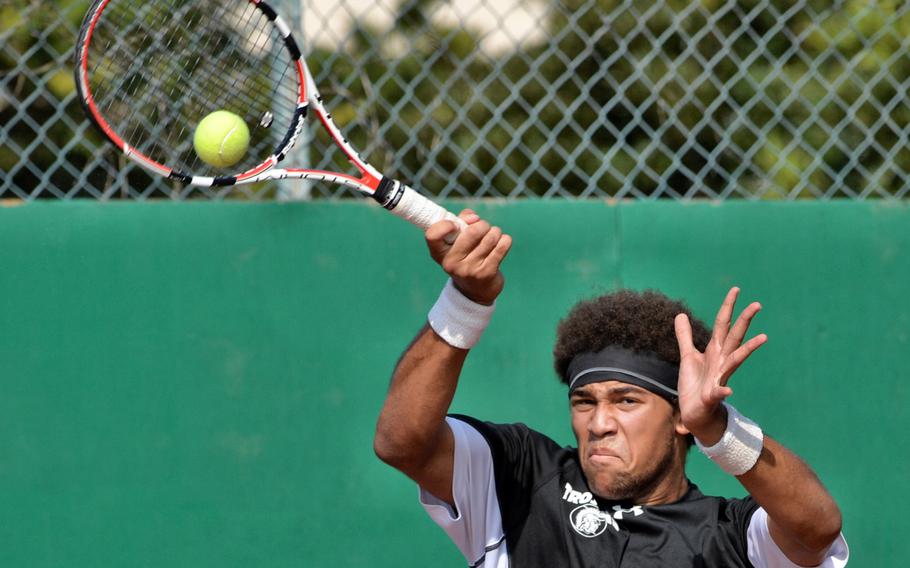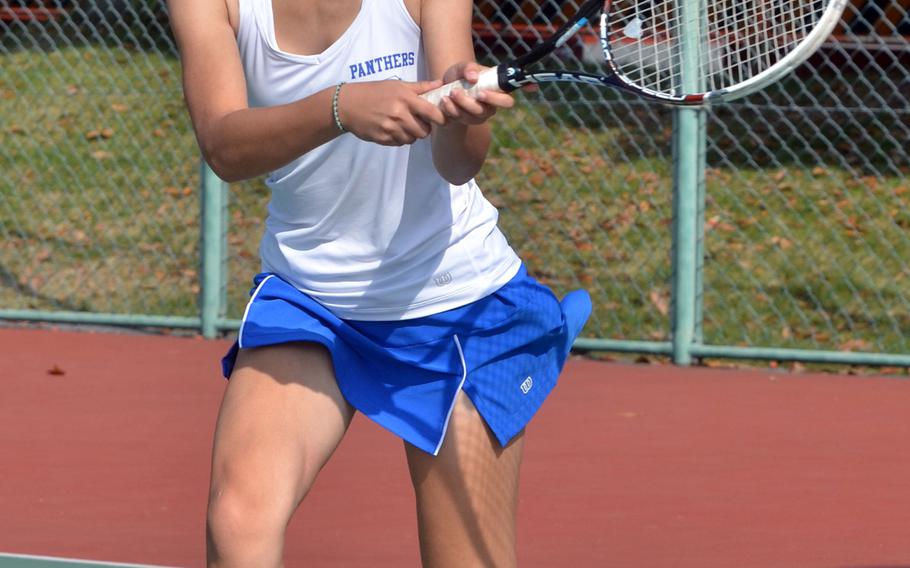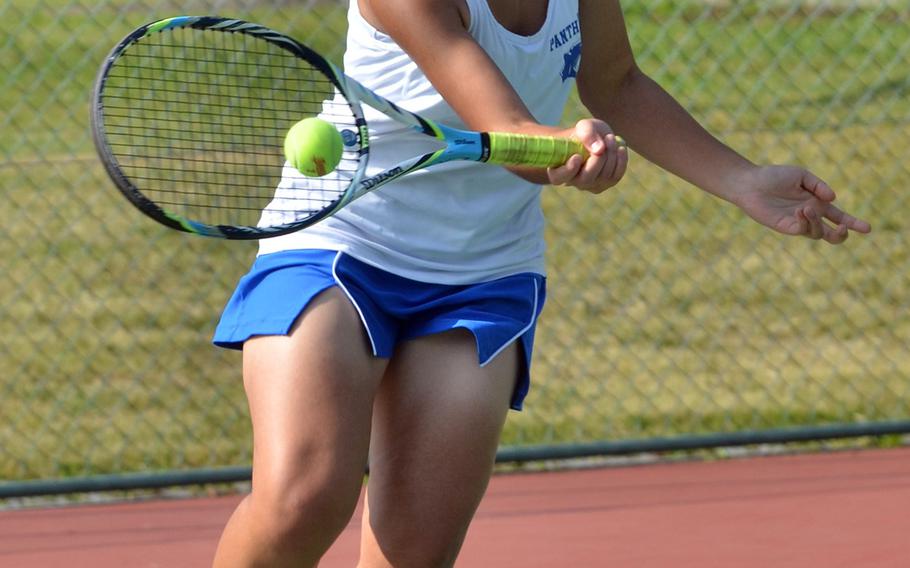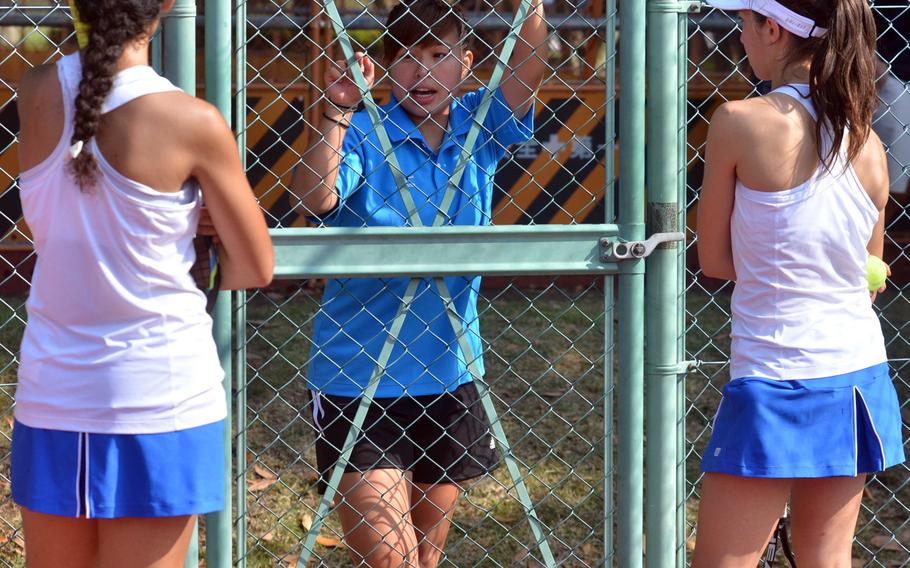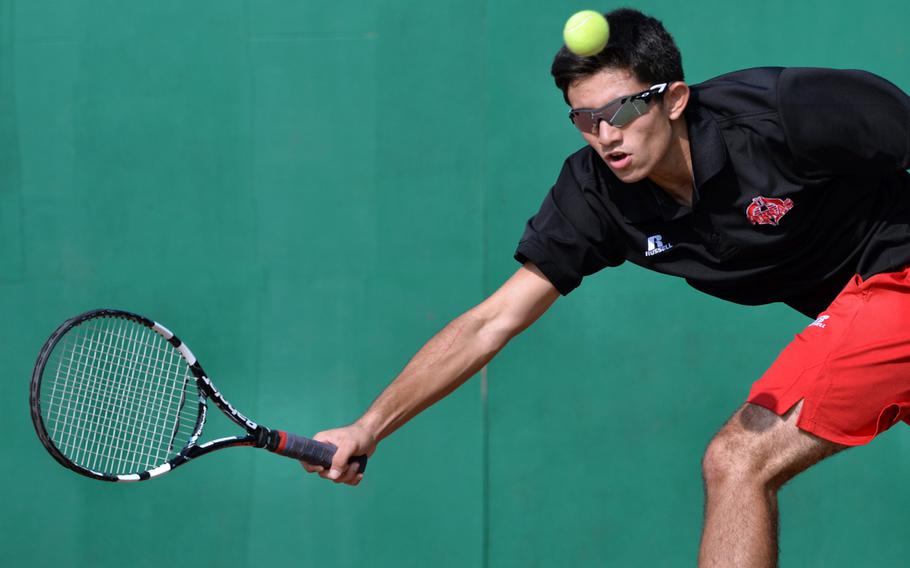 YOKOTA AIR BASE, Japan – Rimi Bargmon bounced the ball a few times and looked up at the net, ready to serve.
From across the net came the voice of her teammate, Kaia Austin: "No matter what, I love you, Rimi!"
Best friends off the court but for the moment, rivals on it, it was Yokota vs. Yokota for the girls singles championship in the DODDS Japan tennis tournament on Saturday.
Bargmon prevailed 8-3, but didn't seem in a mood to celebrate the title. "Mixed emotions. Mixed feelings," she said. "I feel badly about it, but I also feel good about it. She (Austin) played so well."
"But she played better," Austin said of her teammate.
The two have split time as the team's Nos. 1 and 2 singles seeds the past couple of years. Bargmon started strong, winning the first five games, leading Austin – who speaks fluent Japanese, along with Bargmon, to remark: "Chotto hayai, neh?" (a bit fast, isn't it?).
From there, the pace did slow some, with the players trading wins over the next five games, until Bargmon arrived at match point at 40-15 in the 11th game, leading 7-3.
Austin fought off two match points to force deuce, then the pendulum swung back and forth. Austin saved a third match point, then a fourth, leading both players to laugh as Bargmon readied to serve again.
Finally on the fifth match point, Austin launched a return into the net, ending things.
The two had teamed earlier to win the girls doubles crown, downing Zama's Reagan Palmer and Heather Hurley.
That match ended about 20 minutes before Austin and Bargmon stepped on the court for the singles championship.
"We're excited but nervous," Austin said of facing that prospect.
While Bargmon was capturing her first DODDS Japan titles, E.J. King senior Rikki Kendall repeated his boys singles championship, outlasting Zaman's Trayland Rose 8-5, but not without a tough battle.
"I wanted it so badly," Kendall said, adding that he was favoring left-thigh and right-elbow muscle pulls. "I had to do it. All the pressure on me. I needed to do it. He made some amazing shots. A few I couldn't even touch."
Kendall fell short of completing a sweep of the singles and doubles titles, as he and teammate Bryce Szerlag lost 8-3 to Nile C. Kinnick's Garrett Higgins and Edrie Orpilla – the latter a teammate of Kendall's and Szerlag's until transferring to Yokosuka over the summer.
"It was definitely an awkward situation," Orpilla said. "He (Kendall) took me to another level. I had to motivate myself to do better."
Kinnick nine-peats in volleyballYOKOTA AIR BASE, Japan – Kiana Vicencio was nursing a right-ankle sprain. Her teammate Lexia Hall just went with a right-ankle injury of her own, summoning help from Yokota's 374th Medical Group. And Matthew C. Perry seemed on the verge of forcing a fifth and deciding set.
"I wanted to win," Vicencio said of her thoughts before the last three points of the fourth set in Nile C. Kinnick's 25-13, 25-18, 21-25, 25-22 win over the Samurai. It gave the Red Devils their ninth straight championship in the DODDS Japan tournament.
Vicencio put the Devils ahead to stay with a left-angle kill from just inside the net antenna. She then stepped to the service line and served out the last two points. "Speechless," Vicencio said of her thoughts after the match ended.
Hall had eight kills and four block points before exiting with the injury. Vicencio and Stephanie Stockman each added seven kills and Faith Hughes had 29 set assists.
"We're going to make it 10 straight (titles) next year," Vicencio said. Unfortunately, it might have to be without her; coach Anthony San Nicolas said Vicencio transfers after this school year ends.
Galvin, Watanuki triumph in Kanto XC finalsTOKYO – Taking 23.2 seconds off his personal best on the course, Yokota senior Daniel Galvin achieved the second of his stated three goals to conclude his Yokota cross country career.
He won the Kanto Plain finals on the Tama Hills Recreation Center's lower 3.12-mile course in 16 minutes, 29.9 seconds. Galvin crossed the line just under 35 seconds faster than his chief rival Evan Yukevich of American School In Japan.
Junior Lisa Watanuki of ASIJ was the girls winner, in 19:32.4, taking 33.2 seconds off her personal best. She led a 1-2-3 finish by Mustangs, followed by senior teammates Anna Sheng and Tatiana Riordan.
The girls race was run without DODDS Japan champion Arlene Avalos of Nile C. Kinnick, who suffered an injury to her foot and was held out of the race by coach Luke Voth. There was no immediate word on whether it would affect her chances at next month's Far East meet at Camp Fuji.
As expected, ASIJ won both the boys and girls team titles, the girls by 64 points over Seisen and the boys by 28 over St. Mary's.
---
---
---
---