Prep roundup
27-year-old Pac record bites the dust
by
Dave Ornauer James Kimber
April 25, 2015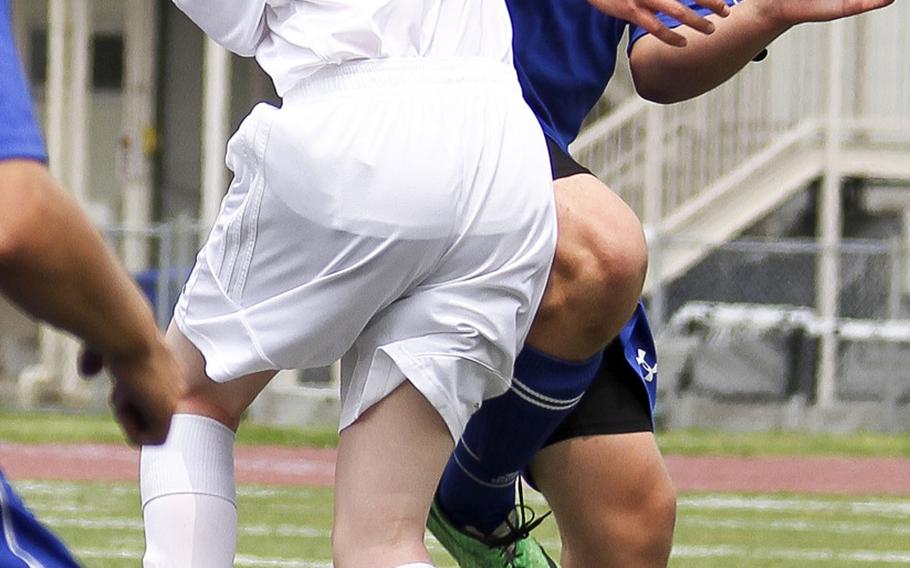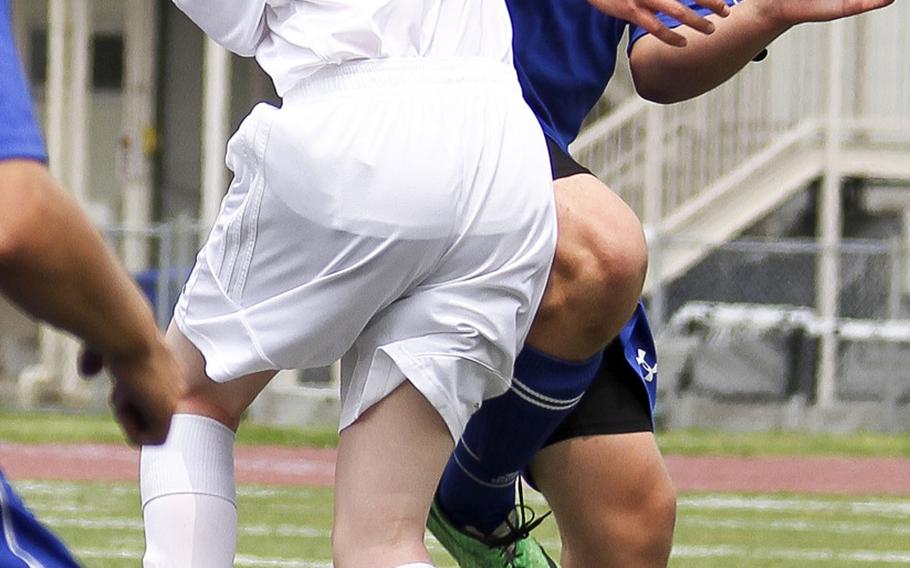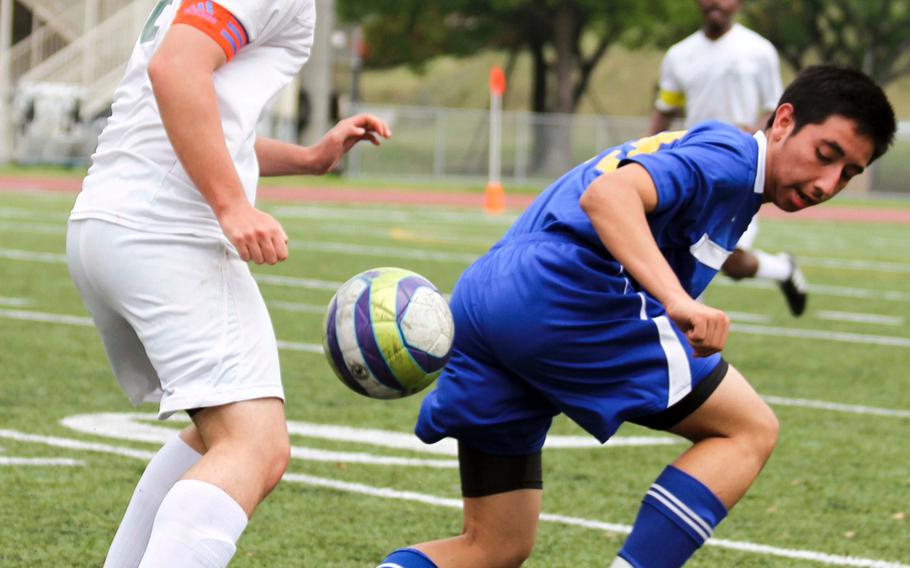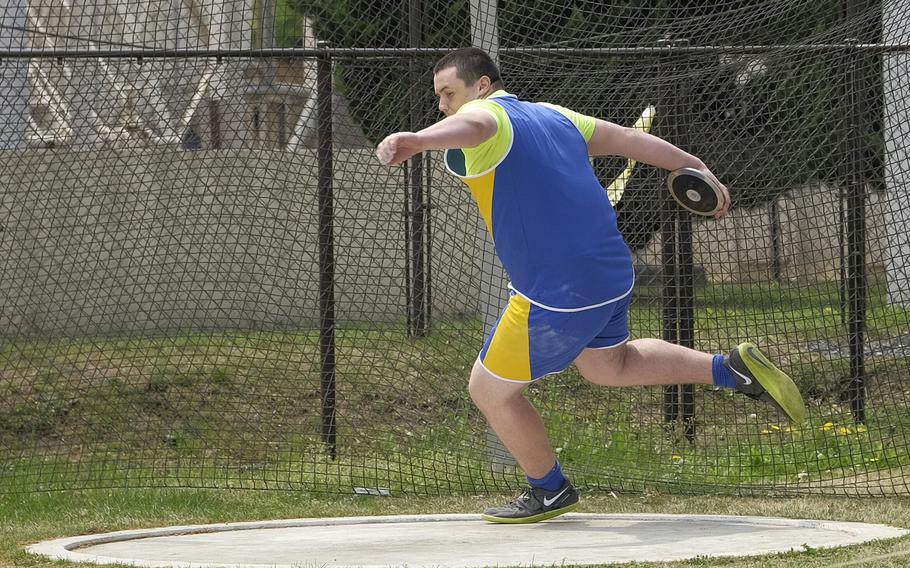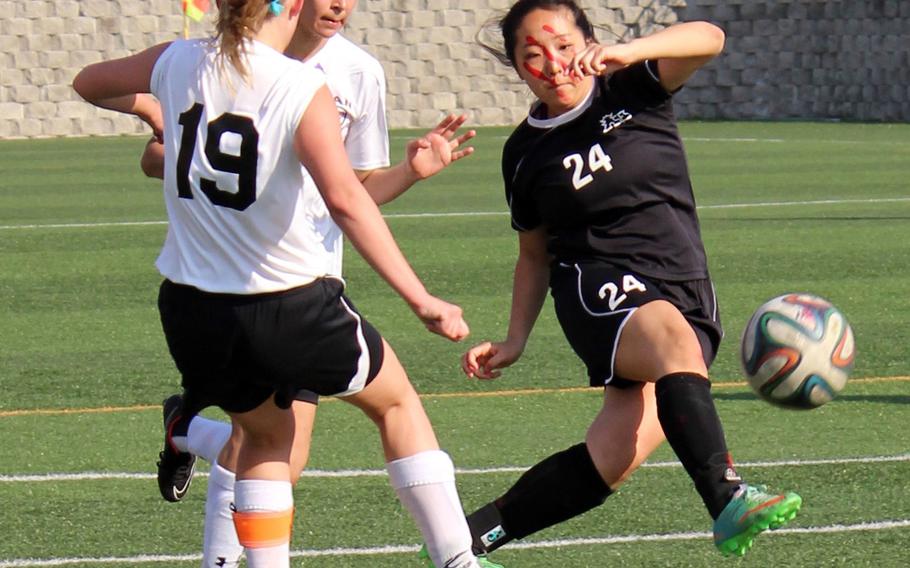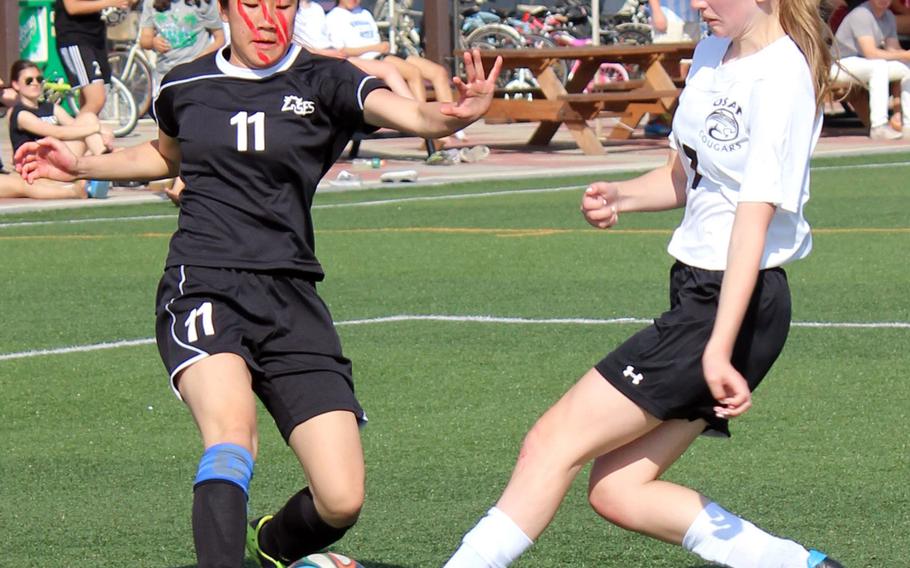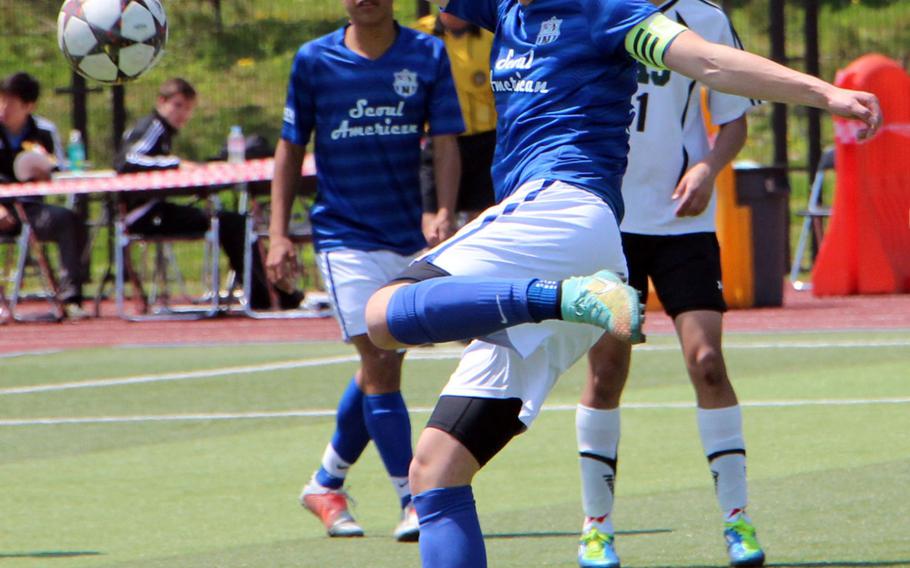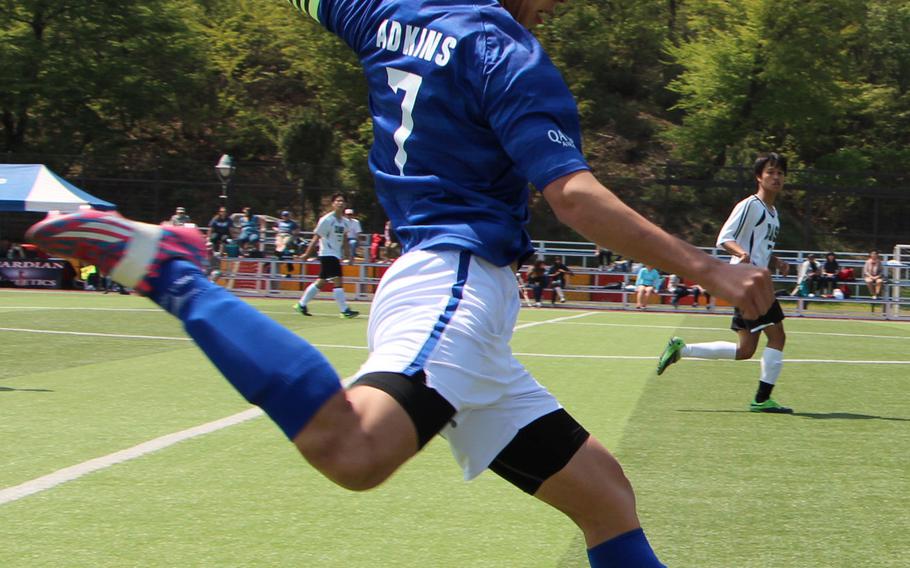 Long before team hardware was handed out in a variety of sports on the Pacific's "championship Saturday," Christian Sonnenberg and Brittani Shappell went about making some history of their own.
Sonnenberg, a Yokota sophomore, made good on a preseason vow, tossing 50.85 meters at Yokota's Headley Field. That topped the 27-year-old mark of 50.65 set by Stephe DeSantis, then a Yokota senior – a record many observers have said would stand forever.
Shappell, a Seisen freshman and reigning Far East cross country chamnpion, broke the 3,000-meter Kanto record, with a time of 10 minutes, 34.97 seconds. That came a week after breaking the 11-year-old Kanto Plain mark in the 3,200.
"Awesome. It was fun," Sonnenberg said. "I was actually surprised because it didn't look like it was a good throw. But when it kind of tipped to the side in the end, I'm glad it went over."
Sonnenberg had thrown a personal best 49.33 three weeks ago and had scratched at 55 and 58 meters in previous meets, and began Saturday with a 50.63 on his first of three tries; he scratched on the last one.
"I thought it would be around 45. I just wanted to make sure it was in," he said, adding that he didn't want a repeat of last week's meet at Yokota, in which he had just two good throws in six attempts.
The record came in the DODDS Japan finals, an unusual event in that the shot put and discus were held at Yokota, while the rest of the events were run at Robert D. Edgren, 360 miles north. Edgren does have throwing pits, but they weren't ready in time for Saturday's meet.
The closest anybody else has come to Sonnenberg and DeSantis was Roland Cote of Zama, who threw 44.29 in 2012.
Saturday was also the last day athletes could post qualifying times, heights and distances for next month's Far East meet, scheduled for May 21-22, also at Yokota.
Kadena remained unbeaten in the team standings this season as the Panthers tuned up for next week's Okinawa finals at Koza City Stadium. Jazmyn Sharper of Kadena stayed unbeaten in throwing events, while Kubasaki's Johnathan Johnson swept the 800, 1,600 and 3,200.
Seoul American's boys and girls emerged victorious in the DODDS Korea finals at Humphreys, where Blackhawks sprinter Dai'Quan Wilson won the 100 and 200 and came in second in the 400 and Nicole Castro took the 400 and 800 and was second in the 1,600.
Falcon boys capture Korea soccer titleThere was also plenty of drama on the soccer pitch, as Seoul American's boys made it three victories in as many matches this season over Seoul Foreign. This time, it was 3-2 in extra time in the Korean-American Interscholastic Activities Conference Blue Division Tournament final.
HoKyong Adkins scored the winning goal in the final minute of the second five-minute extra-time period as the No. 2-seed Falcons rallied from a 2-0 halftime deficit over the top-seeded Crusaders.
"Heck of a final," said Steve Boyd, named KAIAC Blue Coach of the Year for the first time. "We've been here before; this is the third or fourth time we've come back from a halftime deficit. Four finals in a row and we finally got one. It's good to get that monkey off my back."
The KAIAC Blue's girls top seed, Osan, suffered the same fate, falling 4-2 to Seoul Foreign. But coach Sung Plourde noted that the Cougars have lost in KAIAC tournaments before, only to rebound at Far East Division II; they hold the Pacific record with eight such titles.
"I hope we can come on strong at Far East," he said. Andrea Carandang got her team-leading 24th goal in the losing cause.
More drama could be found in the DODDS Japan boys tournament final at Camp Zama. Defending champion and reigning three-time Far East D-II champion Matthew C. Perry had its 29-match unbeaten streak snapped when host Zama rallied from a 3-0 deficit and edged the Samurai in a penalty-kick shootout.
"We're just thrilled with the way we played," coach Marc Norton said, adding he had four players with the flu and two of his fastest players missed the tournament. "It was great to come from behind. We've had two games like this when we've come from down. I'm really proud of them."
Vince Ermitano helped the Samurai lead 3-0 with two header goals, then Pacific-leading scorer Malik Wilkes struck twice in the second half and Logan Perera got the equalizer in the 79th minute. Wilkes had the match winner in the PK shootout.
"It makes Far East interesting," said coach Mark Lange, whose Samurai hadn't lost since March 27, 2014. "Sometimes things don't go my way or my team's way, but I'm proud of my boys and we're looking forward to Far East."
That match was suspended for 30 minutes due to lightning in the area, as the DODDS Japan girls final was called off in the 76th minute due to similar conditions by coaches agreement. Defending champion Nile C. Kinnick won the title, beating Yokota 3-1.
Playmaker Kiralyn Kawachi had 12 assists in the tournament.
On the Korea diamonds, Osan captured the DODDS Korea D-II title with a 13-5 home win over Daegu.
Earlier, the Cougars downed Seoul American 20-8. Mike Hardin started double plays to end both games. Aaron Misner against the Falcons had two ground-rule doubles and four RBIs; he has not allowed an earned run all season on the mound.
Kimber.james@stripes.com Twitter: @james_kimberornauer.dave@stripes.com Twitter: @ornauer_stripes