Humphreys holds off Osan to retain crown
By
Stars and Stripes
April 30, 2022
---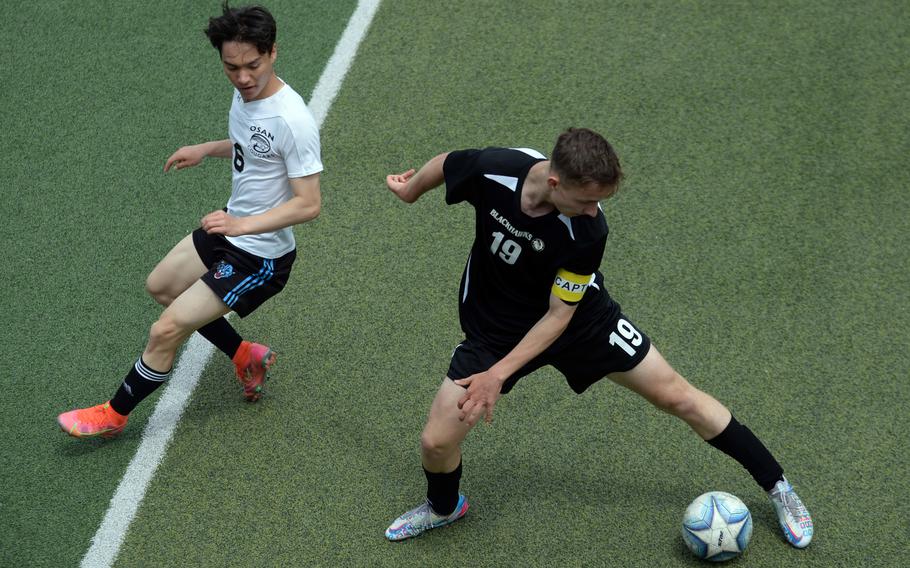 OSAN AIR BASE, South Korea – At just 5-foot-3, Tony Oh is one of the smallest players on Humphreys' boys soccer team.
But he's also made huge plays for the Blackhawks this season – none bigger than on the two goals he helped account for Saturday.
The senior midfielder scored four minutes in the second half and assisted on what proved to be the match winner four minutes later as Humphreys repeated as DODEA-Korea district champions, edging Osan 2-1 in Saturday's final.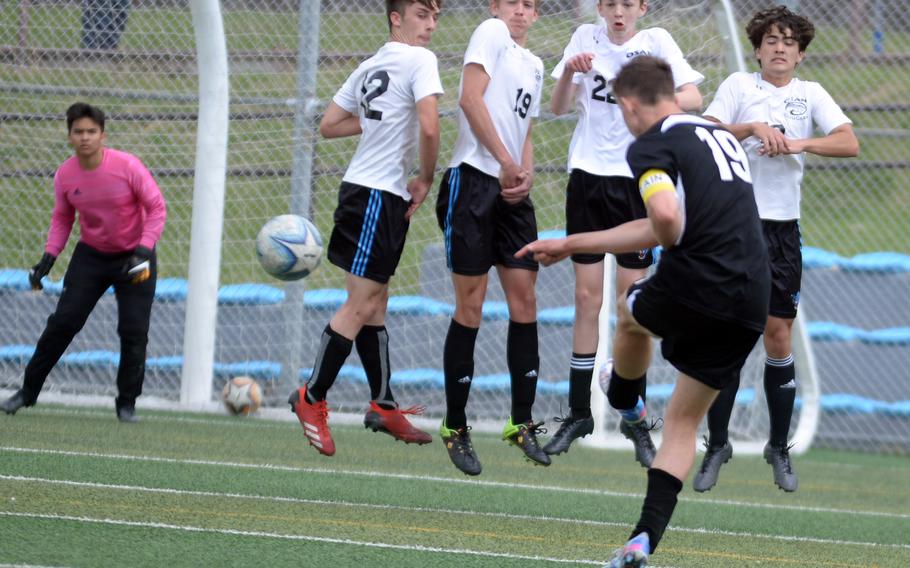 "This was the hardest match I've played in my life," Oh said of an intense showdown between the Cougars and Blackhawks that featured many a missed shot and close call from start to finish.
But it's such matches that "boost my level 100 times," Oh said.
With the victory, the Blackhawks completed their second straight unbeaten season at 7-0, while the Cougars finished 2-4-1.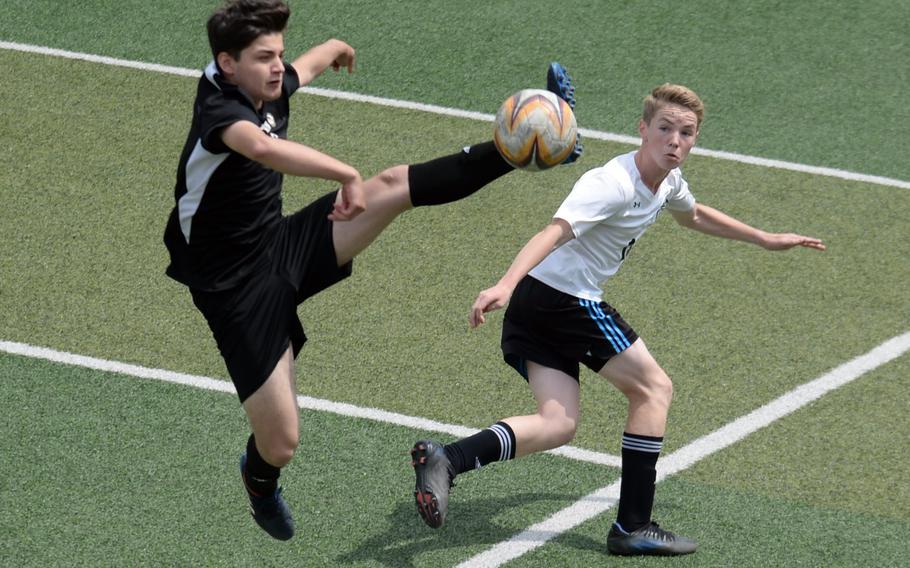 But one probably couldn't discern a difference between the two teams in the first half, which ended scoreless. Blackhawks keeper Robert Morales, who had seven saves, and Cougars backstop Stephen McCool, with nine, did yeoman work in keeping their foes off the scoreboard.
In the 44th minute, Oh gathered an Osan clearing pass attempt just at the top of the 18-yard circle, turned and fired the ball past a diving McCool to put the Blackhawks on the board.
"I saw an opening on the right side," Oh said. "I was confidant I had a perfect set-up."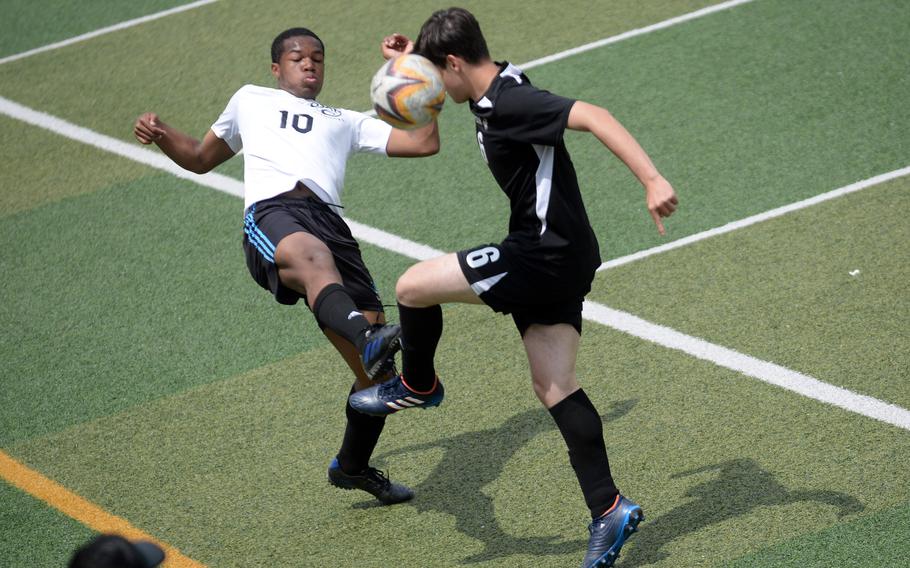 Driving up the field in the 48th minute, Oh spied the team's leading scorer, junior Kamron Verrell, dashing up the left side. Oh sent the ball to Verrell, who pushed the ball past a diving McCool into the net.
"Kam is always open," Oh said of Verrell. "He's always alone. And I sent the ball to him."
It was Oh's 13th assist of the season, with most of those passes going to Verrell, who finished the season with 18 goals.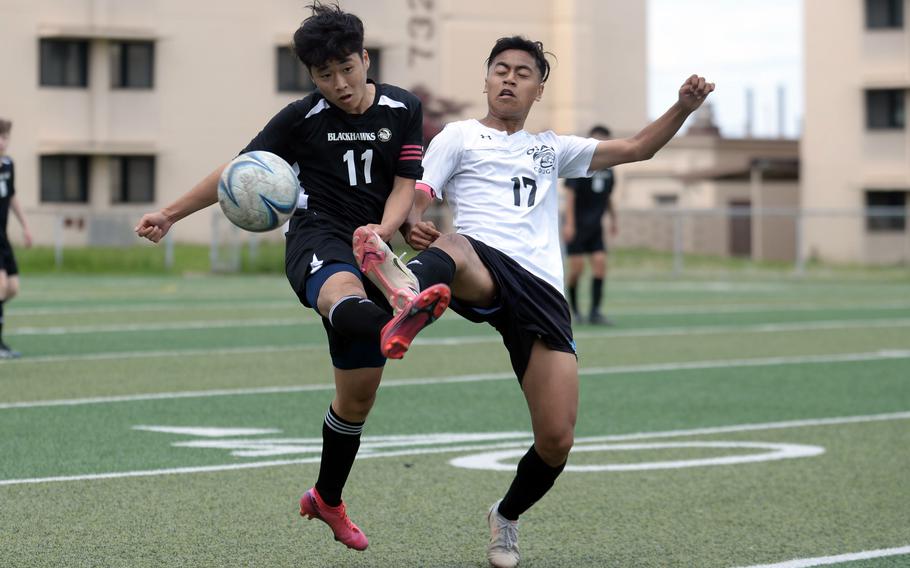 "I trust him a lot with those through balls," Verrell said. "It was a perfect through ball, right to my feet, and I just put it on frame and it went in."
It stayed 2-0 for another 20 minutes, before Humphreys was called for a handball near the goal. Jose Rivera buried the penalty kick for Osan, his 10th goal of the season. The goal seemed to fire up the Cougars for the stretch drive, Rivera said.
"It was a beautiful moment," he said. "Once I scored the PK, it gave all of us hope. Pass the ball faster, make smarter decisions."
But Morales held fast in the net the rest of the way. Even after the penalty kick, "I was still confident in my team," Morales said.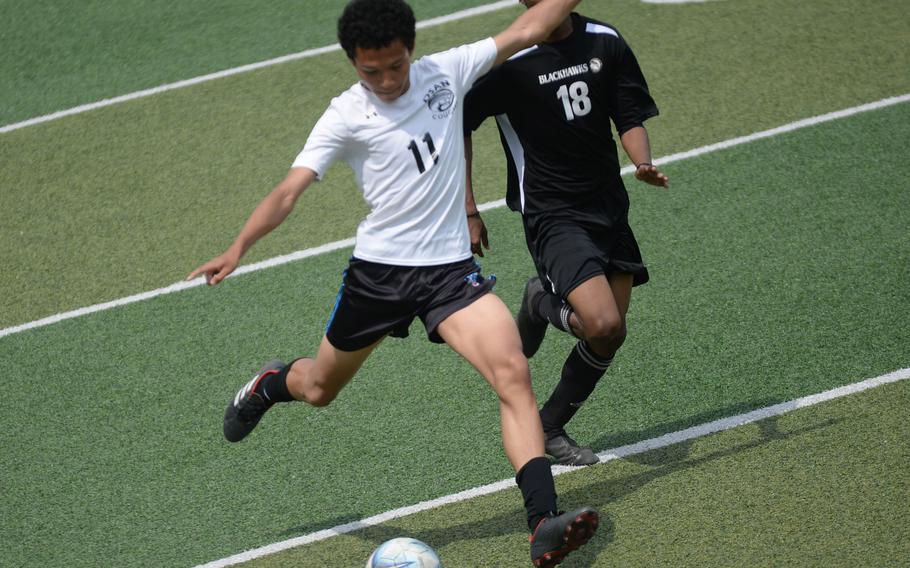 ---
---
---
---