Kinnick routs Zama to finish perfect season
by
Dave Ornauer
Stars and Stripes
November 5, 2021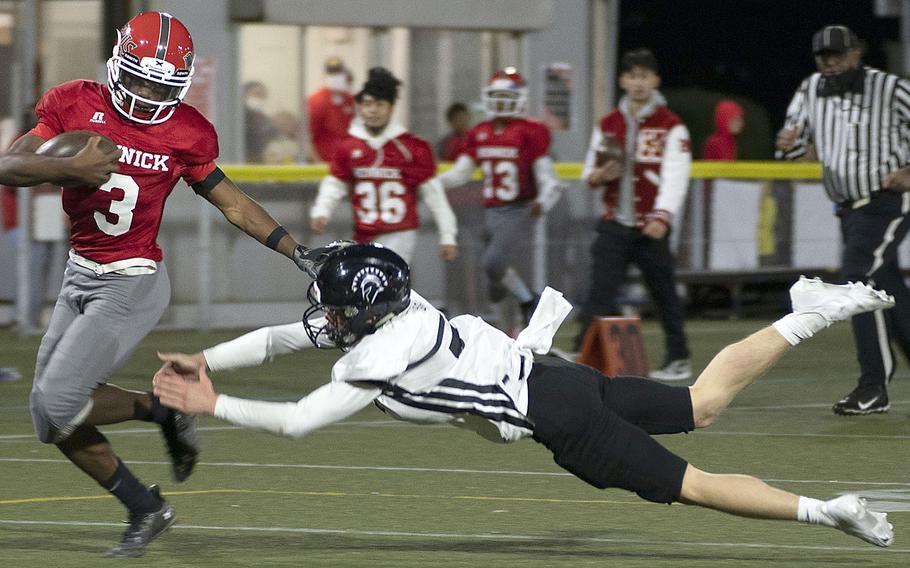 YOKOSUKA NAVAL BASE, Japan – As Wendell Harrison battled his way around left end, it appeared he would be bottled up by Zama's defense.
But the sophomore tailback refused to go down. He broke tackle after tackle en route to a 45-yard scoring run - his third of the night - helping lead Nile C. Kinnick to a 50-0 win, capping an unbeaten season for the Red Devils. The game ended at halftime due to the mercy rule.
"He epitomizes what every player on this team is like," Red Devils coach Dan Joley said. "Their motors don't quit."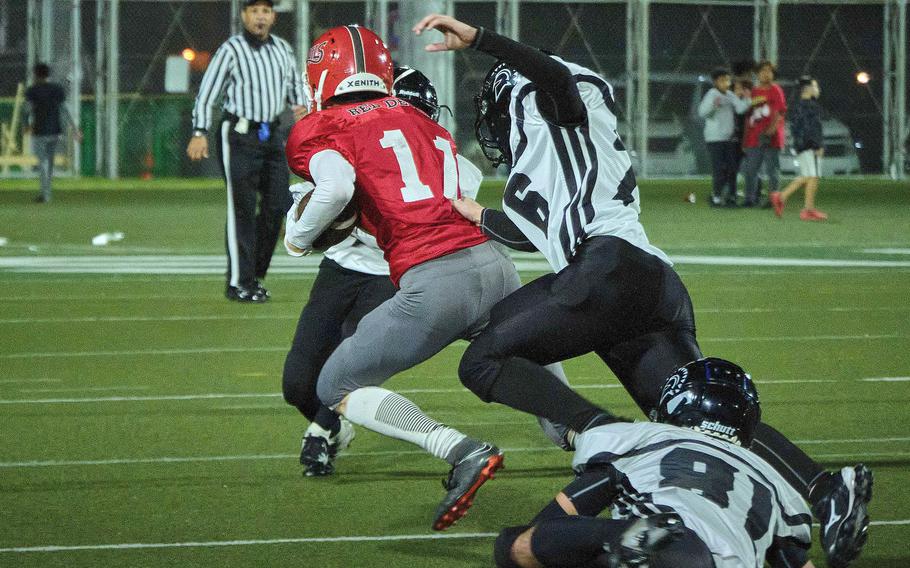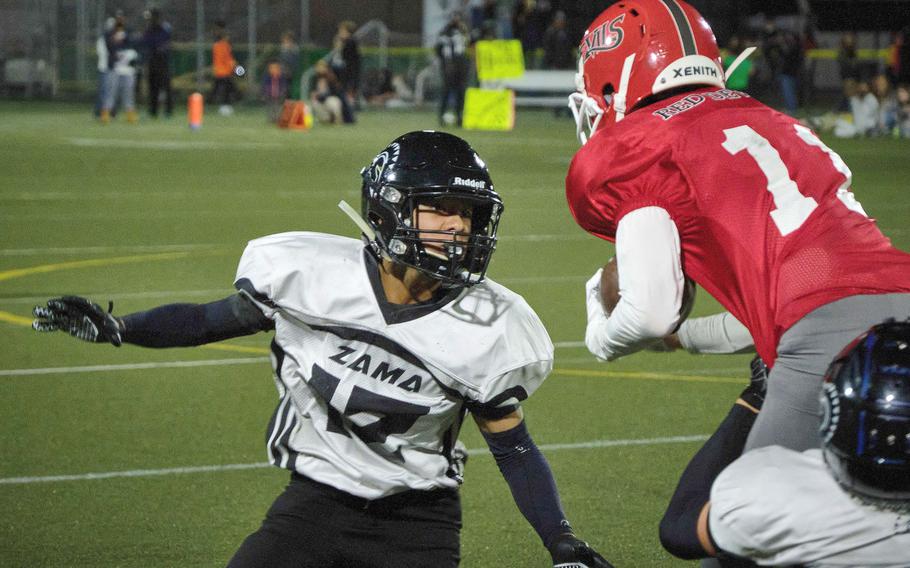 With the victory, at Kinnick's homecoming, the Red Devils finished 9-0 overall, 8-0 in DODEA-Japan and 5-0 in the Kanto Plain. It was their second unbeaten season in the last four years, including their Far East Division I championship campaign of 2018.
Though there was no Far East title game at this season's end due to the coronavirus pandemic, "they wanted to be looked at as the best team in Japan," Joley said. "These guys have peaked. They've reached the top of the mountain."
In just that one half, Harrison rushed for 102 yards on six attempts, including TD runs of 9 and 19 yards.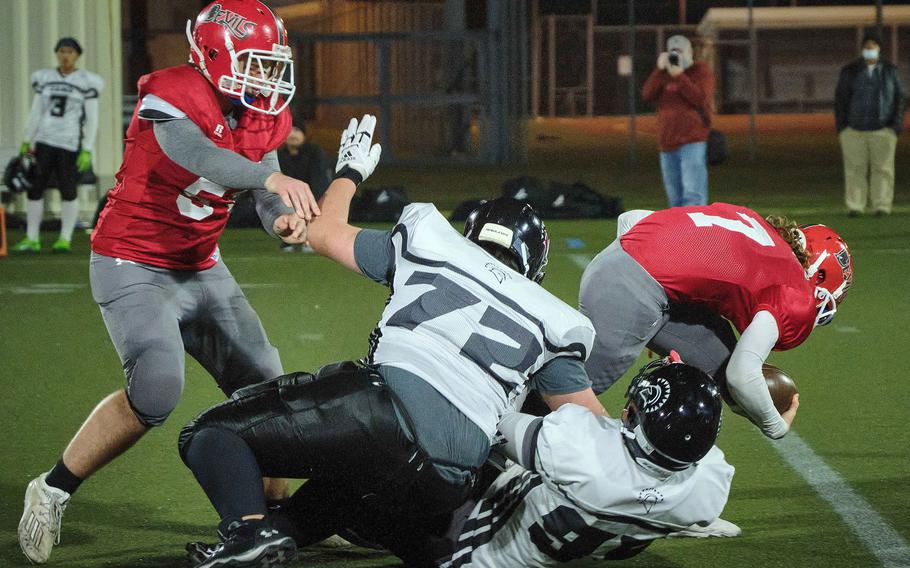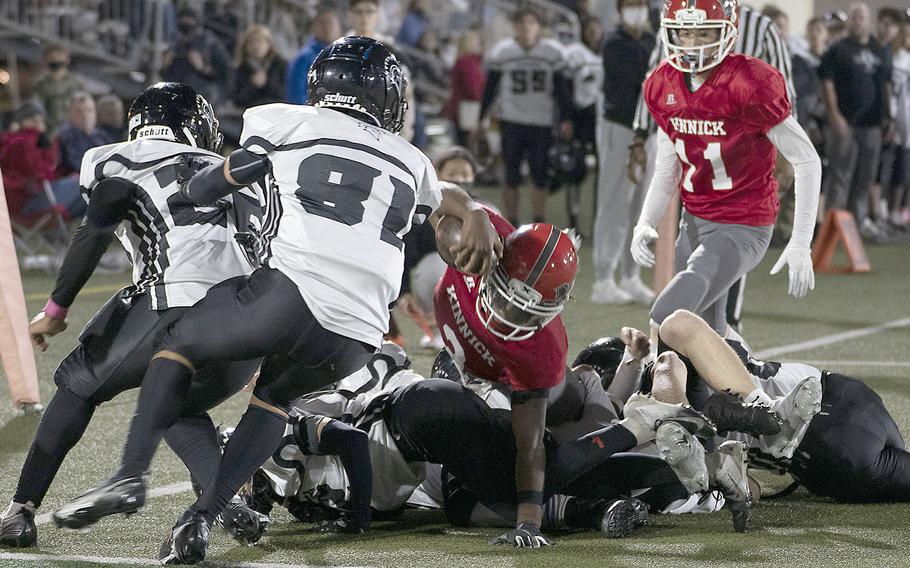 Zeke DeLaughter, the first-year senior quarterback, went 8-for-11 for 193 yards, including touchdowns of 2 and 50 yards to fellow senior Kou Nishiyama, and 22 to senior Daniel Burke. Nishiyama had three catches for 100 yards.
The game ended on the last play of the first half, Keith Reed's interception-return touchdown of 19 yards. Kaito DeMoss also had an interception for the Red Devils.
"That team (Kinnick) is playing as if there's a (Far East) banner to play for next week," said coach Scott Bolin of the Trojans (3-5 overall and DODEA-Japan, 1-3 Kanto).
Senior Keshawn McNeill led the Trojans with 80 all-purpose yards on six touches.