Edgren's homecoming will feature flag game against naval personnel
by
Dave Ornauer
Stars and Stripes
September 30, 2021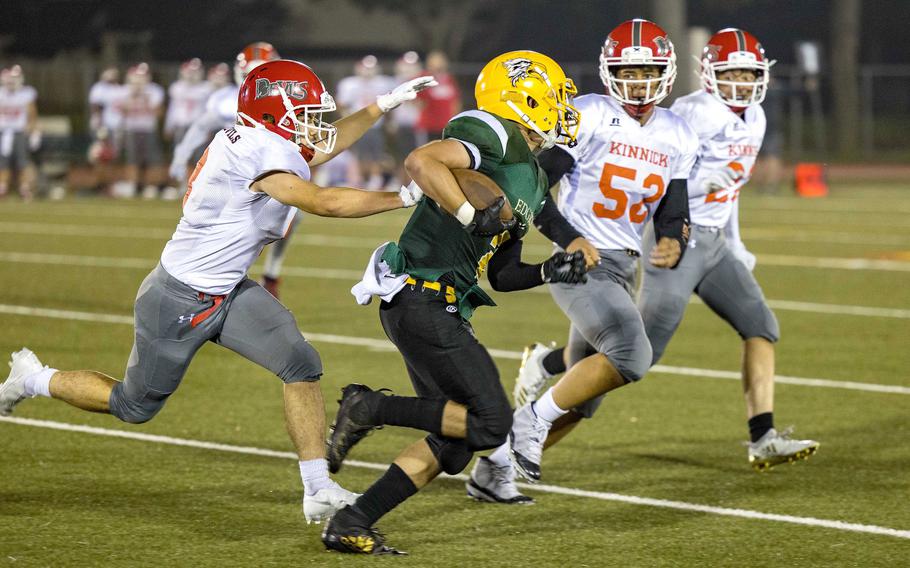 Homecoming will have a different look to it than usually does Friday at Robert D. Edgren.
Instead of playing a regular tackle football game, the Eagles – who are still short of equipment to field a full team – are scheduled to play a flag football game against a Misawa Air Base Navy team. Kickoff is slated for 6 p.m. at Eagles Field.
Their regularly-scheduled DODEA-Japan game, against Yokota, became their third game postponed due to lack of helmets and shoulder pads keeping enough players from suiting up, DODEA-Pacific officials said.
Far East athletics coordinator Tom McKinney said DODEA-Pacific said he's hopeful that enough helmets and shoulder pads can be made available to Edgren so it may salvage its last four games of the season.
"The key is (for Edgren) to have a season, but the priority is to ensure that the equipment is safe," McKinney said by phone Wednesday.
New helmets and shoulder pads were ordered by the school in August before the season began, but have not arrived.
As a result, Edgren's season opener at Yokota was postponed to Nov. 5. Edgren was scheduled to play Matthew C. Perry on Sept. 24, but didn't have enough players for a full team and instead borrowed Samurai players for a scrimmage.
Edgren has a bye week next week and is scheduled to play at Nile C. Kinnick on Oct. 15, at home against Zama on Oct. 22, against Perry at Yokota on Oct. 29 and at Yokota on Nov. 5.
Guam High, Daegu and Yokota are offering some of their equipment to Edgren so that it may complete their season should the helmets and pads ordered in August not arrive, McKinney said.
In the meantime, the Eagles will practice without pads the first part of October, McKinney said.
If either the equipment borrowed from other schools or that which was ordered in August arrives by Oct. 11, "then they can practice in full pads and make the trip Oct. 15 to play at Kinnick," he said.
Zama at Kinnick game postponed
With Typhoon Mindulle looming southwest of the Tokyo area, Friday's Zama at Nile C. Kinnick homecoming football game was postponed, coaches of both teams told Stripes Thursday evening. No makeup date has been announced.
Mindulle is forecast to pass more than 200 miles southeast of Yokosuka Naval Base late Friday afternoon. The base's weather forecast calls for isolated thunderstorms and heavy showers throughout the day with peak gusts of 63 mph at 4 p.m. Friday.