Cross country squads getting back on course
by
Kent Harris
Stars and Stripes
September 9, 2021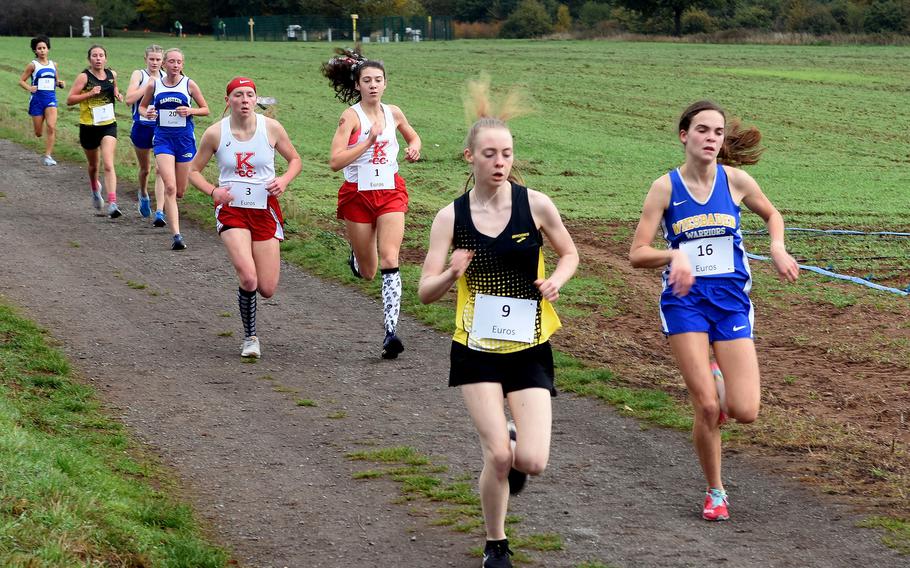 The 2020 DODEA Europe season ended with a pair of championship meets – not entirely decisive, but one of the few times that champions were crowned in any sport in a year disrupted by coronavirus protocols.
As the 2021 version starts Saturday, the possibility of something similar is likely. There won't be a race at any location with all the competitors present. But a smaller meet – or maybe multiple meets – could be in the cards. Maybe it'll all be virtual. Or possibly some combination of the two, like last year.
Regardless, future races won't be at the top of competitors' minds Saturday as they try to outlast each other in DODEA's top endurance sport. Nineteen teams are scheduled to be in action at five locations and a handful of other squads will join in during the season, which concludes in some fashion on Oct. 23.
A handful of coaches answered a Stars and Stripes query to discuss the season:
Sigonella sports one of DODEA Europe's smallest populations and the cross country team will be similarly small, with four boys and four girls turning up initially, according to coach Aaron Mundy. That number could grow, though, as students got a delayed start in actual classrooms thanks to a fire on base. Senior captain Norman Nguyen leads the boys team, with sophomore Amelia Cantwell heading the girls squad.
Hundreds of miles north in Brunssum, Netherlands, AFNORTH is counting on a few runners who fared well in last season's virtual meet. Senior Paolo Aponte finished eighth in the boys event. Finja Leibing was fifth in the girls virtual meet as a freshman. Newcomer Spencer Johnson, a transfer from Warner-Robbins, Ga., could quickly make a name for himself in Europe.
Somewhere in between those two locations in Germany's Black Forest, is the home of Black Forest Academy, one of a handful of non-DODEA entities that compete with the military system in sports. The Falcons are a Division II school, but feature a Division I-like 30 competitors on the boys side, led by Josiah Alexander. Bethany Hicks, who didn't finish last season due to injury, heads a girls team that shouldn't have any trouble getting the five necessary runners to compete as a team, but isn't nearly the size of the boys' squad. Four sets of siblings will compete for the Falcons.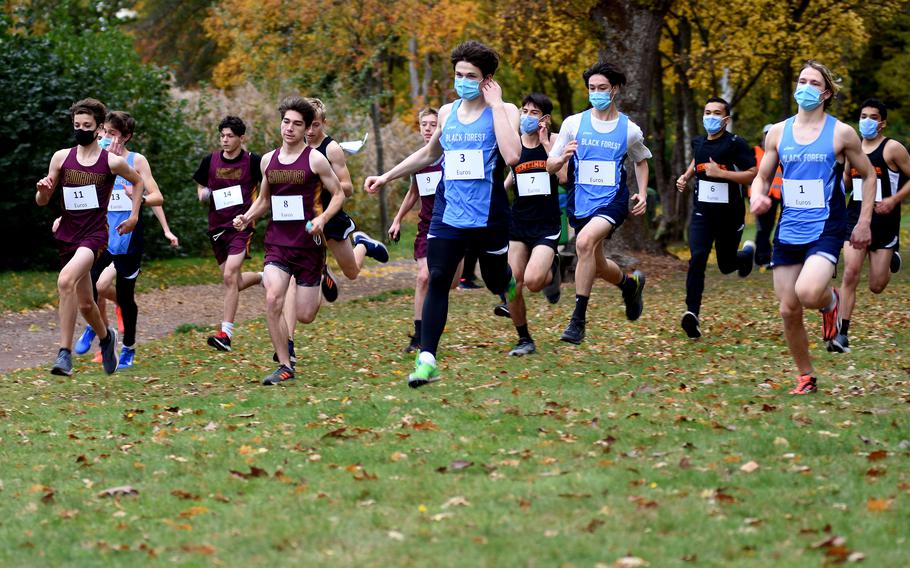 BFA actually has almost four times as many boys out as the Division I Vilseck Falcons. Coach Mitch Moellendick has 16 athletes out for the boys and girls teams. The team will benefit from hosting its first three meets of the season. Perennial power Stuttgart will be at all three of those meets.
"The only particular challenge, that we all face, is making sure that the athletes stay healthy," Moellendick said in an email, trying to put the season into context.
Brussels coach Dirk Vander Hulst echoed those thoughts, pointing out that at a small school, most students are together in a lot of classes. So if one gets sick, the team might be sunk.
Senior Nathan Pierce, fourth in the virtual meet a year ago, headlines the boys team. Noah Jorgenson, a transfer from the States, is pushing him in practice. Gabby Hite, one of two returners from a year ago and transfer Macey Stewart (Park City, Utah) are also pushing each other in practice, Vander Hulst said. And watch out for freshman Cassidy Johnson, a transfer from Texas who is trying to increase her endurance to make a big impression in the track season in the spring. If such a season is held, of course.