Kinnick hangs onto ball, runs away from Zama
by
Dave Ornauer
Stars and Stripes
August 27, 2021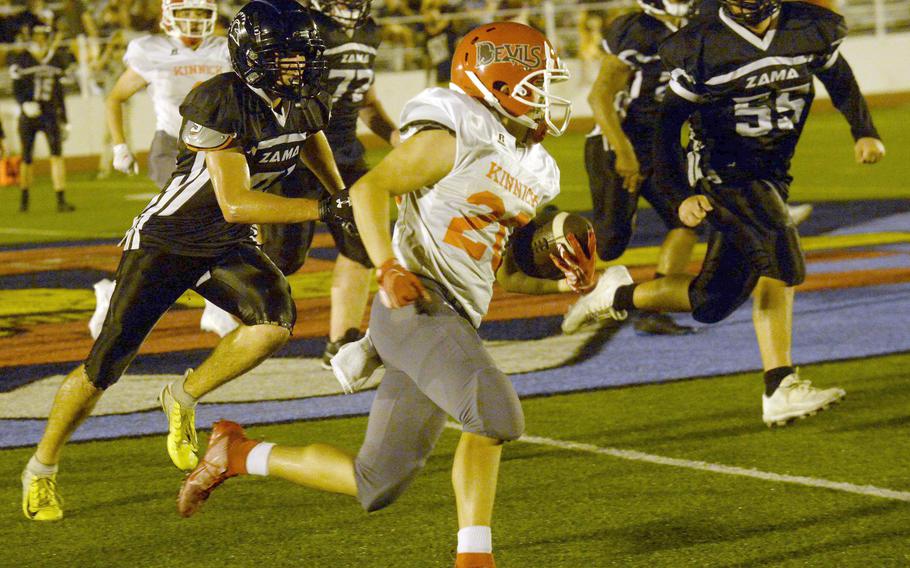 NAVAL AIR FACILITY ATSUGI, Japan – Branden Euceda fumbled two times in the first half. But Nile C. Kinnick's junior running back ensured that would not happen again in the second two periods.
Euceda ran for 115 yards and two scores on 15 carries in the second half as the Red Devils broke open their season opener against Zama, 42-22. Kinnick outscored Zama 35-16 in the last two quarters.
"I didn't play well in the first half, so I wasn't too happy," Euceda said. "I wanted to come out and hit harder, play yarder, take better care of the football, play better every play, every quarter."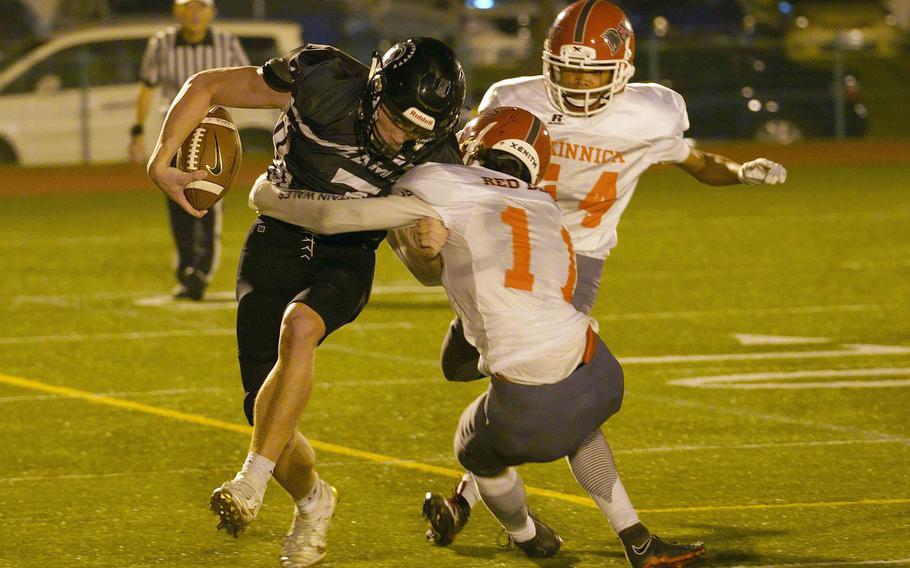 "That sounds like exactly what I told the guys at halftime," said Dan Joley, who successfully opened his 11th season of coaching at Kinnick, following the 2020 gap year in which DODEA football was shut down.
The Red Devils turned the ball over four times in the first half, a key reason why Kinnick only led 7-6 at intermission. But Joley said he felt his charges rose to the challenge in the second half.
"I'm incredibly proud of the way they responded," Joley said. "They never hung their heads, never got frustrated. They have a quiet confidence."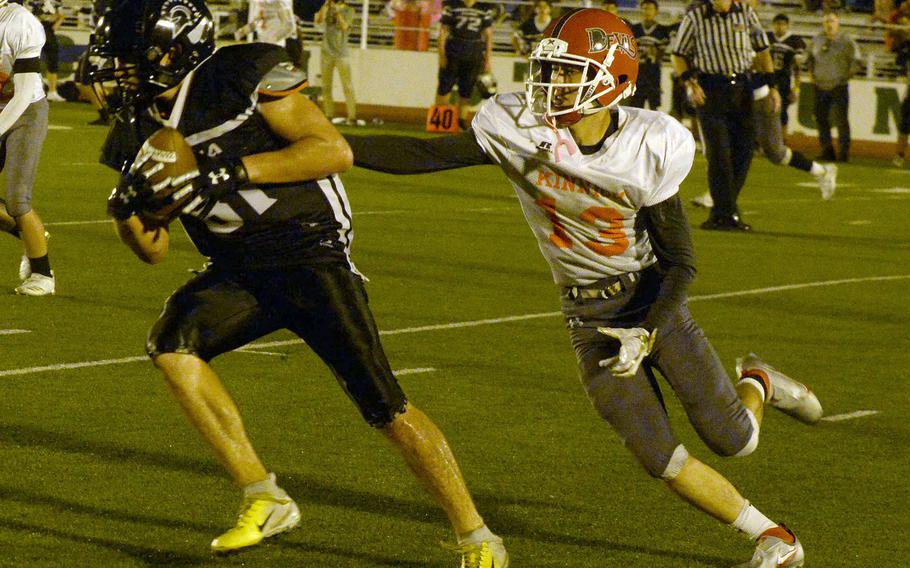 Euceda finished with 159 yards and three TDs on 21 carries for a Red Devils team that amassed 261 rushing yards and four scores and 449 yards of total offense on 50 plays.
Making his first start at quarterback for Kinnick, Zeke DeLaughter went 10-for-15 for 188 yards, including touchdowns on his final two passes.
Fellow senior Ryo Nishiyama caught five passes for 136 yards, including an 81-yard fourth-quarter touchdown to seal the outcome. His brother Kou caught a 14-yard TD pass on the previous Kinnick possession.
"He played a fantastic game," Joley said of DeLaughter. "He truly understands what's going on right now. You don't think a first-year quarterback could have the acumen that he has. A very intelligent kid."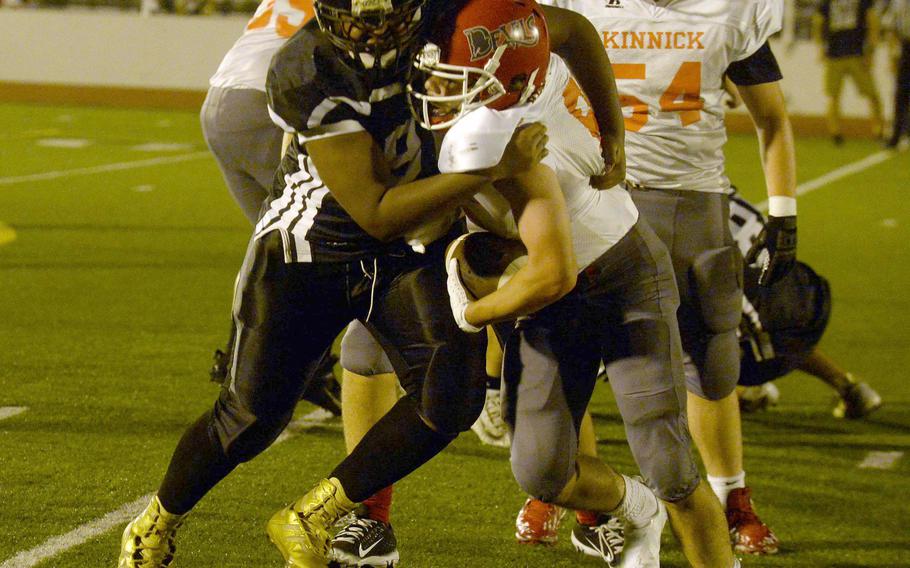 Junior linebacker Bryan Hinkle helped keep the Trojans in it with three first-half fumble recoveries. But Kinnick's defense shut down Zama's running game, holding the Trojans to minus-9 yards on 23 attempts.
Worse, starting quarterback Dominic Peruccio was hurt on one of five sacks recorded by Kinnick. Kai Kuroda, a sophomore, came off the bench to go 9-for-16 for 155 yards and three touchdowns.
Two of the scoring passes went to senior Keshawn McNeill, 13 and 36 yards, and sophomore tight end Caleb Schmiedel caught the other, a 22-yarder late in the first half. McNeill ended with 182 all-purpose yards.
"We have a young team. They're in the process of learning (and) playing teams like Kinnick make it more possible," Trojans coach Scott Bolin said. "We have much room for improvement, lots of things to work on."
Bolin praised the work of McNeill, saying his leadership is starting to rub off on the younger players. "He's developed the skills he needs to do what he does and bring up the others with him," Bolin said.
Zama next travels to Matthew C. Perry on Sept. 4, while Kinnick hosts Yokota on Sept. 3.
Correction
Branden Euceda was incorrectly identified in an earlier version of this article.