Pacific high school football: Panthers on parade from Japan to Guam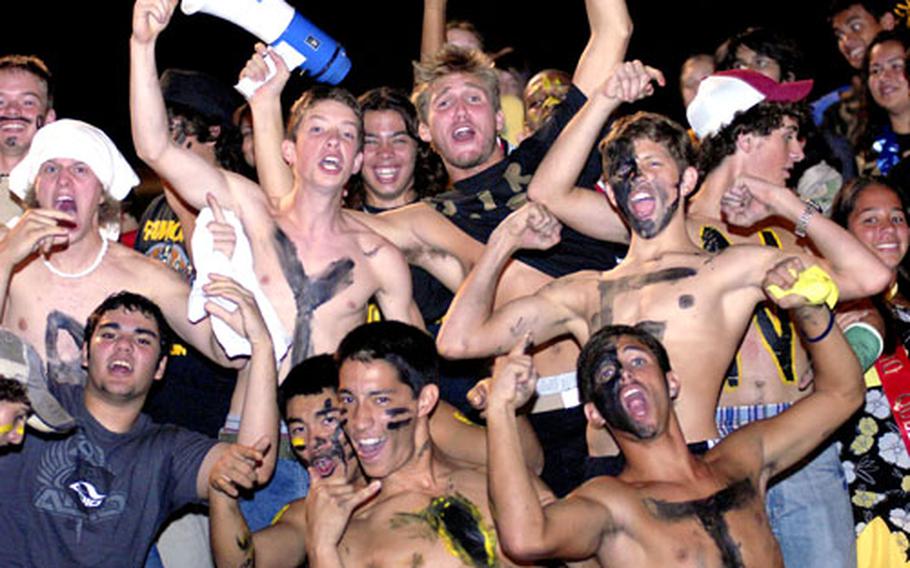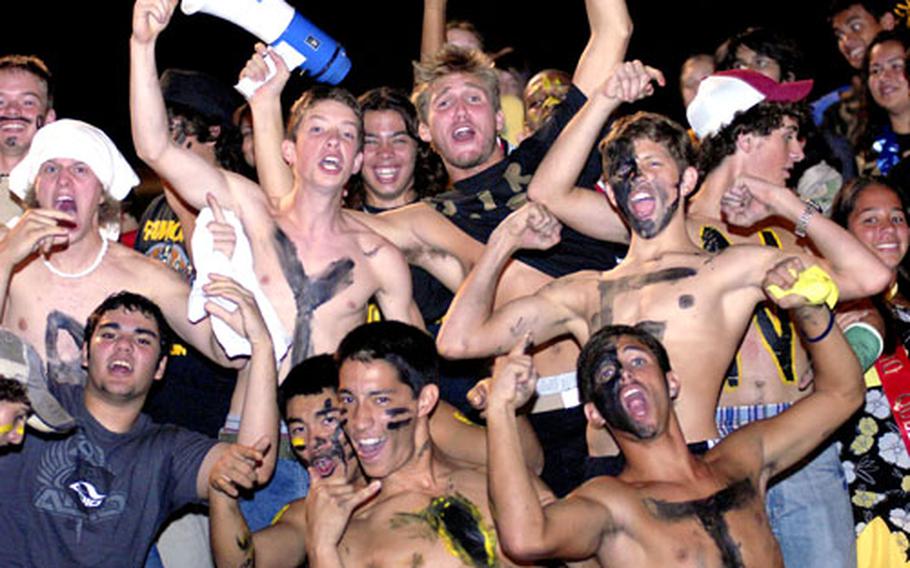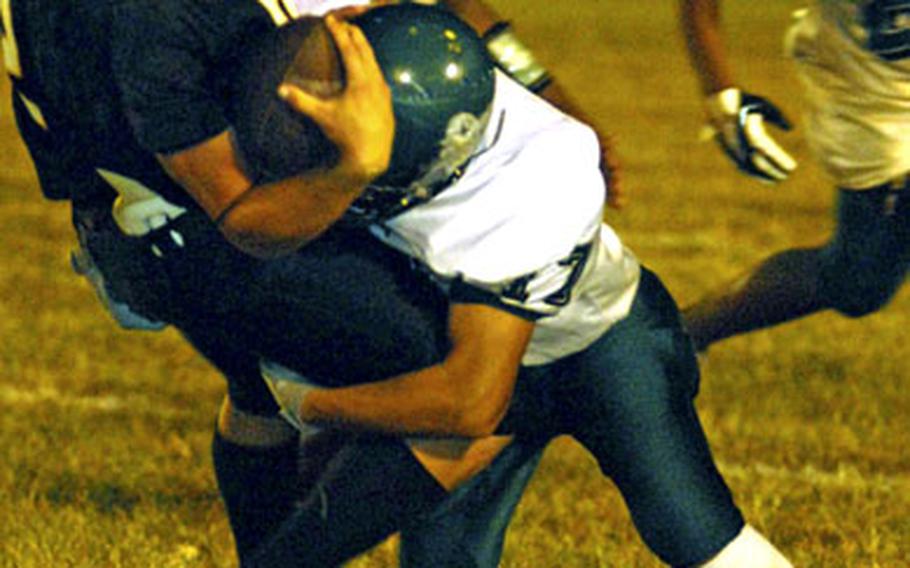 It was a red-letter Friday night for Panthers in three locales, as Yokota, Kadena and Guam High scored crucial victories in high school football:
Junior Anthony McNeill set a Japan Football League rushing record with 313 yards as Yokota rallied from a 28-16 third-quarter deficit for a 29-28 victory over Nile C. Kinnick and its school-record eighth straight Kanto Plain Association of Secondary Schools and JFL titles. Yokota will host a Far East Class AA semifinal on Nov. 4 against the Okinawa champion.Newcomer Sean Shattuck rushed for two TDs and blocked a punt, and quarterback Jon Robinson ran for two scores as Kadena upended the defending Okinawa Activities Council and Far East Class AA champion Kubasaki Dragons 28-14. A victory next Friday would send Kadena to Yokota for the Class AA semifinal.Guam High avenged last week's 12-6 overtime loss to John F. Kennedy by beating the Islanders 26-0 in the first round of the Interscholastic Football League playoffs — its second playoff victory in three years.Yokota 29, Nile C. Kinnick 28
At Yokota Air Base, Japan, McNeill rushed 45 times — 15 in the fourth quarter — for 313 yards and three touchdowns, breaking the JFL record of 291 yards set by Yokota's Darren Taylor on Oct. 19, 2001, also against Kinnick. McNeill leads the Pacific with 1,129 yards and is second with 12 TDs.
Yokota (5-0) ran its regular-season winning streak to 37 games, two short of its school and Pacific marks set from 1983-90.
In almost a mirror image of its season-opening 21-12 comeback victory over Kinnick (3-3) on Sept. 1, Yokota trailed the Red Devils by 12 points with 3:40 left in the third quarter, then turned it around in dramatic fashion.
Unlike the first game, which was fraught with penalties and turnovers, "this was like two heavyweights slugging it out," Yokota coach Tim Pujol said of a game featuring several momentum swings and huge plays.
Larynzo Abernathy of Kinnick, who ran 28 times for 238 yards, scored two third-quarter touchdowns — one on a 69-yard run — to put Kinnick ahead 28-16.
McNeill cut it to 28-23 with a 2-yard TD run, then Caiveon Thomas set up his game-winning 10-yard scoring pass with an interception. Yokota drove to the Kinnick 10-yard line, where on fourth-and-4 Peter Weaver found Thomas in the back corner of the end zone. Thomas sealed it with an interception on Kinnick's next possession and Yokota ran out the clock.
"That was one of the best catches I've ever seen in high school football," Pujol said. "Caiveon, Anthony and Peter all did a great job. This was a great game to be a part of, an emotional game."
Weaver was 4-for-5 for 101 yards. Patrick Pamintuan ran eight times for 37 yards, caught two passes for 56 and had two returns for 41.
"They chipped away," Kinnick coach Gary Wilson said of Yokota. "They always find a way. This was the hardest loss I've been associated with, being so close and having it snatched away like that. But I'm proud of the guys."
Quarterback Jeff Galang was 4-for-10 for 36 yards and a TD pass to Jonathan Santos and also ran 1 yard for a Kinnick score.
Kadena 28, Kubasaki 14
At Kadena Air Base, Okinawa, Panthers coach Sergio Mendoza and offensive coordinator Steve Schrock, who are known more for their conservative power-I and wishbone attack, stepped out of character, introducing a spread-option offense favored by many colleges.
Schrock said he spent most of the summer studying the spread sets used by Texas Tech and Missouri.
"You can cover two or three people, but you can't cover six" in a spread set, Schrock said.
"We have the speed and ability to add that dimension," Mendoza said. "It's a lot of fun."
Out of that formation, Robinson broke free for touchdown runs of 4 and 64 yards.
"Robinson has matured and come a long way. He's playing the best football I've seen him play in four years here," Mendoza said.
Shattuck, a junior transfer from Putnam West High in Oklahoma, rambled 73 yards for a first-quarter score, then sealed the outcome with a 5-yard TD in the fourth.
As well as the blocked punt, Shattuck led the team in tackles.
"He's playing with a lot of discipline and heart," Mendoza said. "We're really lucky to have him."
The rest fell to Kadena's defense, which sacked Kubasaki quarterback Mike Dickerson four times. Mike Ward also blocked a punt. Shattuck finished with 143 yards on 15 carries and Robinson 142 on 12 attempts. Kadena was penalized 17 times for 142 yards.
Dickerson threw 21 yards for the game's first score to Quinton Mason and Tim Gardner ran 4 yards for a touchdown to open the third quarter and tie it 14-14.
Dickerson went 7-for-21 for 92 yards and ran four times for 38 yards, and Gardner ran for 44 yards on nine carries. Tommy Fair recovered a fumble, the game's only turnover.
Game 2 of the best-of-three series is set for next Friday at Kubasaki, with Game 3, if necessary, on Oct. 27 at Kadena.
"It's just one game," Mendoza said. "The Dragons are tough. This is not over yet. We expect it."
Guam High 26, John F. Kennedy 0
At Upper Tumon, Guam, the Panthers (3-3) overcame injuries to stars Raymond Beria and Jeremy Miller to advance to the IFL semifinals for the second time in school history.
Cameron Yecki ran for a second-quarter touchdown and passed to Curtis Washington to make it 14-0 in the third quarter. Then Miller ran back an interception 30 yards for a score before leaving with leg cramps. Allen Moos capped the Guam High scoring late in the quarter.
It was sweet revenge after the heartbreak of an overtime loss last week.
"We got down to the nitty gritty and told them, 'Look, we're giving away these games. We're either going to win or go home,'" coach Yvonne Tyrrell said.
Unlike previous defeats, "what the guys did this evening was play like they were taught. There were no stars tonight. Everybody on the team went home with something to brag about. They're finally figuring out, we're a team and we're playing football."
Guam High will take on three-time defending IFL champion George Washington on Friday — a team that pounded the Panthers 60-6 on Sept. 16.
Pacific prep football
DODDS-Japan Football League
W L Pct. PF PA
x-Yokota 4 0 1.000 109 60
Nile C. Kinnick 2 3 .400 110 97
Robert D. Edgren 2 3 .400 80 105
Zama American 1 3 .250 46 83
x-clinched eighth straight Japan Football League title, host rights to Far East Class AA semifinal playoff on Nov. 4.
Kanto Plain Association of Secondary Schools
W L Pct. PF PA
x-Yokota 4 0 1.000 127 53
Nile C. Kinnick 2 2 .500 90 72
Zama American 0 2 .000 21 49
American School In Japan 0 2 .000 14 78
x-clinched eighth straight Kanto Plain Association of Secondary Schools title
Friday's game
Yokota 29, Kinnick 28
Saturday's game
Zama at ASIJ, 1 p.m.
Friday, Oct. 20
Kinnick at Zama, 7 p.m.
Yokota at Edgren, 7 p.m.
Okinawa
W L Pct. PF PA
Kadena 1 0 1.000 28 14
Kubasaki 0 1 .000 14 28
Friday's game
Kadena 28, Kubasaki 14
Friday, Oct. 20
Kadena at Kubasaki, 7 p.m.
Friday, Oct. 27
Kubasaki vs. Kadena at McDonald Stadium, Risner Fitness & Sports Complex, Kadena Air Base, 7 p.m. (if necessary)
Guam
Postseason
Quarterfinals
Friday, Oct. 13
Game 1-Guam High 26, John F. Kennedy 0
Saturday, Oct. 14
Game 2-Southern vs. Simon Sanchez at Ramsey Field, John F. Kennedy High School, Upper Tumon, 7 p.m.
Semifinals
Friday, Oct. 20
Game 3-Guam High vs. George Washington, time and site to be determined.
Saturday, Oct. 21
Game 4-Game 2 winner vs. Father Duenas Memorial, time and site to be determined.
Third-place game
Friday, Oct. 27
Game 5-Game 3 loser vs. Game 4 loser at higher seed, time and site to be determined.
Bamboo Bowl
Saturday, Oct. 28
Game 6-Game 3 winner vs. Game 4 winner at higher seed, time and site TBD.