Prep roundup
Pacific high jump mark falls - twice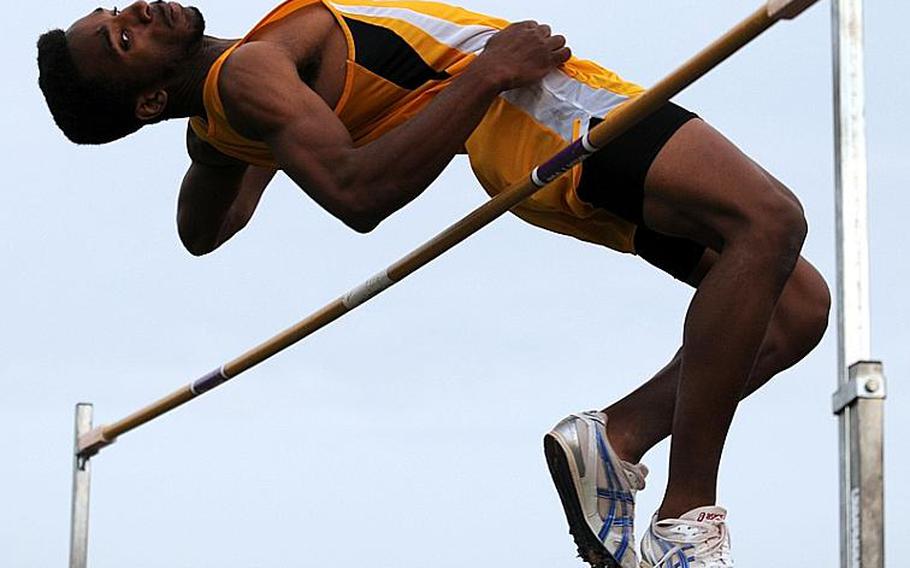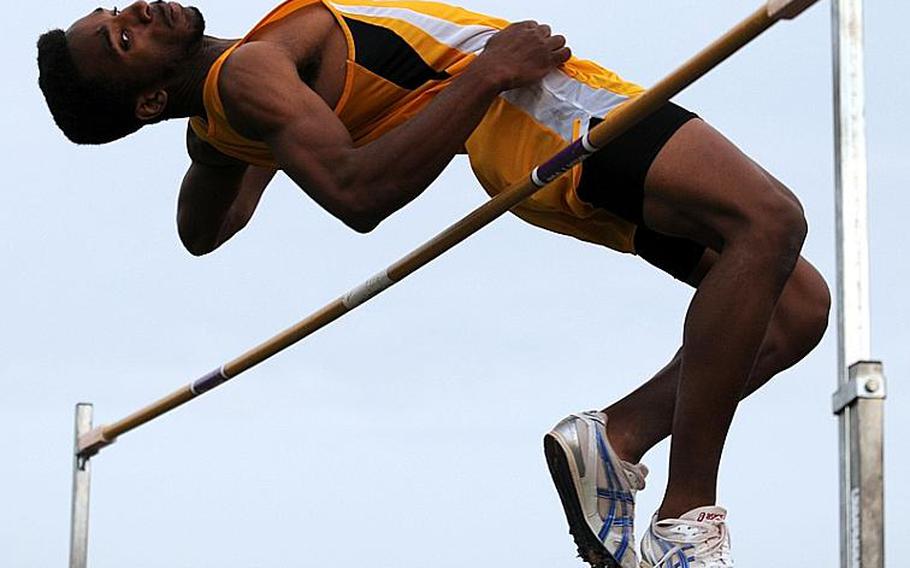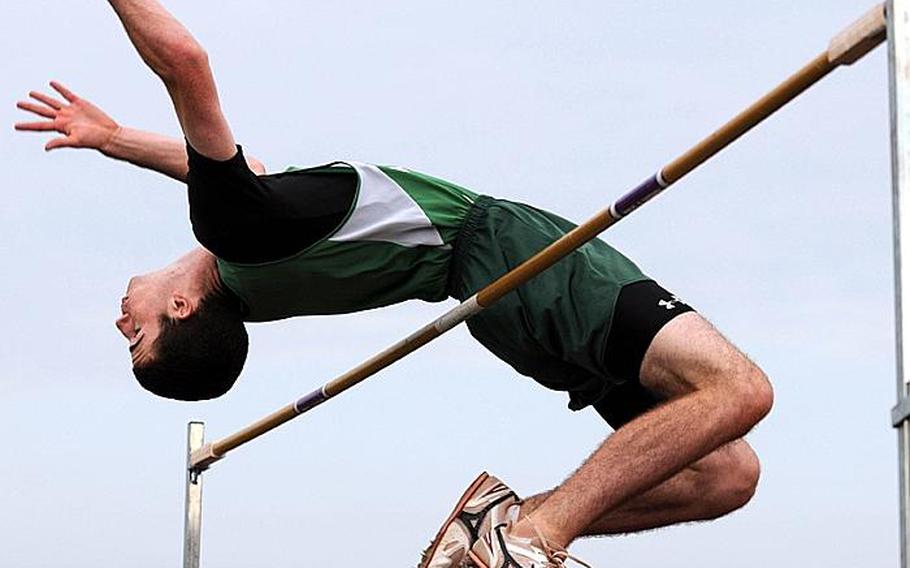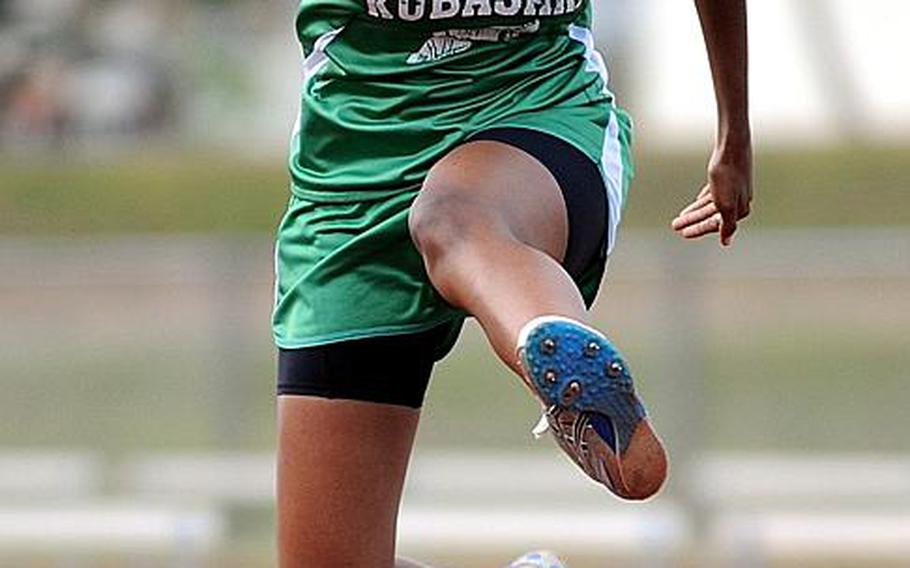 CAMP FOSTER, Okinawa – Fresh off spring break, Okinawa athletes resumed their assault on the Pacific track and field record book, this time erasing the six-year-old high-jump mark during Friday's weekly quadrangular at Kubasaki.
Seniors Lotty Smith of Kadena and Conor MacMannis of Kubasaki each cleared 1.98 meters, or 6 feet, 6 inches, on back-to-back jumps. That broke the old mark of 1.97 set in 2005 by Kadena's Marquis Newton.
"It feels good," said Smith, who had won the most recent competiton between the two, but had lost once to MacMannis and tied three times this year.
Smith cleared 6-4 to win the inaugural Far East meet title last May. Before transferring to Kubasaki from Chancellor High in Fredericksburg, Va., MacMannis' top distance was also 6-4.
"I thought I could do it (6-6) from the start of the season; I just didn't know when it would be," MacMannis said. "It's about training, about competition pushing me."
Both their coaches think they're just scratching the surface and feel that 6-7 or even 6-8 may be possible.
"I love that kid, not just for what he does on the field. I love his character, his personality," Kubasaki assistant Ken Gipson said. "That's why I want him to do so well. He deserves it. And I'm not surprised."
"I think he can go 6-8 and he can do it this year," Kadena coach Sergio Mendoza said. "And they have a good competition. Good rivalry with good sportsmanship. That's always good to watch."
How high can they fly? Is 2 meters possible?
"We'll have to see," Smith said.
"I guess we'll see," MacMannis said.
In other events, Kubasaki's Vallen Alleyne remained unbeaten in the girls discus and shot put, while Milyka Dees edged teammate Micaela Sherman to win the 100 hurdles and also took the long jump and 300 hurdles.
Kadena's Tomas Sanchez upset teammate Jacob Bishop to win the 3,000, while on the girls side, reigning island champion India Adams, who'd suffered from hip bursitis at season's start, won her first event of the campaign, taking the 3,000.
Ko's four goals boost Daegu boys strikersPANGYO, South Korea – Senior striker Hanuel Ko and Daegu American's boys soccer team finally got the breakout game for which coach Larry Knierim said he'd been waiting for two years.
Ko scored all four goals, including the winner in the 75th minute, as the Warriors got their first win in 12 matches this season, edging Korea International, 4-3.
"We've been waiting for this," Knierim said of the Warriors' first win since the 2009 season. They went 1-22 then and 0-17 last year, and didn't even attend the Far East Division II Tournament due to too many injuries.
"The guys pulled together. Always, when the other team would score, it would take the wind out of our sails. Today, they put two 40-minute halves together and Hanuel stepped up and worked his rear end off. They're peaking at the right time, we hope."
DODDS Japan teams finally play meaningful matchesAfter an earthquake- and tsunami-induced interruption of six weeks, DODDS Japan soccer teams got back on the pitch Friday for their first regular-season matches with significant meaning since the weekend of March 4-5.
"They love it. They're having a great time," said coach Robert Tiffany of Nile C. Kinnick, which reached Saturday's semifinals of a six-team boys tournament at Marine Corps Air Station Iwakuni.
That tournament's matches were played in 25-minute halves, while the four-team girls tournament at Yokosuka Naval Base was played in regulation 40-minute halves.
A 2-0 loss by Yokota to Zama American's girls was the first match of the season for the Panthers. "They've been practicing for six, seven weeks; they're just happy to be playing," Yokota coach Matt Whipple said.
Most teams had full complements of players available despite hundreds of dependents having left for the States under the voluntary departure program. Some, like Zama American's girls team, weren't so lucky; the Trojans had just eight players and played their matches eight-on-eight.
"I keep hearing others are coming back," coach Rogers Pitts said, but even if they do, Zama might wind up with 11 players, he added. "We're going to be hard pressed. Playing 40-minute halves is a killer. We're taking a wait-and-see approach and see who shows up."
Yokota's boys brought 14 players, but mostly underclassmen and only four who were on the team at season's beginning. Thus, coach Victor Jackson says he's already begun looking ahead to next season.
"We had a good, strong team to begin with and had some solid players leave," he said. "A lot of the players we have are freshmen and they're good to go for next year."
Student journalists Erika Brun of Daegu American School and J.C. Chambers of Matthew C. Perry High School contributed to this report.