Pacific H.S. wrestling roundup: Rejuvenated Presnell wins class in All-Japan meet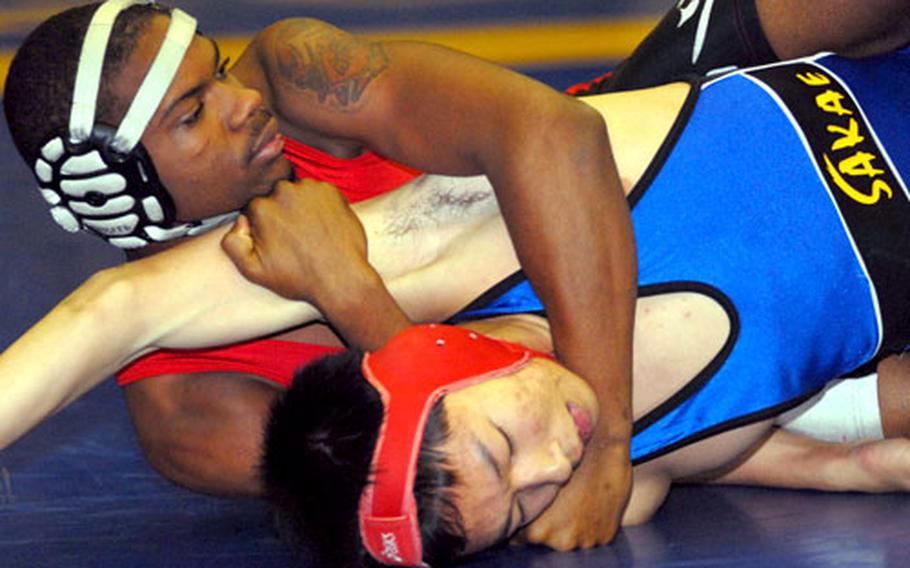 YOKOTA AIR BASE, Japan — Tony Presnell felt like a worn-out dishrag.
The Yokota senior 168-pounder had just won a lackluster bout against Nichalous Gibbons of Nile C. Kinnick on Saturday in the first round of the All-Japan Invitational Wrestling Meet. Presnell, slumped in a gymnasium office chair, looked like he wanted to be anywhere but there.
"I don't think I'm going to win today," Presnell said, citing a left shoulder still sore from football and a bit of dehydration.
A close semifinal victory over Cheston Nurial-Dacalio of Robert D. Edgren seemed to rejuvenate Presnell, the reigning Far East 158-pound champion. He went on to capture the 168-pound title at Yokota High's Capps Gym.
"Beating a good wrestler in Cheston made me more confident," Presnell said. "That, plus rehydrating."
He was one of six DODDS-Japan champion: Three from second-place Kinnick, two from third-place Yokota and one from Zama American.
Eight schools sent 150 wrestlers to the two mats over a 10-hour span. "Biggest meet of the season. Bigger even than Far East," Yokota coach and meet organizer Brian Kitts said. Far East tournaments average 120 wrestlers from 12 schools.
The meet was dominated by Sakae High School, a Japanese school in neighboring Saitama Prefecture. The Spirits won six weight classes and compiled 64 points, 37 more than Kinnick.
"For the younger teammates, they get beat pretty bad, but for the veterans, it's good to see other things, other types of wrestling you don't normally see" in DODDS-Japan or the Kanto Plain Association of Secondary Schools, Presnell said.
Reigning Far East Outstanding Wrestler Cameron Butts cruised to the 135-pound title, and teammates Marcus Boehler (101) and David de los Santos (heavyweight) joined him on the gold-medal podium. Yokota's reigning 101-pound Far East champ Chris Cournoyer won the 115-pound title.
Seoul American still unbeaten
OSAN AIR BASE, South Korea — Four dual meets into the season, defending DODDS-Korea champ Seoul American remains unbeaten despite injuries to three of its upper-weight stars.
Seniors Justin Stokes (former Far East 180-pound titlist), Demetrius Johnson (168) and Mark Lieberg (heavyweight) are still nursing injuries suffered during the Falcons' Far East Class AA football title campaign.
Coach Julian Harden said he's hopeful Stokes and Johnson can return after the holiday break. Lieberg is weighing whether to skip the season and focus on track and field, an official with his Seoul Track Club told Stripes.
"They're running, keeping the weight off, but not having them on the mat hurts," Harden said.
---
---
---