Pacific H.S. roundup: Okinawa season is back on track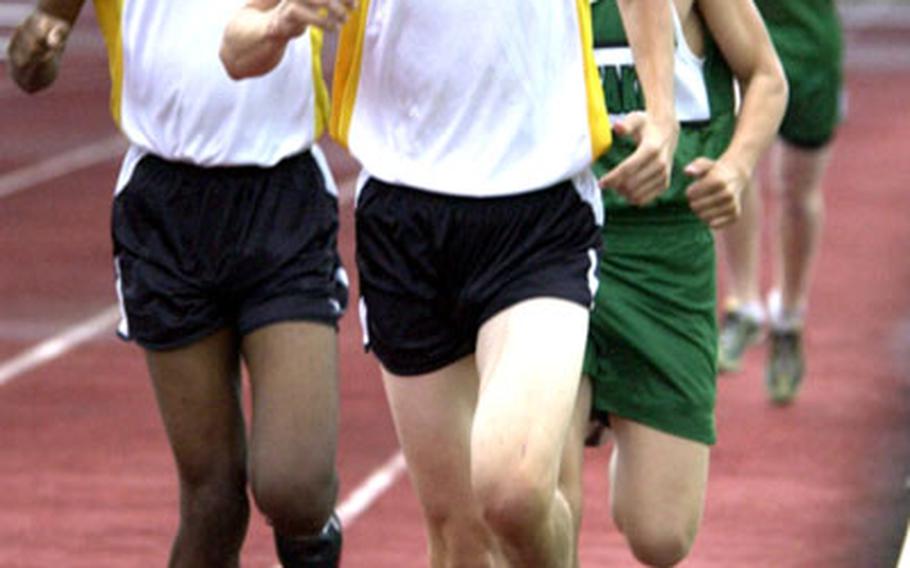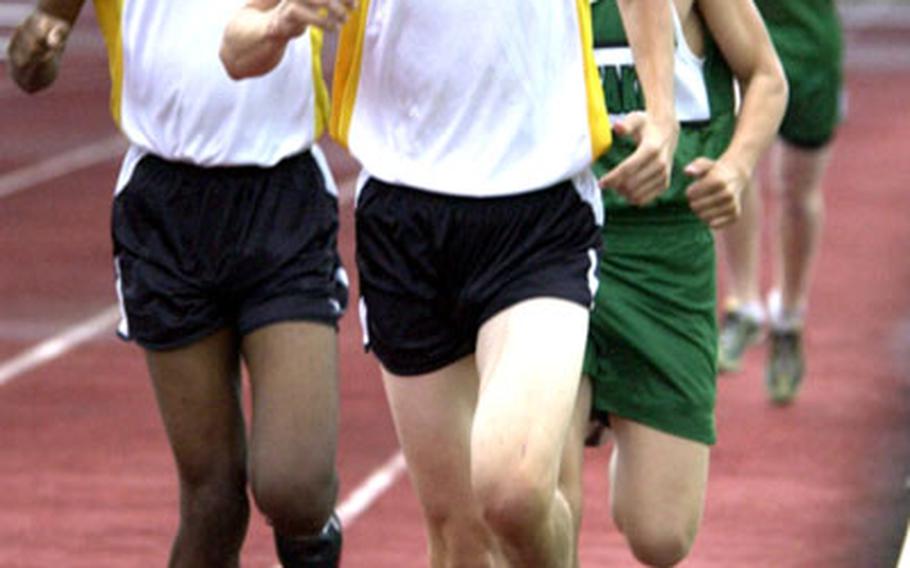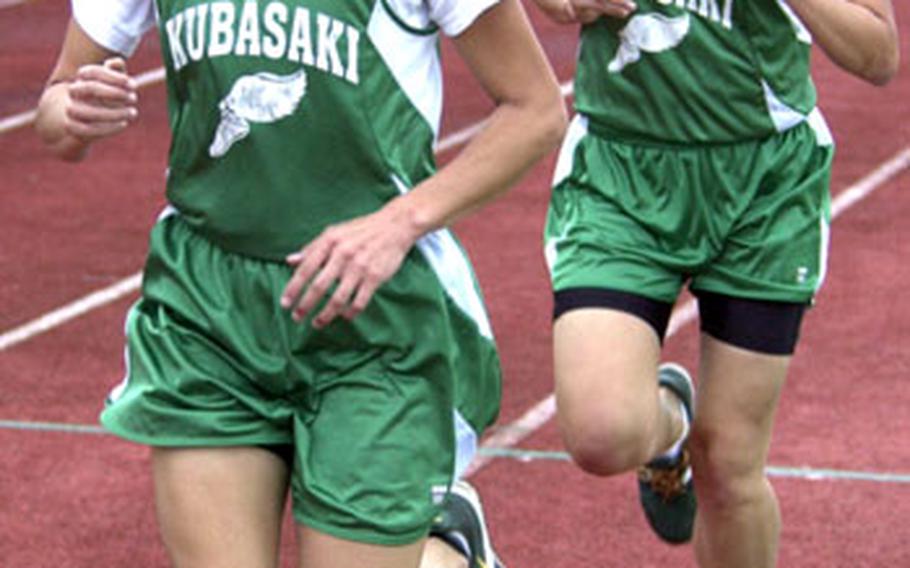 A drab, gray sky provided the backdrop as runners from Kadena, Kubasaki and Zion Christian Academy tested their footing on Mike Petty Stadium's all-weather track.
A shower or two lingered but nothing like the deluges earlier Thursday that threatened to postpone a second straight Okinawa Activities Council meet.
"Looks like the weatherman came through," said Kubasaki coach Charles Burns moments before Thursday's meet. "We needed to run against somebody. We really needed it."
It was the first league meet since March 10; a March 17 meet was called off after heavy showers rolled through Camp Foster at mid-day. And Burns, Kadena coach Sergio Mendoza and their charges were grateful for the chance to do something besides practice.
"You get kind of complacent running against the same people every day," said Burns. "All you're doing is rehearsing. … You learn so much from competition."
"We lost one meet already," Mendoza said. "Our season is so short, all these meets are important."
Kadena's schedule includes just six league meets, the Mike Petty Memorial Meet on April 7-8 and a trip to Tokyo for the May 13 Kanto Plain Association of Secondary Schools meet at Kinuta Park.
The main concern with running a meet so soon after bad weather, Mendoza said, was warding off injuries due to the damp conditions. Though Thursday's high temperature was 68, with winds of around 12 mph, athletes found themselves wrapping up in jackets or putting on sweatsuits to ensure they stayed warm.
The athletes said they were happy just to get their season back on track.
"I'd rather be running in the rain. Bring it on," said Kadena senior distance runner Tim Nabonne, who won the 800-, 1,600- and 3,200-meter events. Slipping "does come to mind, but I push it out and just shoot for the finish line. This is my type of day. At least I don't have the sun in my eyes."
Nabonne broke the five-minute barrier in the 1,600, at 4:51, coming within five seconds of the league record Kadena's Cliff Johnson set two seasons ago. Nabonne says he hopes to more than bypass that record; he wants to lower the league standard to 4:25. "That way, I can hold it for awhile," he said.
The two-time Far East cross-country meet runner-up was one of two distance runners who had a big day. Kubasaki senior Beth Nielsen edged her twin sister Lisa to win both the 3,200 and 1,600.
Nabonne's teammate, Eric Robinson, won the discus and 110 hurdles and the Panthers swept all three relay events to easily outdistance Kubasaki in the boys' team standings.
Nielsen's performance and a sweep of the discus and shot put by Kamara Conway helped the Dragons keep Zion at a 17-point arm's length in the girls team standings. Zion carried all three relay events and Lakeisha Haynes won the 800 and 100 hurdles.
Ciavarelli, Evans give rebuilding Kinnick boostThought to be rebuilding after losing most of its 2005 scoring firepower, Nile C. Kinnick's boys soccer team is getting a boost from one of its established veterans plus a valued newcomer.
Sophomore James Ciavarelli, who transferred to Yokosuka Naval Base from England, scored twice and assisted on a goal by senior Jonathon "Taro" Evans in the second half. That proved to be the game-winner as the Red Devils (3-2-1) handed Zama American (3-1) its first loss of the Japan Soccer League season.
"It's a nice combination," coach Bill Schofield said of Ciavarelli, who this far has four goals and three helpers. Evans has a team-leading six goals plus three assists; he had 15 goals and eight assists last season, after which four players who combined for 49 goals either graduated or transferred.