Pacific H.S. roundup: No outdoor practice? No problem for Edgren soccer teams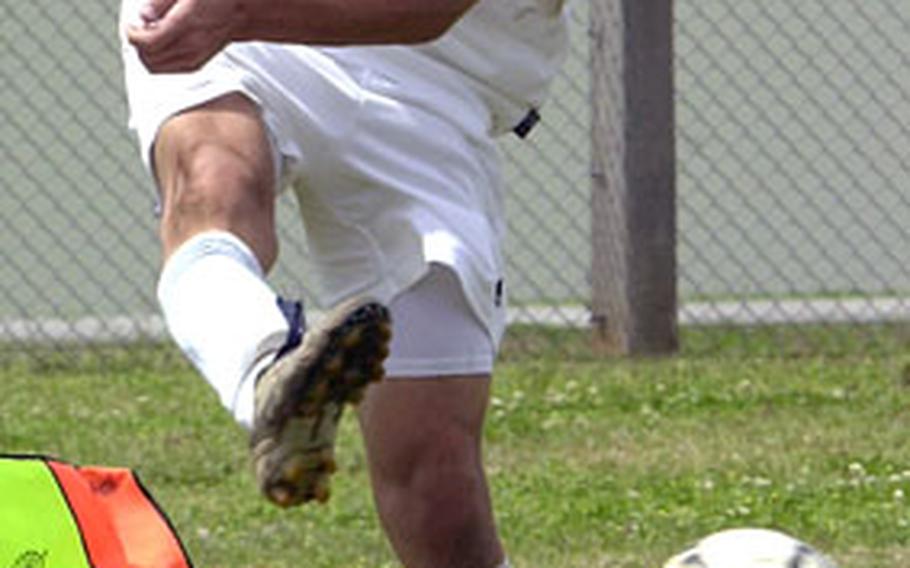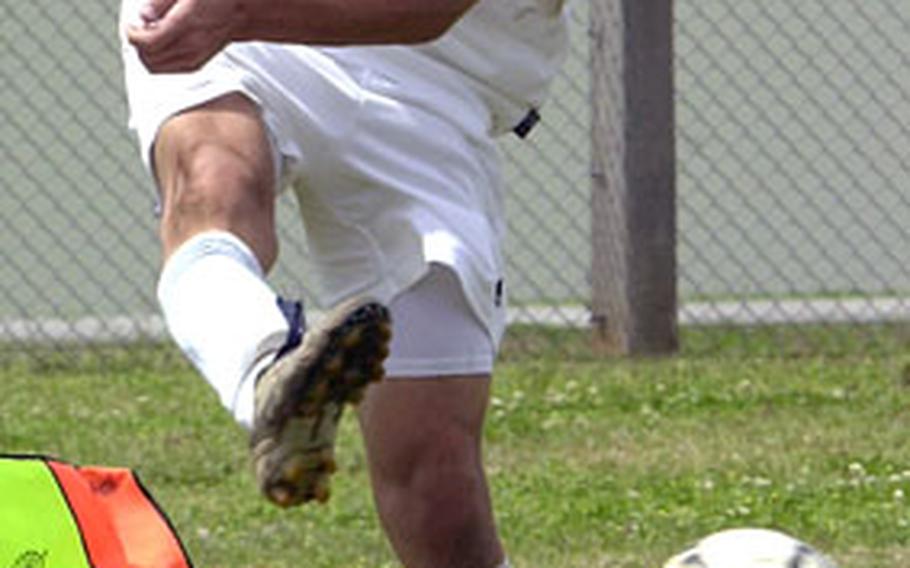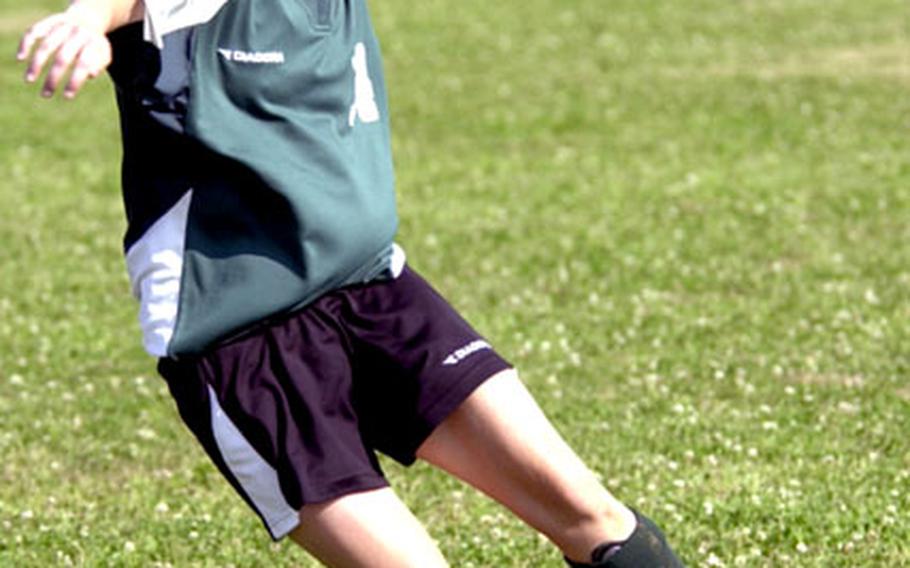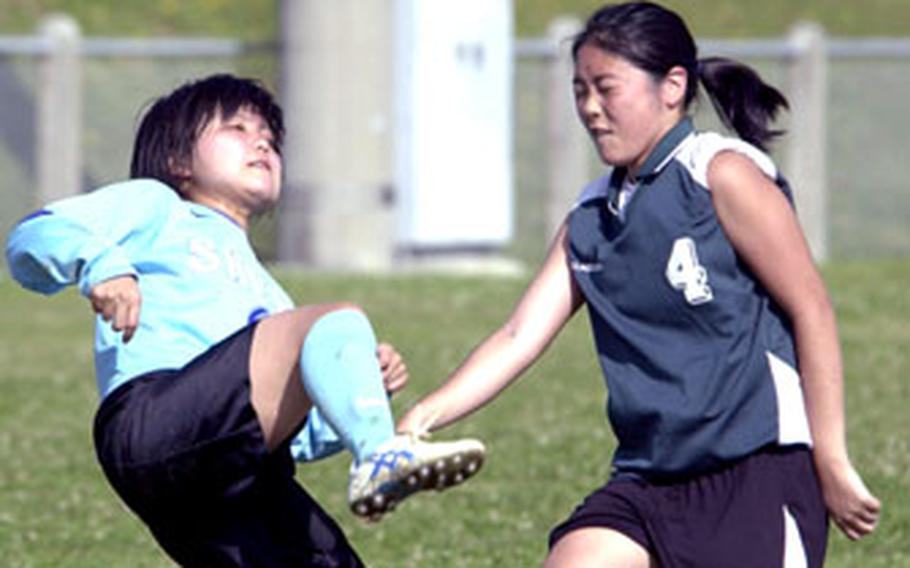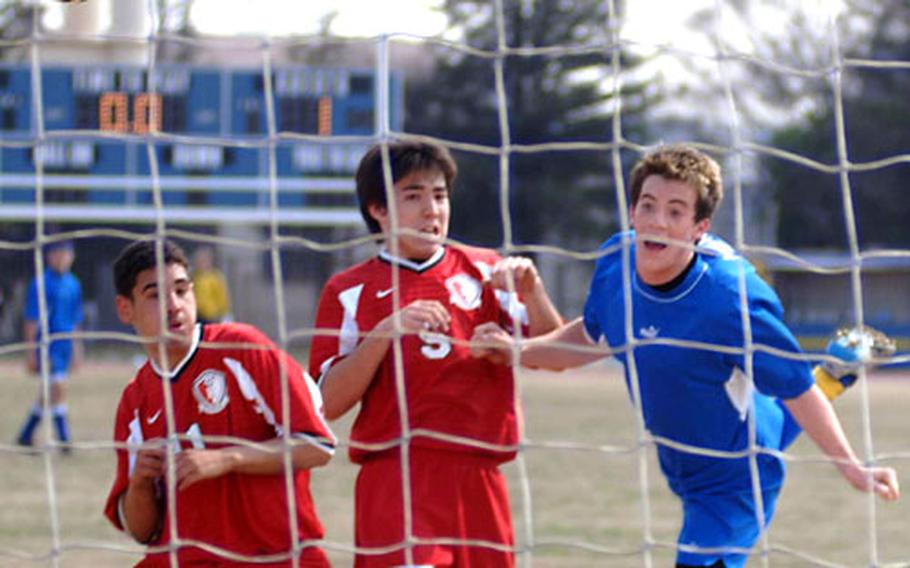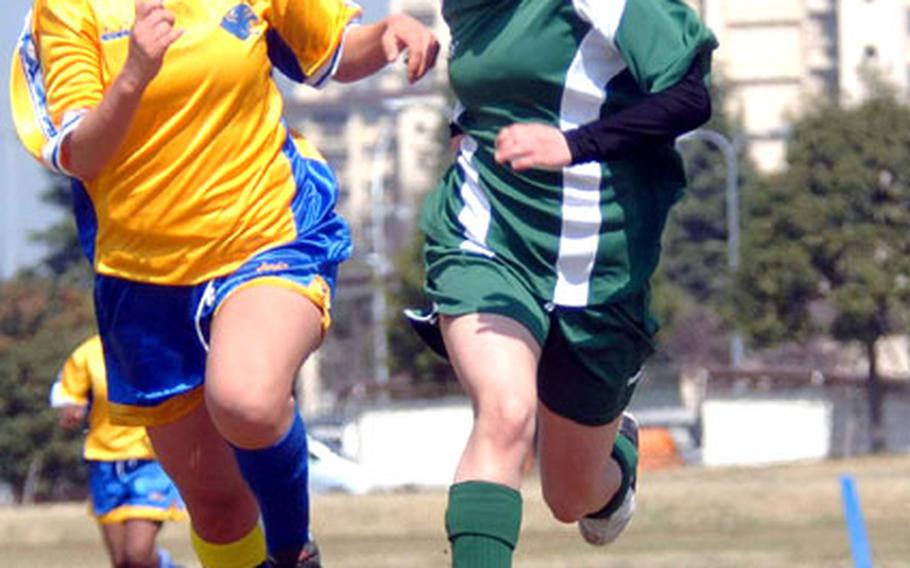 Maybe Robert D. Edgren's boys and girls soccer teams should practice indoors permanently.
So what if they've been confined to working out in the northern Japan school's two gymnasiums, thanks to snow which doesn't melt until late March? The Eagles' boys and girls teams are off to their best combined start in school history, 9-3-2 — all on the road.
"We use that as practice," first-year girls coach Larry Allen said, only half-jokingly, after Edgren shut out Yokota 4-0 on Saturday and blanked Zama American 2-0 on Friday. The Eagles girls are 5-1-1.
The boys crushed Matthew C. Perry 10-0 and E.J. King 15-0 on Saturday at Sasebo Naval Base, hours after edging Japanese team Islands Club 4-1 to improve to 4-2-1.
"They're impressive," Yokota girls coach Matt Whipple said after his Panthers took one on the chin thanks to goals by Mia Angelella, Alyssa Rodriguez, Charlene Underwood and Johanna Six. "They have girls who can control the ball and they have strong legs. Their midfielders play well and their strikers all shoot the ball."
The Eagles are on pace to eclipse their 11-5-2 mark of last year, though they appeared to be in rebuilding mode after losing two-time All-Far East striker Jessica Allibone (graduation) and Stephanie Patrick (transfer).
Katy Keene (7 goals), Angelella (6) and Underwood (5) are providing the firepower for a team that has one senior and one junior.
"They're young, they're humble, they're polite, good, smart girls who are well-behaved," Allen said. "It's fun. I'm having a good time. They're having a good time."
The Eagles boys, who were 10-10-2 last year and are trying to finish above .500 for the first time, are paced by Brandon Green (9 goals), Patrick Pezoulas (8) and Nathan Fine (6). They may have benefited from having all but two practices indoors, first-year coach Robert Victoria said. "It's helped them sharpen their passing skills," he said. "And we've had a good team effort."
The Eagles' only defeats have come against Class AA competition on March 17-18, Edgren losing to Nile C. Kinnick's girls 7-0 and the Eagles' boys 5-1 and 4-1 at Yokota.
"Even in our losses to Yokota, nobody ever got down about them," Victoria said. "It's been really positive."
Freshman is Kubasaki's new go-to weaponKubasaki girls soccer coach Terry Chumley appears to have found her new scoring weapon.
After losing four-year All-Class AA striker Erin Foote (146 career goals) to graduation, Chumley said offense might be a worry for the team, which has finished second in Class AA the past two seasons.
Instead, freshman Kara Koeneke has stepped to the fore, scoring four times in the Dragons' first two games, three in Saturday's 6-0 shutout of Shuri, a Japanese high school team.
"She's a good all-around player," Chumley said. "She has good field sense, good timing on her passes and good shots."
Kelly helps Osan boys snap three-week funkTwo first-half goals by Anthony Kelly helped defending Far East Class A champion Osan American finally work its way out of a three-week, seven-match tailspin.
The Cougars blanked Taegu American 3-0 on Saturday, their first victory since opening the season March 4 by beating International Christian-Uijongbu 6-0.
Coach Tony Alvarado felt the turnaround began the night before in a 2-0 defeat at Seoul American, which also came without injured starters Carlos Albaladejo and Kevin Finch.
"We've been a team of halves," Alvarado said. "We'd play one good half, then collapse in the next. Against Seoul, we played both halves. That was an eye-opener. They realized they could play without our starters. Today, it came together. Unselfish. Our passing clicked. I think we're coming together."
Seoul American girls looking ahead to Seoul ForeignStill doing a slow burn over a 2-1 loss last Wednesday at home against Korea league-leading Seoul Foreign, the Seoul American Falcons righted themselves by shutting out Osan American 2-0 on Friday and downing International Christian-Seoul 4-1 on Saturday on their home turf. Whitney Grandy (6 goals) scored once in each match.
But the Falcons are seeking payback against Seoul Foreign, and hope their rematch on April 5 on the Crusaders' home ground will provide it.
"We're so determined when we play them again," coach Lori Cannon said, adding that she expects all her Falcons to be healthy for the second go-round, and even if the rematch goes the same way, she hopes the Falcons can repeat their Korean-American Interscholastic Activities Conference tournament title in April. "We're definitely looking ahead."
Yokota shuffles lineup, knocks off defending JSL champMissing defensive starters Ricky Byrnes and Jonathan Bernardo didn't seem to hold back Yokota's boys in Saturday's 3-1 victory over Nile C. Kinnick, in a matchup of the two most recent Japan Soccer League champions, Yokota in 2001-04 and Kinnick last season.
Coach Tim Pujol shifted Jimmy Threatt into Bernardo's sweeper spot, while Tom Gass moved to stopper in place of Scott Monahan. He moved to center-midfield, while Stefan Welch, who's occupied that spot since his freshman year two years ago, shifted to forward, where he assisted on two Yokota goals.
"It was nice to see us play well on defense with two starters out," said Pujol, whose Panthers improved to 6-0 while dropping the Red Devils to 3-3-1. "Anybody who sees Scotty play knows how hard he works. He's tenacious. I like his energy. Stefan has anchored our middle for three seasons, but he's a threat once you get him up on the front line."