Pacific H.S. roundup: Larson emerging as important cog for Kadena girls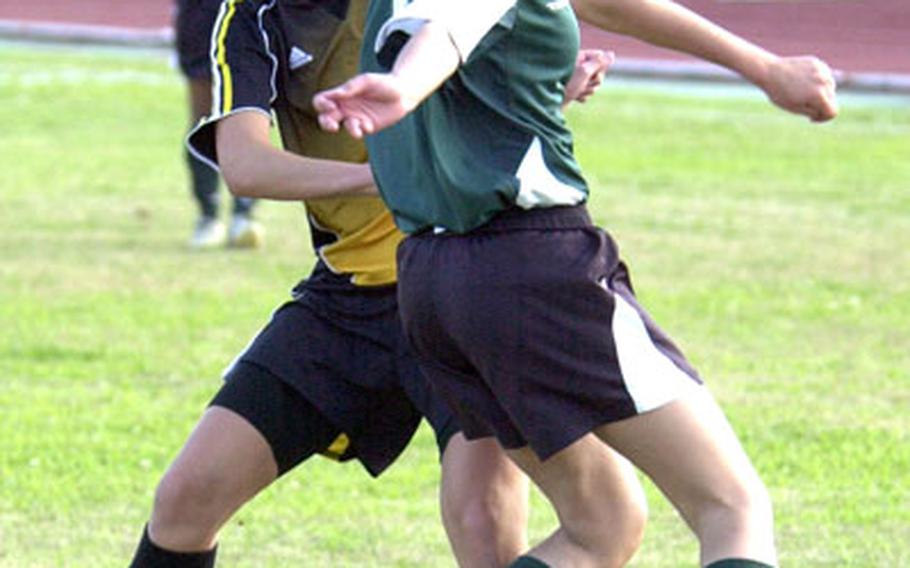 While the name Abel repeatedly appears in the Kadena Panthers girls soccer team's scoring ledger, a new name quietly is emerging as an important cog in the team's chances of a Far East Class AA tournament title three-peat.
Senior right forward Alicia Larson assisted on four goals and scored one herself. That helped the Panthers to a 9-1 victory Wednesday — the Panthers' 12th straight win — over the Kubasaki Dragons at Kubasaki's Mike Petty Stadium on Camp Foster.
"She does a lot of important things for us," coach Hoa Nguyen said of Larson, who has six assists this season for the 4-0 Panthers, one behind senior Dianne Abel's team-leading seven.
In addition to playing tough defense, moving and passing the ball well along the right side, "she pulls the defense with her and that opens things up for other people," Nguyen said.
Already, Larson has surpassed her assist total of five in 2005, when she also scored four goals for a Kadena team that went 18-1-1 that year.
Three times on Wednesday, Larson assisted on goals by Jennifer Abel, who totalled four goals to run her team-leading figure to nine this season. Dianne Abel scored her sixth goal, running her career total to 118, 28 behind career record-holder Erin Foote of Kubasaki.
It was Kubasaki's most lopsided loss to Kadena in school history. As the game wound down, Nguyen moved players to different positions and gave bench players plenty of minutes, which he says is important in preparing for May's Class AA tournament at Kubasaki.
"We try to develop all our players so when Far East comes, anybody can fill in and play every position," Nguyen said. "We really have depth, more than just 11 starters. We have a bench. That will help us make that run at Far East."
Kubasaki boys hand Kadena regular-season lossIt took 110 minutes but somebody finally scored during a Kadena-Kubasaki boys soccer match. And when their second of four regular-season matches ended on Wednesday, Kubasaki handed Kadena its first regular-season loss since the 2003 season.
"I was keeping track of that, how much scoreless soccer we would play," Kubasaki coach Chris Kelly said of a drought that spanned the teams' first meeting on March 17 through the first 30 minutes of Wednesday's rematch, until Chris Monroy broke the ice.
Michael Derr tallied what proved to be the game winner 10 minutes into the second half. Anthony Soroka finally got Kadena on the board with seven minutes left but that was as close as the Panthers got.
"Every time we play, I'm more and more impressed with them," Kelly said of the Panthers.
Given their history — Kadena's won three Far East Class AA tournament titles and Kubasaki two — "It's always going to be a classic matchup with them," Kelly said.
Osan soccer, Kadena baseball keep up winning waysAfter suffering a three-week long slump, the Osan American Cougars boys soccer team now is the proud owner of a two-match winning streak.
The Cougars welcomed junior midfielder Carlos Albaladejo, sidelined two weeks with a leg injury, back to the lineup. He responded with two goals Wednesday as Osan overpowered International Christian-Seoul 4-2 on the road.
Meanwhile, Kadena's baseball team got another strong pitching performance, this time from Travis Thibeault, who pitched a complete game four-hitter as the Panthers edged Koza, a Japanese team, 5-3 at Chibana Recreation Area, to run their winning streak to three.
"We seem to be getting into a pretty good groove right now," said coach Allan Mizell. "We're getting very good pitching, solid defense and some timely hitting in these last three games."