Pacific H.S. roundup: Kubasaki's Thompson soaring again in Okinawa track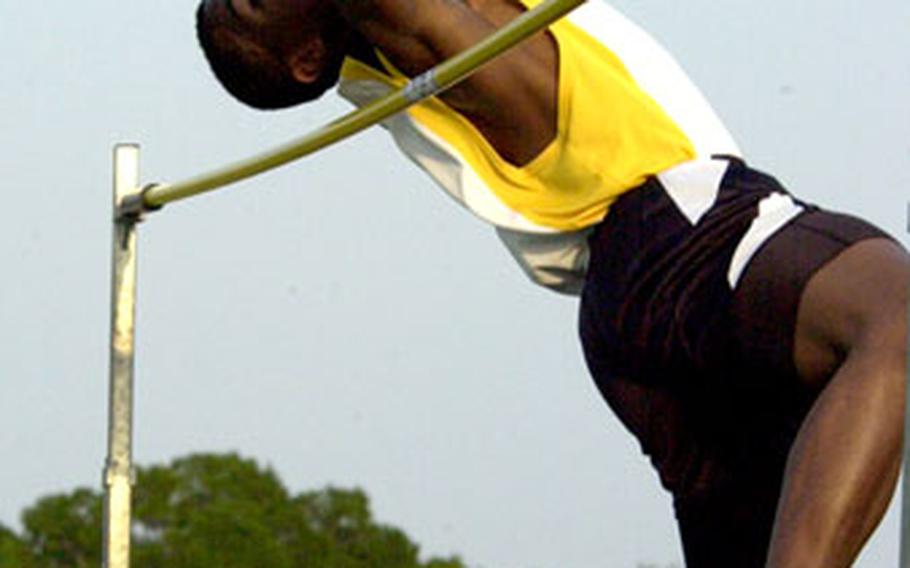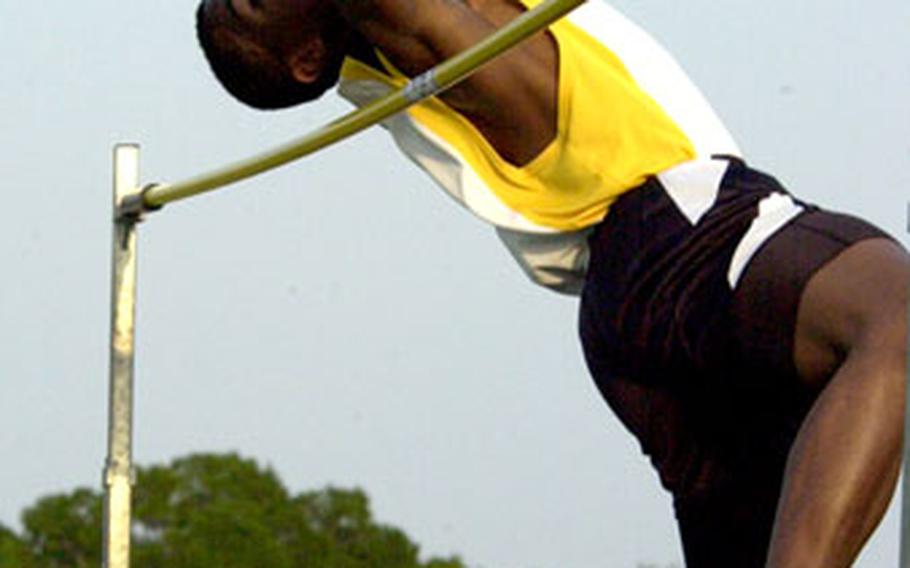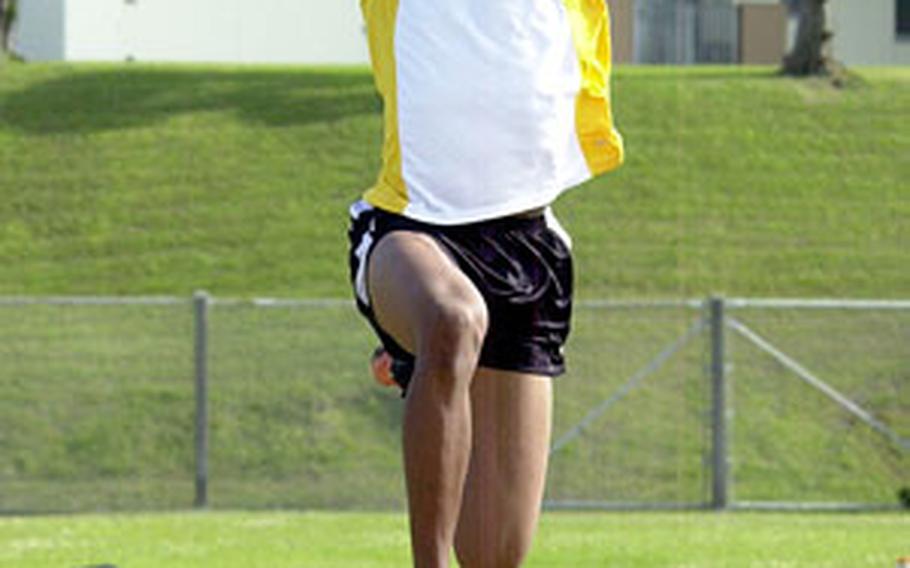 Kubasaki senior Steven Thompson missed the last month of football season and the first and last two weeks of basketball because of injuries and a bout with mononucleosis.
In his first competition of the Okinawa Activities Council spring track season on Friday, he looked as if he'd hardly missed a beat, winning the high jump with a leap of 6 feet, 1 inch, edging Pacific record-holder Marquis Newton of Kadena by 1 inch.
"It wasn't easy," Thompson said, adding that his ankle still is swollen from the football injury and he's still not in 100 percent condition after the illness. "This was the first time I seriously high-jumped this season. I even surprised myself."
He's pushing, he said, to prepare for next weekend's fourth Alva W. "Mike" Petty Memorial Meet, also at Kubasaki High School's Mike Petty Stadium, but also is being careful. "Training but not overtraining," he said. "Some people will just push it until they drop. I have to find that point where I make myself better but not overdo it."
Kadena's boys overwhelmed the field in Friday's meet, the last before the Petty meet, which will include 14 schools from Japan, Guam, the Philippines, Taiwan and Okinawa. Kadena beat second-place Kubasaki 85-53.
Senior distance runner Tim Nabonne won the 3,200, 1,600 and 800 for the second straight week, and Manuel Duran, Eric Robinson and Jeff Morton boosted the Panthers to victories in the 400 and 800 relays. Robinson also won the discus and Newton the shot put. Morton blazed to victories in the 100 and 200.
"It's very balanced," Newton said of Kadena's boys team, which he said he believes can make a strong bid to repeat its Petty team championship. "We have people who come out and show their stuff. They know they can run."
Also completing a distance sweep on Friday was Kubasaki's Beth Nielsen, who came within 10 seconds of the island mile record by running the 1,600 in 5 minutes, 47 seconds. She rallied to win the 800 and won the 3,200 comfortably.
The Dragons girls easily prevailed 82-38 over Zion Christian Academy. Dominique Henson won the 100 hurdles, Michelle Daniel the 200 and Kyera Tennyson the long and high jumps for Kubasaki, which also swept all three relays.
"Great weather, Chamber of Commerce weather," said Kubasaki coach Charles Burns. "In this kind of weather, people run faster and jump out of the track. I hope we have this kind of weather next week."
Kinnick freshman turns in Devil of a pitching performanceNile C. Kinnick's baseball team lost junior pitcher Clay Atchley to a broken right leg in their March 13 opener and dropped their first five games. The team sought something, anything, to put it on some sort of winning track.
That came Friday night in the chill of Misawa Air Base, where freshman Tommy Coyne tossed a five-inning no-hitter as the Red Devils blanked Robert D. Edgren 11-0.
"This was just what we needed," first-year coach Kyle Siftar said of the victory, adding that it provided a "big lift" for a Kinnick, which has 13 freshman on the roster.
Coupled with an 11-7 victory Tuesday over Yokota, Kinnick now owns a two-game winning streak.
"He was the man of the hour," Siftar said of Coyne, who also helped himself by batting 2-for-3 and driving in three runs. "His off-speed stuff was on cue and kept the batters guessing, and he just blew that fastball right past them. He's had good pitching performances but by far this was his best."
Eagles boys soccer team finally puts blemish on Yokota's recordAlmost a month into the Japan Soccer League season, Yokota's boys had won their first seven matches. That streak ended, however, after taking a road trip this past weekend to Misawa Air Base, where Robert D. Edgren (4-2-2) tied the Panthers 2-2.
Yokota went up in the first 10 minutes on goals by Andreas Cabral and Bronson Bailey, who each have 10 on the season. But then Patrick Pezoulas scored his ninth goal of the season and Nathan Fine his seventh and the Eagles' defense buckled down.
"Edgren played a great game," Yokota coach Tim Pujol said.
"We got out on them quickly but after that, their sweeper took away a lot of offensive opportunities and we couldn't find the net. Hats off to them. They played a great match."
Falcons girls strikers prevail against Taegu's shuffled lineup, tougher defenseFor the second time this season, Seoul American's girls soccer team shut out Taegu American, 3-0 on Friday at Yongsan Garrison. But this wasn't the same Warriors squad the Falcons easily dispatched 5-0 three weeks earlier on Taegu American's home field, said Falcons coach Lori Cannon.
"They were much tougher the second time around," Cannon said after the Falcons (7-1) overcame a lineup shuffle by the Warriors (2-2-1) that had senior Joanne Youngblood, normally a midfielder or forward, playing on the backline to bolster the Taegu American defense.
Though the Falcons prevailed and took 13 shots, Youngblood's presence made every shot that much tougher, Cannon said. "They were tenacious and it really helped them to have her back there. She's a tough player. They improved a lot," Cannon said.
Also shuffling the lineup were the Falcons boys, who've been missing six players, including three starters, the past few weeks. Jessie Suh, who normally plays up front, has been used "all over the field" by coach Steve Boyd; he finally used Suh at forward in Friday's 6-0 victory over Taegu and Suh responded with two goals.
"Putting him back up front made a difference," said Boyd, whose Falcons (7-2) also found themselves bulking up the roster by bringing back a handful of players who'd been cut during preseason tryouts.
"That's a tough situation, for them and for us," Boyd said, adding that that's been a practice of his in the past, telling players he's cut to "not give up, keep working out on their own."
"Last week, we called some of them back and it paid off for us," Boyd said. "Having some depth, and getting those kids back who were hurt, will help."