Pacific H.S. roundup: Kubasaki breaks Kadena's tight grip on Okinawa baseball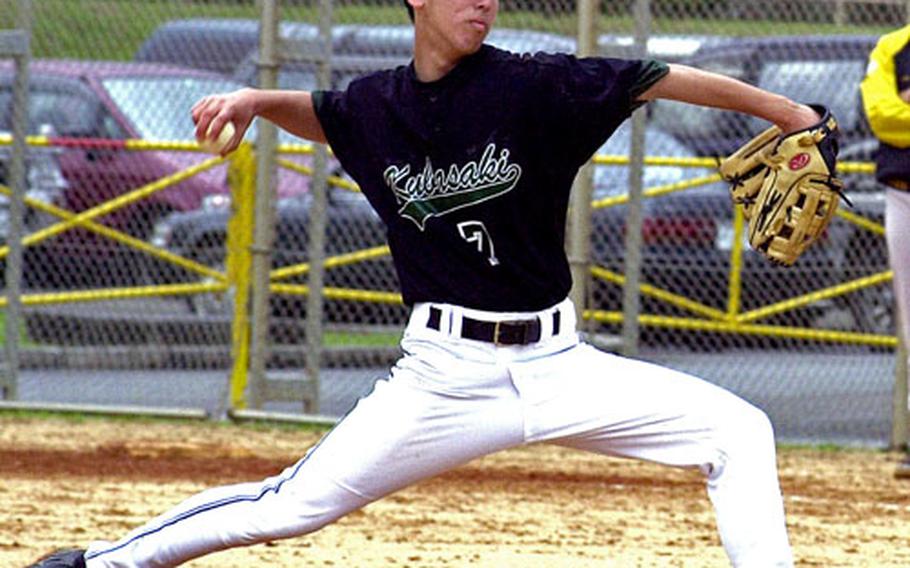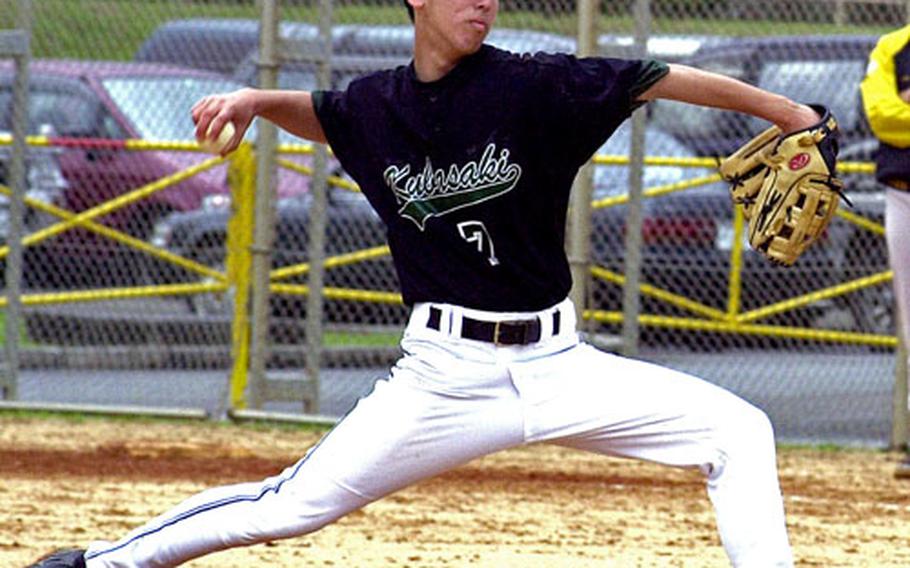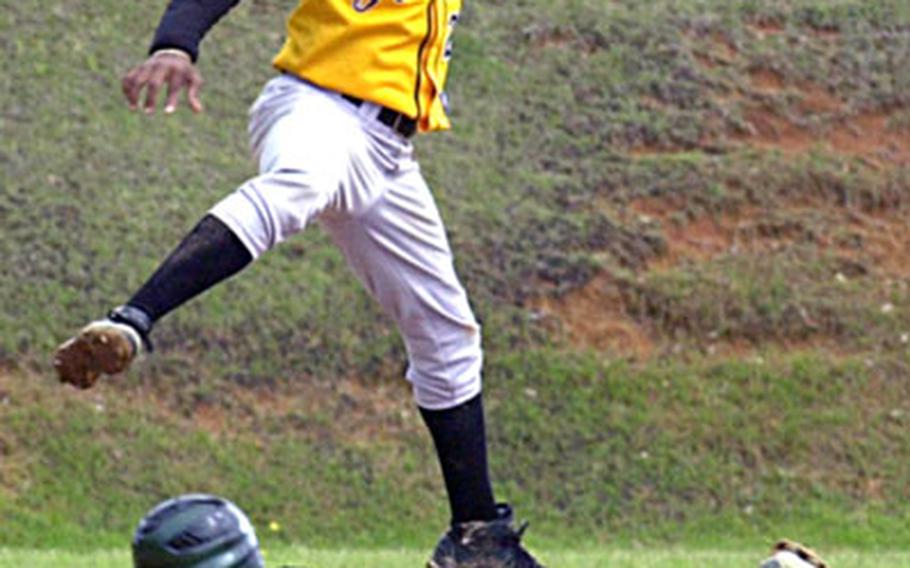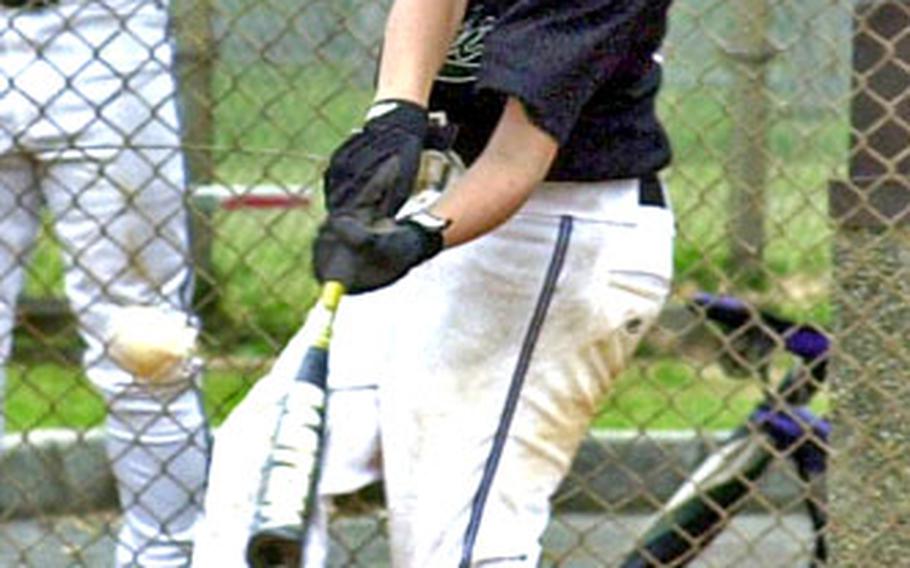 The dawn of a new era in Okinawa high school baseball brought with it a surprising result: Kubasaki finally beat Kadena.
After losing 12 straight to the Panthers dating to the 2003 season opener, the Dragons finally solved the Kadena puzzle. Wataru Smiley pitched into the seventh inning, striking out seven, and Michael Fulwiler cracked a first-inning home run in Kubasaki's 18-4 victory at Chibana Recreation Area.
"That set the tone for the rest of the day — not only on offense, but it relaxed our fielders, too," Kubasaki coach Randy Toor said.
Smiley's performance was a pleasant surprise as well. The plan, he admitted afterward, was for him to pitch just two innings. Instead he almost tossed a complete game.
"I told him the key was to keep their hitters off-balance and they did," Toor said. Catcher Joe Smith "called a good game also."
Smiley said being the first pitcher to beat Kadena felt good and that he was able to do what his coach asked — keep Kadena hitters off-balance — by throwing mostly sliders.
The victory came at the start of the first season in which Kadena's and Kubasaki's baseball and girls softball programs are entirely under the umbrella of Department of Defense Dependents Schools-Okinawa. The programs have been run collectively by the community, the schools, 18th Services at Kadena Air Base and Marine Corps Community Services.
Under cloudy skies with occasional showers, Kadena's softball team kept up its unbeaten run over Kubasaki, spanning 45 games over three seasons, by blanking the Dragons 16-0 in a game ended by the 10-run mercy rule after five innings.
Both games started late thanks to the weather. Former New York Mets World Series hero Ron Swoboda was on hand to throw out the ceremonial first ball before the baseball opener.
Kadena coach Allan Mizell called Saturday's game his team's worst in four years. "They had no enthusiasm," he said, adding he believes Kubasaki's team is the best it's ever assembled.
"Those guys just came out better prepared. … Now, our goal is to be 3-1 against them but to do that, we're going to have to do much better. … I can't use the 'They haven't ever beaten us' speech any more."
Kadena's softball victory came behind the arm of Kara Davis, who went seven innings with seven strikeouts, most coming just when the team needed them, coach Ken Hudson said.
The victory came despite the team having had only 10 practices before the opener, he said. "We had some good plays on defense and we were aggressive on offense, running them into mistakes."
Catcher Alison Montes de Oca batted 2-for-4 with a walk and a home run for Kadena. Kubasaki's one bright spot, Michelle Acosta, went 2-for-3.
Kubasaki coach Lorinza Williams blamed "first-game jitters" plus errors and 10 walks surrendered by Kubasaki pitching. "We'll bounce back," he said. "They understand their mistakes so we'll be all right."
Falcons strikers going strongIn 2005, the Seoul American Falcons' boys and girls soccer teams took a back seat to powerful Seoul Foreign.
This season, for the first time in five years, both of Seoul American's teams are unbeaten heading into Wednesday's first regular-season showdown with the Crusaders at Falcon Field. Seoul American's boys have won their first five matches; the girls are 4-0.
Chris Churchwell (7 goals) will lead the Falcons against a Crusaders squad paced by sophomore scoring machine Remco Rademaker (12 goals, 10 assists).
"This will be a good test for us," said boys coach Steve Boyd, whose Falcons reached the KAIAC postseason tournament final in April, losing a shootout to Seoul Foreign 3-2.
The girls languished behind the unbeaten Crusaders in the regular season but had better success in the KAIAC tournament final, edging Seoul Foreign 1-0.
"We'll see if we can hang with them," said coach Lori Cannon, adding that other coaches have told her the Crusaders already are in "mid-season form."
Like the boys, Seoul Foreign's girls have won all seven of their matches and have five girls with six or more goals, led by sophomore Megan Kim (12).
Seniors Margaret Nurse and Whitney Grandy top the Falcons with four goals each. Cannon points to Grandy as key to the team's fortunes. She sat out last season, after moving to Mountain Home Air Force Base in Idaho, but returned to Seoul American for her senior year.
"You can tell she's happy to be back," Cannon said. "She controls the tempo, sets up plays, she's a great ballhandler and a good passer. She plays a big role with her leadership. The girls look up to her."
Yokota boys still unbeatenAlso enjoying a flying start is the Yokota boys soccer team, which won the Japan Soccer League title three years running starting in 2001 and reached the Far East Class AA tournament final in 2002 and '03 before falling on hard times the past two seasons.
Paced by Scott Monahan (9 goals), Bronson Bailey (7 goals) and Stefan Welch (5 goals, 8 assists), the Panthers are 5-0 for the first time in three seasons. Good scoring balance, playmaking and the goalkeeping of first-year netminder Jim Scott have coach Tim Pujol eyeing a return to the league championship.
"It's encouraging," he said. "I see some good things."
Fred Zimmerman contributed to this report.