Pacific H.S. roundup: Kadena's new, old wrestlers put it together
---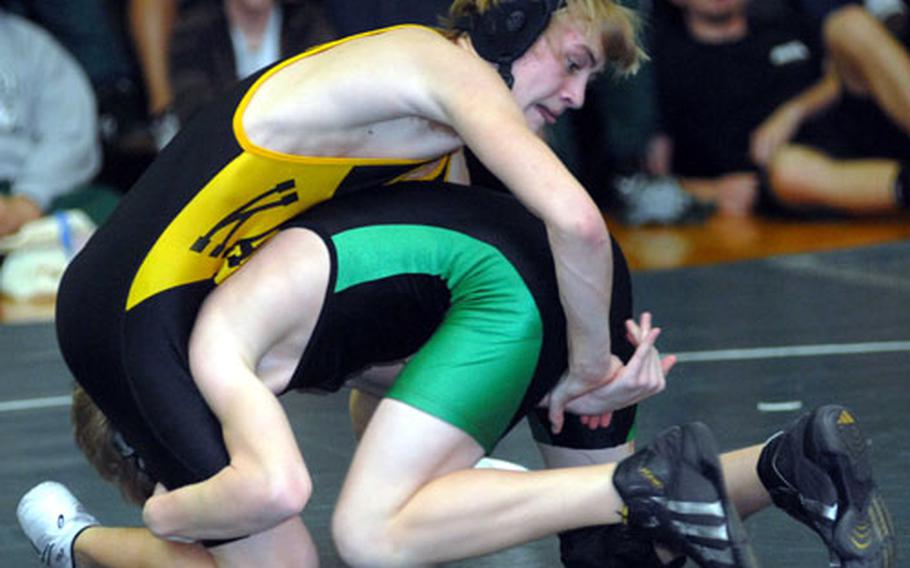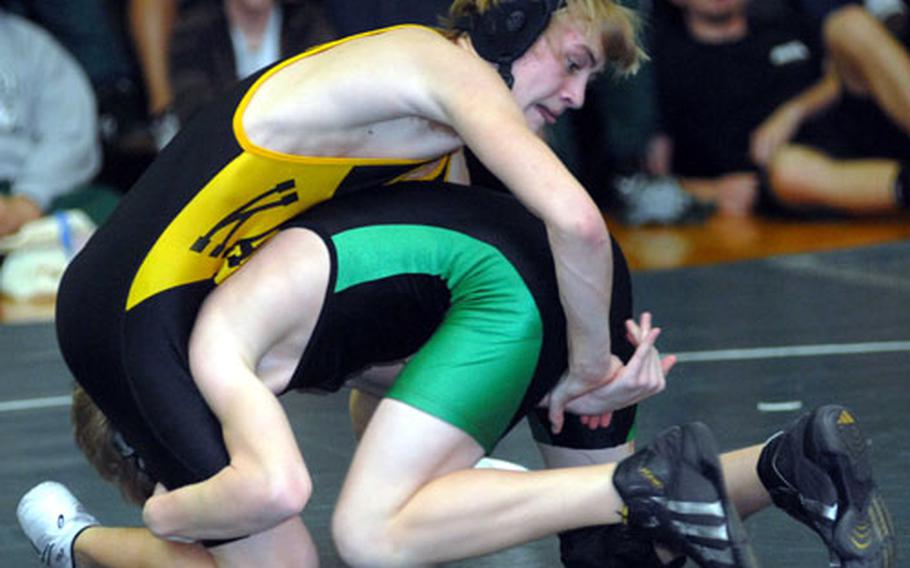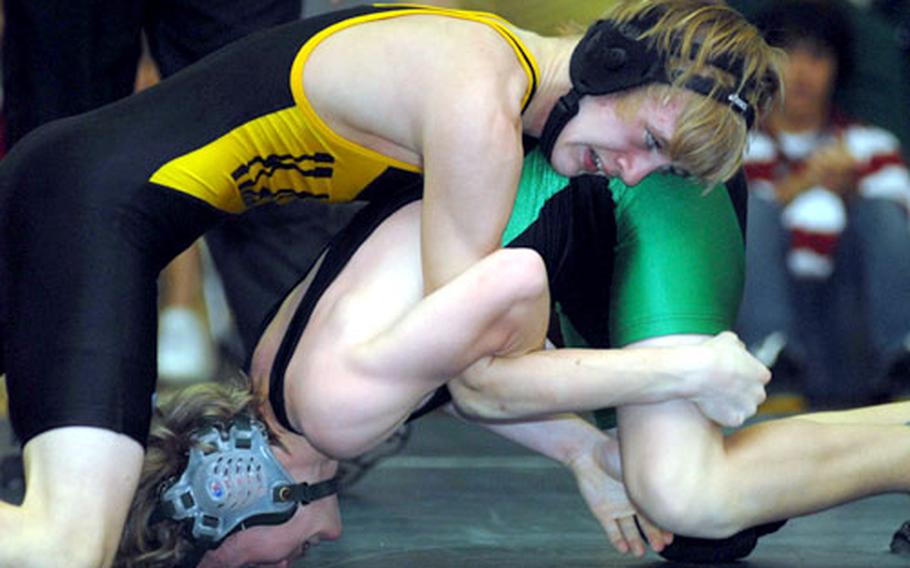 CAMP FOSTER, Okinawa — So, Kadena loses Jake Bloom, Cody Cash, Chris Hoshaw and others from its 2008 Far East Wrestling Tournament title team?
No problem — there are plenty of new faces to take their place.
Shanon Lautenschlager, Jacob Bishop, Dillon Bush, Gabe Ahner and J.C. Henderson enjoyed a coming-out party in Saturday's 2nd Rumble on the Rock individual freestyle tournament. Each earned gold medals and Kadena won the team title 110-58 over 2008 champion Kubasaki.
"Kids step up and say, 'Coach, I want to wrestle this year.' And we got lucky with transfers," coach Steve Schrock said of holdovers Bush and Lautenschlager, freshman Ahner and transfers Henderson and Bishop.
"But you still have to put it together. I'm proud of their effort. This is a very self-driven group."
"It's an excellent program," Kubasaki coach Terry Chumley said of the Dragons' island arch-rival.
"At this point, they're the favorites" to repeat their Far East Tournament team titles next week at the Foster Field House.
Dillon left little to chance, pinning two of three foes, including Kubasaki's Randy Candelaria in the 168-pound final.
Ahner scored a 1-0, 2-0 decision over Christian Academy In Japan's Sho Hamano for the heavyweight gold.
Lautenschlager, who'd lived in the shadow of 2008 Far East champion Harry Bloom, broke out by pinning three of four foes to win the 141-pound title.
In the final, he pinned Kubasaki's James McDowell, who'd pinned him in 5:02 on Friday in the dual-meet tournament.
"Now, I know what it feels like when their hands were raised," Lautenschlager said. "It's great. Loving every minute of it."
Henderson had tried three times to beat Kubasaki's three-time Far East champion, Scott Wood, and failed. Twice on Saturday, once by pin in the finals, he finally solved the Wood mystery.
"I went back to the film, critiqued myself and it paid off," Henderson said of Wood's close 1-0, 2-0 decision Friday in the dual-meet tournament.
Henderson earned the tournament's Outstanding Wrestler honor. "It feels very good."
"It's amazing what you can get done on a bus ride. It's amazing what kids can do with a night to sleep on it, and the smarts to be introspective and ask what I did wrong and what can I do to get better," Schrock said.
Bishop probably had the toughest route, and perhaps formed a rivalry with fellow sophomore Jon Goddard of Kubasaki in the process.
Bishop needed a crotch-lift move to score a two-point tilt in the final 10 seconds of a 5-4, 6-4 decision.
"If he graduates with me here, it will be there until the end," Bishop said of the rivalry with Goddard.
Osan scores mat upset of champ Seoul AmericanCAMP GEORGE, South Korea — Seoul American won its ninth consecutive DODDS-Korea Wrestling League title, but not without losing a dual meet for the first time since 2000.
Jesse Crockett and Michael Gilliam scored crucial pins at 215 and heavyweight, respectively, rallying Osan American from a 31-22 deficit to upset the Falcons 32-31 in Saturday's season-ending tri-meet at Daegu American.
"Both those guys really manned up," coach David Hemmer said. "They came out gangbusters and took it to them."
"Congratulations to Osan," Falcons coach Julian Harden said, adding that the Cougars have the potential to make a deep run at a school-first Far East Tournament Class A title.
"It all depends on matchups."
Seoul American finished the season 9-1, Osan 5-5 and Daegu 1-9.
Yokota boys suffer first basketball lossSASEBO NAVAL BASE, Japan — Yokota's 22-game winning streak ended Saturday at the hands of sharpshooting Ryan Wagner and the E.J. King Cobras.
Wagner, the son of 1986 Yokota graduate David Wagner, hit six three-point baskets and finished with 24 points as the Cobras edged the Panthers 49-46.
"They finally put it together, had the chemistry and intensity going," first-year Cobras coach Mike Milling said.
"We're peaking at the right time, at the end of the year" before the Far East Class A Tournament on Feb. 16-20 at Misawa Air Base, Japan.
"Nothing lasts forever," Panthers coach Paul Ettl said, refusing to blame injuries to starters Tajh Kirby and Antony Phillips for the loss.
"Injuries are part of the game. We have to play through them. And today, we didn't."
---
---
---
---