Pacific H.S. roundup: Hobbled West shines; Kubasaki wins in penalt kicks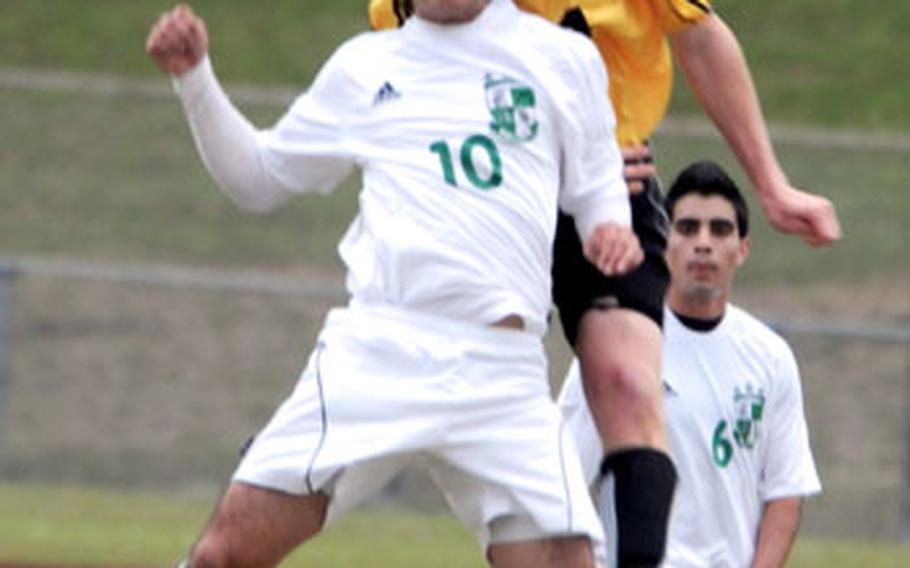 Kubasaki's Rimar West couldn't play his usual striker position due to a sore toe. So coach Chris Kelly decided to try his senior four-year starter at another spot — sweeper.
The decision paid off as Kubasaki's boys soccer team edged Kadena 2-1 in a penalty-kick shootout to open the Okinawa Activities Council three-match season series Friday at Kubasaki's Mike Petty Stadium.
West and the Dragons' defense helped keep the Panthers off the scoreboard for the first 75 minutes. It was the first time West has played defense in his four years at Kubasaki.
"The team came first," he said. With three starters out, "I decided I would take defense."
In matches like that, "you keep it close and take your chances," Kelly said. "If it means putting your best forward at sweeper, so be it.
"Rimar is the ultimate team player."
The move gave West a better view of the field, he said, but that included facing up to Kadena strikers Aaron Ahner and Stanley Schrock up close and personal.
"It can be dangerous, especially with forwards like Stan and Aaron," West said.
The Kadena duo teamed up for the tying goal in the 75th minute, with Schrock heading in Ahner's throw-in. Kubasaki went up 1-0 in the 27th minute when Leo Muro converted a through pass from Cody Sadler.
In the shootout, the sides matched goal for goal until Kadena's Sean Williams' try sailed over the net. "I was biting my fingers at the end," West said.
"It shows it's going to be a great three-match series," Kadena coach Tom McKinney said. "Both sides have some work to do, but it'll come."
The girls' opener was just as tight, with the Dragons prevailing 1-0 on Elizabeth Fabila's eighth goal of the season off Sara Harter's pass. Keeper Gabby Falco (six saves) and Kubasaki's defense held from there.
"They did a nice job of holding the team together," Dragons coach Terry Chumley said.
The defeat was costly for the Panthers, who lost strikers Cassie McDonald (shoulder) for most of the game and Kristi Kariban (eye cut) for the last 66 minutes. McDonald returned in the 52nd minute.
"That takes my offense away," coach Hoa Nguyen said. "We didn't do anything but play defense all night."
On the pitch: Cobras right ship after two shutout defeatsAfter going two games without a goal, Jon-Jon Green helped reignite E.J. King's offense with two goals, while first-year keeper Reggie Scott made 12 saves as the Cobras snapped Zama American's six-match winning streak 4-0 in a DODDS-Japan match at Sagamihara Housing Area.
"He's getting a good grasp of the position," coach Steven Casner said of Scott. "Awesome game."
Matthew C. Perry's girls made it 1-0-1 against Yokota this season, battling the Panthers to a scoreless tie at Yokota's Bonk Field behind Karla Stroud's 23rd goal of the season.
"We just can't beat those kids," said Yokota coach Matt Whipple, whose Panthers fell 3-0 at Marine Corps Air Station Iwakuni on March 7. "They're playing really well. They play the ball to Stroud, and she goes right at the goal."
The tie came one day after the Samurai shocked unbeaten Nile C. Kinnick 3-1 at Yokosuka Naval Base. Stroud scored twice as Perry beat the Red Devils for the first time in school history.
"That was huge," Perry coach Chris Anderson said. "We've been the proverbial punching bag for so many years, but we've gotten better. This is one of the better teams we've (faced), and we got it done."
"I guess we're going to have to watch out for M.C. Perry," said Osan American coach Sung Plourde after his Cougars blanked Daegu American 4-0 in a Korean-American Interscholastic Activities Conference match.
Bria Pressley notched her 10th and 11th goals of the season and Jasmine Pressley got her seventh with two assists as the Cougars bounced back from a 2-0 loss to Taejon Christian International on Thursday.
"Everything clicked," Plourde said. "It was a good game overall. A big win for us after yesterday."
Up north, Yongsan International-Seoul continued its school-best season, improving to 10-0-1 with a 4-0 shutout of Seoul American. Falcons coach Billy Ratcliff says the Guardians may be the best Korea has to offer.
"I think they can beat anybody in this division," Ratcliff said. "I don't know why they couldn't compete (in the Far East Tournament) at the Class AA level."