Pacific H.S. roundup: Fitzpatrick making her mark at Kadena
by
Dave Ornauer
May 1, 2003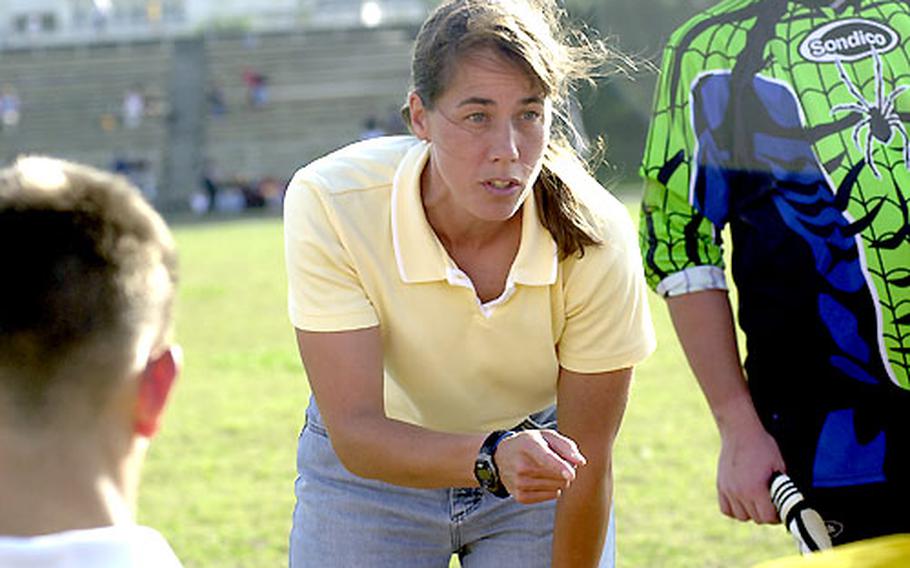 (Summary of recent Pacific H.S. sports events at end of story)
KADENA AIR BASE, Okinawa — Scott Knutson drove the ball up the right side, past the Kubasaki defense, and ripped a shot past goalkeeper Brian Eisenmann for the first goal of the match.
"All right! Good job, Scott!" shouted Kadena soccer coach Sue Fitzpatrick as the senior striker celebrated with his teammates. "Way to go!"
About 50 minutes later, Kadena left the field with a 3-2 victory that gave the Panthers a split in the season series with their archrivals.
Fitzpatrick, all smiles and eyes shining, gathered her black-and- gold-clad troops on the sideline, congratulating them with a brief, no-nonsense speech. No players looked away while absorbing compliments and constructive criticism.
It's been that way for two seasons now.
Fitzpatrick isn't just one of the boys. Players characterize her as a leader, a mentor who respects them as equally as they hold her in strong regard.
"She's just another coach to us," Knutson said. "Gender doesn't matter when it comes to soccer. It matters more if she knows her soccer."
Fitzpatrick, in her fourth year of coaching prep boys teams, doesn't consider her role unique.
"Just being a part and playing with the guys, working with them … to take them to this level, it's just a natural kind of thing," she said.
Her résumé reflects that.
After picking up the game at age 9, Fitzpatrick earned All-State honors in 1980 and '81 as a striker and midfielder for Ballard High School in her hometown of Louisville, Ky., as a member of the school's boys soccer team. No girls program existed at the time.
"The first time I played with girls, or on a women's team, was in college," Fitzpatrick said. "There weren't very many women's teams out there. Soccer for ladies was very new."
She played collegiately at Central Florida from 1982-86, often serving up corner kicks to Michelle Akers, who would go on to fame with Team USA.
After college, Fitzpatrick began a 15-year journey of coaching boys and girls teams, from the youth activities level to high school.
She cut her teeth in the Department of Defense Education Activity system by guiding the boys team at Wiesbaden, Germany, before transferring to Okinawa two years ago with her husband, Mike, and their three children — Aaron, 12, Andrew, 7, and Brooke, 3.
Soon after arriving on the island, Fitzpatrick, a special education teacher at Lester Middle School, saw an e-mail soliciting coaches for the Kadena High boys team. She and fellow Lester teacher Johnny Whitley responded.
They split time on the sideline last year, as Fitzpatrick devoted time to her daughter. But this spring, she's conducted the show.
"It makes a big difference, being there every day," said Fitzpatrick. "You can read the players and see their development. I have individual programs and goals for each player. You see how they're feeling, and you can make adjustments on the fly. When you're not there every day, you don't see those things in the players and you can't make those adjustments."
She's also had to shuck some conventional notions about sports: Men typically oversee boys and girls squads but women simply don't coach males.
Fitzpatrick appears to be debunking that belief.
"It has to do with respect," she said. "I respect them, they respect me. It's not even an issue."
"She knows her stuff," Knutson said, "the tactical things, making runs, checking to the ball. She's a great coach. She works us hard and encourages us, and is easy to talk to."
Opposing coaches agree.
"She has an excellent background, where her experience comes in," said Kubasaki coach Butch Spain, who's been affiliated with that club for more than 20 years.
"The team has developed well from last year, much better controlled, better disciplined. They're a seasoned team. As far as her association with them, it seems to be very positive."
For Knutson, it doesn't matter who's in charge. He's got his eyes glued to the grand prize.
"A Far East championship, whether the coach is a man or a woman, I'll be happy either way," he said.
Baseball
Monday's summary
Sola College 13, Kadena 1
At Kadena Air Base, Okinawa
The Panthers, after starting the season with three straight wins, fell for the third straight time, as Sola College touched Kadena pitching for two homers and 10 hits. Eric Rausch fanned five and gave up just one walk in a losing cause.
Sunday's summaries
Yomitan 18, Kubasaki 4
Losing for the fifth time in five tries, the Dragons gave up 14 hits and 12 walks, managing to post four runs in the second inning but that was it. Justin Daughtery went 2-for-3 with an RBI to pace Kubasaki.
Gushikawa 5, Kadena 3
A three-run third inning broke the backs of the Panthers. John O'Hearne went 3-for-4, scored once and drove in a run, while Tyler Schmidt went 2-for-3 with a homer and an RBI and Ryan Norwood was 2-for-3 with an RBI.
Saturday's summary
Yomitan 13, Kadena 1
The Panthers' skid began when Yomitan, a Japanese team, scored eight first-inning runs. John O'Hearne shut down Yomitan the rest of the way, allowing just three batters to the plate in the next three innings. Darius Lewis walked, stole second and scored on a wild pitch for Kadena's only run.
Saturday's summaries
St. Mary's International 35, Nile C. Kinnick 0
St. Mary's International 32, Nile C. Kinnick 3
Both games were halted in the fifth inning due to the mercy rule. Aki Ando was 6-for-6 and Chris Terai 5-for-5 in the opener, while Jens Halling batted 5-for-8 and Matthew Ireton 4-for-6 on the twin bill.
Friday's summaries
Robert D. Edgren 23, Nile C. Kinnick 0
Robert D. Edgren 13, Nile C. Kinnick 3
Matt Beard and Mike Bernard powered the Eagles' offense in a doubleheader sweep of the Red Devils. Beard was 6-for-6 with seven RBIs, three doubles and two homers, while Bernard went 6-for-7 with four doubles, a homer and three RBIs. Chris Tucker pitched one-hit ball, striking out six and giving up a walk in the opener, while Chris Plyler and Craig Burgess combined on a seven-hitter with four walks and four strikeouts in the nightcap.
Girls soccer
Tuesday's summary
Taejon Christian International 2, Seoul International 0
Kimberly Daniel scored her team-high fifth goal in the 41st minute and Esther Yun her second in the 70th as the Dragons (3-6-2) finished the season on a two-game winning streak. The Tigers closed with a seven-game skid after winning their first five matches.
Softball
Saturday's summaries
E.J. King 5, Nile C. Kinnick 0
Nile C. Kinnick 12, Matthew C. Perry 5
After fading in the opener of a Japan Softball League three-team twin bill, the Red Devils bounced back against the Samurai, as Kristen Mihako, Megan Runge and Jessica Northam each went 3-for-4, Mihako and Northam with four RBIs apiece.
Friday's summaries
Yokota 6, Misawa 5
Yokota 3, Misawa 2
Ellen Walsh led the way for the Panthers, scoring three times, while Cari Bruschuk and Shannon Vitarbo each came across twice. Sarah Boeder hit the plate mat for an automatic one-pitch strikeout five times in the opener for Yokota, while Elizabeth Wells hit the mat three times and Arianne Sacramento scored twice for the Diamonds.
Track and Field
Saturday, at Ohi Pier Ground, Tokyo
Boys team scores
St. Mary's International 87, Yokota 30; American School In Japan 87, Zama American 28; Christian Academy In Japan 61, Yokohama International 43; Nile C. Kinnick 62, Christian Academy In Japan 51
Boys individual winners
Shot put-Leighton Gill, CAJ, 42.636 feet; Discus-C.J. Blakey, Yokota, 105.27 feet; High jump-Jun Dambara, St. Mary's, 6.27 feet; Long jump-Sebastian Krutkowski, St. Mary's, 19.437 feet; 400 hurdles-Tom Taw, St. Mary's, 1 minute, 3.2 seconds; 3,200-Eric Shimoda, St. Mary's, 10:55.9; 200-Dennis Datsomer, St. Mary's, 24.3 seconds; 800-Sam Han, St. Mary's, 2:11.3; 400 relay-Yokota, 46.4; 400-Alex Diaz, St. Mary's, 55.0; 110 hurdles-William Lawrey, St. Mary's, 18.8; 100-Issey Maholo, St. Mary's, 11.9; 1,600-Eric Shimoda, St. Mary's, 4:48.2; 1,600 relay-St. Mary's, 3:40.2
Girls team scores
Seisen International 84, Yokota 34; American School In Japan 116, Zama American 1; Christian Academy In Japan 66 1/2, Yokohama International 50 1/2; Christian Academy In Japan 78, Nile C. Kinnick 39; International School of the Sacred Heart 87, Nile C. Kinnick 31
Girls individual winners
Shot put-Hana Sakamoto, ISSH, 26.763 feet; Discus-Carla McDaniel, Kinnick, 81.609 feet; High jump-Katie Hawgood, ISSH, 4.785 feet; Long jump-Penny Essoyan, ASIJ, 15.426 feet; 200 hurdles-Eri Furukawa, ASIJ, 32.8 seconds; 3,200-Martina Berlin, YIS, 12 minutes, 4.8 seconds; 200-Jennifer Reed, CAJ, 28.0; 800-Lindsay Rutter, ASIJ, 2:36.6; 400 relay-Yokota, 52.8; 400-Lindsay Rutter, ASIJ, 1:03.6; 100 hurdles-Jennifer Reed, CAJ, 17.4; 100-Eri Furukawa, ASIJ, 13.7; 1,600-Martina Berlin, YIS, 5:45.2; 1,600 relay-ASIJ, 4:25.1