Pacific H.S. roundup: Edgren boys get a rare victory at Yokota
---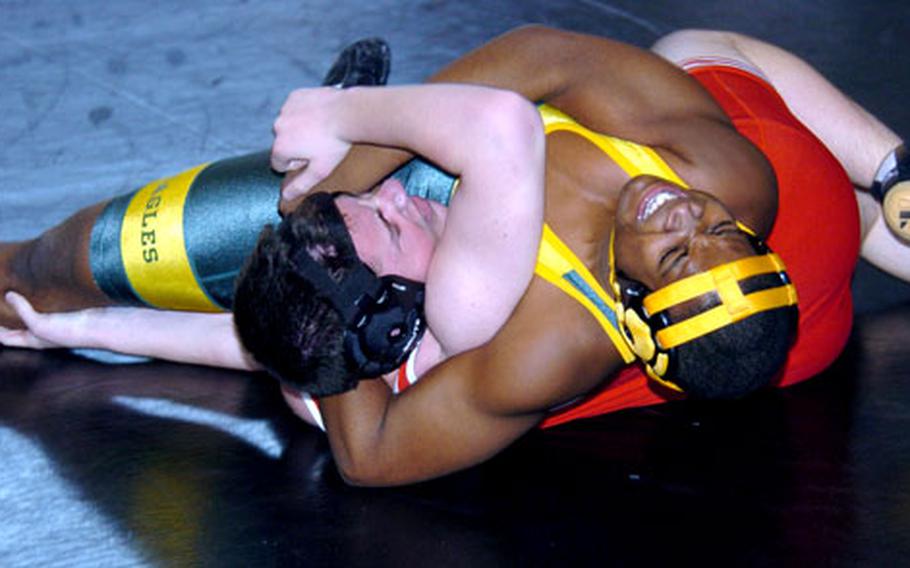 Sometimes the most important contribution in a game doesn't show up on a team's stat sheet.
For coach Andre Thibert's Robert D. Edgren boys basketball team, it wasn't so much junior guard Darrick Lang's 16 points but the "energy level" Lang brought to a squad that on Saturday won at Yokota for the first time in Thibert's six seasons.
"His energy level is a team barometer," Thibert said after the Eagles edged the defending Far East Class AA champion 43-39 at Capps Gym. "If his is high, then everybody's is high. And that was an important part of today."
Lang helped Edgren rally from a 14-7 first-quarter deficit, as the Eagles outscored a Panthers team missing two key starters 17-5 in the second quarter. Yokota led by one after three quarters but Edgren turned up pressure on Yokota's guards in the fourth quarter to pull ahead in the end.
"I thought I was cursed up until today," Thibert said. "Any way you can get a win at Yokota, you take it."
Besides the Panthers' not having injured center Caiveon Thomas (ankle) and Cameron Shelton (hip pointer) in the lineup, Edgren is "a decent team. We're just short of firepower," Yokota coach Paul Ettl said.
Ettl said he's hoping Thomas and Shelton will be healthy enough to make the trip in two weeks to the Eagles' Nest at Misawa Air Base. Thibert's lineup could by then be bolstered by the return of injured starters Zach Latimore and Mark Young.
A full lineup is no guarantee; Yokota's three losses last season came at Misawa the first weekend of December.
"That's a tough place for us to play," Ettl said.
Kinnick girls team ends E.J. King's 15-game win stringWhile Thibert ended a six-year drought at Yokota, the E.J. King girls' 15-game winning streak from the start of the Japan Basketball League season came to an abrupt end at the hands of Nile C. Kinnick.
Marisa Davis led the way with 10 points and the Red Devils led the Cobras by as many as 12 on their way to a 39-33 victory at Iwakuni Marine Corps Air Station.
"Our shots weren't falling, and Kinnick played a great game defensively," Cobras coach Bridget Vertin said. "You take the loss and learn from it. I'm happy that it happened now instead of February" in the Far East Class A tournament in Korea.
Kadena, Kubasaki schooled by Okinawa adult club teamsAt Kadena High School's Panther Pit, the Kadena and Kubasaki girls and the Kubasaki boys were more than generous hosts to two Okinawa adult club teams.
Okiso, a men's team that played as the Okinawa Suns and finished second in the Joint Military Athletic Conference last season, pounded Kubasaki 92-71, outscoring the Dragons 57-24 in the middle two quarters.
"They really put it to us" in those quarters, Kubasaki coach Jon Fick said. "They locked us down defensively, got us out of our rhythm and their shots were falling."
The Okinawa Mystics — women's champions in December's Pacificwide open holiday tournament at South Korea's Osan Air Base — pasted Kadena 55-39 and romped over Kubasaki 60-32.
"We were rusty and they're just really good," Kadena coach Ken Hudson said. "You have to play fundamentally sound against them and we didn't do that. We didn't box out. And our outside shooting was terrible."
Kinnick takes second wrestling title of seasonThe Japan wrestling season continued to be unpredictable as Nile C. Kinnick, which lost 36-28 on Dec. 6 at Yokota, got the Panthers back 32-28 in Saturday's Kanto Plain Association of Secondary Schools dual-meet tournament at Camp Zama.
The victory gave the Red Devils and Yokota a split of the four tournaments contested this season: Kinnick won the opener Dec. 2 at Edgren while Yokota won the next two, on Dec. 9 at home and Dec. 16 at Sasebo Naval Base.
"It's pretty wide open," Red Devils coach Duke Alexander said. "It's going to be an interesting second half of the season."
Yokota coach Brian Kitts called the final "hands down one of the best dual matches I've been a part of. Everybody wrestled their hearts out. They came out ahead. It was their day."
Fielding a full lineup for the first time this season, Kinnick started strongly with pins from Byron Stipe (101) and Lloyd Stipe (115). It still remained tight until the last two bouts. Corie Baughs (215) won by decision — "That was really key for us," Alexander said — and heavyweight Phil Ergus finished it off with a pin.
"We were pretty strong today," Alexander said.
Yokota was missing 141-pounder Robert Rodell and gave away that weight plus 148. "You can't beat a full team like that," Kitts said. Kinnick, he said, "stepped up today."
Korean club adds spice to DODDS-Korea tri-meetA group of unexpected guests — more than 30 middle school- and high school-aged Korean wrestlers from the Daegu Wrestling Federation — dropped in on a DODDS-Korea tri-meet at Taegu American School on Saturday.
Seoul American coach Julian Harden said the Korean referees who've worked DODDS-Korea matches the last two years put him in touch with the federation. On their way to Saturday's meet, the Falcons stopped at the federation and worked out with them, then on Saturday, the 30-plus wrestlers engaged in round-robin exhibition bouts against Seoul, Taegu and Osan American.
"Our boys got a good workout. They learned a lot," Taegu American coach Bill Riggs said, adding that he plans to have his team visit the federation for practice sessions.
Harden said his wrestlers got thrown around pretty well by the Koreans, five of whom are ranked in the top four nationally in their age groups.
"We're working on (establishing) a long-term relationship with them," he said. "If this continues, we'll get a lot better for this."
---
---
---
---