Pacific H.S. roundup: Break gives soccer teams a chance to reflect and heal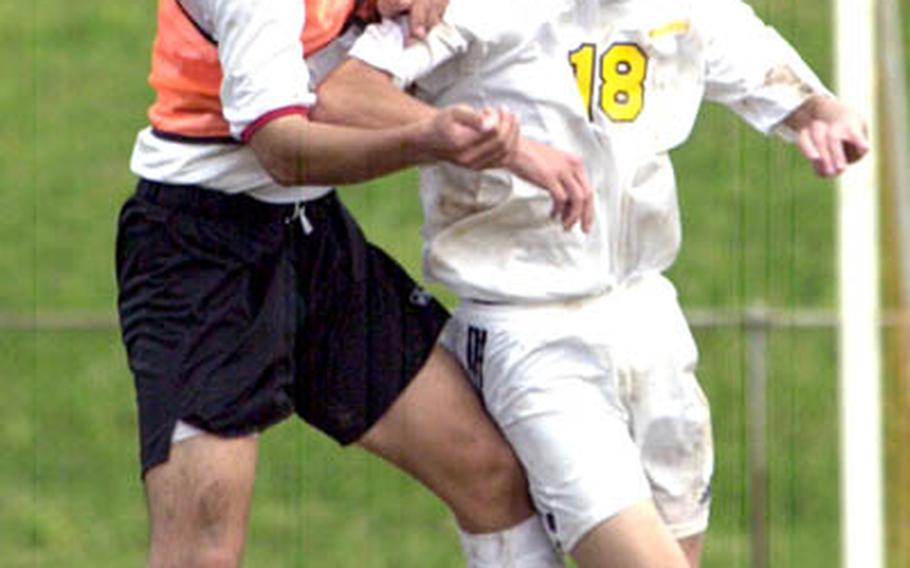 As a 10-day spring break draws near, soccer teams throughout the DODDS-Pacific circuit will get a chance to cool their jets. The injury-riddled squads will have an opportunity to heal their nicks and wounds and all teams will look back on the progress they've made and the areas that need improvement as the Far East tournament approaches.
Spring break starts Friday with a Department of Defense Dependents Schools-Pacific system-wide teacher workday and ends on Easter Sunday, April 16. Taegu American is the last DODDS school to play; because of Korea's tight league schedule, the Warriors play a pair of road matches even after the break begins, Friday at Osan American and Saturday at Seoul Foreign.
Teams battling injuries and illness most likely will welcome the break with open arms.
Defending Far East boys Class AA runner-up Kadena on Wednesday welcomed back senior midfielder Nathan LaGrave (4 goals, 3 assists), who'd been sidelined with a strained right quadriceps muscle, only to lose senior striker Aaron Zendejas (5 goals, 3 assists), who aggravated a back injury in a 5-0 win over Kyuyo.
"It seems to be a revolving door," coach Michael Callahan said. "Somebody comes back and somebody goes out. We're looking forward to the break so we can get healthy again."
"When it comes, it seems to come in bundles," coach Steve Boyd said after his Seoul American Falcons lost for the second time this season to Seoul Foreign, 3-1. His Falcons were missing two starters, while the Falcons girls, who lost 6-1 to the Crusaders, were missing four.
The Falcons' boys and girls each enter the break 8-2, their only losses to Seoul Foreign.
Kadena's boys take a 4-1-1 record into the break, and Callahan would like to think that with the injury bug comes a silver lining: giving supporting players and non-stars a chance to prove themselves, such as sophomores Kingsley McLeod and Ben Zendejas, who each have three assists and both of whom played key roles in the victory over Kyuyo.
"A lot of the play has been running through Kingsley lately," Callahan said. "He's creative. He's vocal. And Ben has really stepped up and gotten aggressive."
Then there are the teams in rebuilding mode, such as Okinawa's Kubasaki Dragons girls, who've reached the Far East Class AA final the last four years but are now relying on a core of freshmen to replace departed scoring stars such as Erin Foote (146 career goals).
Though they've been outscored by two-time Class AA champion Kadena 12-2 in two matches, the Dragons have won their other three matches and are showing signs of life and growth, coach Terry Chumley said.
"I'm pleased with how hard they're working," Chumley said of a squad paced by freshmen Kara Koenecke (8 goals) and Natalie Monti (4). "Everybody understands, we're a work in progress. But I think we have a lot of potential."
Even those teams doing well for themselves, such as the Japan Soccer League-leading Yokota boys who've scored 61 goals in 11 matches, feel that may not be good enough for the stretch run and with the Far East tournaments beckoning less than six weeks from now.
The Panthers (9-1-1), 3-2 winners Wednesday over Tama Industrial, have a tendency, said coach Tim Pujol, to break quickly out of the gate, only to let down and allow opponents to get back into matches. Also, Pujol feels his players can hustle more quickly to loose balls.
"We don't have the killer instinct," Pujol said. "We have to be more aggressive, have to play with more courage and determination."
For all teams, regardless of their infirmities or competitive stature, even the comfort of knowing there are a few days of respite comes with a semi-distant worry — the break will end sooner rather than later.
For example, Kadena's boys host Kubasaki (4-1-1) on April 19, two days after school resumes. So far this season, Kubasaki leads the series 1-0-1 and has outscored Kadena by just 2-1.
"We're looking forward to the break, but then we have to get right back to work," Kubasaki coach Chris Kelly said. "No rest."
Korea hoops clinic set for JuneBasketball clinics for high school boy and girl players are scheduled for early June at Seoul Foreign School, to be conducted by Samford assistant basketball coach Fred Morris, SFS athletics director Larry Kearney announced Wednesday.
The clinic for boys will be held June 2-3 and for girls June 9-10, Kearney said. The clinics will cover various basketball skills, with a player evaluation to be conducted at the end of each camp.
Cost to attend the clinic is 60,000 won or $60. For information, e-mail Kearney at larryjkearney@yahoo.com or lkearney@sfs.or.kr with name, grade and school, phone number and e-mail address, basketball experience and coach's name.