Pacific H.S. football: Voelker's perfect passing paces Seoul American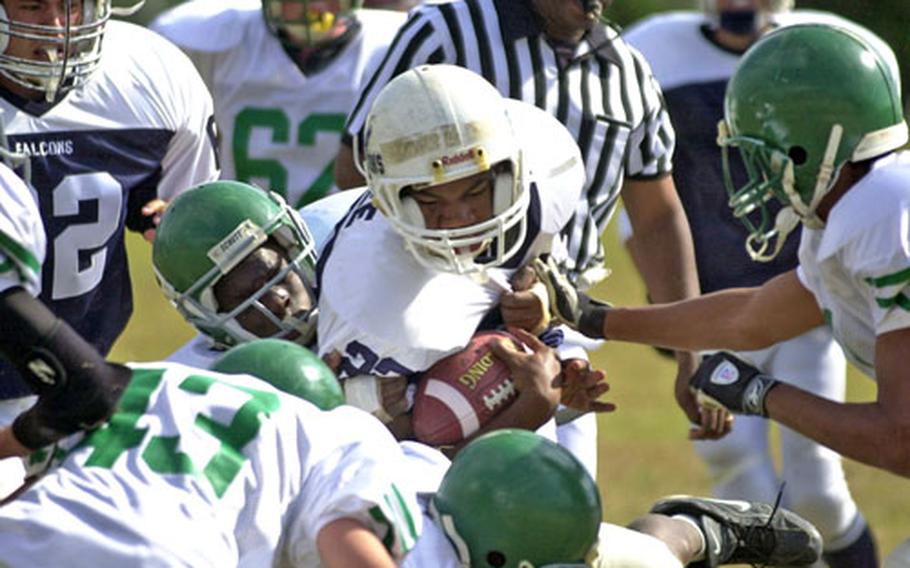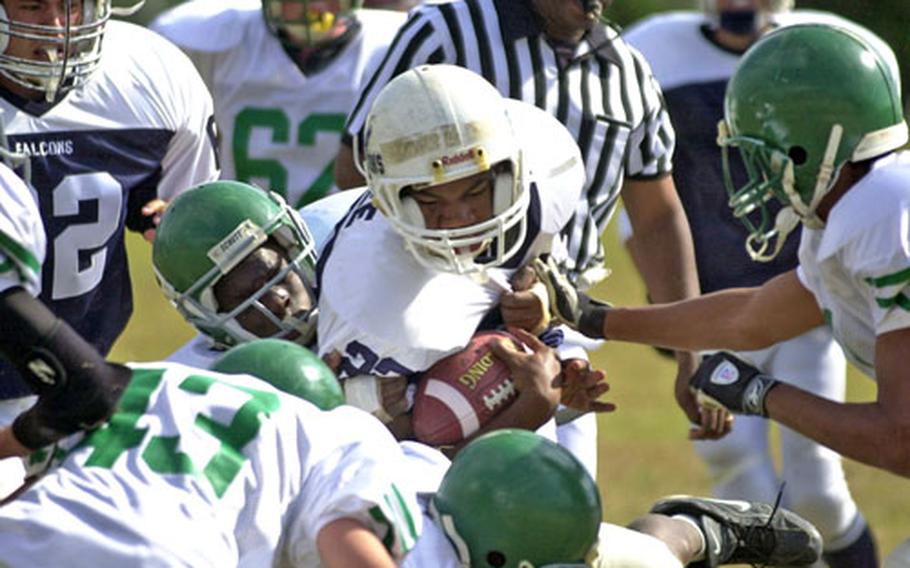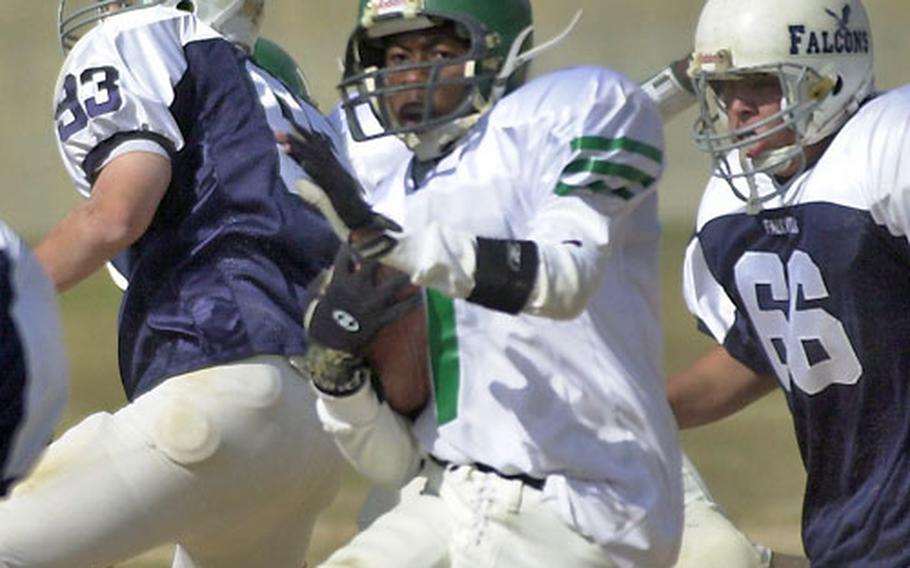 Former Ohio State football coach Woody Hayes once remarked that three things can happen on a pass play, two of them bad. For Seoul American quarterback Bruce Voelker on Saturday, it was all good.
The junior went 11-for-11 for 247 yards and five touchdowns in leading the Falcons to their 19th straight victory, shutting out Taegu American 47-0 in Department of Defense Dependents Schools-Korea play.
Seoul American improved to 2-0, and with a victory Saturday over Osan American can clinch its fourth straight league title. The Warriors (0-2) lost their sixth straight game.
In the Guam Interscholastic League, John F. Kennedy disappointed a crowd of about 700 attending Guam High's first night home game at Andersen Air Force Base since the 2000 season, as the Islanders routed the Panthers 35-6.
Korea
Seoul American 47, Taegu American 0
Despite the one-sided score, Falcons coach Julian Harden said he was "very impressed" with Taegu's effort at Yongsan Garrison, South Korea, saying the score didn't reflect the nature of the contest.
"Their play-calling kept us on our toes. They came at us hard-hitting and made a lot of good plays that kept us off guard," he said. "[But] they [Warriors] kept getting hit with penalties."
An example came on the game's opening sequence. Taegu used an onside kick on the opening kickoff to gain possession and drove to the Falcons' 5-yard line, only to have the drive short-circuited by a pair of illegal procedure penalties.
Two other drives met a similar fate. The Warriors also lost three fumbles.
"It looks like we blew them out, but that was not the case," Harden said.
Voelker was largely responsible for the one-sided margin.
He struck for TD passes of 68 and 35 yards to Jeremy Cristopher, 13 and 15 yards to Phillippe Anglade and 23 yards to Mike Goodman.
"He [Voelker] had a field day out there," Harden said.
Sophomore DeMarcus McGhee rushed for a 16-yard TD in the first quarter.
Backup quarterback Giovanni Rosa ran 3 yards for the Falcons' other score. Goodman had five catches for 87 yards and Christopher four for 115.
The Falcons won without seven of their starters, including running backs Leo Pacheco and Kris Stadler and top defender Scott Tunis, due to reasons ranging from injuries to Columbus Day weekend trips with family, Harden said.
The Warriors were held to 72 yards, 36 rushing and 36 passing. Kory Grammer led the defense with 15 tackles and one forced fumble, Mychal McGee had nine tackles and a fumble recovery and Lance Shirley one interception and one fumble recovery.
Guam
John F. Kennedy 35, Guam High 6
At Andersen Air Force Base, Guam, Peter Castillion ran for two touchdowns and passed for two, and the blitzing Islanders defense recorded five sacks and held the Panthers to 84 yards.
"It wasn't even close," Panthers coach Tom Hildreth said. "They [JFK] were way better than I thought they would be. It was like we were a lumberwagon and they were a speeding jet. We just couldn't slow them down."
Doug Bloom threw a 15-yard touchdown pass to Chris Hoyle to account for Guam High's only points. Joey Chop led the offense with 36 yards on eight carries and Thomas Strahan had seven tackles.
---
---
---