Pacific H.S. football: Ryukyu breaks through against Kubasaki
---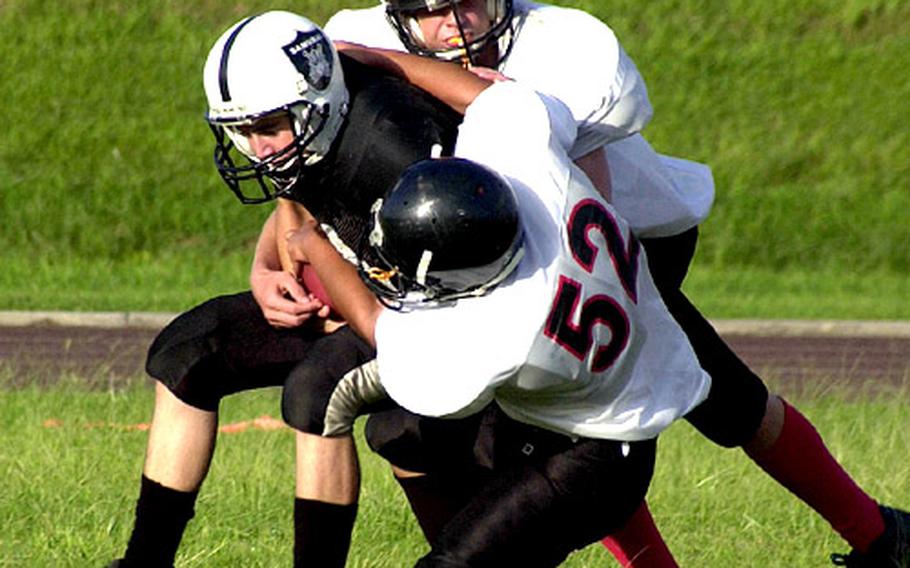 CAMP FOSTER, Okinawa — It had to happen sooner or later, coach Charles Burns said.
After going 8-0 against the only Japanese entry in the Okinawa High School Athletic Association, the Kubasaki Shogun finally fell to the Ryukyu University Stingray 26-13 on Monday.
"Eventually, the odds catch up," said Burns, whose squad had outscored the Stingray 178-33 in eight previous matchups since Ryudai entered the league in 1995.
The Stingray, in the unaccustomed position of being tied for the league lead with the Kadena Islanders, served as a virtual punching bag their first six years in the league for their American foes, going 0-23 and being outscored 595-101.
But the Stingray seemed to play the Shogun closer than they did other teams, including a 7-0 loss in overtime last season.
"They always give me gray hairs," Burns said.
After claiming wins over the Islanders in the 2001 and '02 seasons, Ryudai posted its most dominating victory yet in downing the Shogun behind a solid running game that posted 317 yards and four TDs on 57 carries.
"They came to play. They executed really well," Burns said. "They're going to beat some more people this season."
He recalled something that former Buccaneers coach Bill Mierzejewski told him several years ago, that if the Stingray "ever got serious about building a program, they will never lose a game."
"They're about to get serious," Burns said. "Mierzejewski was right. We're about to get a rude awakening. The league is on notice."
The Stingray scored 26 unanswered points to rally from an early 7-0 deficit, the result of tailback Matt O'Neill's 13-yard first-quarter touchdown scamper.
Adding injury to insult, Shogun quarterback Orlando Bell suffered a left knee injury in the final period. Nick Leemaster replaced Bell and finished the scoring by hitting Chris Robinson with a 78-yard scoring toss.
Kadena Buccaneers 33, Kubasaki Samurai 0
KADENA AIR BASE, Okinawa — The Buccaneers (1-1) got their first win of the season and kept the defending champion Samurai winless, catching a glimpse of the future on Monday.
Darnell Womach, a sophomore reserve tailback, ran for a team-high 84 yards on 16 carries, part of the Bucs' 243 rushing yards on 45 carries.
"He was one of the diamonds in the rough," Bucs coach Brian Wetherington said of Womach, one of the team's final picks in the school's newcomer player draft.
"He doesn't care where he plays, he just wants to play. He has a great attitude. Every day in practice, he works hard, no matter where we put him. Today, we put him at tailback, gave him an opportunity and he did an awesome job."
His teammates call him "Little A.J." because he reminds them of current senior starter A.J. Morgan, who ran nine times for 44 yards and two scores, tossed a 48-yard TD pass to Heath Anderson and picked off a Samurai pass.
The Buccaneers defense also was stellar, recording three sacks and forcing three turnovers.
The Shogun visit the Islanders (1-0) on Friday, while the Samurai host the Stingray on Saturday.
---
---
---
---