Pacific H.S. football roundup: Kadena rolls to 2-0 lead in OAC series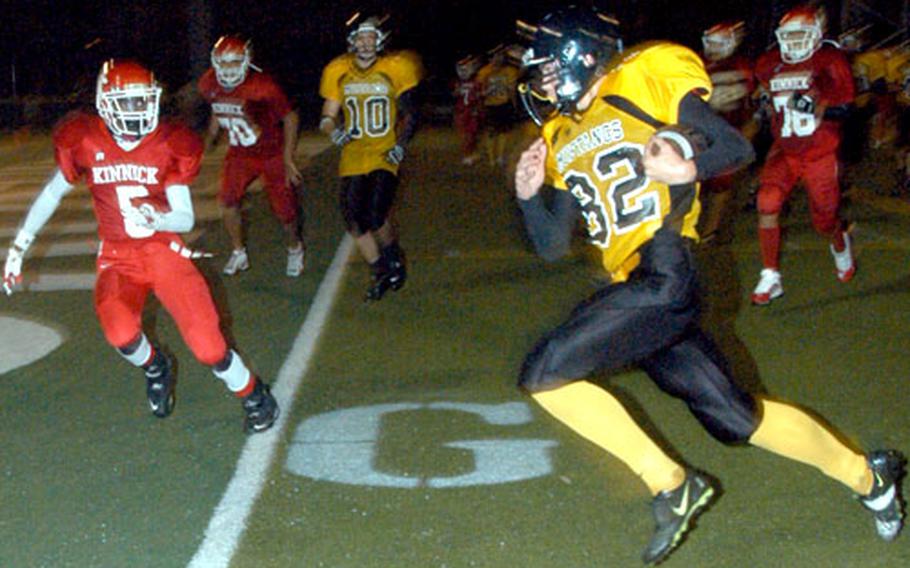 CAMP FOSTER, Okinawa — For an All-Far East soccer midfielder, Kadena's Aaron Ahner is proving to be a fair football defensive end and placekicker.
The senior recorded three sacks, recovered a fumble and kicked a field goal Friday, and speedster Shariff Coleman ran 15 times for 190 yards and three TDs as the Panthers took a 2-0 lead in the best-of-five Okinawa Activities Council championship series with a 50-0 victory over Kubasaki.
"He's one of our best weapons, defensive end and the kicking game he brings," coach Sergio Mendoza said of Ahner, whose long kickoffs forced the Dragons to start at or inside their 20 five times.
"You have a kicker like that, you thank your stars."
Coleman, who has 261 yards on 27 carries and five touchdowns in Kadena's two victories, "is representative of all the hard work we've been doing. It's coming to fruition."
Joining Coleman in the scoring department with one touchdown each were running backs Thomas McDonald (11 carries, 97 yards), Lotty Smith (9-84), Stanley Schrock (5-59) and James Nollie (3-26).
Offensive coordinator Steve Schrock said one of the team's goals was to have all its running backs score. But of the team's 477 yards on 46 carries, Schrock said: "I didn't expect anything like this. I was expecting a much closer game."
Making the victory more significant was that Kadena dressed only 17 players and finished with 15, due to illness and injury. Mendoza termed his team's performance in face of those obstacles "heroic."
Still, "we made too many mistakes, too many penalties and we need to sharpen the passing game."
Jacob Schmiege added two sacks for the Panthers (2-0). For the second straight week, A.J. Watson led Kubasaki (0-2) in total yards with 103. Kubasaki's deepest penetration was to Kadena's 35 in the third quarter.
Japan
Yokota 42, Robert D. Edgren 7: At Misawa Air Base, Gerald McCloud ran 60 yards for a touchdown and returned an interception 80 yards for a score, and Rainey Daley ran for two touchdowns as the visiting Panthers (3-0) won an uncharacteristic romp at Eagles Field.
In the three previous meetings at Edgren, the Eagles (1-2) lost twice by a point and beat Yokota by two points.
DeEric Harvin was 5-for-9 for 95 yards and a 30-yard TD pass to Bradley Forbes, and had three returns for 54 yards. Forbes had 58 yards on seven carries and 75 yards on two pass receptions. McCloud finished with 89 yards on 11 carries and Daley 68 on nine.
Jazz Butler accounted for Edgren's points with a 99-yard interception return in the first quarter. The Eagles lost quarterback Zach Davis to a dislocated shoulder on the game's first play.
American School In Japan 45, Nile C. Kinnick 6: At Yokosuka Naval Base, Alex Busam ran 17 times for 144 yards and three touchdowns and Andrew Stern added a touchdown and 133 yards on five carries as the Mustangs (1-0) opened their Kanto Plain Association of Secondary Schools season by routing the Red Devils (0-3).
ASIJ racked up 344 rushing yards and 450 total offense. Hayden Jardine was 2-for-8 for 107 yards, including a 52-yard TD pass to Hamish Denham. Denham also ran 8 yards for a score.
Channing Meyer, who was promoted from the JV squad, tossed a 15-yard scoring pass to Jon Burress for the Red Devils' lone points late in the fourth quarter.
Guam
George Washington 40, Guam High 7: At Mangilao, the Panthers (2-1) crashed back to Earth six days after their first-ever victory over Simon Sanchez.
Stephen Santos ran for two TDs and returned a kickoff 80 yards for a TD for the Geckos (3-0).
Santos finished with 165 combined yards. Derek Santos completed three passes for 87 yards and a touchdown and Jesse Manglona had 85 yards on 15 attempts.
Star Motley carried six times for a team-leading 53 yards and Devon Jacobs had 47 yards on four catches for Guam High. Rome Tenorio had a team-leading eight tackles and R.J. Bryand added seven before leaving with a hamstring injury.
Brett Maluwelmeng contributed to this report.
---
---
---
---