Pacific H.S. football: Kubasaki wins Okinawa series opener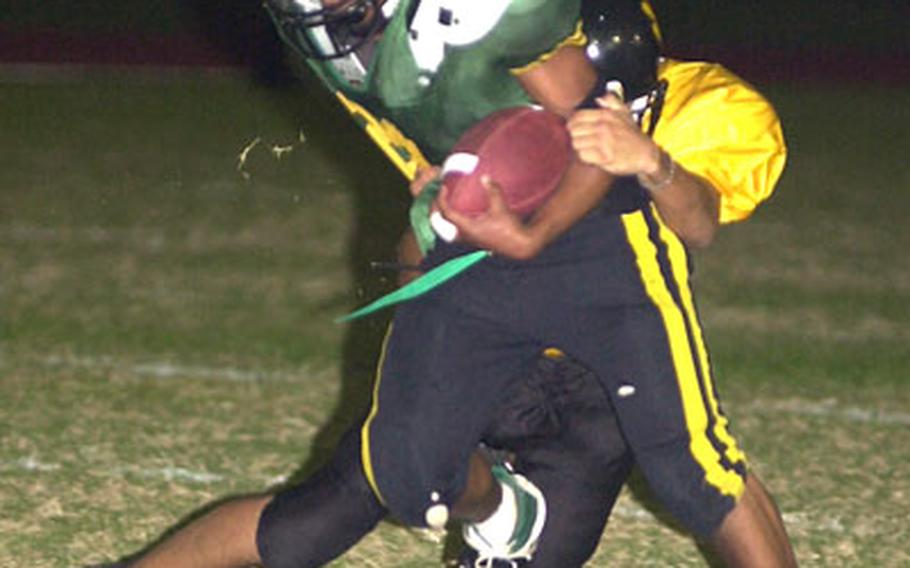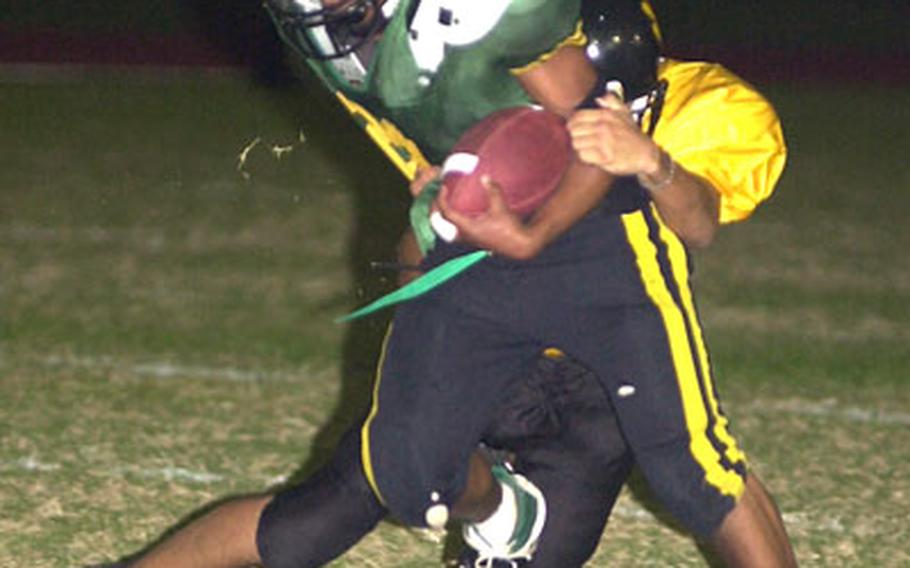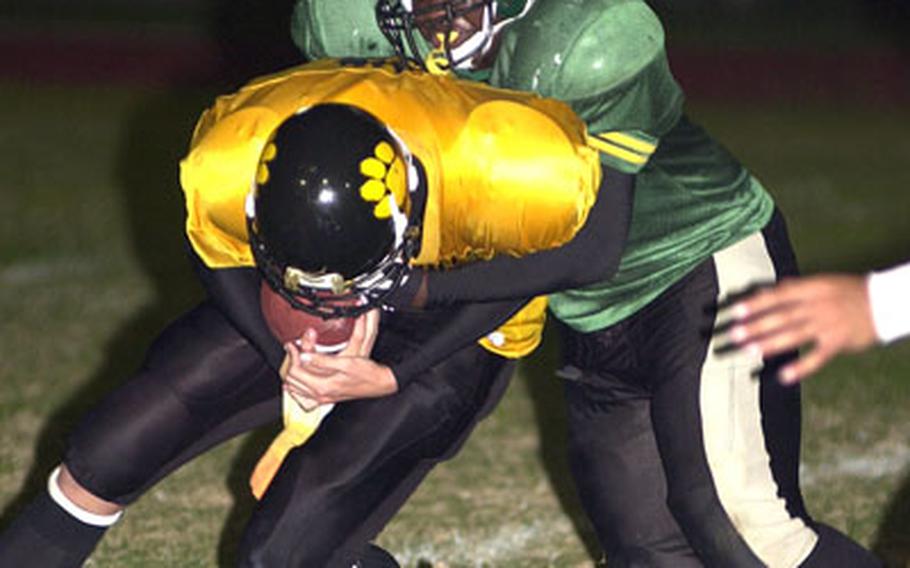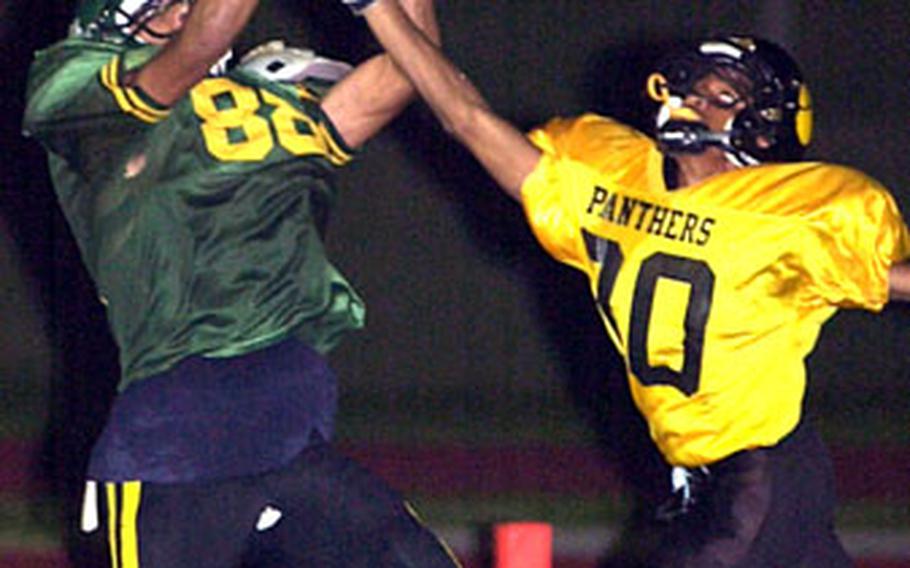 Stephen Thompson said he became "tired of losing" last fall in his first season in a Kubasaki football uniform. The senior took matters into his own hands Friday.
Thompson racked up 128 all-purpose yards and scored two touchdowns, and the Dragons scored three TDs off five Kadena fumbles in a 35-3 rout of the Panthers in the Okinawa Activities Council season opener.
Kubasaki will secure the OAC's berth in the Far East Class AA semifinals with a victory Friday at Kadena. A victory by the Panthers will force a third game between the teams at a site to be determined. The first team to win twice will face Guam High on Nov. 5 at Guam Naval Station.
At Atsugi Naval Air Facility, junior Lorenzo Abernathy scored a fourth-quarter touchdown to propel Nile C. Kinnick past Zama American 13-6. The Red Devils (4-3 overall, 4-1 JFL) moved within a half-game of first-place Yokota (4-0) in the Japan Football League. The JFL winner plays Nov. 5 at Seoul American in the other Class AA semifinal.
Kubasaki 35, Kadena 3CAMP FOSTER, Okinawa — Thompson caught a 29-yard second-quarter touchdown pass from Rafael Mew and scored on a 24-yard reverse in the third quarter. Thompson also caught three passes for 82 yards.
"We ask a lot of him," Kubasaki coach Fred Bales said of Thompson, who also runs track and plays basketball for the Dragons. "He has extraordinary physical gifts and skills. He's somebody you have to get the ball to."
David Motu and Lenard White scored on 4-yard runs and Mew crossed the goal line on a 1-yard sneak for Kubasaki.
Mew, who had 134 yards of total offense, completed six of nine passes for 114 yards. He even had one of Kubasaki's four quarterback sacks.
Ricky Jones recovered a pair of Kadena fumbles.
"A whole bunch of people stepped up," Bales said. "We were ready."
Kubasaki gained 246 yards and held Kadena to 106. Panthers junior quarterback Alex Mierzejewski was 4-for-6 for 51 yards and ran eight times for 34 yards.
Friday's game was the first between the schools' full varsity squads since the OAC's All-Star series was disbanded after the 2000 season. Until last season, the schools fielded split-squad teams.
"We had no idea it would be like this," Bales said. "Kadena's a good team. I'm sure next week we'll be back to Square One."
Kadena dug itself a hole with three first-half turnovers that resulted in Kubasaki touchdowns. Kadena reached Kubasaki's 6-yard line just before halftime but had to settle for senior Ted Awana's 33-yard field goal.
"We had that wrapped up early for them," Kadena coach Brian Wetherington said. "We gave them those turnovers and they capitalized. Fred has a good offense. They jammed it down their throats. But it's not over. We have next week to look forward to."
Nile C. Kinnick 13, Zama American 6Abernathy continued to blossom as Kinnick's running back, rushing 25 times for 137 yards, including a 25-yard run in the fourth quarter that broke a 6-6 tie.
Abernathy helped keep Zama's offense off the field in the fourth quarter, gaining 57 yards in the final period.
The Red Devils preserved the victory by stopping the Trojans at Kinnick's 3-yard line with three minutes left.
After a scoreless first half, Mike Frantz got the Red Devils on the board with an 18-yard touchdown run on the first drive of the third quarter. Frantz also intercepted a pass in the third quarter.
With starting quarterback Ben Bishop out with an injured shoulder, Aaron Tabor, normally a running back, filled in as Zama's QB. Tabor helped lead a drive on the next possession that tied the score, as Steven Moore ran into the end zone from the 4-yard line.
Moore rushed for 125 yards on 16 carries. Tabor had seven tackles, Mike Kim recorded eight tackles and an interception, and Roberto Medina contributed six tackles and an interception.
The Trojans fell to 0-6 overall and 0-5 in the Japan Football League and Kanto Plain.
Japan Football League
W L Pct. PF PA
Yokota 4 0 1.000 178 14
Kinnick 4 1 .800 75 78
Edgren 1 3 .250 28 117
Zama 0 5 .000 25 97
Kanto Plain Association
W L Pct. PF PA
Yokota 3 0 1.000 122 7
ASIJ 3 0 1.000 73 13
Kinnick 2 3 .400 27 95
Zama 0 5 .000 25 131
Friday's game
Nile C. Kinnick 13, Zama American 6
Saturday's game
Yokota at ASIJ, 1 p.m.
Friday, Oct. 21
ASIJ at Zama American, 7 p.m.
Robert D. Edgren at Yokota, 7 p.m.
Guam football playoffs
Semifinals
Friday's game
Father Duenas Memorial 21, John F. Kennedy 0
Saturday's game
Simon Sanchez at George Washington, 7 p.m.
Saturday, Oct. 22
Bamboo Bowl II at George Washington High School, Mangilao, 7 p.m.
Okinawa Activities Council
Friday's game
Kubasaki 35, Kadena 3
Friday, Oct. 21
Kubasaki vs. Kadena at McDonald Stadium, Kadena Air Base, 3:30 p.m.
Friday, Oct. 28
Kadena vs. Kubasaki, 7 p.m., if necessary