Pacific H.S. football: Kubasaki clinches berth in Class AA semis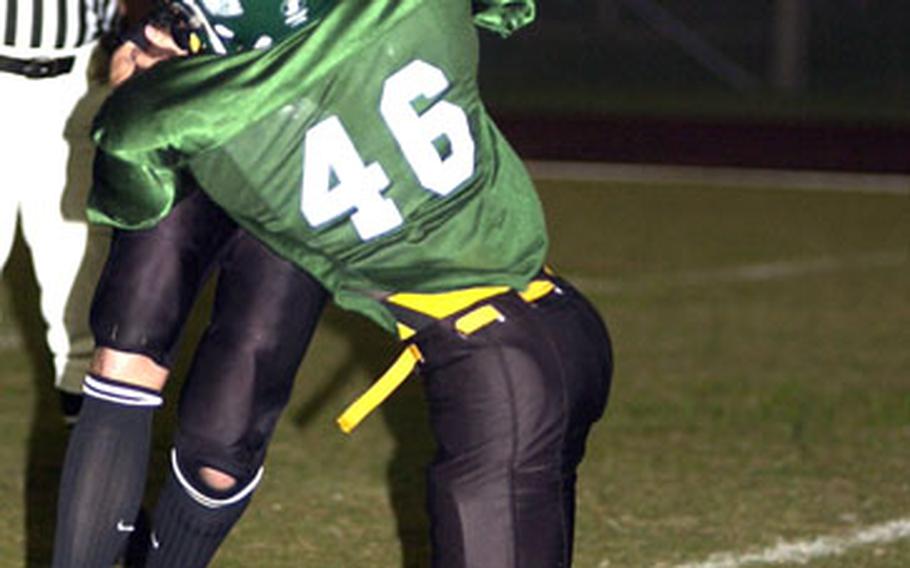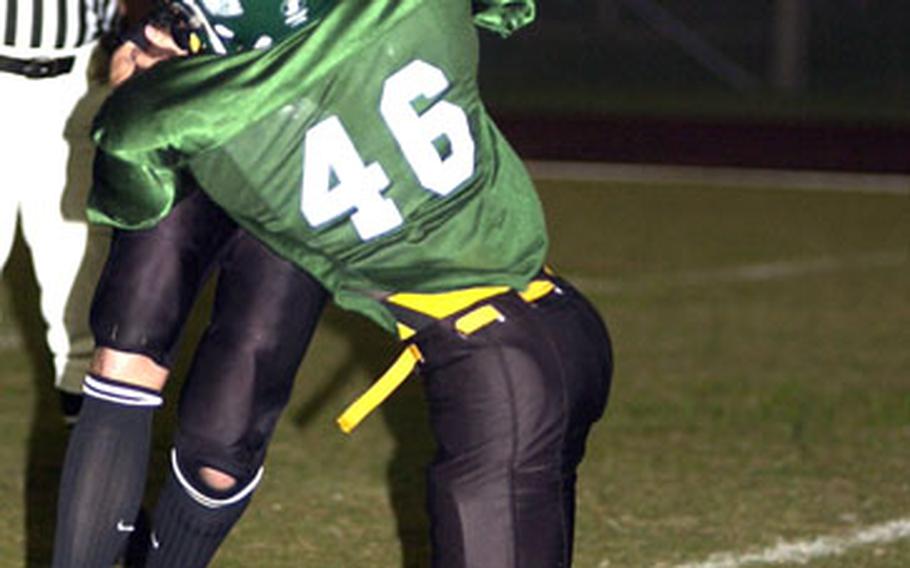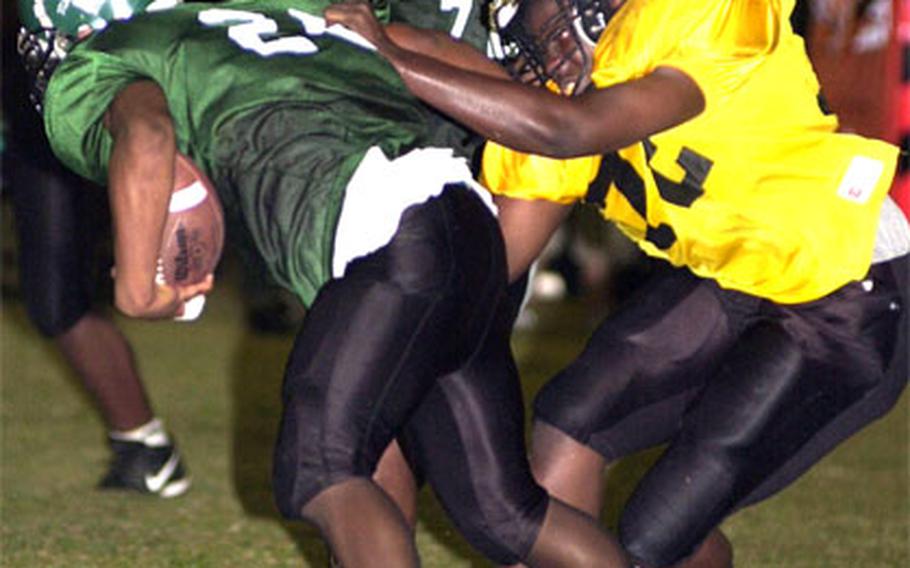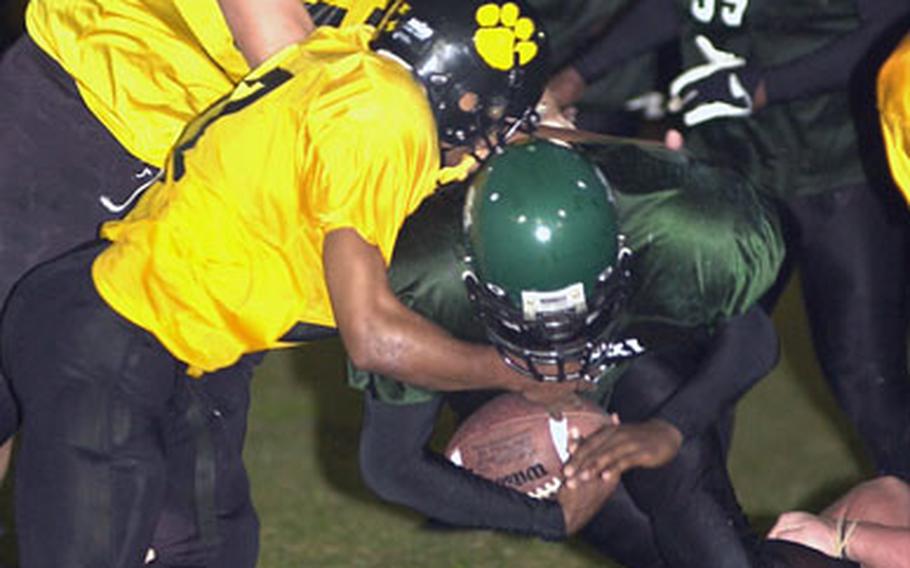 With the Kadena Panthers twice threatening Kubasaki's one-point lead late in the fourth quarter, two Dragons defenders stepped up to quell the threats.
David Motu fell on a fumble with 3:28 left, and Terry Hilson intercepted a pass with 1:22 remaining, preserving a 13-12 victory at Camp Foster, Okinawa.
Kubasaki beat Kadena 2-1 in the best-of-three Okinawa Activities Council championship series and claimed a berth in the Far East Class AA semifinals on Nov. 5 against Guam High at Guam Naval Station.
"Awesome," Kubasaki coach Fred Bales said of a Dragons team that overcame the loss of receiver Stephen Thompson (injury) and Ricky Jones (ejected) in last week's 7-6 Kadena overtime victory.
"We circled the wagons all week. A lot of tough things happened to us. We talked about stepping up. And they responded in a big way."
Also on Friday, the Japan Football League and Kanto Plain Association of Secondary Schools seasons ended the same way they have since 1999, with Yokota (7-0 overall, 6-0 JFL, 5-0 Kanto) winning both conference titles with a 61-20 victory over Nile C. Kinnick (4-4, 4-2, 2-4).
The Panthers got three touchdowns each from Anthony McNeill and Mark Dixon as they extended their winning streak to 36 games dating back to the 2002 season — three short of their record set from 1983-89. Yokota has won 55 straight on the field dating back to 2000, but forfeited the first two games of the 2002 season for using an ineligible player.
Homecoming was happy for Robert D. Edgren, as the Eagles edged the Zama American Trojans 17-14, highlighted by Jacque Moton's 82-yard kickoff return for a touchdown. The Eagles (2-6 overall, 2-4 JFL) defeated Zama twice this season.
Edgren travels to South Korea later this week to face Osan American or Taegu American in the Class A championship game on Saturday.
Kubasaki 13, Kadena 12After Kubasaki's 35-3 victory in Game 1, the teams played back-to-back one-point games.
"What a great game … as good a game as we'd played all season. We had the most poise, composure and a great team effort," Bales said.
In front of more than 1,000 at Kubasaki's Mike Petty Stadium, Kadena cornerback Manuel Duran silenced the Dragons' faithful by intercepting a Rafael Mew pass and returning it 34 yards for a score on the game's first play
It was the only time Panthers led. Two possessions later, Hilson sacked Kadena quarterback Alex Mierzejewski, forcing a fumble recovered by Kubasaki's Jorge Cristobal. Four players later, Lenard White scored on an 8-yard run. Zach Schwartz's PAT gave Kubasaki a 7-6 lead.
Just before halftime, Mike Bennett's 22-yard punt return and a personal-foul penalty on Kadena gave Kubasaki the ball at the Panthers' 15-yard line. After five plays and another personal-foul penalty, Motu bulled 5 yards for the Dragons' second and last touchdown. The extra-point attempt failed.
Kadena lost fumbles on two of its first three possessions in the second half. Calvin Gardner recovered at Kubasaki's 41 with 3:33 left in the third quarter, and Motu fell on another at the Dragons' 34 with 3:28 left in the game.
Between those miscues, the Panthers made a game of it, as Duran — who had four returns for 126 yards — fielded a punt at the Kadena 24, ran up the right sideline and cut back toward the middle untouched for a 76-yard touchdown.
On a PAT fake, Kadena's Ted Awana appeared to run a short pitch into the end zone for a two-point conversion, but the play was blown dead on an inadvertant whistle. On the retry, Kadena tailback Jeff Morton ran behind a wall of blockers into the end zone, but the play was called back on an illegal pushing penalty. On the third try, Awana's extra-point kick was blocked.
The Panthers had one last chance, taking over at their 27 with 1:33 left. But Kenny Bergstrom — Kadena's third-string quarterback pressed into duty after Mierzejewski and backup Jonathan Robinson were injured — was pressured by Kubasaki defensive end Arthur Moore and threw an interception to Hilson. The Dragons ran out the clock.
Kubasaki moves on to the semifinal against Guam. The winner of that game will host the championship Nov. 12 against the winner of the Yokota-Seoul American semifinal Nov. 5.
"We hope Kubasaki can go down to Guam and represent Okinawa well," Kadena coach Brian Wetherington said.
Yokota 61, Nile C. Kinnick 20At Yokosuka Naval Base, Japan, McNeill ran 14 times for 123 yards and a touchdown, blocked a punt and recovered it for a TD and fell on another blocked punt by Dixon in the end zone. McNeill finished the regular season with 788 yards on 95 carries, second-best in the JFL and Kanto Plain.
Dixon ran eight times for 47 yards and three touchdowns and recorded 13 tackles. Doug Bloom was 9-for-14 for 205 yards and threw touchdown passes of 57 yards to Cameron Cooper and 30 to Caiveon Thomas. Jim Scott added a 20-yard touchdown run and made nine tackles, Jason Ricks ran 8 yards for a score and Cooper caught three passes for 104 yards.
JFL and Kanto rushing champion Larynzo Abernathy of Kinnick ran 20 yards for a second-quarter score and finished the season with 857 yards on 128 carries.
Jeff Galang added a 1-yard third-quarter TD run and Yamato Cibulka had an 8-yard scoring play.
Robert D. Edgren 17, Zama American 14At Misawa Air Base, Japan, Moton's kick-return touchdown was the big play of a game that featured five lead changes.
Edgren led 3-0 on Patrick Pezoulas' 32-yard field goal. Ben Bishop put Zama ahead 7-3 briefly with an 11-yard run, but Moton return the ensuing kickoff for a score. The Trojans responded with Bishop's 76-yard TD pass to Wilberto Badillo, then Edgren took the lead for good on Josh Ray's 2-yard run early in the fourth quarter.
Bishop went 8-for-16 for 137 yards and ran 10 times for 66 yards.