Pacific H.S. football: Kadena's defense shuts down Kubasaki
---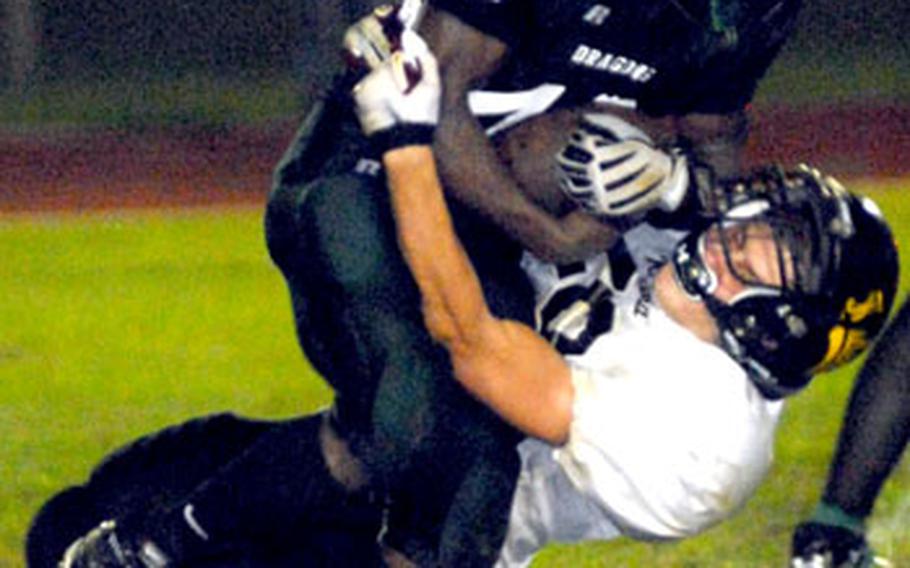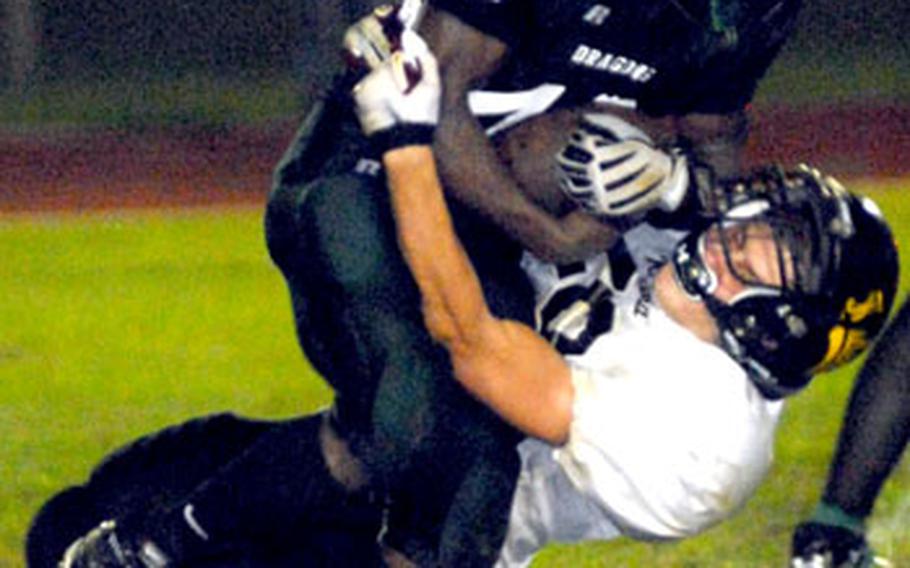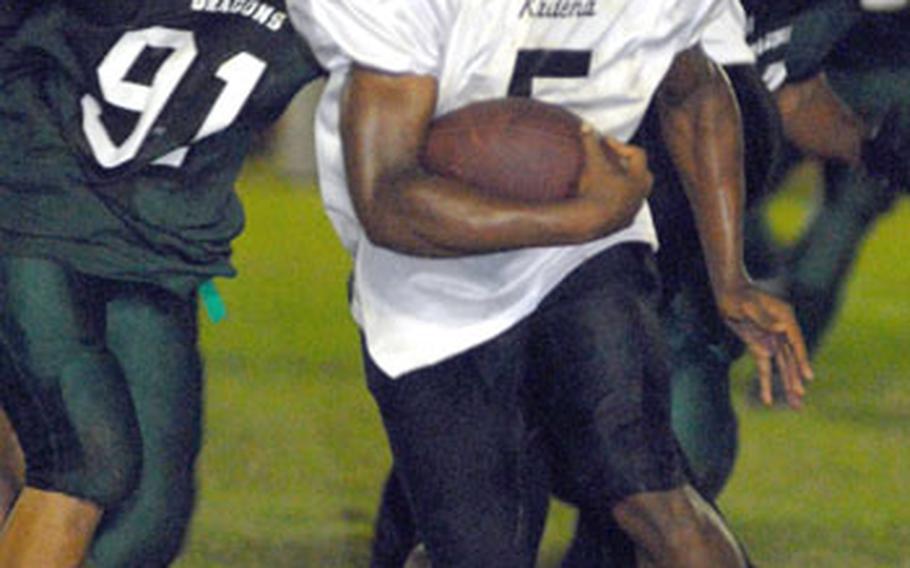 CAMP FOSTER, Okinawa — One of Kadena coach Sergio Mendoza's greatest fears entering the season evaporated Friday thanks to the Panthers' defense.
The defending Far East Class AA champions held Kubasaki to 55 yards and forced five turnovers — including interception-return touchdowns by Anthony Tarver and Brandon Harris — as the Panthers blanked the Dragons 29-0.
The Panthers lead the best-of-five Okinawa Activities Council championship series 2-0, with Game 3 Friday at Kadena Air Base.
"We were anxious to see what we have. We had so many people to replace from last year," Mendoza said of a graduation- and transfer-depleted defense. "I'm proud of the effort. We're not there yet, but we're stepping in the right direction."
Quarterback Lamar Smith offered an indicator of things to come by tossing a 32-yard touchdown pass on fourth-and-11 to Stan Schrock, who leaped between two defenders for the ball on Kadena's first possession.
Harris ran back an interception 33 yards for a score, then Aaron Ahner booted a 37-yard field goal 16 seconds before halftime. Smith hit Daren Douglas from 26 yards out and Tarver took an interception 26 yards to the house in the third quarter.
"He's going to be a highly important point in our game plan," Mendoza said of Smith, who was 3-for-8 for 91 yards. "We have set up different offenses we're trying. He's going to figure big into our plan."
Schrock had 117 total yards and Harris 152, including 112 yards on four returns.
"Harris is going to be the pulse of this team," Mendoza said of last year's Class AA title game hero. "It's exciting to see him play this way."
Less than a week after the Dragons rallied to beat nine-time Japan Football League champion Yokota 18-14, Kubasaki had no answer for Kadena's defense.
Kadena again intercepted three passes from Dragons quarterback Kaleb Robinson. The deepest Kubasaki penetrated was to Kadena's 28 in the final period. Forty-two of Marquette Warren's team-leading 52 yards came on two fourth-quarter carries against Kadena's second defensive unit.
JapanYokota 24, American School In Japan 14: At Yokota Air Base, Japan, Derick Seward tied a school record for yards in a game with 313 on 31 carries plus a touchdown. DeEric Harvin rushed for a 1-yard TD and returned the opening kickoff 90 yards for a score as the Panthers (3-1) survived a see-saw first quarter against ASIJ (2-1).
Harvin had 170 all-purpose yards for a Yokota team that ran 55 times for 442 yards. Yokota never trailed, but the Mustangs kept it tight on rushing TDs by Steve Hayman and Alex Bussom. Yokota lost three second-half fumbles, which also kept the contest close.
Tony Presnell, limited by a partial shoulder separation to kicking duty, booted a 31-yard second-half field goal for Yokota.
Robert D. Edgren 42, Zama American 0: Less than a week after a frustrating one-point home loss to ASIJ, the Eagles (3-2) righted themselves and swept the season series from the Trojans (0-4) at Misawa Air Base, Japan.
Johnell Alexander ran for four touchdowns, giving him a team-high nine this season. Luke Nelson rushed for two TDs as the Eagles ended a two-game losing streak.
Michael Spencer was the lone bright spot for Zama, rushing 14 times for 47 yards.
GuamFather Duenas Memorial 33, Guam High 28: At Naval Station, Guam, Brian Sanders enjoyed a breakout performance in a losing cause, as the Panthers (1-3) lost another heartbreaker to the defending Interscholastic Football League champion Friars (5-0).
Sanders ran 19 times for 180 yards, including touchdowns of 21, 12 and 37 yards, and Devon Jacobs added a 41-yard run in a game that featured four lead changes. The Friars edged the Panthers 13-12 in last year's IFL playoffs.
"This is just what the doctor ordered for us," Panthers assistant Jacob Dowdell said of the offensive performance, which came on the heels of 36-0 and 40-6 losses to George Washington and Simon Sanchez the previous two weeks.
---
---
---
---