Pacific H.S. football: Homecoming: It's fun, festive ... and distracting
by
Dave Ornauer
October 21, 2005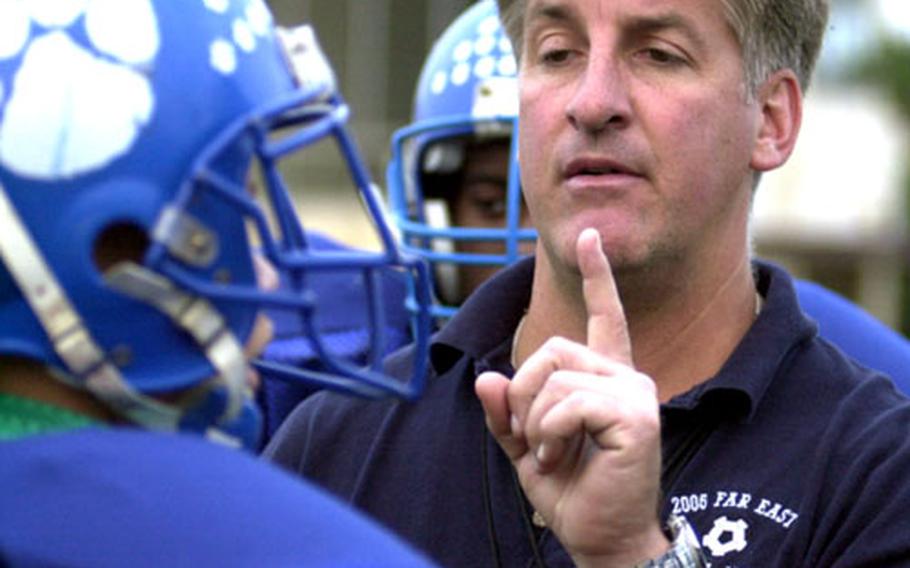 Homecoming is the highlight of most high schools' fall sports season, with pep assemblies, parades and floats, and backward-dress days capped at week's end with the big football game, the crowning of the homecoming king and queen and the homecoming dance.
It also can be a major pain for football coaches, who must deal with distractions and players who are unavailable for practice.
"Most coaches that I know would rather that homecoming not be during football season," said George Speer, whose Taegu American Warriors host Seoul American in Saturday's homecoming contest.
The problem: Many players are tied up in homecoming-related activities, from crowning ceremony rehearsal to building floats. And they all seem to take place at the same time as football practice.
"The distractions take away so much," Speer said.
"It gets to be really trying," said Julian Harden of Seoul American, which celebrated its homecoming last week. "Guys end up coming late to practice or leaving early. You always have to give. Sometimes, it seems you're giving more than you're getting."
Guam High was first on this fall's homecoming parade, in late September. Kubasaki of Okinawa, Seoul American and American School In Japan had theirs last week while Osan American in Korea, Zama American in Japan and Kadena of Okinawa take their turn this week, along with Yokota, which celebrates its 30th anniversary homecoming. Homecoming at Nile C. Kinnick and Robert D. Edgren of Japan are next week.
Perhaps no team faces a more urgent situation than Kadena. Coach Brian Wetherington's Panthers must beat Kubasaki on Friday to extend the Okinawa Activities Council's best-of-three series. If Kadena loses, Kubasaki clinches a berth in the Class AA semifinals.
"It's win or stay home," said Wetherington, whose team lost three first-half fumbles that led to three touchdowns in a 35-3 loss. "We put our backs to the wall. We just have to go out and play solid football. And hold onto the football. [But] players have obligations outside of football, and they can't be here to work on things we need to work on."
"We try to fix things so that everybody gets a little time and somebody's time is not monopolized over others," Harden said. "It doesn't always work out that way, but working with sponsors helps."
His crew spent early mornings before school in the weight room and visited Harden at lunchtime for chalk-talk sessions.
"But that doesn't help with execution," Harden said.
Then there are total surprises, such as at Guam High's homecoming, derailed by a power failure. More than 1,000 fans gathered Sept. 24 at Blue Jacket Field, hot dogs and hamburgers sizzled on grills, the homecoming court was about to be crowned. Meanwhile, Navy staff civil engineers worked frantically to set up portable lights and generators. They failed to work. Guam High beat Southern 2-0 the next morning before a sparse crowd.
Said coach Tom Hildreth: "Who can plan for a power outage?"
High school football standings and schedules
Japan
Overall
W L Pct. PF PA
Yokota 5 0 1.000 195 21
Amer. School In Japan 4 1 .800 106 37
Nile C. Kinnick 4 3 .571 82 109
Robert D. Edgren 1 4 .200 35 145
Zama American 0 6 .000 31 138
Friday, Oct. 21
ASIJ at Zama American, 7 p.m.
Robert D. Edgren at Yokota, 7 p.m.
Friday, Oct. 28
Yokota at Kinnick, 7 p.m.
Saturday, Oct. 29
Zama American at Edgren, 1 p.m.
End regular season
DODDS-Korea League
W L Pct. PF PA
Seoul American 3 0 1.000 82 18
Osan American 1 2 .333 39 85
Taegu American 0 2 .000 29 47
Saturday, Oct. 22
Seoul American at Taegu American, 2 p.m.
Saturday, Oct. 29
Taegu American at Osan American, 2 p.m.
End regular season
Okinawa Activities Council
W L Pct. PF PA
Kubasaki 1 0 1.000 35 3
Kadena 0 1 .000 3 35
Friday, Oct. 21
Kubasaki vs. Kadena at McDonald Stadium, Kadena Air Base, 3:30 p.m.
Friday, Oct. 28
Kadena at Kubasaki, 7 p.m., if necessary
Dave Ornauer's Week 8 outlook and Week 7 honors
Friday
Kubasaki 14, Kadena 10
Yokota 20, Robert D. Edgren 6
Amer. School In Japan 17, Zama American 7
Saturday
Seoul American 20, Taegu American 7
George Washington 17, Father Duenas 16
Last week: 5-1, .833.
Season: 31-7, .816.
Week 7 grid honors
Seoul American-David Smalls 93 yards rushing, 1 touchdown; 65-yard punt-return touchdown. Calvin Lasane 172 yards, 3 touchdowns, 20 carries. Daniel Cain 10 tackles, 2 sacks. Charles Jones 10 tackles.
Yokota-Anthony McNeill 124 yards, 22 carries. Doug Bloom 7-for-10, 107 yards.
Kinnick-Lorenzo Abernathy 137 yards, 1 touchdown, 25 carries. Michael Frantz 1 touchdown run, 1 interception.
Zama American-Steven Moore 125 yards, 1 touchdown, 16 carries. Michael Kim 8 tackles, 1 interception.
Kubasaki-Rafael Mew 6-for-9, 114 yards, 1 touchdown passing 1 touchdown rushing. Stephen Thompson 82 yards, 1 touchdown, 3 catches; 24-yard touchdown run.
The Top Ten
The Top Ten teams in the Stars and Stripes' 2005 Far East high school football ratings, with records through Oct. 15, points and week's rating, as compiled by Dave Ornauer of Stars and Stripes sports. Ratings are based primarily on teams' win-loss records, quality of wins, strength of overall roster, point differential, team and individual statistics, strength of schedule and strength of leagues. Maximum rating is 500 points:
Record Pts Pvs
1. Yokota (Japan) 5-0 460 1
2. G. Washington (Guam) 6-0 452 2
3. Seoul American 3-0 432 4
4. Father Duenas (Guam) 5-1 428 3
5. Kubasaki (Okinawa) 1-0 424 7
6. American School In Japan 4-1 404 5
7. Nile C. Kinnick (Japan) 4-3 384 10
8. Simon Sanchez (Guam) 3-4 376 9
9. Kadena (Okinawa) 0-1 372 6
10. John F. Kennedy (Guam) 4-3 364 8