Pacific H.S. football: Guam High upends Father Duenas for first time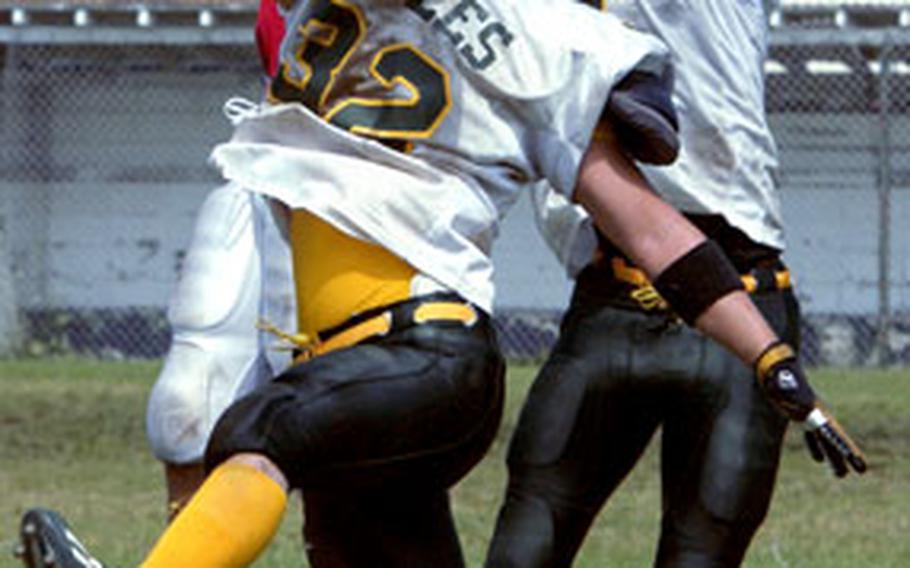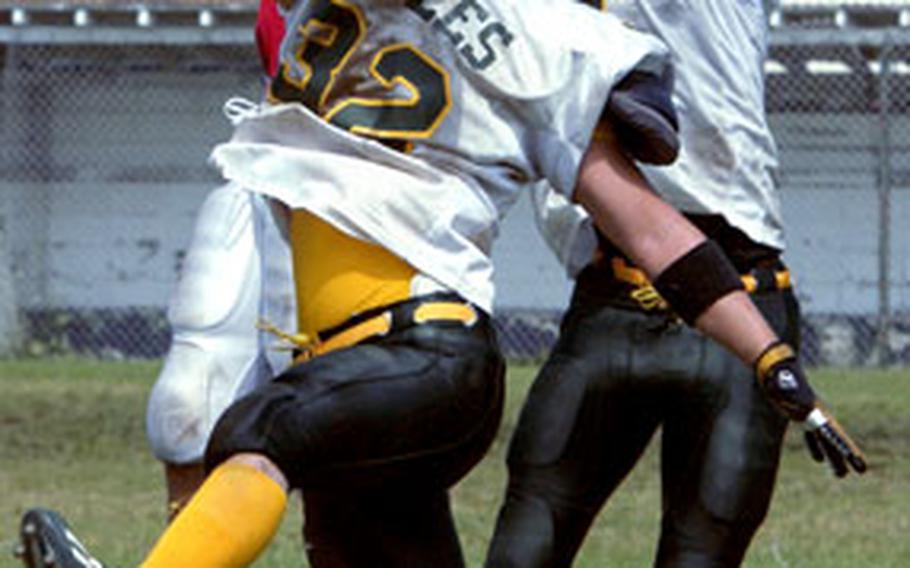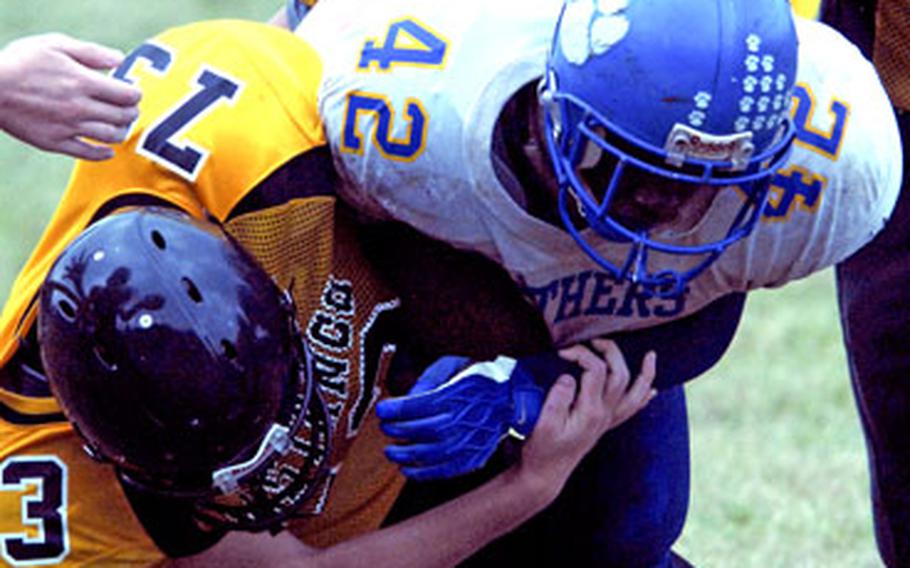 MANGILAO, Guam — Quarterback Cameron Yecki ran for a touchdown and passed for another in Mangilao, Guam, on Saturday as Guam High ended a long streak of futility against one of the Interscholastic Football League's powerhouses, shocking Father Duenas Memorial 14-7 at George Washington High School field.
Never before had the Panthers beaten the Friars in Guam High's nine-season IFL history. The Friars won all 10 of their previous meetings, five by shutout, by an average victory margin of just more than 40 points and had outscored the Panthers 443-41.
"They were an awesome team to beat," first-year head coach Yvonne Tyrrell said. "With records like that, our kids went in and weren't focused on who we were playing or who we had to beat, but playing our game, concentrating on responsibilities as members of the team."
Yecki and receiver Jeremy Miller set the tone on the first play, hooking up for an 88-yard touchdown pass. In the fourth quarter, Yecki added a 5-yard quarterback sneak for the winning touchdown.
Ray Berria paced the Panthers on the ground and on defense, rushing 12 times for 90 yards and recording 13 tackles, 11 solo. Guam High also recovered two timely fumbles, by Timothy Hernandez and Zach Tyminski.
"We had the right people in the right place and they worked their magic," Tyrrell said. "They were very happy."
But she already was looking toward Saturday's battle at Andersen Air Force Base against two-time defending IFL champion George Washington. Kickoff is at 6 p.m.
"I'm not surprised we pulled it off (but) we have a lot of work to do. We had some sloppy spots. The next game will be even more difficult. We have to go back to the drawing board and work on things starting Monday," Tyrrell said.
Kinnick dispatches Edgren to even recordYOKOSUKA NAVAL BASE, Japan — Two things Nile C. Kinnick learned from Saturday's 42-19 Japan Football League victory over Robert D. Edgren:
Never take any plays off.Never again punt or kick to that guy wearing a green and gold jersey bearing the number 4.Edgren junior return man Zach Latimore (No.4) turned in such a dazzling performance — 175 yards and two TDs on six returns — that to outshine him, Kinnick's Larynzo Abernathy had to rack up 165 yards of offense and rush for three touchdowns and the Red Devils had to force six turnovers.
"We gave up 13 points because we took two special-teams plays off," Kinnick coach Matt Martinez said. "That will kill against a Yokota or a Zama American. Luckily, our kids came up with big plays when we needed them."
Among those big plays were quarterback Jeff Galang's 55-yard TD run on a broken play, Abernathy's 46-yard halfback option pass to Clay Atchley that set up one of Abernathy's TDs and Donovan Brown's 50-yard interception return for a score.
"That Edgren team's going to do things," Martinez said. "They're aggressive, they go to the ball, they have two good running backs. They're definitely better than they were last year."
Galang tossed a 7-yard TD pass to Jonathan Santos in the first quarter and Abernathy ran 30 yards for a score late in the second.
Galang's broken-play run sparked a flurry in which the teams combined for 34 points in a 6:20 span. Kinnick recovered a fumble on the ensuing kickoff and Abernathy scored his second TD, a 10-yard run, to make it 28-0.
Latimore then broke loose for a 91-yard kick-return touchdown and followed that with a 63-yard punt-return score on Kinnick's next possession. Abernathy's 5-yard touchdown run and Brown's interception TD helped the Red Devils restore order. Josh McDonald tacked on a 13-yard scoring run for Edgren in the closing minutes.
"I'm glad we bounced back the way we did," Martinez said.
In addition to the six turnovers, the Eagles were penalized nine times for 75 yards.
"Too many mistakes overall," coach Chris Waite said.
Abernathy ran 20 times for 119 yards and Brandon Pitts added 81 yards on 11 carries for Kinnick. McDonald carried 24 times for 99 yards, Josh Ray went 9-for-22 for 86 yards with Clay Bennett catching seven passes for 79 yards for the Eagles (0-2).
McNeill powers Yokota over ASIJ for 2-0 startTOKYO — Junior scatback Anthony McNeill continues to pile up yards and points and his Yokota Panthers continue to pile up regular-season victories.
McNeill ran 28 times for 228 yards and scored on runs of 1 and 2 yards, giving him 454 yards on 58 carries with four TDs in two games, as the Panthers won their 34th straight regular-season contest with a 44-0 victory over American School In Japan.
Yokota's defense forced five turnovers, three interceptions and two fumble recoveries as the Panthers improved to 2-0 in the Kanto Plain Association of Secondary Schools and overall.
Peter Weaver was 4-for-4 passing for 87 yards, with all four completions going to Caiveon Thomas, including TD tosses of 8, 33 and 43 yards. Thomas also had an interception and accounted for 103 yards of offense.
Pacific football scoreboard
Pacific football scoreboard
DODDS-Japan Football League
W L Pct. PF PA
Yokota 1 0 1.000 21 12
Zama American 1 0 1.000 7 6
Nile C. Kinnick 1 1 .500 54 40
Robert D. Edgren 0 1 .000 25 49
Kanto Plain Association of Secondary Schools
W L Pct. PF PA
Yokota 2 0 1.000 65 12
Zama American 0 0 .000 0 0
Nile C. Kinnick 0 1 .000 12 21
American School In Japan 0 1 .000 0 44
Saturday's games
Yokota 44, ASIJ 0
Kinnick 42, Edgren 19
Friday, Sept. 15
Zama at Kinnick, 7 p.m.
Saturday, Sept. 16
ASIJ at Edgren, 1 p.m.
Guam
W L Pct. PF PA
George Washington 1 0 1.000 54 0
Simon Sanchez 1 0 1.000 14 0
Guam High 1 0 1.000 14 7
Father Duenas Memorial 0 1 .000 7 14
John F. Kennedy 0 1 .000 0 14
Southern 0 1 .000 0 54
Friday's game
George Washington 54, Southern 0
Saturday's games
Guam High 14, Father Duenas Memorial 7
Simon Sanchez 14, John F. Kennedy 0
Friday, Sept. 15
Southern at John F. Kennedy, 7 p.m.
Saturday, Sept. 16
George Washington vs. Guam High at Andersen Air Force Base, 6 p.m.
Father Duenas Memorial vs. Simon Sanchez at John F. Kennedy High School, Upper Tumon, 7 p.m.