Pacific H.S. football: Guam falls short in playoff quarterfinals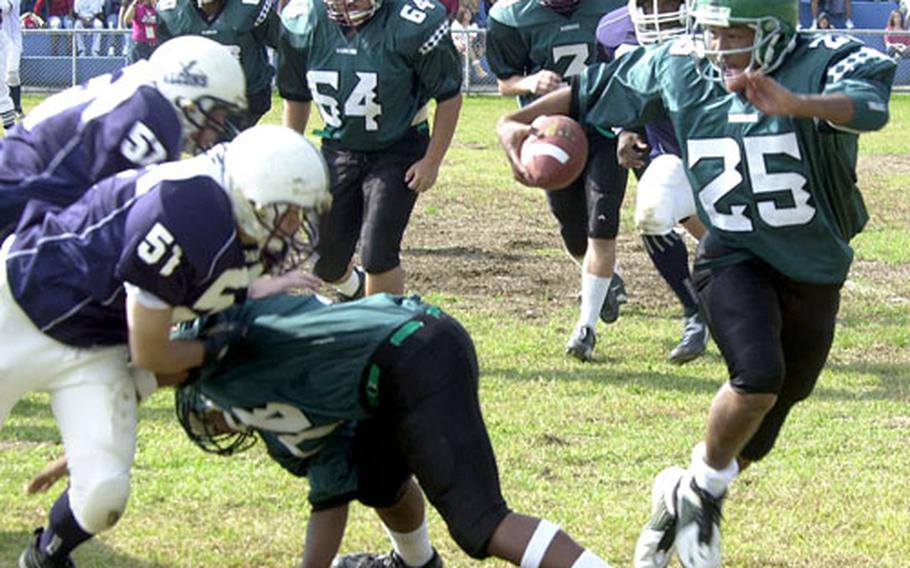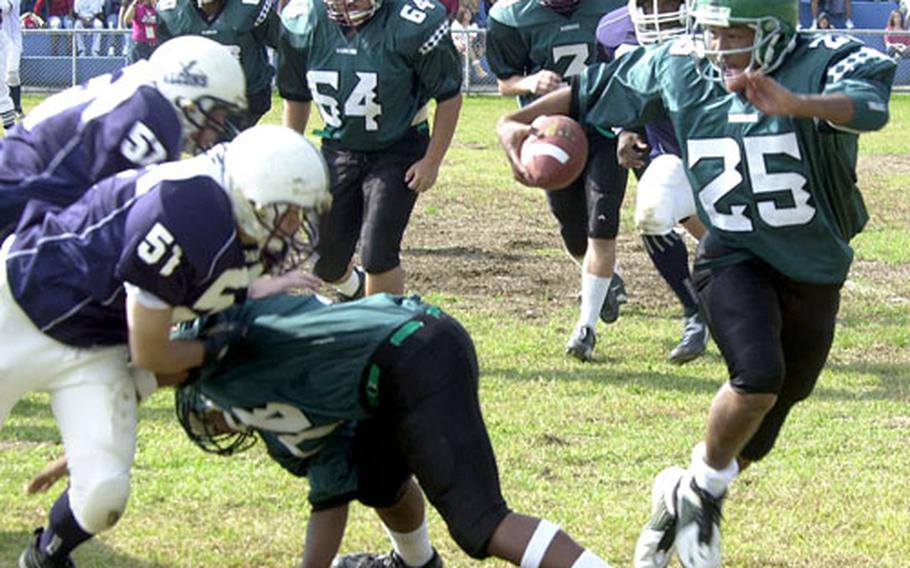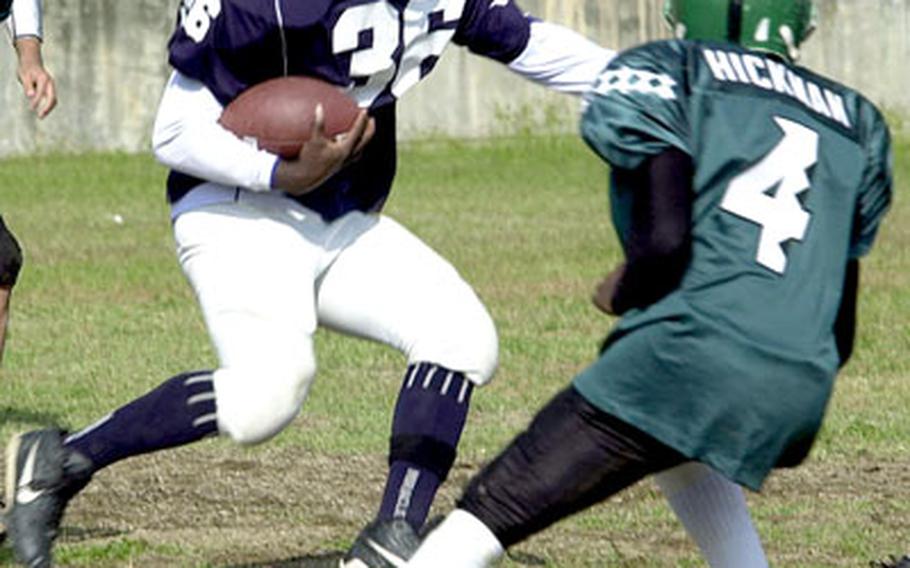 Guam High had hoped for its second Interscholastic Football League playoff victory in school history. That dream came crashing to the ground Saturday in a heartbreaking overtime loss to Simon Sanchez.
Chris Hoyle took a lateral pass from Ashton Adams on a double-pitch play into the end zone for an 8-yard overtime touchdown run. But Justin Hughes bobbled the two-point conversion pass from Cameron Yecki three times before dropping it in the end zone, leaving the Panthers two points shy of the Sharks 24-22 at Ramsey Field in Upper Tumon.
"We took it hard," coach Tom Hildreth said. "The players took it really hard. Justin was crying like a baby. Everybody was crying. Nobody wanted to leave. This one is the kind of loss that takes a couple of days to get over."
In South Korea, the Seoul American Falcons ran their winning streak — second-longest in the Pacific — to 22 games as Bruce Voelker ran for a touchdown and passed for one and outside linebacker Daniel Cain racked up 23 tackles, a blocked punt and two sacks to beat Taegu American 20-6.
Simon Sanchez 24, Guam High 22 (OT)In Upper Tumon, Guam, the Panthers chose to go on defense first when the overtime coin toss was made.
"Our offense was moving the ball," Hildreth said of a team that racked up a season-high 288 yards. "We felt comfortable doing that. And we wanted to know what we had to do" when the Panthers went on offense.
B.J. Atalig's 6-yard touchdown run and Christopher Mendiola's two-point pass to Eric Kelly proved to be the difference, giving the Sharks (3-3) a 24-16 lead and setting the stage for heartbreak for the Panthers (1-5).
Despite the devastating defeat, which prevented the Panthers from reaching the island semifinals for the first time ever, Hildreth expressed pride in his players.
"We played those guys tough. This was the best we've played yet. They left it all on the field. They gave it 2,000 percent," Hildreth said, adding that while the Panthers won one fewer game than last season, "these kids' performances, to me, they're all winners."
Adams became the first Panthers running back to rush for 100 yards this season, carrying 20 times for 165 yards. He also converted two fake punts, one of which he ran for 49 yards and the other a 23-yard pass completion to Hughes. Adams also had seven tackles and one sack.
Yecki added 40 yards on 10 carries, including a 1-yard touchdown run. Tommy Strahan's 1-yard scoring run and Adams' two-point conversion run tied it 16-16 to force overtime. Strahan finished with 27 yards on 10 carries.
Simon Sanchez moves on to visit two-time defending island champion George Washington on Saturday, while John F. Kennedy, a 27-6 winner over Southern, takes on Father Duenas Memorial Friday at George Washington.
The Panthers get three weeks to prepare for the first Department of Defense Dependents Schools-Pacific Far East Class AA football playoffs. They host the Okinawa Activities Council champion at 7 p.m. Nov. 5 at Naval Station.
Hildreth must cut his roster from 40 to the DODDS-Pacific-mandated limit of 25 players, a hard task, he said, given the contributions made by some of whom must now watch from the sideline.
"But we're looking forward to it," Hildreth said."
Seoul American 20, Taegu American 6The contest at Yongsan Garrison,South Korea, remained close until the final 30 seconds, when Voelker tossed a 74-yard touchdown pass to David Smalls. Until then, coach Julian Harden said, his Falcons (2-0) had their hands full with the Warriors (0-2).
"Man, did they play a game," Harden said, adding that he "had doubts" upon reading about Taegu's 27-23 loss the previous week to Osan American, "but they have a legitimate team, coaching staff and players, and a legitimate shot to do well" in November's Far East Class A playoffs.
That the defense recorded so many tackles — Marque Snow added 15, Justin Lee had 11 plus four sacks and Charles Jones, 11 plus an interception — testified to Taegu's ability to move the football, Harden said.
"They kept our defense on the field and shut down our offense," he said. "This game shows we can't afford to take anybody for granted. Anybody can win on any Saturday. This gives parity to our league."
Voelker put the Falcons ahead 7-0 with a 4-yard run with 4:39 left in the first quarter, a lead that was extended by seven points on Smalls' 29-yard run with 1:02 remaining in the period. David Crothers kicked both extra points.
From there, it turned into a tight defensive struggle, broken only when Sidney Washington ran 3 yards for a Warriors touchdown with 2:30 on the clock, before Voelker connected with Small to seal the outcome. Voelker finished 3-for-11 for 86 yards.
Taegu coach George Speer said he was proud of a Warriors team that stayed in the game for so long despite missing three starting running backs.
"The kids played really well, despite our makeshift backfield. The defense stepped up," he said.