Pacific Football Roundup Kubasaki ends Yokota's winning streak at 51 games
---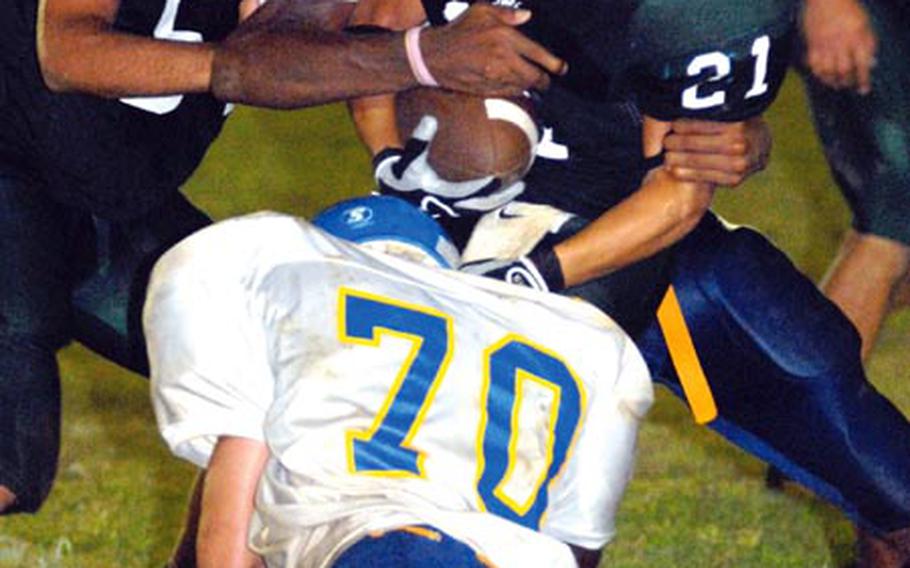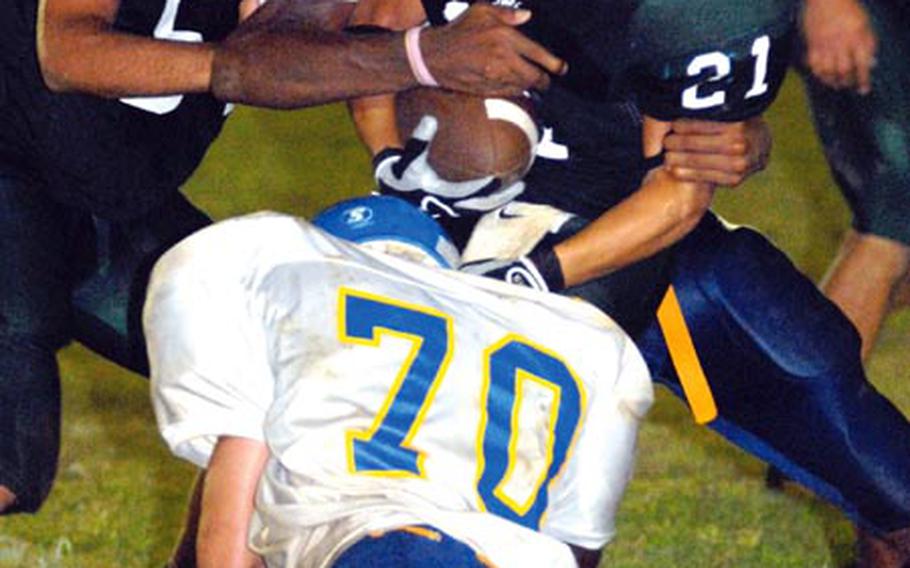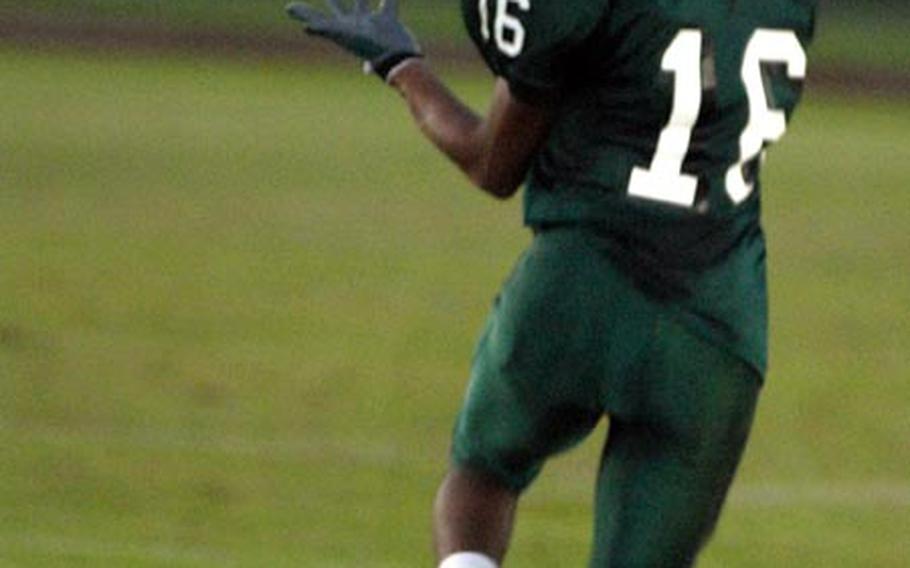 CAMP FOSTER, Okinawa — He'd had enough, Kaleb Robinson said. Enough of him throwing more passes to opponents than teammates. Enough of his Kubasaki Dragons losing, period.
Robinson did something about it Saturday — and ended a historic regular-season winning streak in the process.
The junior quarterback passed 20 yards to Andrew Candelaria for the go-ahead touchdown as Kubasaki rallied from a 14-0 deficit to win 18-14 and end Yokota's regular-season winning streak at 51 games, dating back to 2002.
"He grew up a lot tonight," coach Fred Bales said of Robinson, who went 6-for-9 for 152 yards despite playing with a separated left (non-throwing) shoulder. "He's a tough kid. He made the big play when we needed it."
Robinson shook the memory of a 13-0 season-opening loss at Kadena, in which he threw four interceptions, and Kubasaki (1-1) ended its six-game losing skid dating back to the 2006 season.
"We talked to the kids about getting back onto the mountain, learning to climb it, learning to win again. Tonight was a step in that direction," Bales said.
The visiting Panthers (3-1) lost in the regular season for the first time since having to forfeit a 21-6 victory over Zama American for using an ineligible player two games into the 2002 season.
Yokota hadn't lost a regular-season game on the field since falling 24-18 at Matthew C. Perry on Sept. 23, 2000, a span of 67 games.
"I don't think we care a lot about that," Yokota coach Tim Pujol said. "It's about what we can learn from this game. There are more important games down the road for us. If we can learn from our mistakes and become a better team for it, then it's worth it."
At the outset, it looked like a Yokota runaway similar to the Panthers' 51-21 home romp last Oct. 6 over Kubasaki.
Derick Seward ran 73 yards for a touchdown, then DeEric Harvin converted a bad Kubasaki punt snap into a 2-yard scoring run, and the Panthers found themselves on top 14-0 just 2:33 into the contest.
Slowly, the Dragons chipped away, with receiver Dionte Waite figuring big in two of Kubasaki's three touchdowns.
Waite's 34-yard catch set up Don Hampton's 2-yard run that cut it to 14-6 halfway through the first period.
In the second half, Yokota lost three fumbles, and Panthers wideout Andy Silva dropped a wide-open sure touchdown catch that might have put it out of reach.
Lewis Finney's fumble recovery set up Marquette Warren's 4-yard TD run with 3:30 left in the third quarter.
Waite reentered the picture, catching a 59-yard pass that set up Candelaria's game-winner.
"That was big," Robinson said of Waite's catch. "That determined the outcome of the game."
Warren gained 65 yards on 26 carries, and Waite had 108 all-purpose yards. Seward shook off several hard hits to run 16 times for 146 yards, giving him 526 yards on 53 carries this season. Harvin finished with 137 all-purpose yards.
"That's a class program," Bales said of Yokota. "We're happy they came down to play us, and we're happy we gave them a better showing than we did last year."
Japan
American School in Japan 14, Robert D. Edgren 13: At Misawa Air Base, Japan, Keita Iwabuchi recovered a fumble in the end zone, Doug Peterson threw a 30-yard scoring pass to Chris Kleindle, and the Mustangs (2-0) survived a late charge by the Eagles that came up a missed extra-point try short.
Johnell Alexander ran a kickoff 87 yards for a touchdown and scored on a 60-yard fourth-quarter run as the Eagles kept it close, but lost their second straight after opening the season with two victories.
Guam
Simon Sanchez 40, Guam High 6: At Upper Tumon, Guam, Michael Moser's 8-yard TD run in the fourth quarter proved to be one of few bright spots for the Panthers (1-2) at John F. Kennedy High School's Ramsey Field.
The Sharks (3-1) ran all over the Panthers and pulled within a game of first-place Father Duenas (4-0) in the Interscholastic Football League's Taga Division.
Brian Saunders ran 12 times for 35 yards, Ricco Brunner was 3-for-11 for 32 yards and Myron Marshall had six tackles.
---
---
---
---